Iceland has some of the best, most unique souvenirs in the world.
Maybe it's because of its isolation–a rock in the middle of the ocean, with Greenland as its only neighbor, Iceland is mostly free of outside influences. Standing alone, Iceland has been able to maintain long-standing traditions that can be seen all over the country.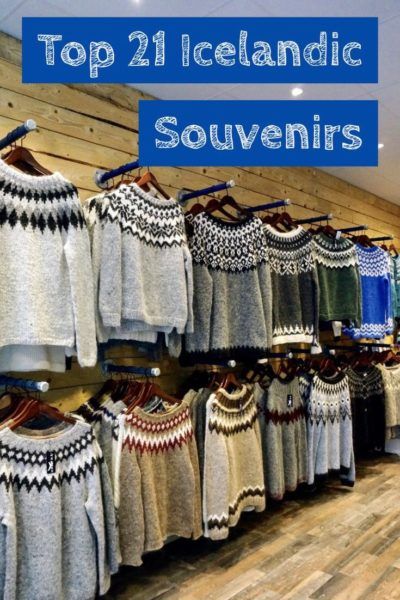 Sheep dot Iceland's hillsides as they have for centuries, yielding lush wool that local knitters whip up into sweaters.
The hot springs around the country inspire healing beauty products made from geothermal sea water and silica. The vikings that once sailed here inspire the sagas (legends) along with some unique souvenirs.
I've visited Iceland twice now, a full ten years apart, and have had the opportunity to souvenir shop the streets of Reykjavik and beyond on both occasions.
I'm happy to report that not much has significantly changed. Back in 2006 Iceland certainly had less tourists and prices were in a free fall because of the banking crisis– this made souvenir shopping both a bargain and delight.
But even ten years later, the huge increase in tourism isn't terribly noticeable. It's not exactly crowded and you won't find too many tourist traps or street hawkers selling cheap stuff from abroad.
This means that Iceland is still mostly the same place, with many only-in-Iceland souvenirs and bargains if you know where to look.
While the following list of the top and best Iceland souvenirs is limited to those I found in Reykjavik, I hope to drive the ring road soon and find souvenirs at every pit stop (if you know of any, please leave a comment!).
1. Icelandic Hot Dog Topping Souvenir
Icelandic hot dogs are pretty delicious, a cheap way to eat well in this pricey country. One of the best hot dog stands is located right in downtown Reykjavik, Bæjarins Beztu Pylsur.
The hot dog itself is tasty with nice snap, but it's the toppings that make the hot dog– ketchup, crispy fried onions, and the piece de resistance, a sweet brown mustard called pylsusinnep.
You can pick up the mustard as a souvenir at any Icelandic supermarket, and it is also available at the airport.
2. 66 North Fleece Souvenir
Reykjavik can be chilly, even in the fall (I haven't had the chance to visit in the summer yet). With whipping winds and rainy days, a snuggly fleece is always welcome. My favorite fleece souvenir ever comes from the 66 North shop in Iceland.
66 North is an outdoor clothing brand based in Iceland, designing active wear for its very active population. While everything is not necessarily manufactured in Iceland, the brand's designs often have an Icelandic feel to them.
Also, they know how to make warm clothing to fend off the chilly local weather. While 66 North may be available outside of Iceland, its availability in the US is very limited (and way more expensive, though