Because there are so many fantastic Japanese souvenirs and experiences, this post will come in two parts, this is part I.
In Japan, the magic is in the subtlety.
Other destinations might be more obvious, with their swaying palms, exotic cuisine or chaotic crowds. But after a while you come to know what to expect, and the culture shock wears off.
But in Japan, the culture shock never goes away. The differences are so small, so subtle, that they always catch me off guard and surprise me. I just can't wrap my head around Japan.
Tokyo, with its high rises and blaring neon feels so familiar to me, I can close my eyes and almost feel like I'm in New York. But walk past rows of unlocked bicycles and you'll wonder if you're in a city or a village. Or you'll be making your way through an ordinary neighborhood, packed with modern buildings and bustling salary men and suddenly happen upon a little known ancient shrine.
So much of Japan feels like that to me– a fantastic clash of modern and old, where globalization easily coexists with centuries-old traditions. My favorite experiences in Japan span both the old and new, whether embracing Japan's technological advances or falling back on beautiful rituals that never really changed.
And my favorite Japanese souvenirs represent those diverse experiences. Of all the countries I've visited so far, I can say hands down Japan is my absolute favorite for souvenirs. Unlike a lot of destinations where I can find pretty much find everything back home, in Japan there are many, many "only in Japan" souvenirs that I actually want to buy. My only regret is I didn't have more time to shop Japan on this trip.
Even so, it was easy to round up my best experiences and souvenirs from a recent week spent in the Kanto region of Japan. What was harder was narrowing them down, hence the multi-part post. These experiences and souvenirs are all in the Kanto area where Tokyo sits– so even on a short visit to Japan it is still very possible to experience a huge range of diversity within a couple of hours of Tokyo. Here are a few of my favorite Japan shops, souvenirs and experiences.
1. Japanese Experience: Sleep on a Futon in a Traditional Inn (Ryokan)
Imagine a 14 hour flight across the Pacific, navigating three separate train stations with luggage (umm lots of luggage) and hours later arriving under the cloak of darkness at your final destination, exhausted.
I was cranky and could barely see straight as I followed the staff member to my hotel room, certain nothing could impress me at this point. But as the door to my room was unlocked and I stepped into the suite, all the stress of the past 24 hours melted right off me. This was the hotel room of my dreams.
The Tokiwa Hotel in Kofu is no ordinary hotel, it is a ryokan, or traditional Japanese inn. I took off my shoes and walked on the soft tatami mats. With pure glee I went from room to room by sliding shoji screen doors. In the center of the bedroom lay a traditional futon, which looked like a giant fluffy pillow.
I have long had a fascination with Japanese architecture, especially traditional wooden homes. I couldn't believe that I was actually staying in one, and suddenly didn't feel so tired anymore. Like a small child, I kept sliding open the screens, eager for each new discovery (no, the novelty did not wear off). One screen opened a closet with a yukata robe, intended to be worn on the premises. I promptly put my yukata on and felt right at home.
I didn't want to miss out on enjoying my room, but when it finally came time to go to sleep, I sunk into the futon and had one of the best nights of sleep ever.
What Souvenir to Buy in Japan: a Yukata
In Japanese Ryokans, you'll be provided with a yukata to wear around the property during your stay (it's even appropriate to wear to dinner). A yukata looks similar to a light bathrobe, but is much more elegant. My yukata is one of my favorite Japanese souvenirs, perfect for lounging around in my apartment.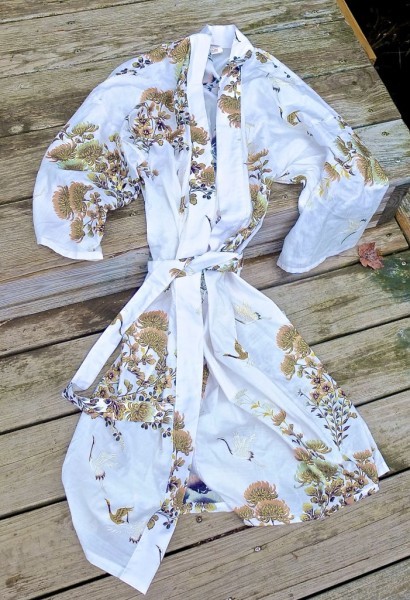 2. Japanese Experience: a Dip in a Hot Spring (Onsen)
An onsen is a Japanese hot spring, where the Japanese gather to soak and bathe. There are thousands of onsen around Japan and the Kanto region we visited seemed to be chock full of them. I couldn't photograph most of the onsen because of privacy considerations (no swimsuits or clothing is allowed) but there was one onsen I had all to myself.
What Souvenir to Buy in Japan: a Japanese Towel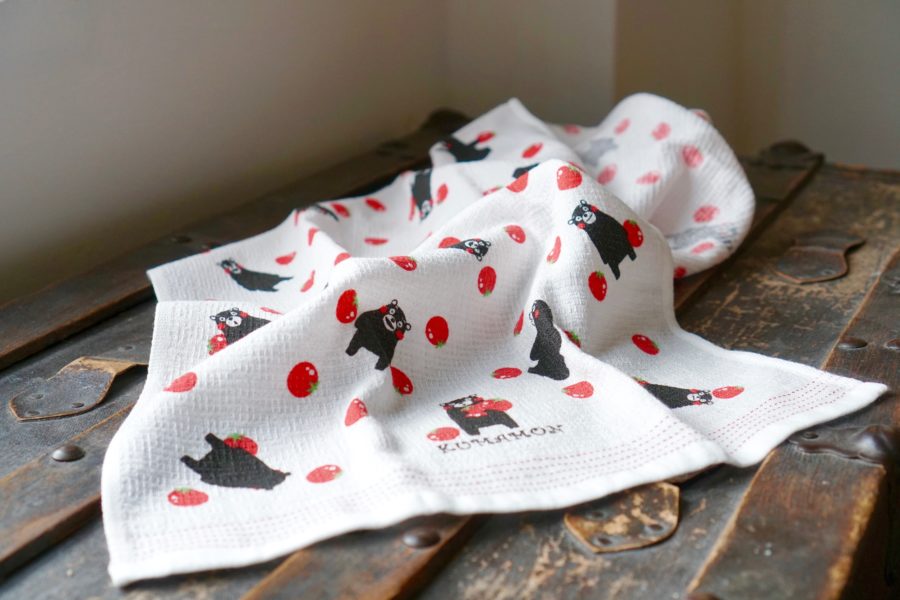 At some onsen, you might need to bring your own towel (or rent one there). Fortunately, Japanese textiles are of the highest quality so it makes sense to pick up a towel to use and bring home as souvenir. I found this small but absorbent towel to be perfect for travel. While my souvenir towel doesn't make my tiny Manhattan bathtub feel like an onsen, the adorable bears do cheer up my bathroom.
3. Japanese Experience: Japan's Culture of Cute (Kawaii)
In Japan, cute (called kawaii, pronounced like Hawaii) is everywhere (read all about Kawaii in this post). You'll find adorable little cartoons adorning the most unlikely places– police stations, airport terminals, even road barriers. While at first all the kawaii might seem silly to an outsider, I promise you no one is immune to their charms– even the biggest curmudgeon will find themselves saying "oh kawaii!" before long.
What Japanese Souvenir to Buy: a Symbol of Kawaii

If you want to bring home a Japanese kawaii souvenir, you won't have a lack of choices– they are everywhere. I'll be writing more about kawaii souvenirs in a future post.
4. Japanese Experience: Dining at a 7-11
Ask anyone who has spent time in Japan what they think about the local 7-11's and guaranteed you will hear breathless excitement in their voice. In Japan, 7-11s aren't just convenience stores, they are a haven for quick, delicious snacks. Read more about the Japanese 7-eleven experience in this post.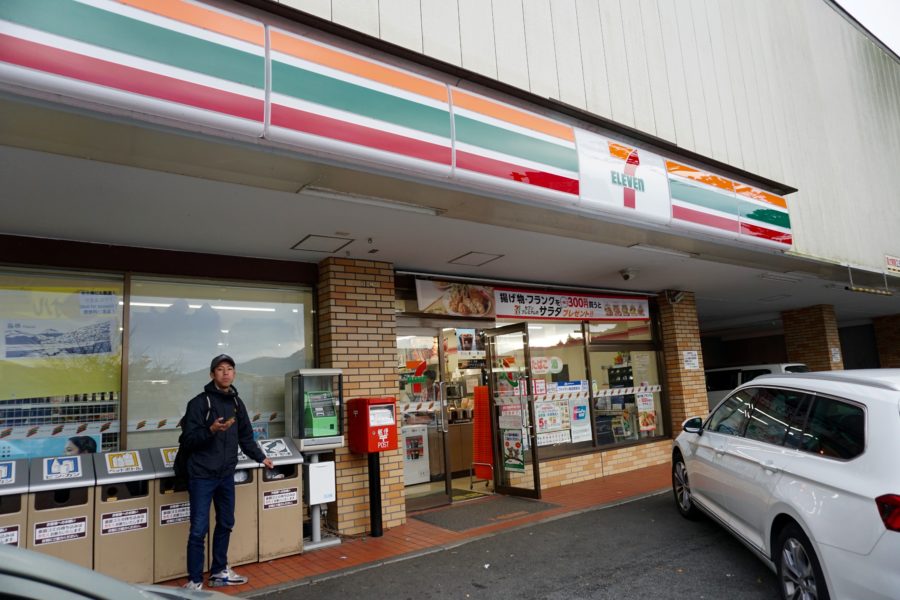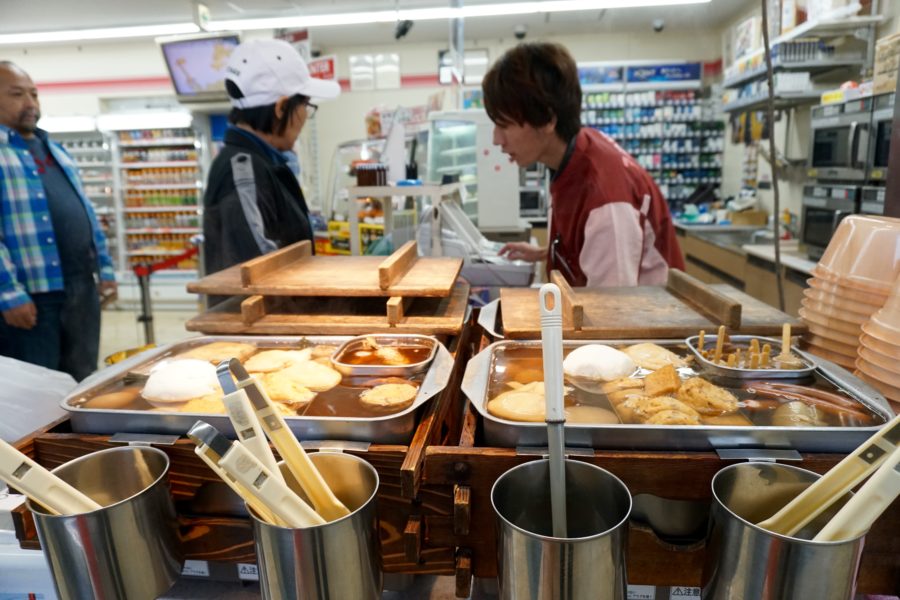 What Japanese Souvenir to Buy: Crazy Sandwiches Combinations

Of course 7-11's are well-stocked with all the popular Japanese candy, an enormous assortment of noodles and other random finds. But what I found the most unusual and compelling were the sandwiches on offer– like these hot dog-like rolls stuffed with whipped cream or noodles.
5. Japanese Experience: Tokyo's Bustling Asakusa Shrine and Market
Tokyo's Asakusa shrine and market is an incredible place to visit and shop. The crowds can be insane, so visit as early as possible for the best experience. For more on Asakusa market check out this post.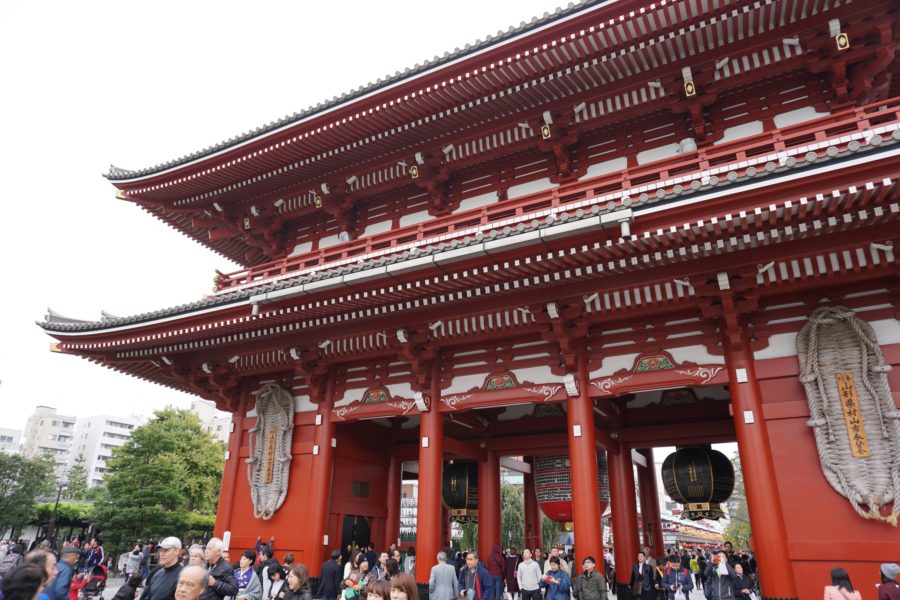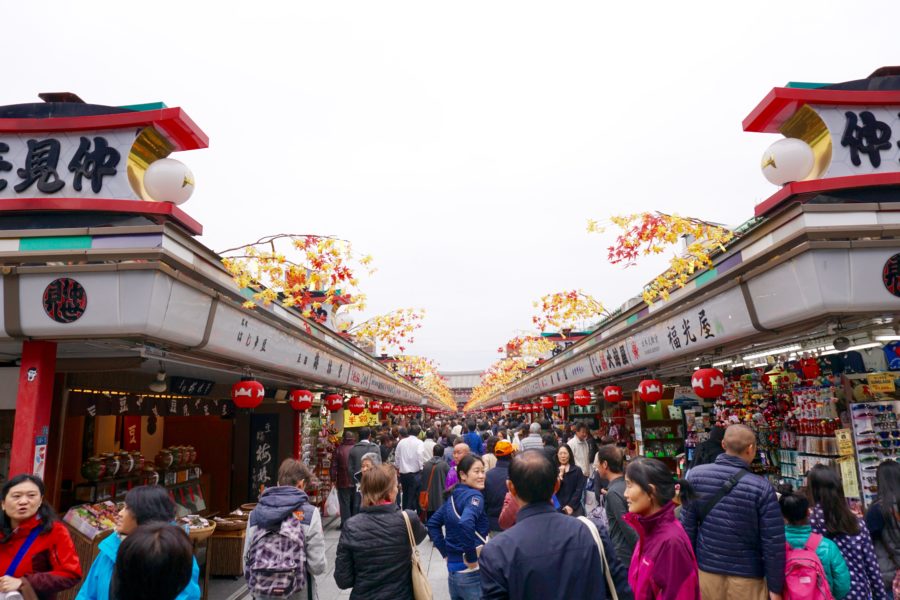 What Japanese Souvenir to Buy: a Lucky Maneki-Neko Cat
Asakusa market has all the expected Japanese souvenirs– but it's also my favorite place to pick up the maneki-neko ('beckoning cat'). This lucky little cat is actually Japanese in origin (though China has their own version). The raised paw beckons in customers, wealth, and overall good luck. Also, lucky cats are pretty adorable and make great gifts. Read more about Maneki-neko cats in this post.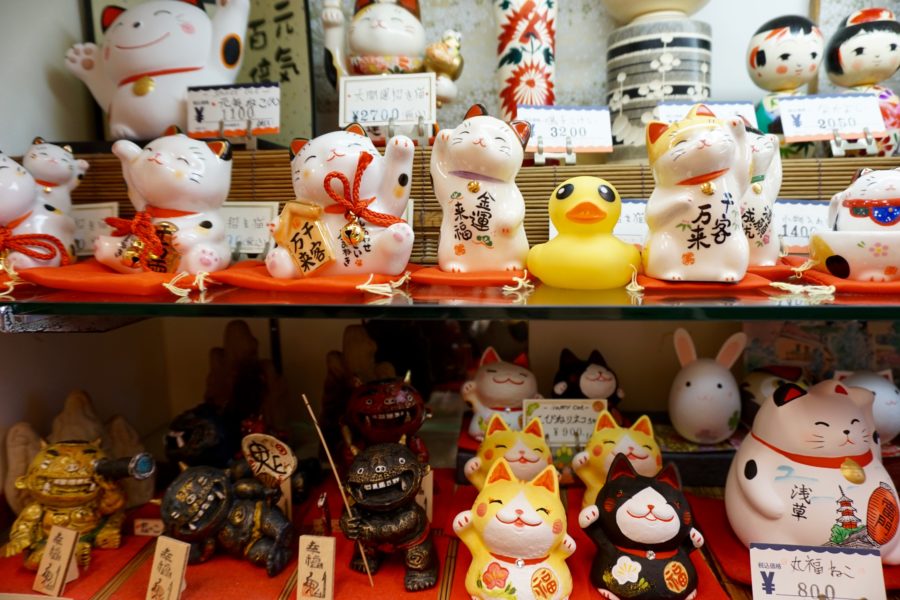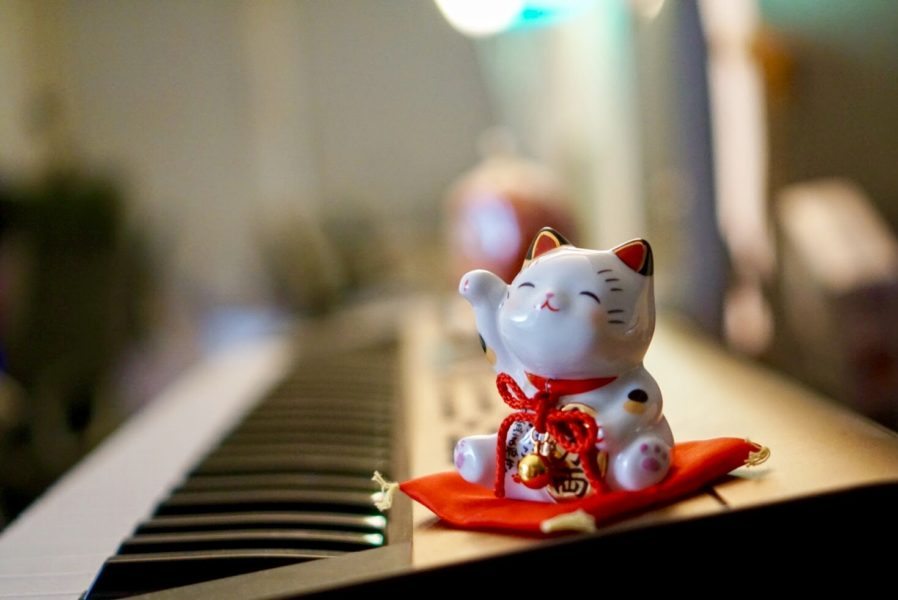 6. Japanese Experience: Walk a Beach at Sunrise
Yes I did realize that Japan is in fact an island. But for some reason I just didn't associate Japan with beaches, at least it wasn't anything I'd heard of outside of the more tropical islands like Okinawa, much less a beach within spitting distance of Tokyo.
But one evening, when as usual, we arrived at our hotel (the Imaihama Tokyu in Kawazu) after dark, we learned that the hotel was in fact sitting directly on a beach. I almost didn't believe it, but dutifully set my alarm for an ungodly pre-sunrise hour just in case.
Still jet-lagged, I secretly hoped for rain when the alarm went off, but alas it was all clear. It was too early for the hotel breakfast to be open and I wasn't sure I was going to be able to power through the morning photo shoot. Then I remembered the bags of Japanese flavored KitKats I'd bought the prior day. I threw a bunch of minis into my camera bag.
I stepped outside and saw this. Miles of sandy coastline punctuated by spectacular rock formations. Yeah, I think it was worth it.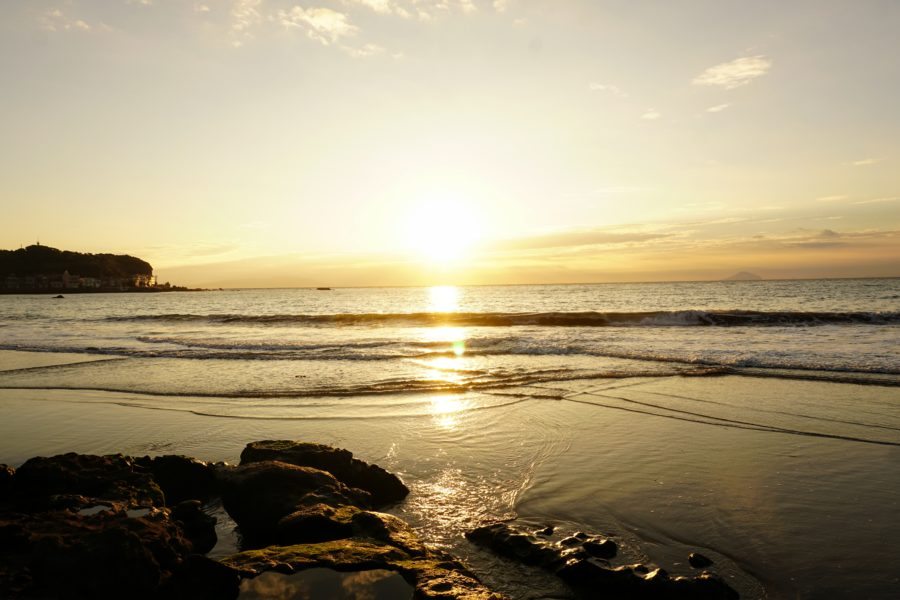 What Japanese Souvenir to Buy: Flavored KitKats

I bought those Japanese flavored KitKats as a souvenir to bring back home. Flavored KitKats are hugely popular in Japan, and everyone has their favorites (strawberry is mine, but sake, green tea and Hokkaido melon were also tasty). I recommend buying big bags of KitKats in bulk. Whenever I needed a little something, it seemed like a bite size KitKat was the perfect answer– it wasn't long before the press van and my hotel room became littered with those little wrappers.
You'll want to restock before heading home, these flavored KitKats also make great gifts.
7. Experience: Surround Yourself in Zen in a Bamboo Forest
My first visit to a bamboo forest visit was to the well known area of Arashiyama, outside Kyoto. While Arashiyama has a gorgeous bamboo forest, it can get crowded which takes a bit away from that zen feeling. Much closer to Tokyo in Kamakura lies a smaller but still impressive bamboo forest and temple at Hokoku-ji. I hate to use the phrase "hidden gem" but that's pretty much what Hokoku-ji is– it felt like a secret and sacred place, that at times I had all to myself. This was one of my favorite stops on the entire trip.
Photo by Josh Bender of Travel with Bender.
Bring it Home: a Symbol of Zen, the Daruma Doll

Japanese Darumas are a perfect representation of Buddhist zen– and offer you a bonus wish to boot. Darumas are hand-painted, papier-mache dolls based on the 6th Buddhist monk Bodhidharma, the founder of Zen in Japan. They come with vacant eyes that you paint in as you make your wish, and later when your wish is fulfilled (read all about Darumas in my post here).

8. Experience: the Wonder of a Japanese Department Store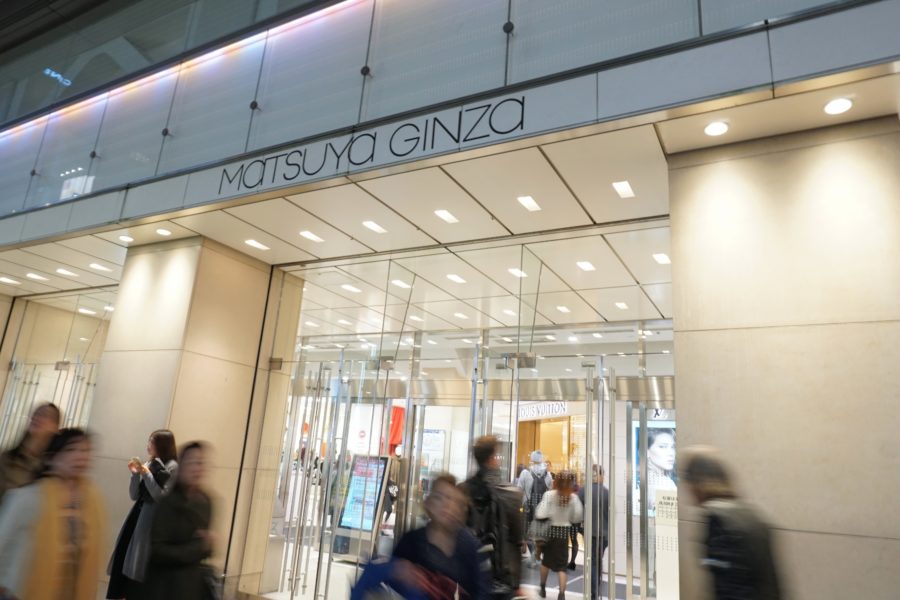 Japanese department stores are more than just clothes and accessories. Head downstairs and you'll find a couple of floors filled with stalls of vendors selling fancy sweets, prepared foods, vegetables and groceries. It's a good place to taste test sweets as they often have generous samples. Look for a full post coming soon on what to look for.

Bring it Home a 12960 ¥ Melon ($115 USD)

Seriously, where else can you find a $115 melon? Or a $40 bunch of grapes?
9. Experience: a Traditional Japanese Tea
Matcha, a powdered green tea, is the latest favorite Instagram cliche for a certain set. But instead of mindlessly guzzling matcha lattes with the other wannabes, why not be mindful and learn why this special tea has been a favorite for thousands of years. At a Japanese tea ceremony, you'll learn just that.
While I carefully observed the mechanics of tea host's preparation of the matcha (a solid whisking technique yielded frothy matcha), what was even more interesting were the rituals attached to the ceremony.
At one point, the translator stated "many lives were lost to prepare this tea." We all looked at each other in horror until we realized they meant plant lives. The level of respect and thought put into every part of the tea– from the growing of the plant to harvesting to the end product– really hit home. Does it make the matcha tea taste better? Absolutely.
Bring it Home: a DIY Matcha Tea Kit

After you've had matcha tea prepared by a master, it can be hard to go back to the Starbucks version. If you have the motivation to DIY your own matcha tea, you can actually buy everything you need in one box (along with instructions, thankfully, in English). Look for matcha kits (or even instant matcha) at any tea shop.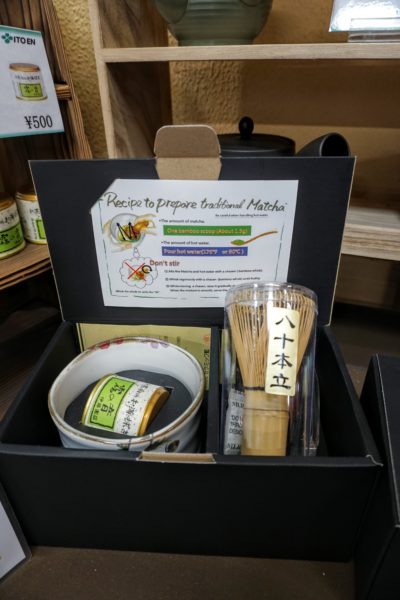 10. Experience: Cosplay at Tokyo's Harajuku District
You've probably heard about cosplay, where Japanese dress up in crazy cute costumes (think Little Bo Peep and similar). Harajuku is ground zero for cosplay, along with other zany Japanese trends. We didn't visit on a Sunday, the day when cosplay actors are out in full force, but we still spied a couple contenders. And there is still plenty of fun and color otherwise– our favorite was sampling the giant cotton candy. For more on Harajuku check out this post.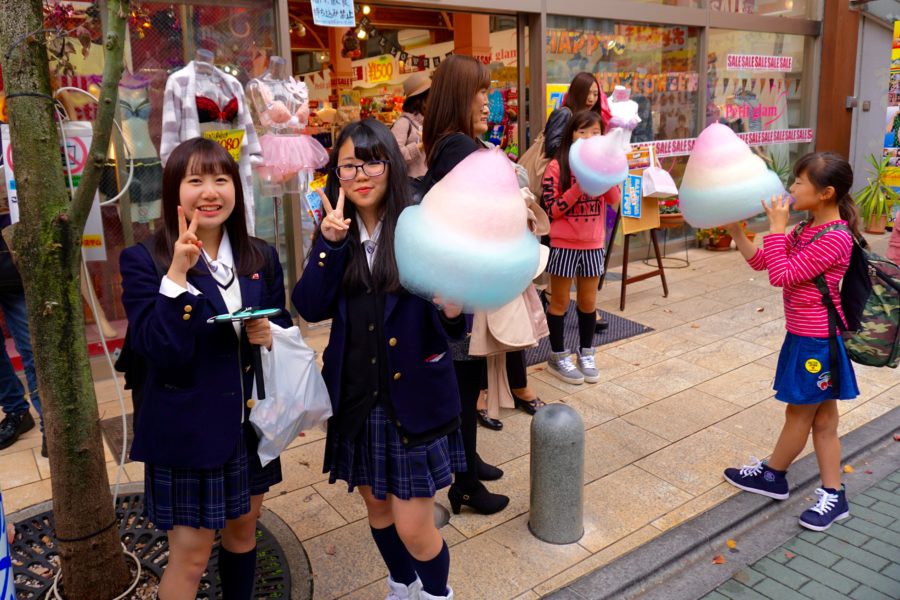 Bring it Home: Crazy Trends You Never Knew You Wanted

Harajuku is essentially one big shopping street and the perfect place to bring home a new Japanese trend.
11. Experience: the Rush of Tokyo Street Life
There is nothing like walking the streets of Tokyo to give you a feel for the city. Whether you are crossing the world's busiest intersection at Shibuya, marveling at the bright neon lights, or lining up on the subway platform, there is a certain harmony to it all.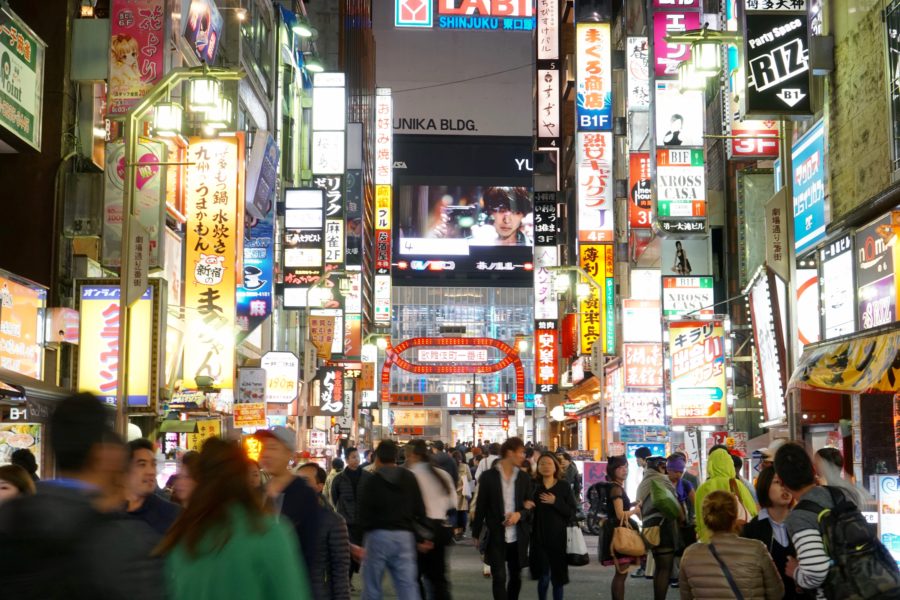 My friend Robert of Leave Your Daily Hell led me around Kabukicho while sharing photography tips.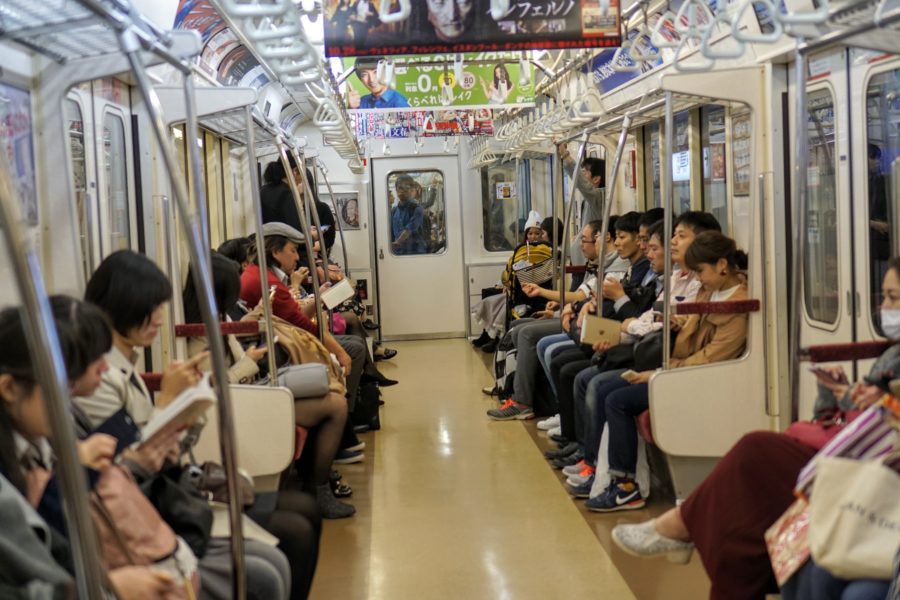 Bring it Home: a Tokyo Banana
If I had to pick just one souvenir that represents Tokyo to me, it would be the Tokyo Banana– a Japanese sweet that reminds me of an upscale twinkie. First, Tokyo bananas are adorable, with a sunny yellow color and gift-worthy pre-wrapped boxes. Second, Tokyo bananas are tasty and have universal appeal (unlike other Japanese treats that can be more divisive, I've never had anyone tell me they dislike a Tokyo banana). You can find Tokyo bananas at larger train stations, in 7-11's and of course at the airport. For more on Tokyo bananas check out this post.
12. Experience: Cling to a Cliffside Shrine
The Kumano Shrine at Cape Irozaki is built right into the cliffside, overlooking the water. At times, I felt like I was going to be knocked off the cliff by the gusty winds, but this only added to the experience as the strong winds drowned out any ambient noise. Come just before sunset for an otherworldly experience.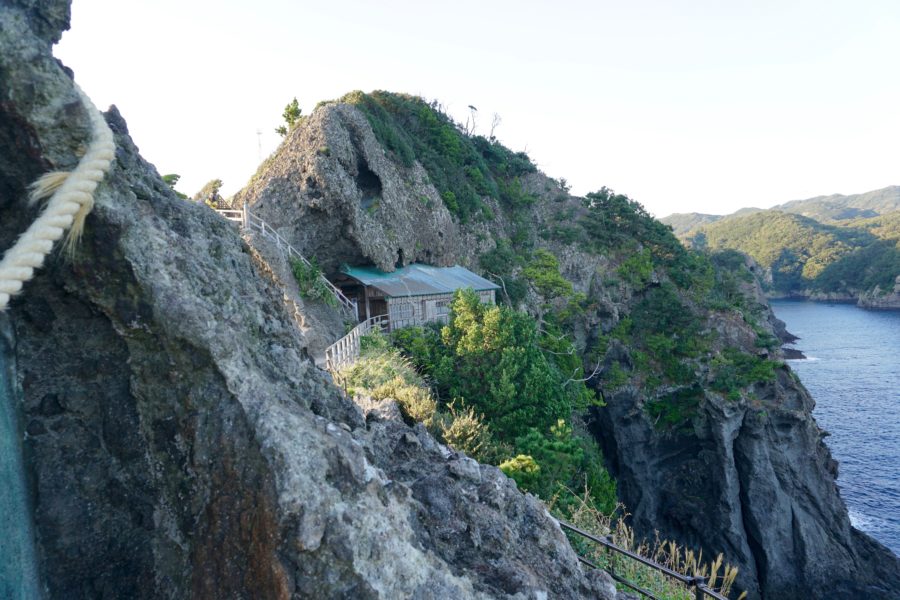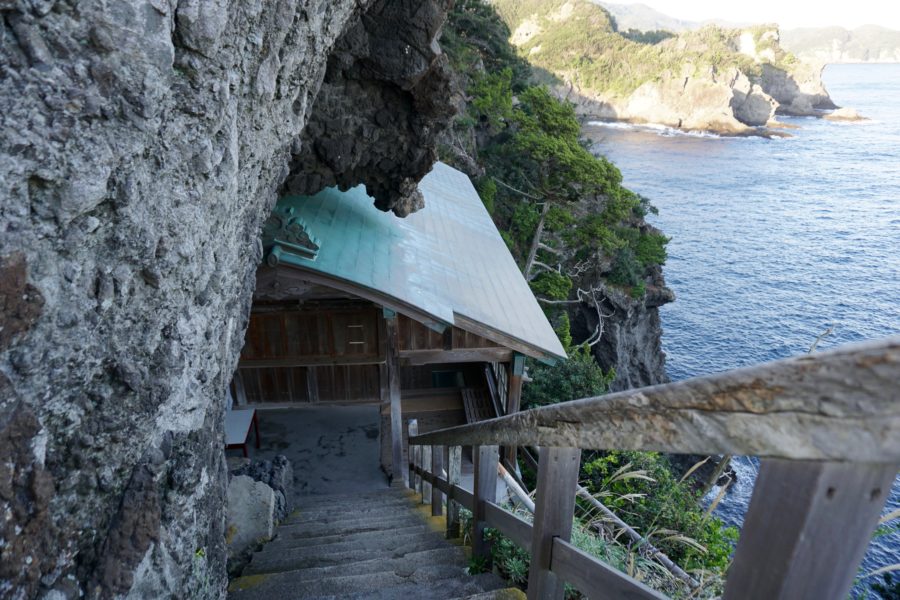 Bring it Home: a Japanese Fortune
At many shrines and temples in Japan, you can donate a small sum and receive a fortune in return. While the fortune follows you home, it is tradition to leave the fortune behind by tying it to a tree or structure at the shrine. While it might sound risky to get a fortune while on vacation (I was terrified of getting bad luck) the Japanese have a solution– if your fortune has any bad luck, it is said that by tying it and leaving it here the bad luck will blow away with the wind. For more on Japanese fortunes, check out this post.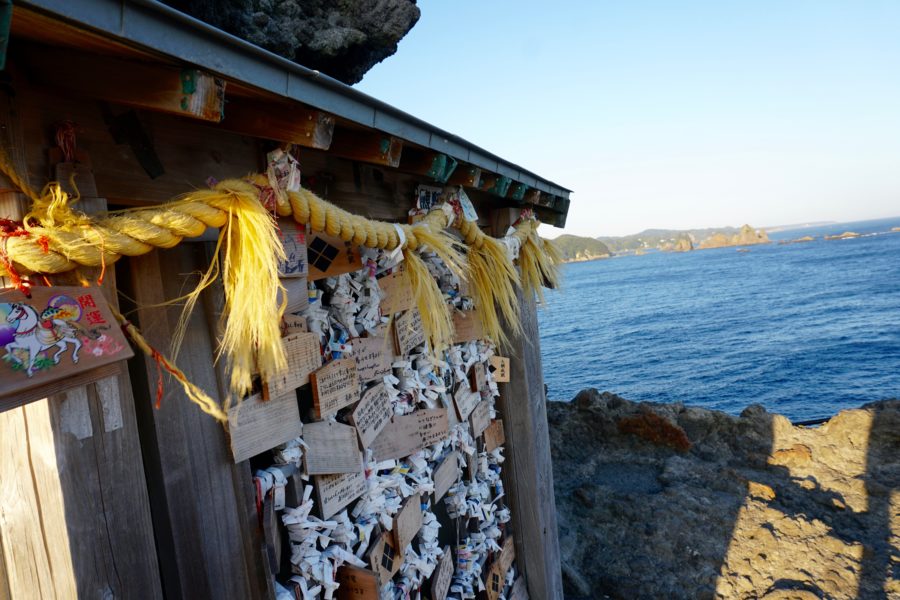 Coming soon– part 2 of the best Japanese souvenirs and experiences!
What are your favorite Japanese souvenirs? Share in the comments below!
Disclosure: my trip to the Kanto region of Japan was part of a press trip hosted by JTB, but all of my souvenir picks are my own.