Tokyo Banana– an irresistible Tokyo Souvenir
When passing through Tokyo station, you can't miss the Tokyo Banana shops– the super-cute, bright yellow shop fronts are designed to attract attention. During rush hour, you'll even see long lines of locals queuing up for these baked banana treats. Although I was ready to stockpile the bananas for gifts based on the packaging alone, I decided to taste-test them first. For research of course.
Taste-testing Tokyo Bananas
Think of a Tokyo Banana as an upscale version of a Twinkie. Like a Twinkie, the Tokyo Banana's custard center is surrounded by moist sponge cake.
But unlike a Twinkie– which is so hopped up with preservatives that you can stash them in a bomb shelter for the next 50 years– Tokyo Bananas are perishable, and even date-stamped for freshness.
The freshness of a Tokyo banana really makes a difference in the flavor– instead of the artificial-tasting fluff in a Twinkie's center, a Tokyo Banana's center is made with a rich, velvety cream, flavored with just a hint of natural banana.
Tokyo bananas easily passed my taste-test, so I picked up several boxes to bring home as souvenirs and gifts. I loved the adorable bag they came in and ended up requesting extra bags so I could present each gift with its own matching bag.
My friend Karen also saved her cute bag from Tokyo Banana– she lucked out and got a special-edition reusable bag.
A close up shot of the back of Karen's Tokyo Banana bag reveals some fun "Engrish":
[quote style="boxed"]People gather to TOKYO from here and there with memories of their home. And then, Tokyo gets the everyone's home town.[/quote]
Have you tried a Tokyo Banana? Share in the comments below!
[typography font="Trocchi" size="24″ size_format="px"]Pinterest-Friendly Images[/typography]
[pinit]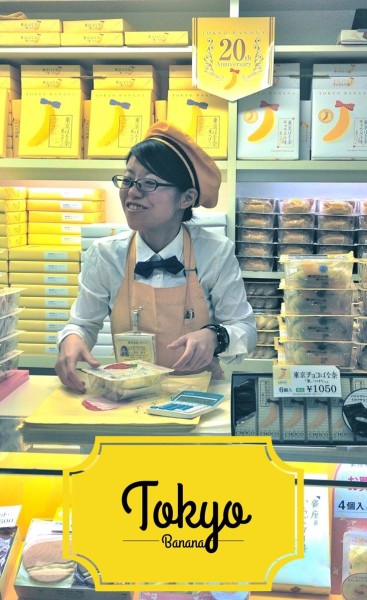 Photo Credits:
Photos #1 & #3 by Souvenir Finder Copyright 2014 and may not be used without permission.
Photo #2, Tokyo Banana, courtesy of Ari Helminen Photography, used with permission.
Photo #4 & 5, Tokyo Banana bags, courtesy of photographer Karen A. Stafford (link to Karen's flickr portfolio here).