I'd gotten tired of hearing about the purple pasta cooked in red wine– my friend Amy just couldn't shut up about how good it was. Amy had sampled this dish in Florence years ago and had been longing to go back ever since. While I was fine with adding it to our itinerary, I remained skeptical.
For one, red wine spaghetti just sounded gimmicky, like some kind of fake Italian food stunt created to impress tourists. Then there is the whole tainted memory thing– a moonlit evening, charming trattoria and handsome Italian waiters could make any meal memorable. But it was just one meal, and I was curious– especially when Amy, a journalist, mentioned the dish was on some sort of insider list passed around by food editors.
The Taste Test: Spaghetti All'Ubriaco (Drunken Spaghetti) at Florence's Osteria De Benci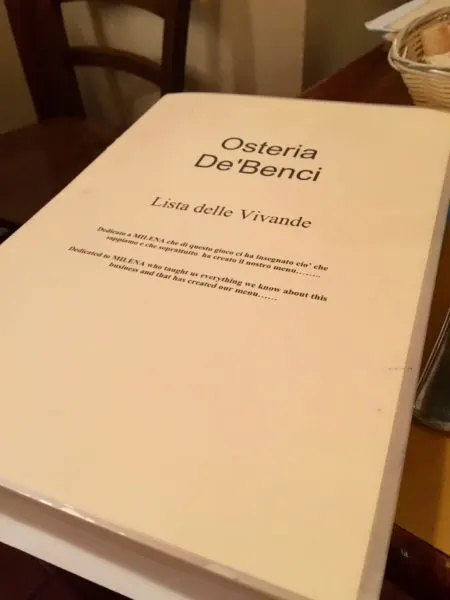 We wasted no time and hit Osteria de Benci for dinner on our first night in Florence. As I scanned the menu for the dish, I was relieved to learn that the "purple pasta" had a proper sounding, Italian name (spaghetti all'ubriaco).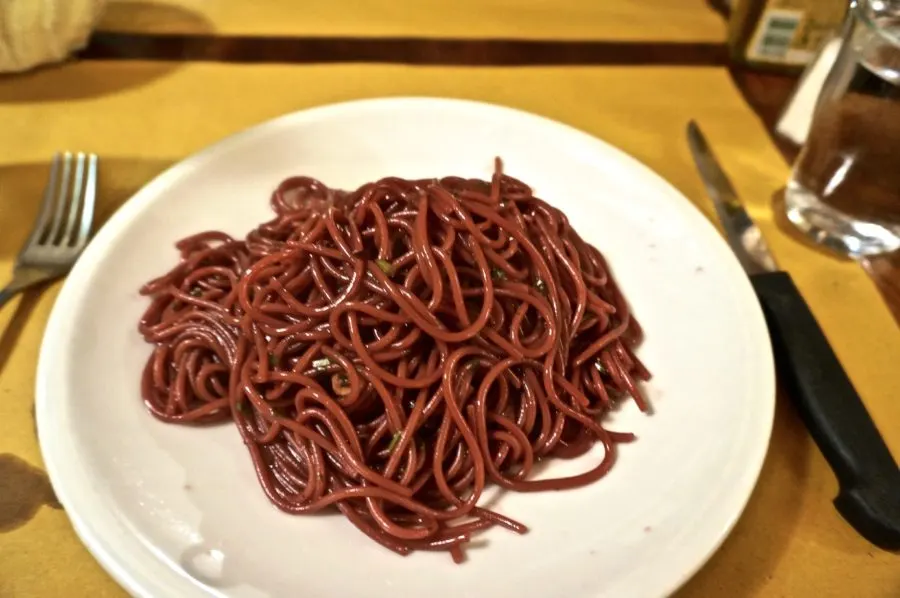 Even though I knew in advance what to expect from Amy's vivid descriptions, it was still quite shocking when the waiter placed the spaghetti in front of us. The color was a cross between blood-red and purple. I started to wonder if it would be rude to order something else. But I persevered and took a small bite.
The first bite tasted very sharp, almost astringent, but tasty nonetheless. The more I ate, the more I craved that sharp bite. by the time I finished the drunken spaghetti, I completely understood the addictive quality. I knew I couldn't wait for another trip to Florence to have it again so I took a chance and asked the waiter for the recipe.
I was surprised that the waiter freely divulged their secrets. As Amy jotted down notes, I peppered the waiter with specifics. What kind of wine (cheap wine, pricier bottles are too rich). How much garlic (a clove or two). How long does the spaghetti cook in the wine versus in the boiling water (use your judgment, but it will be easier to cook if you at least partially boil it for a minute or so first).
Back home, I looked at the scribbles and headed for google hoping to find a comparable recipe (I found nothing exactly right, and the most-cited recipe included walnuts, which just seemed wrong for such a simple dish). So I created my own, which I think tastes pretty close to the original. Be warned before you serve this at your next dinner party– this dish is a love it or hate it kind of thing, it might not be for everyone.
Spaghetti All'Ubriaco
Approximately 1/2 cup extra virgin olive oil
1 tablespoon minced garlic
1 teaspoon red pepper flakes, or to taste
1-2 teaspoon bouillon (or cubes, European ones are better if you can get them)
Salt and freshly ground black pepper to taste
1 pound spaghetti
2 bottles inexpensive Chianti Classico
1 tablespoon butter
Chopped parsley
Bring a large pot of salted water to a boil. Cook spaghetti 1-3 minutes (you can vary this– if you cook it longer in water, it will absorb less wine in the second stage and look less purple). Drain.

In the meantime, heat a few tablespoons oil in skillet. Add garlic and red pepper flakes, cook until it browns gently (but do not burn garlic).

In large deep skillet, pour two bottles red wine. Add billion. Bring to boil. Add drained pasta to wine. Keep an eye on it and if wine absorbs too quickly turn the heat down or add a bit of water.

When pasta is done and wine is absorbed, add garlic, pepper and oil. Finish with additional oil and/or a tablespoon of butter, if desired. Season with salt and pepper.

Toss chopped parsley on top, serve with pecorino romano cheese.