If you live near a large city like New York, the idea of visiting another country's department stores probably doesn't hold that much appeal. We all get the same international designers, and what you can't find back home you can almost certainly find easily online (usually with free shipping both ways). So when visiting another international city like London, I skip right over the big-name department stores like Harrods and Selfridges.
But there is one London department store so unique and such a pleasure to explore that it always makes its way onto my London touring and shopping itinerary– Liberty London. What makes Liberty of London different isn't its selection of designer duds (yes it has those too) but its own line of Liberty print fabrics (more on those in my next post) and its high-quality, but reasonably priced accessories.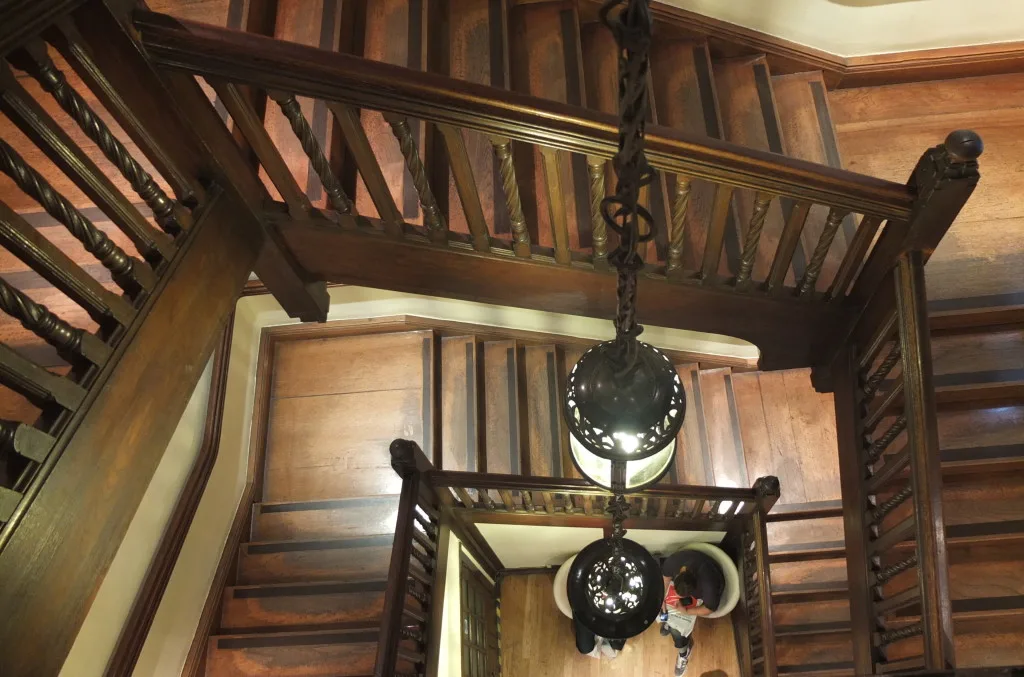 Liberty of London is completely different from any other department store I've ever experienced— walking through its cozy rooms, grand atriums and winding wooden stairwells feels like you are exploring the home of a grand English aristocrat.
I loved all the woodwork details, like this turtle finial on the staircase.
Liberty print stationery
As you walk into Liberty of London's ground floor entrance, you'll be right in one of my favorite departments– the stationery section. Here you'll find gorgeous notebooks and paper accessories emblazoned with Liberty print patterns. These make great gifts, too.
Liberty London print greeting cards are beautifully made and probably the least expensive way to bring back some of the Liberty's great design aesthetic. In addition to all the Liberty London print items, you'll find other examples of British whimsy— I loved this crocodile-with-a-crown stationery.
Next up: Liberty London Print accessories
As you make your way into the store, you'll find the collection of Liberty London print accessories– standouts include Liberty London print leather passport holders, ipad cases, shopping bags and makeup bags (called wash bags in the U.K.).
Liberty London Jewelry
Liberty of London's costume jewelry section features only a few items with Liberty print designs (like watch bands made from Liberty London fabrics). But it's worth a browse to check out some great pieces from local British jewelry designers. I was especially fond of English designer Astley Clarke's colorful enamel bangles.
Head upstairs: Liberty of London's Women's Fashion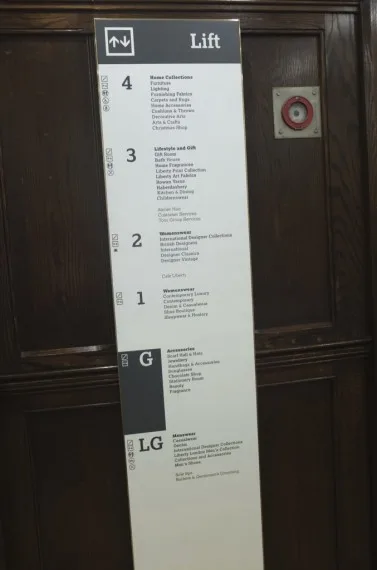 Notwithstanding its charming, antique appearance, you won't get lost in the in the labyrinth of rooms here– Liberty of London is easy to navigate. Look for the large directory placards by the elevators and stairwells. The men's collection is down one flight, for everything else, head upstairs.
Take this mannequin's advice and stop before heading into the women's designer fashion section, or you may risk blowing your vacation budget (designers often run collaborations using Liberty fabrics and they can be tempting). For classic (and well-priced) Liberty London print shirts (to be reviewed in my next post), head to the third floor.
Head to Liberty of London's top floor for British Gifts
The gift collections may change, but I always love browsing Liberty of London's top floor for the well-edited, very British gift options in all price ranges.
I loved this colorful, pop-out bird house.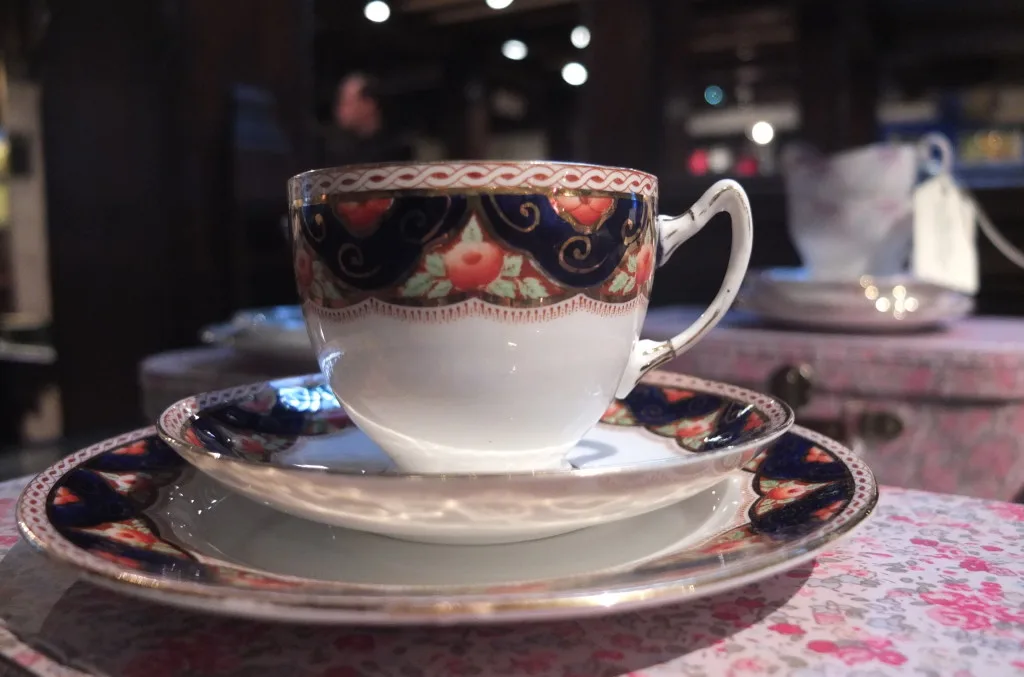 Too lazy to hunt down your own antique china tea cups? Liberty packages these one-offs beautifully, gift-boxed and ready to go.
Want to see more of Liberty of London? Check out the slideshow:
This slideshow requires JavaScript.
After you've finished shopping, head upstairs for a VAT form to get your tax back, then hit the Liberty London's cafe for some of the best tea and scones in London.
Not headed to London anytime soon? You won't have the same selection or experience as visiting the shop, but armchair travelers can always shop online at Liberty London.
London Souvenir Shopping Details:
Liberty London
Regent Street
London W1B 5AH
Have you shopped at Liberty of London? What are your favorite souvenirs?