San Francisco's Mission District (called just "the Mission") is one of my new favorite neighborhoods to explore and shop. Whenever I travel I love to scope out those on-the-cusp neighborhoods like the Mission. These just-gentrifying neighborhoods offer the best of both worlds– a sense of history and traditional culture given new life by an influx of artists and entrepreneurs seeking cheaper rents.
As San Francisco's oldest neighborhood, the Mission still holds tight to its Latino roots– you'll find plenty of family-run taquerias and Salvadoran bakeries. But you'll also have plenty of interesting places to sightsee, grab a coffee and shop– some of the formerly derelict, empty shop fronts have been taken over by trendy boutiques, thrift stores and coffee bars.
On our latest trip to San Francisco, we met up with our friend Anne, blogger from Part-Time Traveler and San Francisco resident. Anne offered to give us a mini-tour of her favorite Mission spots. Anne is passionate about the Mission and great fun to walk the neighborhood with. If you'd like your own tour with Anne, contact her at [email protected].
1. See the Mission's Murals at Clarion Alley
Start off your Mission tour in its true heart, Clarion alley. Local artists have been expressing their creativity here since the early 80's. But this isn't ordinary street art– when you enter Clarion alley you'll feel like you're actually stepping inside a mural, with designs all around you, even under your feet. I especially loved how the murals melded with the environment, the trees and doorways all became part of the art.
2. Grab a Snack at an Authentic Taqueria in the Mission.
Skip the hipster nouveau taco joints and go old school at a family run taqueria, fortunately still plentiful in the Mission. Not only will you get more bang for your buck (the servings are huge), but everything is freshly made.
Anne brought us to Taqueria Cancun (3211 Mission St). I could hear the vegetables being chopped as we waited, and the food was absolutely delicious. I was so stuffed I had to bring part of my lunch home.
3. Shop the Mission.
Play at the Pirate Store
826 Valencia (the "Pirate store"), 826 Valencia St, San Francisco, CA
826 Valencia is a described as a "pirate supply store." It's actually part of a larger community project created by author Dave Eggers. But lest there be any confusion, this is a bonafide pirate store, filled with pirate hats, wooden legs and messages in a bottle, among other things. This shop is so much fun that I dedicated an entire post to it here.
If you only visit one store in the Mission, let it be this one, I can't tell you how much fun we had here playing with eye patches and discovering hidden nooks.
Gawk at Taxidermy
Paxton Gate, 824 Valencia
Next door to the Pirate shop is Paxton Gate, a rare shop devoted to taxidermy. Originally offering "eccentric gardening merchandise," Paxton Gate expanded to include rare insects, taxidermy, home decor and vintage finds, among other things. Definitely a one-of-a-kind store in every way.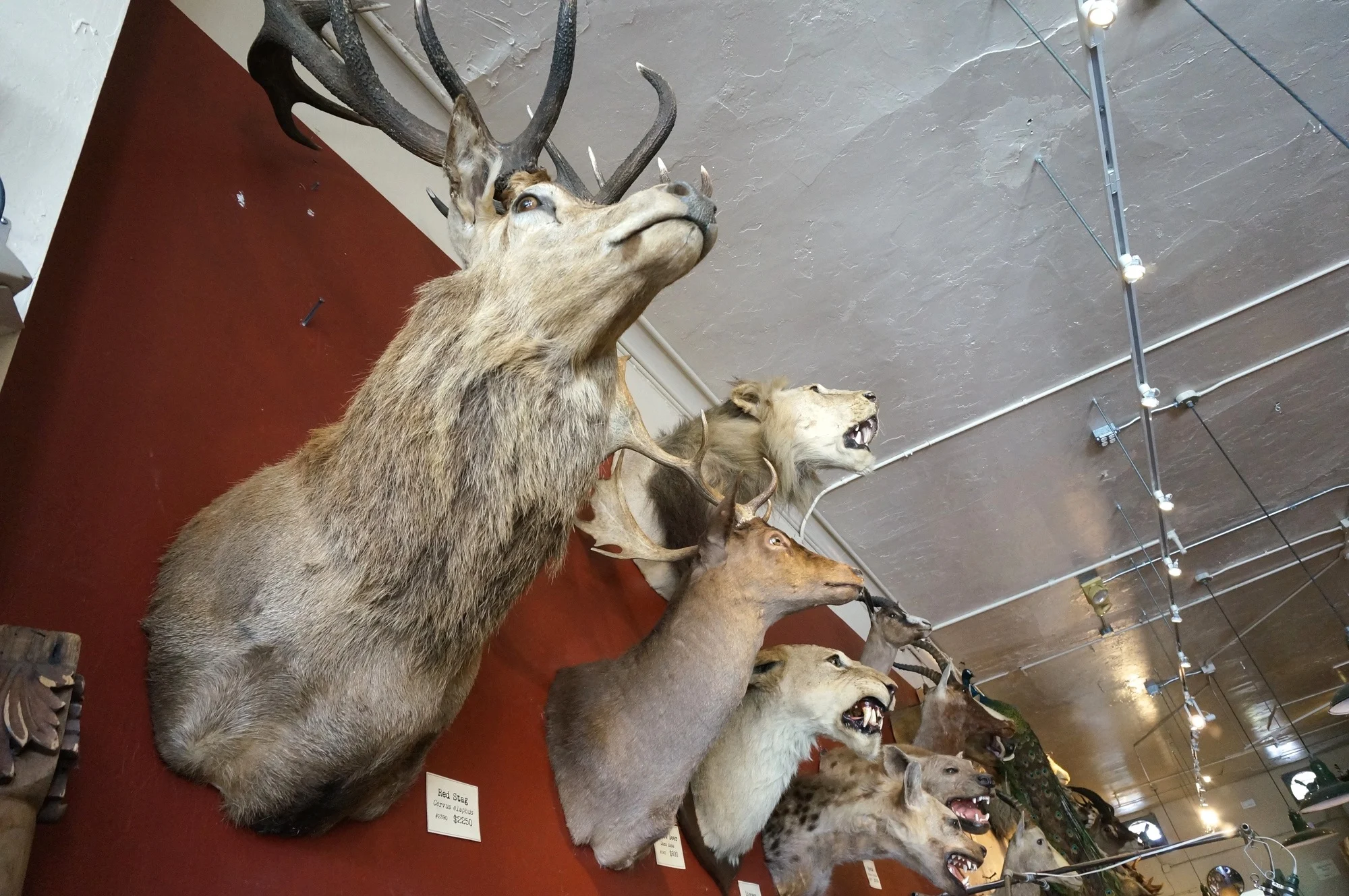 Taste Test Small Batch Chocolate
Dandelion Chocolate, San Francisco, CA
I was shocked when Anne brought me to a chocolate factory right in the heart of the Mission District. The sleek Dandelion Chocolate factory eschews Willy Wonka-esque decor currently in vogue at other chocolate stores and focuses on what really matters– the chocolate. At Dandelion Chocolate, the chocolate is "roasted, cracked, sorted, winnowed, grinded, conched, and tempered" in small batches of beans. And only then is each bar of chocolate molded and package by hand. The individual flavors here are unique and intense– try before you buy your next favorite bar. Delicious chocolate drinks, both hot and cold, are also available.
The best part about this chocolate shop is that it's an interactive experience. Everything is well labelled and you are encouraged to read and sample at your own pace.
Also worth checking out:
Dog Eared Books
900 Valencia St (at 20th St), San Francisco, CA
Featuring local authors, new and second hand books.
Gravel & Gold
Apparently the boob-print tote is an epic San Francisco souvenir. Look for unusual clothes, cool housewares, and chic stationary.
What are your favorite shops in San Francisco's Mission District? Tell us in the comments!