In New York City, you can't go wrong by sticking to the tried and true. The same goes for souvenirs– the best New York City souvenirs are those that evoke a New York of a different era, the "classic" New York we all want to find. So I skip over the latest foodie trends (like the two-hour wait for nutella cronuts) and find my best New York souvenirs by looking back in time.
An Egg Cream Soda– a must-try treat in New York, and one of the best New York City souvenirs.
I'm a long-time New Yorker, but I only tried my first egg cream soda recently because I assumed, naturally, that an egg was involved. Call me crazy, but eggs and soda together? I'll pass. When I finally figured out that the classic New York egg cream contains neither egg nor cream, I tried one and have been a convert ever since.
What's in a New York Egg Cream Soda?
A New York egg cream soda only has three ingredients– cold milk, seltzer (preferably from a fountain) and the essential ingredient (and our NYC souvenir), Fox's U-bet syrup. Before you recreate your own New York egg cream back home, try an expertly made one in the city that made them famous.
I recommend visiting an old haunt of mine on the Upper East side– Lexington Candy Shop, a real luncheonette dating back to 1925. For years, I lived right around the corner from Lexington Candy and headed there many weekend mornings ( it's the perfect spot for a "restorative" diner breakfast after a late night out). Though I've since moved, I revisited recently to make sure their egg cream soda was still up to snuff.
Walking into Lexington Candy Shop is like entering a time warp– I love the old school counter, stools and booths (and vintage appliances). The menu offers classic diner options like burgers, club sandwiches and omelettes– all satisfying on their own– but come here for the main attractions, the creamy milkshakes and fountain drinks.
If you're trying the classic New York egg cream soda, I recommend sitting at the counter and watching the soda jerk whip up your egg cream right in front of you.
This slideshow requires JavaScript.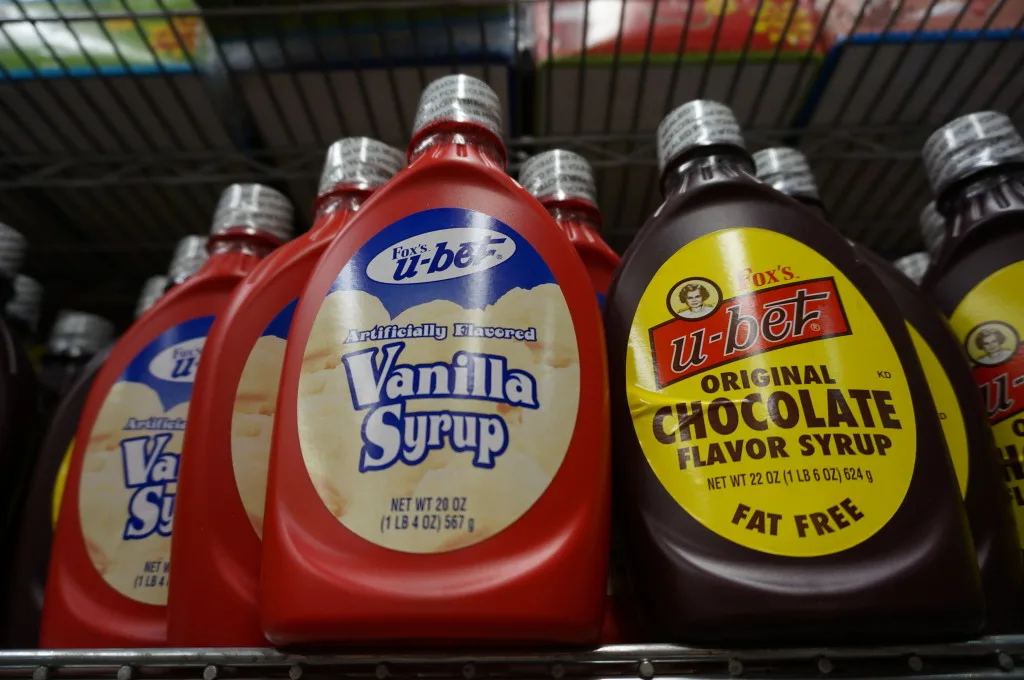 Once you've experienced the expert version of a New York egg cream soda, you can now try to replicate your experience back home.
Before you leave New York, get your hands on one of the best New York souvenirs– Fox's U-bet Original syrup (chocolate is the preferred flavor). You can find Fox's U-bet at various spots throughout the city, but Economy Candy on the Lower East Side always carries a full stock (and is a great place to find all your favorite childhood candies).
Egg cream enthusiasts will differ on the proper way to make an egg cream (debating everything from which order to add the ingredients to stirring techniques). But we will skip the debates and provide the basic recipe here so you can experiment on your own:
New York Egg Cream
1 16 oz. glass
Fox U-Bet Chocolate syrup
Cold Whole Milk
Seltzer water
Combine 3 tablespoons of the Fox U-Bet chocolate syrup and 1/4 cup of milk into a 16-ounce glass. Beat vigorously with a fork, then continue beating and slowly add seltzer until the glass is almost full. Drink with a straw.
[box type="info"]
Souvenir Finder Shopping Tip Sheet
What to buy: Fox's You Bet Syrup
Where to get it: Economy Candy, 108 Rivington St, New York, NY
What to Know: Taste test your egg cream first at Lexington Candy shop, 1226 Lexington Avenue (close to the Metropolitan Museum of Art and the famous black and white cookies at William Greenberg Desserts)
[/box]
Pin it!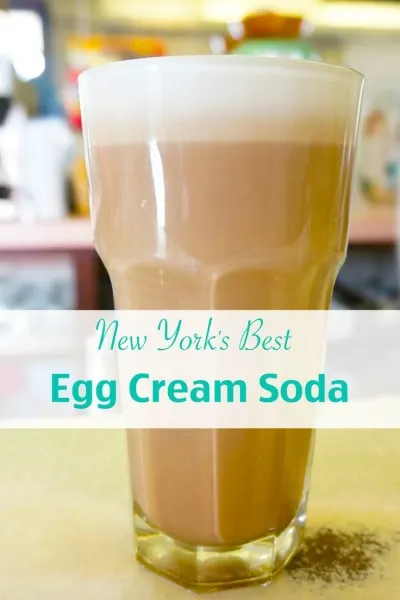 Have you ever had a New York egg cream soda? Share in the comments below!