Photographer, world traveler and university professor Karen Stafford recently made a return trip to Myanmar (formerly Burma). While there, she picked up more of her favorite longyi skirts, the traditional sarong-like skirts worn by the local Burmese. Shopping for longyi can be a rewarding, but confusing experience. Fortunately, Karen breaks down the longyi shopping process for us and shares her insider tips here.
Where to buy Burmese Longyi Skirts in Myanmar
In Myanmar, you'll have no shortage of places to buy a longyi– cities like Yangon and Mandalay all have excellent options. But an easy way to combine sightseeing with longyi shopping is to visit the township of Amarapura. A popular day trip from Mandalay, Amarapura is well-known for its traditional silk and cotton weavers. While there, you'll have the chance to check out some spectacular Burmese attractions like these:
After sightseeing Amarapura, head to the center of town to find the textile weavers at work and buy your longyi.
Karen explains that there are different ways to buy and wear a longyi:
Locals buy the fabric for the longyis and have them made up into a skirt by a local tailor, who will hem to the correct length. The longyi is then wrapped around the wearer, held up only by a simple side tuck of the fabric at the waist. The problem, as Karen points out, is the darned things are always coming undone! You'll see plenty of locals (both men and women) stopping every so often to adjust and retuck their longyis.
Tourists, unsure of the correct tucking method, often forego it entirely and opt for pre-made longyi that come with ties. These pre-made, widely available in Mandalay markets, may be an easy option, but you will sacrifice quality for convenience. Karen notes you will not be able to find the exquisite silks in ready-made form (because locals don't wear the ones with ties).
Karen recommends buying the same high quality silk fabrics as the local Burmese buy, but then seeking out a local tailor to add in some critical adjustments– a hook and eye closure and a full lining. Multiple, sturdy hook and eye clasps solve the problem of the slipping longyi and have the additional bonus of giving the longyi a more formal, elegant look. The lining protects your investment from snags and sweat stains.
Karen recommends tailors in the Bogyoke market area, as they are familiar with the hook and eye closures. Turnaround time is about three days and costs approximately $5 per longyi. If you don't have the time to wait for local tailoring, you can always try your luck with a tailor back home.
Karen owns about a dozen longyi, here are some from her collection:
Back home, Karen looks glam in her royal blue silk longyi, paired with strappy gold sandals and a sleek top.
[box type="info" style="rounded" border="full"]Souvenir Finder Shopping Tip Sheet

What to Buy: If you want the best quality longyi, opt for the fabric and have it made for you.
Where to get it: You can buy longyi all over Myanmar. One option for combining sightseeing with shopping is to check out

Amarapura

. Conveniently, the textile markets are usually open every day, from 9 am-5 pm.
What to know: Karen reports that prices for longyi textiles range from $8 for a synthetic piece of fabric to over $100 for a very nice, thick silk piece. On her last trip, Karen paid from $15-$30 per piece (with pure silks topping out at $30). But don't be disappointed if you end up paying slightly higher prices– Karen bought in multiples and is an experienced shopper (and hard bargainer!)[/box]
Have you ever bought a longyi in Myanmar? Share in the comments below!
Want to read more about what it's like to wear a longyi in Myanmar? Check out Jodi Ettenberg's post on Legal Nomads where she writes about how wearing her longyi served as an icebreaker, allowing her to connect with local Burmese community.
[box]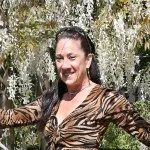 About our Guest Photographer and Story Contributor
Karen Stafford is an ESL University Professor, author and photographer. A California native, Karen currently lives in Japan with her husband and adorable two cats. After inheriting "wanderlust" from her dad, she's made her way to more than 50 countries. When not exploring new places, Karen finds her way back to her favorite spots in Cambodia and Laos (where she also visits the children she supports thought local charities). Follow Karen on Flickr to see more of her amazing travels! [/box]
All photos Copyright 2014 by Karen A. Stafford, used with permission here. (click on photos to link to original).