Sinatra's Hoboken, My Hoboken
Cynics be damned, I love the music of Frank Sinatra. Play me a song and I'll start swaying, lost in Sinatra's world of eternal optimism, where romance is carefree and easy, and flying to the moon or taking off into the blue is as simple as picking the right tune. When Sinatra croons, everything is possible, and I hope I'm never jaded enough to believe otherwise.
When I first moved to Sinatra's own hometown of Hoboken, New Jersey, I was certain that Sinatra's spirit must reverberate through its very streets. But to my disappointment, I hardly saw a trace of the native son anywhere.
The social clubs and theaters where Sinatra first made his singing debut have long been shuttered. Sinatra's birthplace and childhood home at 4th and Monroe burned to the ground years ago.
But it wasn't just Sinatra that's disappeared from Hoboken. Sinatra's old neighborhood, once a stronghold of Italian-American culture, has also slowly faded away, replaced by new condos, busy bars and organic grocers.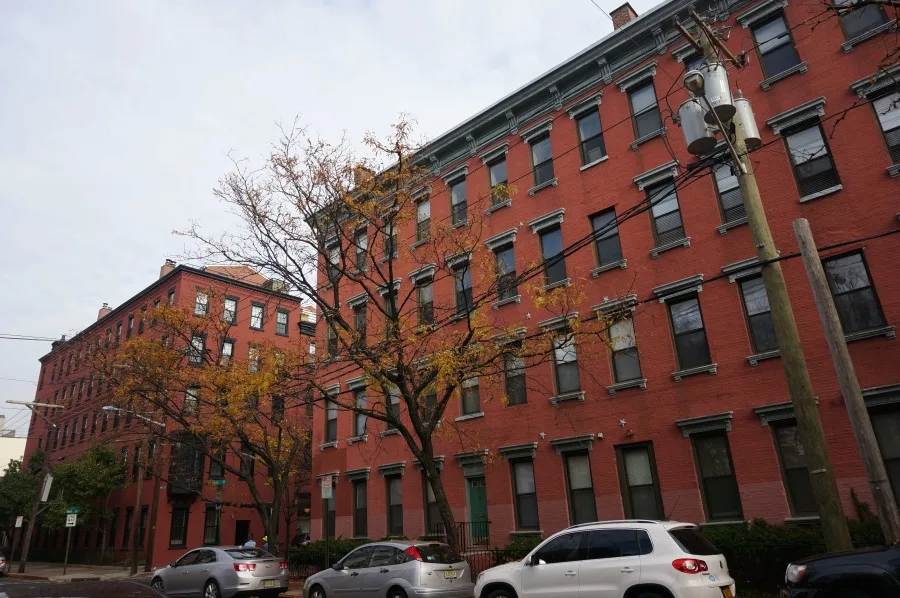 As a Manhattan refugee in search of lower rents, I joined those Hoboken newcomers and eagerly signed a lease. But other than the rent savings, Hoboken didn't strike me as that much different from Manhattan. The bars and restaurants were busy, and filled with transients. Neighbors were acknowledged with a nod and not much more. The feeling of living in an anonymous place was the same.
I wondered what happened to the old Hoboken, that close-knit Italian American neighborhood that stood there long before we newcomers came in and took over. Where was the community that might have known Sinatra during his Hoboken days?
I didn't need to look far. Although I didn't know it at the time, I was already living on the cusp of Hoboken's little Italy neighborhood.
One day, instead of getting a slice at my usual, but completely unmemorable pizzeria around the block, I walked about four blocks until I came to a different pizzeria. The place was a time warp, the kind of old school, bare bones joint that I love. As I ordered a slice at the counter, the owner asked where I was from. When I mentioned my address (a mere four blocks away) he looked at me in complete surprise and remarked, what, you came all the way over here from there?
As I continued to explore this corner of Hoboken, I unearthed more great places that have firmly held onto their Italian-American heritage. Even though I was clearly an interloper, these old-timers flung open their doors and warmly welcomed me in, treating me with the same care as lifelong regulars. Pretty soon I became a regular too.
These old school Italian American places felt like such amazing finds that I was intent on sharing them. In fact, if you came to visit me in Hoboken during my year in residence, it is very likely that in preparation for your visit I'd made a special shopping trip to gather my favorites– Fiore's mozzarella, bread from Dom's, cannolis from Carlo's and chocolate treats from Lepore's. If you didn't immediately declare them all the best you ever had, a return invitation probably was not forthcoming.
With the hundred year anniversary of Sinatra's birth coming up this December, the timing seemed right for me to finally write about what's left of Sinatra's Hoboken– which as it turns out, was also my Hoboken. All of the places below are not only my favorites, but also share a connection to Sinatra– whether he visited himself or had the specialties shipped to him when he lived on the West coast. Fortunately, they are all a short walk from each other, so it's easy enough to hit all of them in one trip.
A Sinatra Tour of Hoboken
Dom's Bakery Grand [quote]I'm addicted to your charms…[/quote]
Bring home: Classic Italian bread and sausage bread
In Hoboken, they say the secret to their perfect Italian loaves is in the water. Whatever the reason, there is no question the Italian bakers in the neighborhood know what they're doing– so much so that Sinatra was rumored to have loaves flown out to the West coast. Over the years, the bakeries have changed hands– sometimes back and forth– among a series a of interconnected families. All are excellent, and to some extent, interchangeable.
But today, only one lone bakery still bakes bread in ancient coal ovens– Dom's Bakery Grand. I did a little research on this and learned that it's simply hard to get coal delivered these days (who knew?).
While Dom's Italian bread is perfect for sandwiches or as the base for bruschetta, it's Dom's specialty breads that are dangerously addictive– imagine Dom's classic loaf, but stuffed with bits of cheese and pepperoni or sausage. Insider tip: come early, as they usually sell out by mid-day.
Fiore's[quote]Lovely … Never, never change[/quote]
Bring Home: Fresh mozzarella cheese

Hoboken has at least 5 different shops that make their own fresh mozzarella cheese daily. I've tried a couple of spots, but didn't see the point in trying them all. Afterall, when you've found perfection, why bother looking anywhere else?
Dating back to 1913, Fiore's is Hoboken's oldest and best place to get fresh mozzarella. Sinatra is said to have bought mozzarella here. It's popular so f you come on a weekend or during lunch, expect a line. Fiore's sells balls of fresh mozzarella by the pound (most people buy a ball or a half ball, but you can have them slice any quantity). The smoked mozzarella is also excellent.
You might be tempted to go crazy and stockpile the mozzarella here– but only buy what you can eat within a day. Hoboken fresh mozzarella is nothing like what you'll find in the supermarket. It's highly perishable and can't be refrigerated (unless you like your muzz rock hard).
When you're picking up your mozzarella, you pretty much have to get Fiore's sandwich of the day, all served with their signature mozzarella. While they're all delicious, the roast beef and brown gravy sandwich is Fiore's most wanted, and was even featured in a 30 Rock episode). To order a sandwich, make sure you pick your bread from the bin first, then get in line and hand it to your sandwich maker when your turn comes up.
Lepore's Chocolate [quote] You're just too marvelous, too marvelous for words…[/quote]
Bring Home: Sinatra's Favorite Chocolate Covered Apricots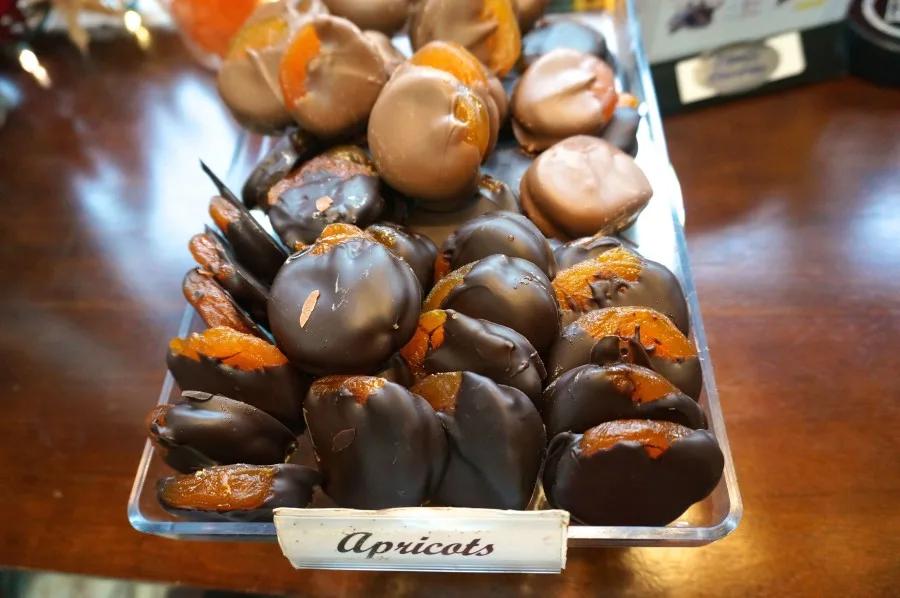 Lepore's chocolate shop may be small in stature, but not in its devotion to Sinatra. A cut out of Sinatra greets you at the door. Inside Lepore's, shrines to Sinatra are tucked into every corner, his music is played on loop.
Even though Lepore's is only thirty years old, past the time when Sinatra lived in Hoboken, it's one of the few places where you can actually hear about first person encounters with the town's famous son. Mario Lepore, one of the shop's owners, will gladly reminisce about the days when Sinatra visited the shop while in New York City for shows. When I asked what it was like to wait on Frank, Mario did not hold back his enthusiasm, "his eyes were like blue diamonds," and he lit up not just the room, "but the entire building."
What did this little chocolate shop have that made Frank such an ardent fan? Sinatra loved the chocolate covered apricots, and frequently had them shipped to his home out West. While I've bought many tasty chocolates from Lepore's over the years, I am not personally a fan of chocolate and fruit together. So I bought some for a friend to taste test. Her verdict? Delicious and not too sweet, even commenting that they were "healthy" compared to regular chocolate, because of the fruit.
Carlo's Bake Shop[quote]I fell and it was swell…[/quote]
Bring home: Cannolis and lobster tails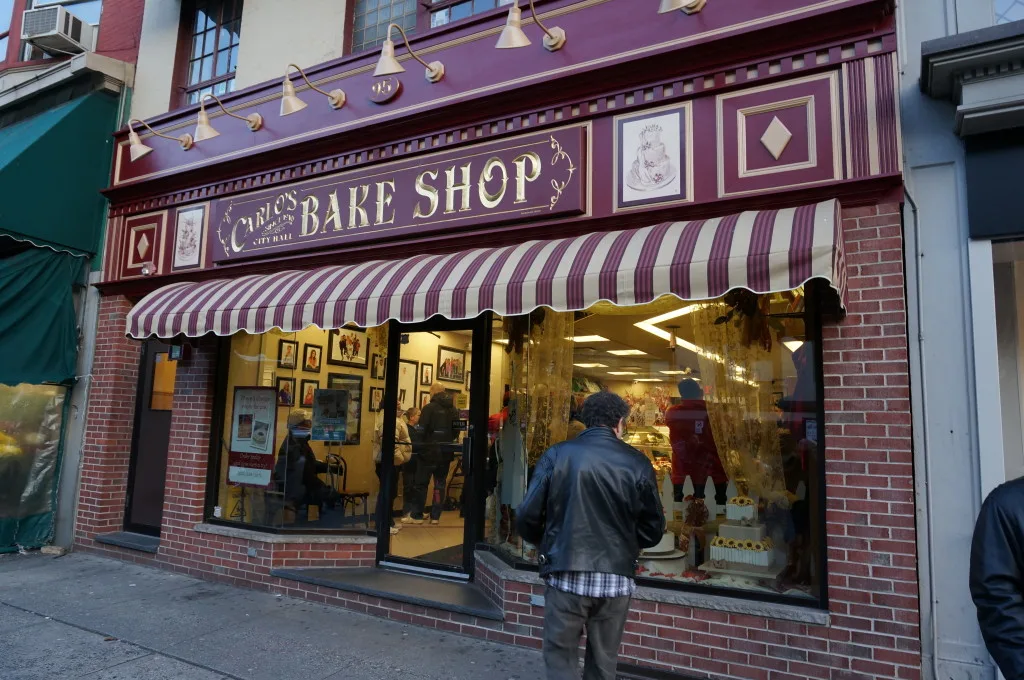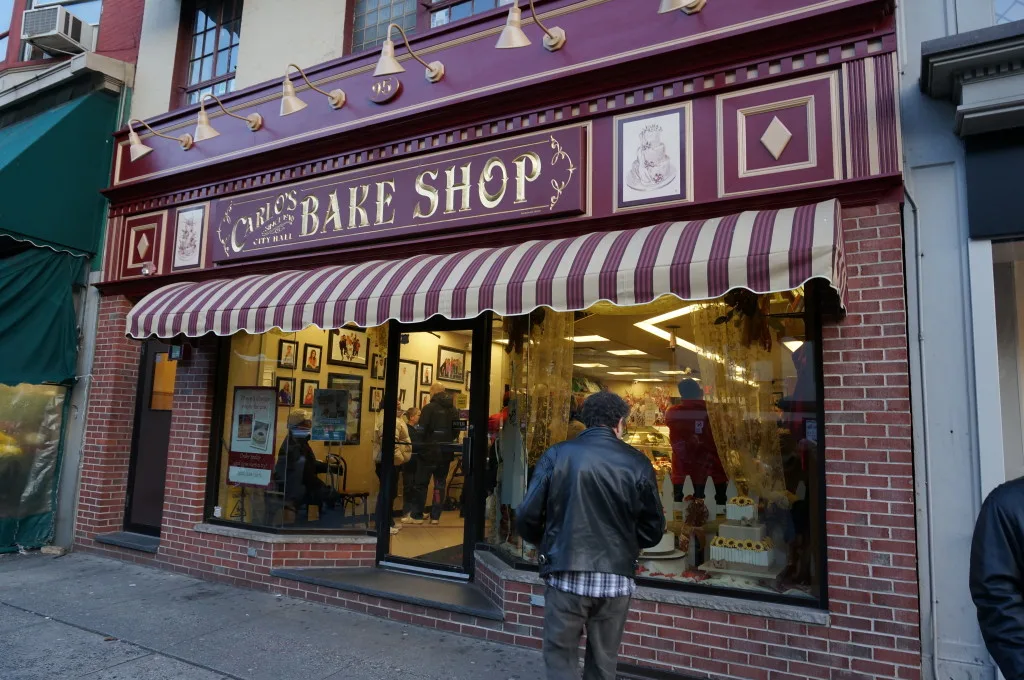 You might have heard of this historic bakery, serving the local community for over a hundred years. Yes this is the "Cake Boss" bakery, made famous by a reality television show and its larger than life owners. I won't repeat myself because I already dedicated an entire post to Carlo's, read it here. If you can take the lines, all you need to remember is that you can't leave this bakery without a few flaky "lobster tail" pastries and cannolis (packed the old-fashioned way in cardboard boxes, tied up with a string).
Leo's Grand Rendevous
[quote]Fill my heart with song…[/quote]
When you visit Leo's, first things first– head straight for the jukebox, toss in your quarters and pick all your favorite Sinatra songs. If it's busy, it might take awhile to get to your songs, so it's best to get them in queue as soon as possible.
Leo's is one of my favorite spots in Hoboken for a leisurely lunch or dinner– and my go to place to bring out-of-towners for an introduction to a classic New Jersey Italian-American "red sauce" joint. I've dragged most of my family and friends here and even set up a memorable work dinner with my boss and colleagues.
Once a speakeasy, Leo's dates back to 1939. Leo's granddaughter runs the place now, and confirms that Sinatra himself used to dine here.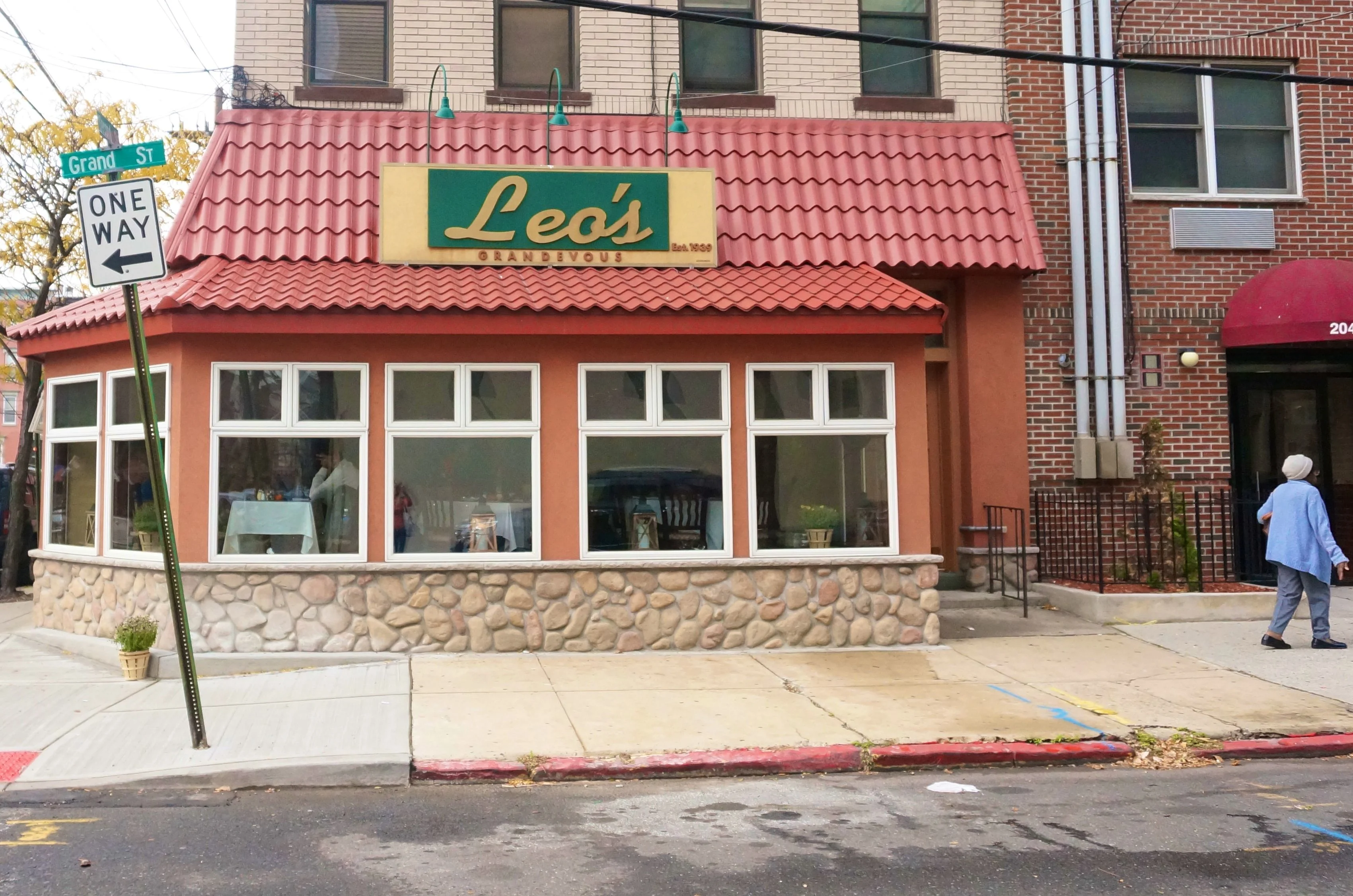 Leo's is a salt-of-the earth kind of place, offering all your favorite Italian-American standards. I usually go for a pasta dish, but on this occasion I asked for their most traditional dishes. That's how I ended up with a plate of mussels next to a small bar pie. Fortunately, a waitress tipped me off that it's the local custom to dip the bar pie in the mussels' red sauce. I did as instructed and agree it was pretty damn tasty.
[box]Dom's Bakery: 506 Grand Street, Hoboken, New Jersey
Fiore's: 414 Adams Street, Hoboken, New Jersey
Carlo's Bake Shop: Washington Street, Hoboken, New Jersey
Lepore's Chocolate: 105 4th Street, Hoboken, New Jersey
Leo's Grand Rendevous: Hoboken, New Jersey[/box]
Do you love Sinatra and all things Italian-American? Share your favorite Sinatra tunes (and Hoboken picks!) in the comments below!