While touring the Western fjords of Norway can be exhilarating, it can also be chilly. Even on a sunshine-filled, late summer day, a nippy breeze might appear out of nowhere. Riding the ferries through the fjords practically guarantees not only windswept hair but also drops in mercury. But with the proper attire, you can stay toasty warm no matter the weather– just follow the lead of Norwegians, who have discovered the secret to surviving this rugged landscape in style.
For generations, Norwegians have been known to sport those classic wool sweaters to fend off cold winters. Norwegian sweaters have become known worldwide for their distinct patterns, durability and warmth. But while the tradition of knitwear goes back centuries in Norway, there aren't many companies left that still make their sweaters within the country's borders. Dale of Norway is a shining exception to the rule of outsourcing, and an example of how a company dedicated to quality and craftsmanship can not only survive but thrive in the competitive retail business.
Dale of Norway: Making Sweaters in Norway Since 1879
Dale of Norway has been making top of the line Norwegian sweaters since 1879 in the small village of Dale, in the heart of fjord country (not far from Bergen). Incredibly, its factory and all of its operations are still maintained in Dale– and not only can you tour the facilities, but you can also go home with a gorgeous half-price sweater from the onsite factory outlet. While visiting the factory outlet to shop for sweaters is reason alone hit Dale, the opening of their new museum and factory tour made it a must-add to our itinerary.
Getting to Dale of Norway Factory Outlet and Store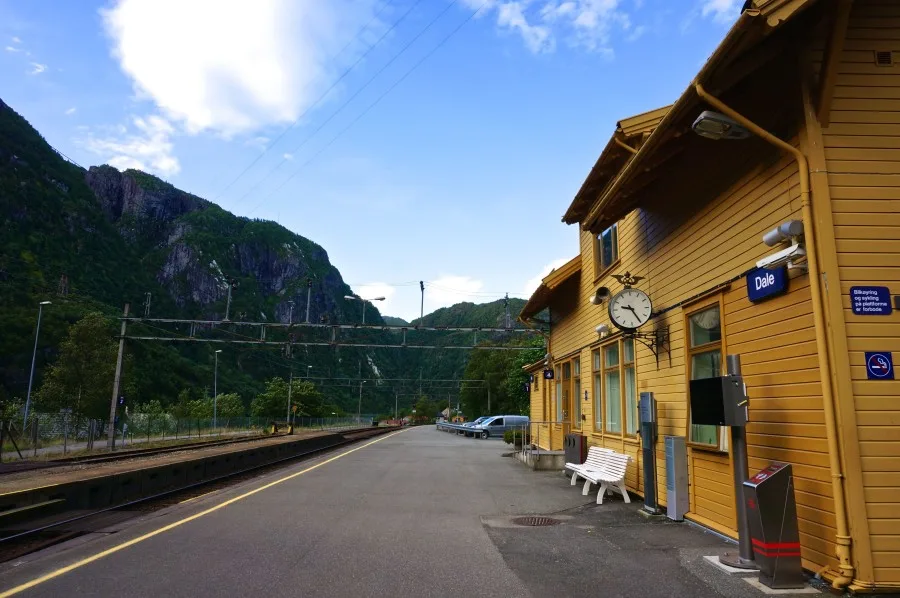 If you are heading to the Western Fjord region, Dale of Norway is easily accessible by train from Bergen (though most people drive). We weren't renting a car until later in the trip, so we hopped the train from Bergen to Dale. The Dale factory is only a 5-10 minute walk from the train station.
The Dale of Norway Museum
With a history dating back 130 years, you have to imagine Dale of Norway must have some stories to tell. Like what was it like living and working in this company town over the years? How have manufacturing processes changed? What are the differences in wool and what does it all mean for you the customer? How did Dale of Norway become the official outfitter of the Norwegian ski team?
Dale of Norway offers a guided tour of its new museum that answers all these questions, while giving you a glimpse of what life was like in a factory town. Although the full tour itself is currently offered only on request for groups (contact them in advance), that may change in the future, and there are still several areas you can see on your own as a walk in.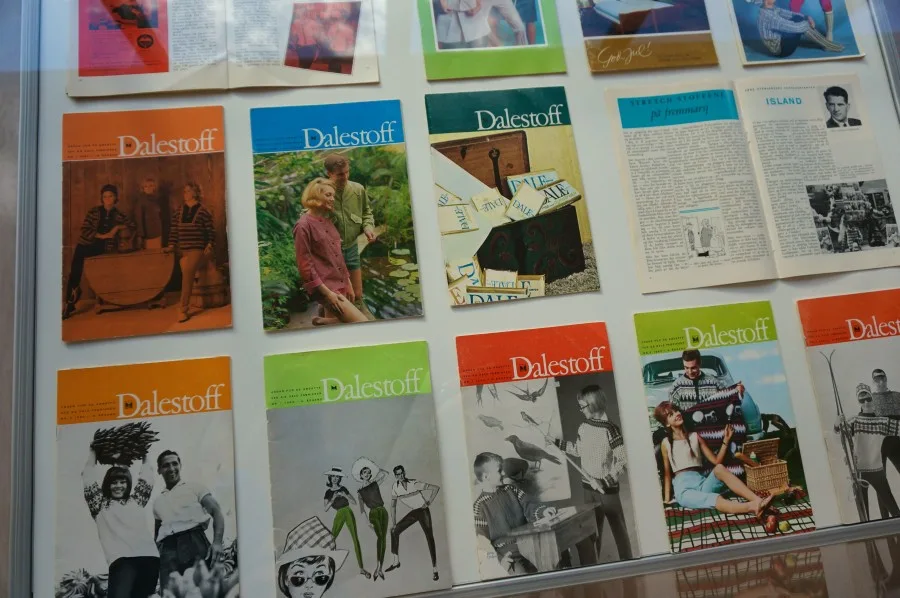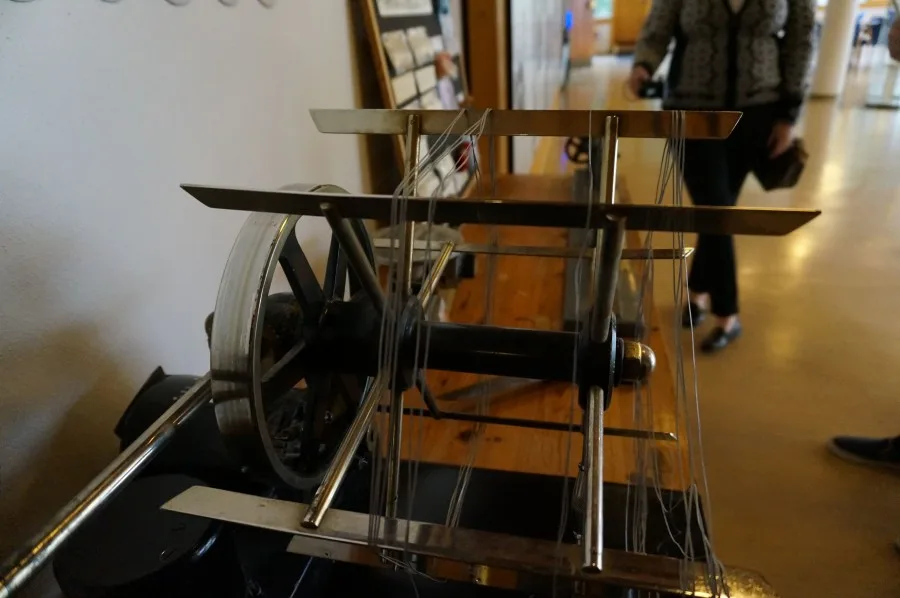 The Dale of Norway Factory Tour
After the museum tour, we were escorted into the actual Dale of Norway factory. The factory tour was my favorite part of the day– being surrounded by the factory's whirling machines was oddly mesmerizing. I found it interesting how even though the machines are programmable, the company found that local expertise was still required to make them function properly– it cannot be out-sourced without sacrificing quality and Dale of Norway refuses to cut corners.
We were also treated to a view of how the design process works. No sweater is ever really considered "done," over the years, adjustments might be made to make the sweaters more comfortable or fit better. The oversize look so popular in prior decades has been reconfigured into mostly sleek, fitted looks today (though a few sweaters with a boxier fit remain for the diehards who love them).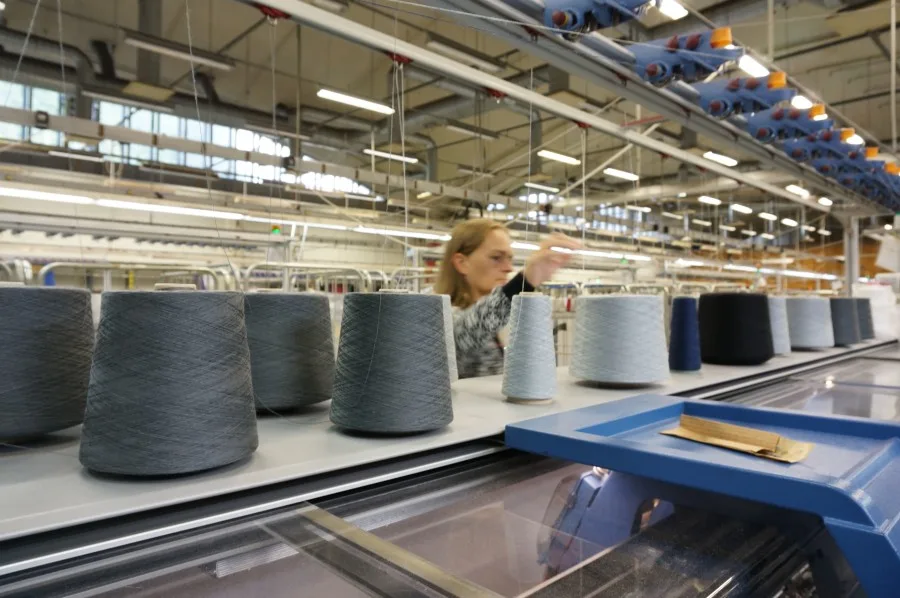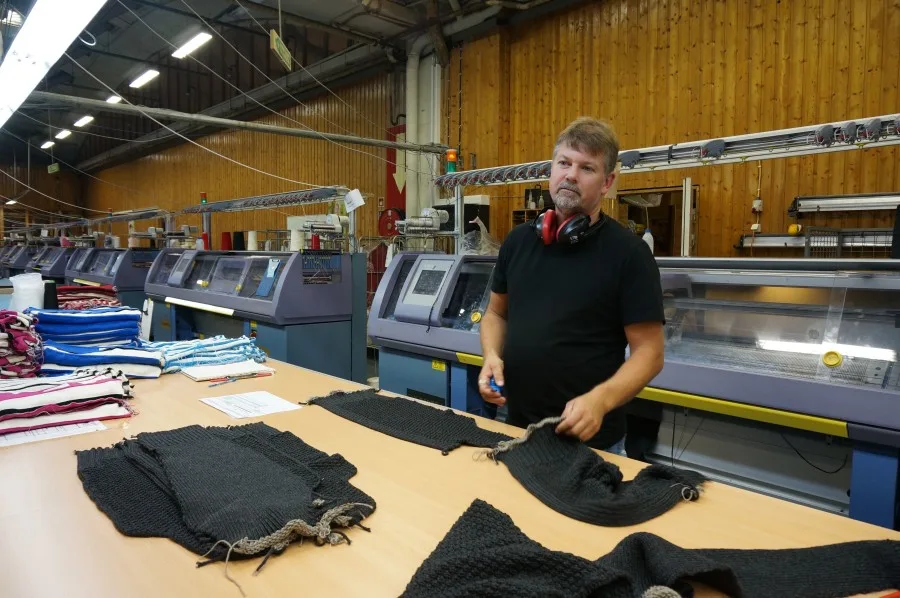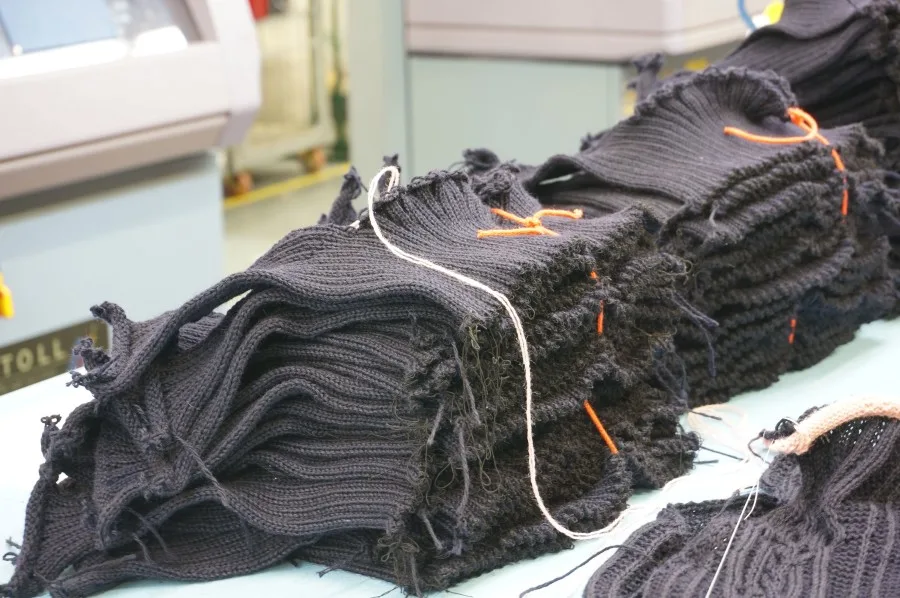 After visiting the factory (and the friendly experts who keep the factory humming) we went on to see the archive of Dale of Norway sweaters over the years. In some cases, the company keeps retro designs but tweaks them for fit to make them more current.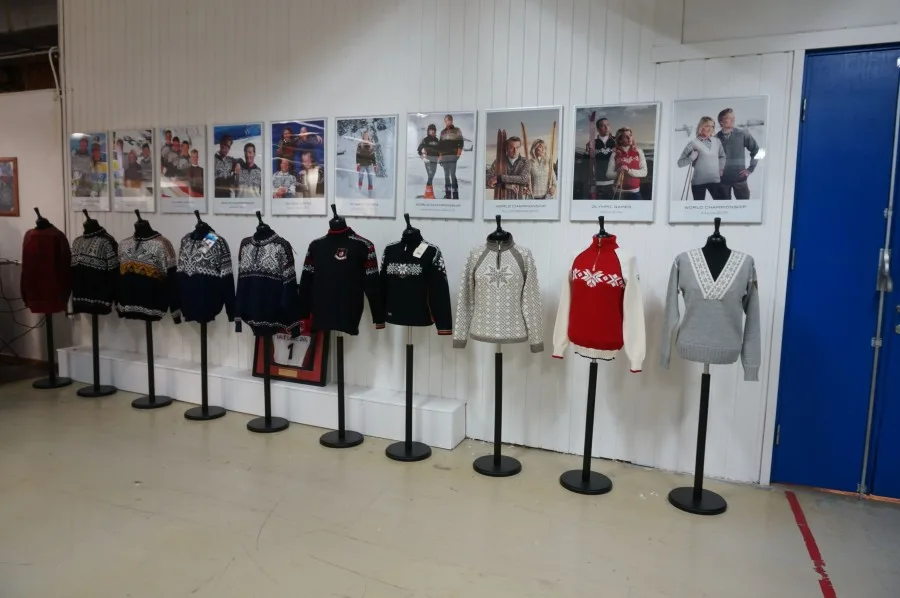 The Setesdal is the original Norwegian design (black and white sweater, below left), characterized by small v-shaped dots ("lusemønster") while the crosses were believed to protect from evil spirits.
Finally we moved onto a preview of Dale of Norway's current collection, as well as a peek into how new designs make it into the collection.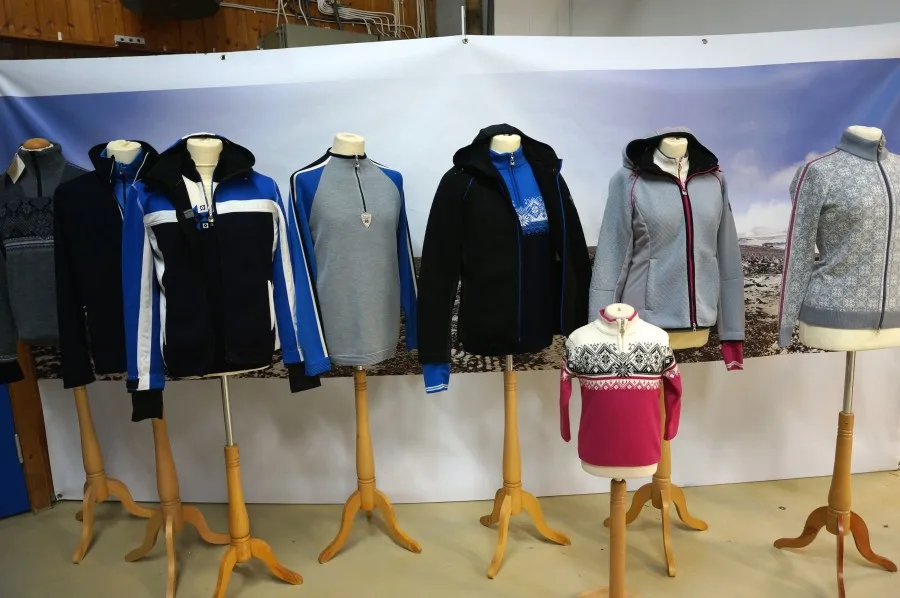 The Dale of Norway Factory Outlet and Retail Store
After gaining a deeper understanding for the sweater and design process on the tour, you are (finally!) let loose at the onsite shops. There are two shops– the current collection, which carries the entire Dale of Norway line, and the factory outlet, which offers most knitwear for about 50% off. This is an incredible bargain, especially when you consider the sweaters are designed to last a lifetime. The classic designs ignore fads and will be stylish for years to come.
Private fitting rooms are available, and the shopping atmosphere is laid back and fun. Help is there if you need it, but no one hovers or minds you touching things. All sizes are available, but on the day I visited I noted more mediums and larges than smalls.
I picked up an adorable super warm, insulated hat for half price. My travel buddy scooped up a weatherproof jacket with a fur-lined hood.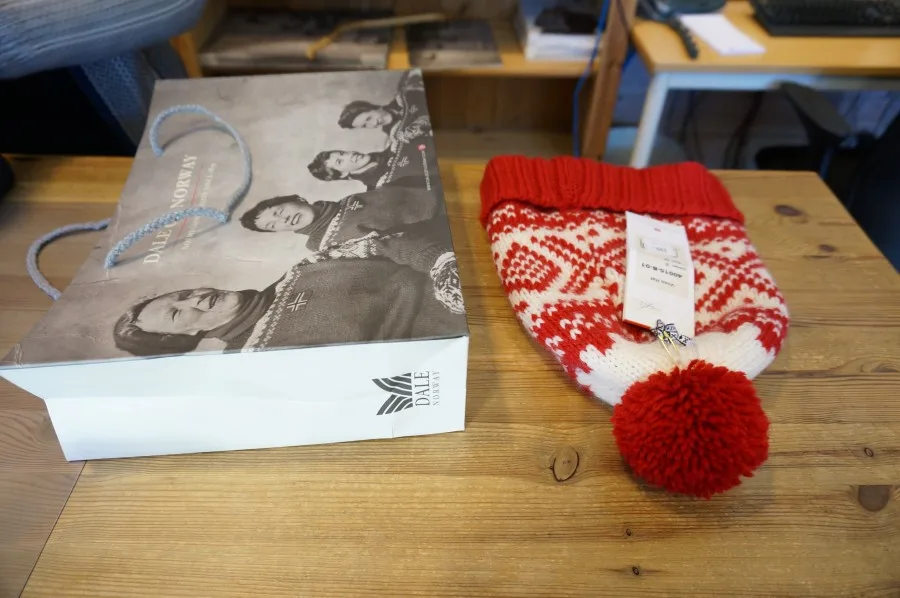 While I didn't get anything from the current collection shop, I was drooling over the gorgeous designs.
Have you visited the Dale of Norway factory and outlet store? Tell us about your favorite finds!
I was a guest in Norway of Visit Norway USA and its partners, as well as Dale of Norway.