New York City bagels– sure you've heard that they're "the best" and may have even planned to try one on your visit to the city. But really, how good are they? Good enough to lug a sack full back to your hometown, where you probably have your own favorite local bagel shop?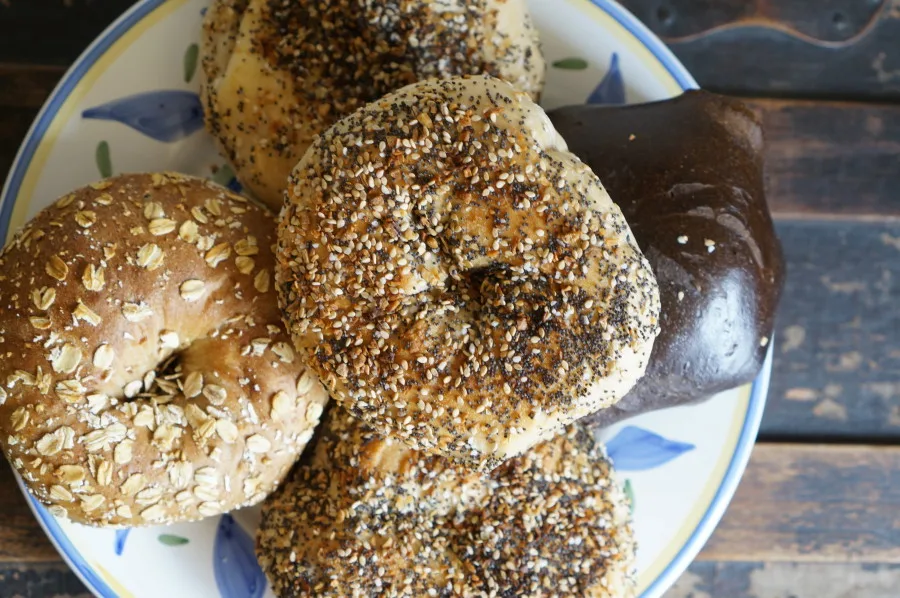 Yes. If you are a bagel fan, I am officially advocating saving room in your luggage to bring home a dozen bagels (as does my own mother who stocks up on New York City bagels on her visits to see me).
My bagel expertise runs deep. Back when I was a rail thin twenty-something, I used to pick up my daily bagel with a schmear every single morning on my way to work, carbs be damned. Sometimes, when I was in a hurry to go out after work, I might even have a bagel for dinner. New York bagels were my comfort food, so satisfying that I never grew tired of them, and I often thought that if I had to eat only one food for the rest of my life, let it be a New York bagel.
What You Need to Know About New York City Bagels: the Good and the Just Plain Wrong
I'm no food scientist so I can't tell you why New York bagels are so delicious– some say it's the water while others point to the traditional hand-rolled and boiled baking techniques. I can only comment that for me, I crave that just-out-of-the-oven warm combination of crusty and chewy, topped with a savory cream cheese.
The Wrong: Only in New York, the Birthday Cake Bagel
Let's start with the wrong. I feel compelled to address a certain trendy New York City bagel clogging up my Instagram feed. Enticingly named the "birthday cake bagel," the colorful pink, yellow and blue swirls set this famous bagel apart. Being a fan of traditional bagels and flavors (I consider even blueberry a desecration of the form), I was a little suspicious.
But I had to see what all the fuss was about so I headed to the East Village's Tompkins Square Bagel.
The birthday cake part of the bagel is actually a spread that can be added to any bagel (the french toast bagel and a regular sesame were recommended accompaniments). If birthday cake isn't your thing there were plenty of other unconventional spreads to choose from– like espresso, peanut butter and raspberry.
The verdict: the birthday cake bagel is one of the most vile and flat-out wrong things I have ever tried. Even thinking back about it now to write this post is making me feel a little nauseous. It wasn't just the sickly-sweet flavor (my guess is they mix frosting, cream cheese and food coloring to achieve the cake "flavor"), but the way the concoction coated my tongue and left a lingering aftertaste I just couldn't get rid of. If you are going to sample this, I recommend you follow it with a shot of something strong to cleanse the palate.
The Good: Where to Get Delicious Traditional New York Bagels
You can find countless lists online about where the "best" bagel in New York City is and I won't enter that debate. One thing I will note, as others have done before me, is the best New York bagel is the freshest, straight out of the oven. So don't bother with spots that don't make their own bagels.
My personal New York City bagel favorites also happen to be on several of those "best of" lists. On those daily pre-work stops in Midtown, Ess-a-bagel was my fix. On the Upper East Side where I lived I alternated between H&H (the most convenient to my apartment) and Tal Bagels (a few blocks farther but worth it).
Ess-a-bagel— Huge, dense and chewy, these bagels have both their fans and their detractors.
H&H— best known. Satisfactory in every way.
Tal Bagels— While I love their standard bagels, I am even more obsessed with their flat bagel (sometimes called a "flagel", a flat bagel is flattened before boiled, for an extra crunchy crust).
How to Order a New York Bagel (Toasting Myths and the Scooped Out Bagel)
Ordering a New York bagel doesn't really require instructions, but there are a few quirks that might be unknown to outsiders.
To Toast or Not?
Personally, I do not understand the point of toasting a hot, fresh-out-of-the-oven delicious New York bagel. The hot New York bagel is perfect as is, so why mess with it? But despite my bias for fresh, I refuse to substantiate the myth that locals won't order a toasted bagel (allegedly, all locals ask "what's hot?").
As a local who frequented bagel shops daily, I can tell you this is simply not true– plenty of people order their bagels toasted. Look behind the counter at any bagel shop and you'll find several industrial toasters– they are there for a reason. And a good New York bagel, toasted, is still infinitely better than a run-of-the mill suburban strip mall bagel. If you bring your New York dozen home with you (more on that later) you'll pretty much have to freeze and toast them anyway.
Scooped Out Bagel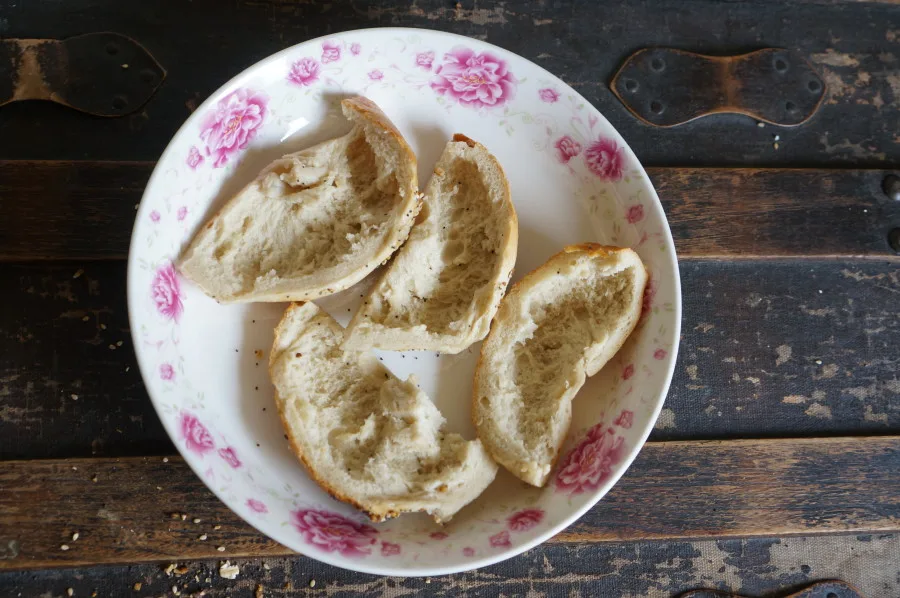 I actually have no idea if this is a New York City thing or just low-carb thing, but it's not unusual to hear someone order their bagel "scooped out." Basically, the counter person tears the guts out of the bagel, leaving only the shell (and less calories). Scooped out is also a good option if you are having a bagel sandwich (chicken salad can be messy and bready on a standard bagel).
Visiting a New York Bagel Shop– Ess-a-bagel
Ess-a-Bagel was my go-to bagel shop for years. While I was addicted to their bagels, I also loved the friendly (and efficient) staff. Ess-a bagel feels like a very "New York" establishment– from the salty but friendly service, to the crowds of locals jockeying for a table, to the extras like classic New York bialys and black and whites.
Bringing New York City Bagels Home as a Souvenir: What to Know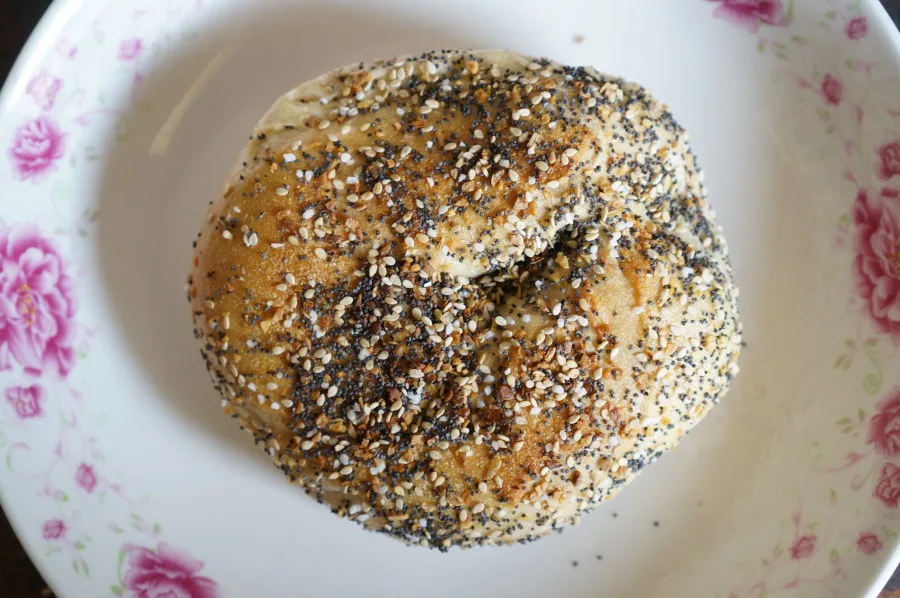 If you are serious about bringing home a dozen bagels, you'll need to plan accordingly. Ideally, you'll pick up your bagels right before you head for the airport/train station (at minimum it should be same day). I'd recommend bringing along some plastic ziplock bags to keep the bagels as fresh as possible. Back home, set aside a few for eating and immediately freeze the rest (some prefer slicing before freezing for easy toasting, while others think they freeze better whole).
Tell us about your favorite New York City bagels!