For years now, going home has meant one thing– packing up the car and making the drive from Manhattan to my mom's lakeside house in Litchfield Hills, Connecticut. I like to describe Litchfield as country "lite," with all of the photogenic trappings of the country but none of the pesky inconveniences of actual rural life.
Stone walls, covered bridges and bonafide farmhouses all make you want to pull out your Barbour jacket and hiking boots. But unlike the actual country, where hiking and other outdoorsy activities are the only things to do, in Litchfield county you can stay busy without ever stepping foot onto one of those tick-infested trails.
Over the years, after bringing home friends and boyfriends for a signature "country lite" weekend, I feel like I've pretty much perfected the routine. My tour does vary depending on my guest (and I may regret revealing this but yes there is a VIP version). If you're angling for a future invite, better start dropping hints now for the all-important leaf peeping season.
My Favorite Restaurant I Dare Not Name
We might as well start with my favorite place in Litchfield county, a tiny restaurant which eschews all publicity. This restaurant is only open seasonally and is nearly impossible to get a reservation at (though it helps if you are local and get to know the owners).
What doesn't help? Taking photos of your food, instagramming or blogging about it. I don't want to be blacklisted, so this place will only be known as "Restaurant-I-Dare-Not-Name."
While I love to eat well, I'm not normally a fancy restaurant aficionado. I have a hard time sitting still for multi-course meals where I need to be on my best behavior. But Restaurant-I-Dare-Not-Name is neither fancy nor stuffy– I would describe the simple decor as "haute shed."
Instead, the vibe is laid-back dinner party, with a byob policy that inevitably creates a "festive" atmosphere (every table brings multiple bottles). After each course guests get up from their table and mingle outside on the front porch. True regulars take the chef's dog for a walk and local celebs sometimes join the party (Sam Waterson is known to stop by). On a couple of occasions now I've hung out with director Milos Forman on the front porch, trying hard to play it cool and not blurt out that Amadeus is one of my very favorite movies.
Oh yeah and the food? Pure decadence, and not very PC (think foie gras, veal and other French classics).
Bantam Bread Company (Bantam, Connecticut)
I come to Bantam Bread for one thing– the semolina loaf with toasted sesame seeds. I am so addicted to this bread that if I'm not arriving in Litchfield until later in the day, I beg my poor mother to make a morning bread run, lest they sell out. Bantam Bread sells plenty of other loaves and baked sweets, but for me it's all about the semolina.
Take home souvenir: semolina bread (or any bread), dirt bombs, homemade dog biscuits, and during Christmas season, the best Stollen you will ever taste (and I've had tried versions all over Germany and Austria).
Arethusa Dairy (Bantam, Connecticut)
After you pick up your bread, head across the street to Arethusa Dairy, the passion project of a couple of gentleman farmers who also happen to run the business side of the Manolo Blahnik shoe empire (and yes, they do host occasional sample sales on their farm). Arethusa Dairy is well-known locally for the pampered dairy cows in residence– shampooed, massaged and all around spoiled.
Do happy cows mean more delicious dairy products? Absolutely, the ice cream here is possibly my favorite in the world. On my way out of town, I always load up a cooler bag with Arethusa's yogurt and cheese (their camembert is divine).
Take home souvenir: enjoy ice cream on the premises, but if you have a cooler, pick up some milk, yogurt and cheese to bring home.
Hopkins Vineyard (New Preston, Connecticut)
Does Hopkins Vineyard make the best wine you will ever have? Umm let's just say it's perfectly potable. This is always a popular stop on my tour, because you know, wine. The important thing is that wine tastings here are laid back and fun– and the views of Lake Waramaug below are amazing.
Take home souvenir: a case of wine, perfect to drink on picnics in the park. The shop also sells local Connecticut products (honey, jams, soaps etc).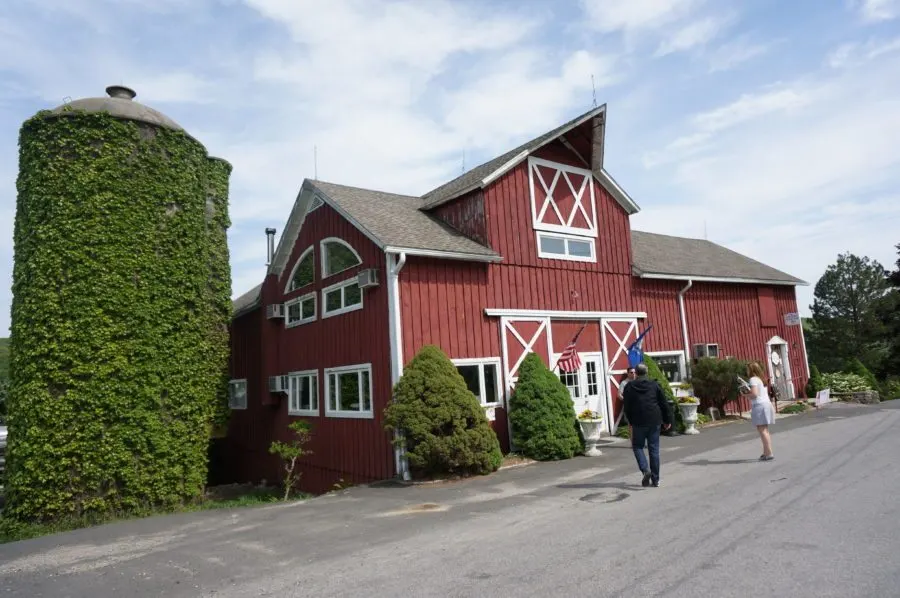 Thorncrest Farm and Milk House Chocolates (Goshen, Connecticut)
Thorncrest chocolate shop is a more recent addition to my Litchfield County tour. I enjoyed the chocolate-covered sea salt caramels here, quickly gobbling them down on the car ride home. But European chocolate is still my preference so I'm not sure Thorncrest would have made the cut had not my friend Amy, a professional food writer, declared the chocolate here the best she ever had.
Take Home souvenir: chocolates by the piece, fresh milk
Action Wildlife (Goshen, Connecticut)
Action Wildlife happens to be down the street from where my mom lives, or I probably would never have heard of it. As my mom tells me, Action Wildlife started as the personal animal collection of an eccentric wealthy resident. The animals he collected weren't anything too exotic (think elk, deer, yaks and pot-bellied pigs). Eventually the guy opened his property to the public– and by that I mean that he started leaving out a tin can with a sign requesting a dollar donation. I would frequently take guests by here because it was so close, and slightly bizarre. The animals always had wide open spaces (the property is huge) and are loosely confined– so an errant goat or chicken usually managed to hop the fence and walk the pedestrian path.
Over the years, the place has evolved into a larger operation, but still feels very homespun. More recent additions include a drive through "safari" where those too lazy to get out of the car can drive a bumpy dirt road and view zebus or water buffalo from your car window. While I wouldn't necessarily go out of my way to visit Action Wildlife, it's one of those oddball curiosities worth checking out if you're in the area.
Lime Rock Park (Salisbury, Connecticut)
Car racing is on of the few sports I can get into. While I would love to see a live Formula One race or 24 hours of Le Mans, until then catching a race at Lime Rock Park is a convenient alternative. Over the years drivers like Mario Andretti, Sir Stirling Moss and Phil Hill have driven Lime Rock's track. I wrote all about a day at Lime Rock track here.
Take home souvenir: vintage racing books, apparel and model cars from the many vendors on site.
Abbey of St. Regina (Bethleham, Connectcut)
Who would have guessed that deep in the Litchfield Hills sits a full-blown Abbey, complete with crèche and chanting nuns? This nunnery is very visitor-friendly, as long as you obey the signs (read all about my mortifying experience of being scolded by a celebrity nun on a recent visit). The gift shop on site is filled with tasty specialties made by the nuns– I load up on gifts here for friends back in the city.
Take Home Souvenir: herb vinegar, mascarapone cheese, lavender oils, all made on site by nuns.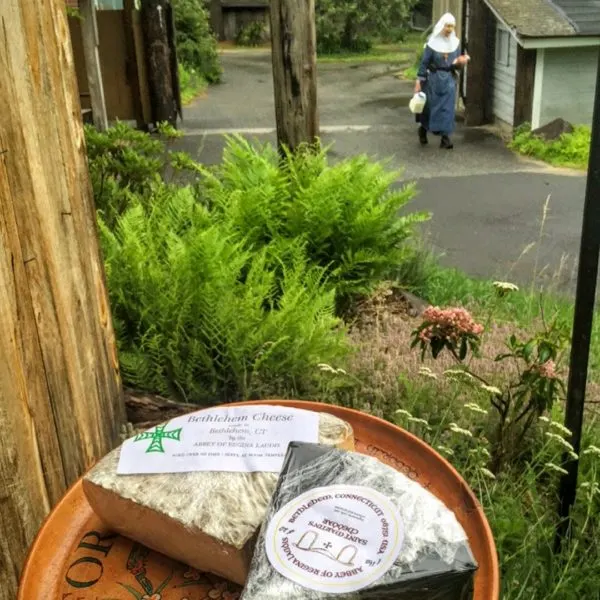 Litchfield Shopping
On the Green
Litchfield is known for its classic village green, which hosts parades and festivals throughout the year. Traditional shops line the green, and while you won't find any edgy fashion here, it's just the place to pick up some wellies or a hunting jacket for a country chic weekend.
Take home souvenir: preppy classics and Scottish cashmere sweaters from R. Derwin (their men's store is especially good), spendy but high quality antiques and jewelry.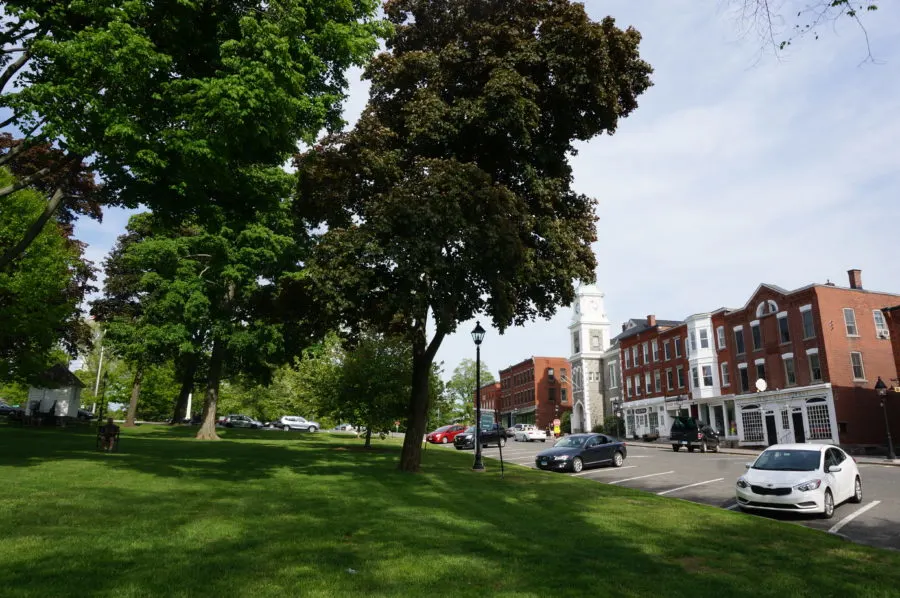 Other Litchfield Shopping
A little down the road from the green are a few more of my favorite local spots. Don't miss the adorable candy shop, Patty's for breakfast, and the Dutch epicure– a deli and all-Dutch grocery store.
Take home souvenir: classic candy, Dutch specialties (salted licorice, windmill cookies, gouda cheese, coffee).
Last Stop: Clamp's Hamburger Stand
If you're a regular reader here, you might have picked up on my love of all things vintage as well as my obsession with road food. When leaving Litchfield county on a Sunday afternoon, I try to time my drive back to the city with a stop at one of New England's last remaining original hamburger stands, Clamp's.
Clamp's is one of those places you need to find out about through word of mouth because they make no effort whatsoever to be found. I wrote an entire post about the Clamp's experience (including my attempt to recreate the perfect burgers back home). I can't think of a better way to end a Litchfield weekend than with a charred burger, a pile of onion rings, and a local birch beer.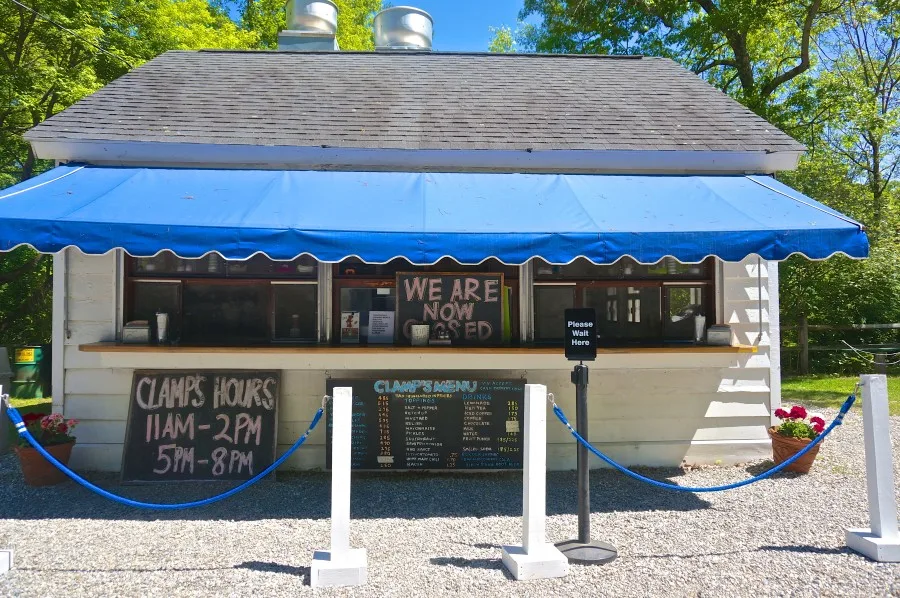 Have you been to Litchfield County? What are your favorite stops?