This new series, Souvenir Dispatches from the RV, will be written by Souvenir Finder's mom, who sold her house and worldly possessions for a life of retirement traveling the United States full-time in an RV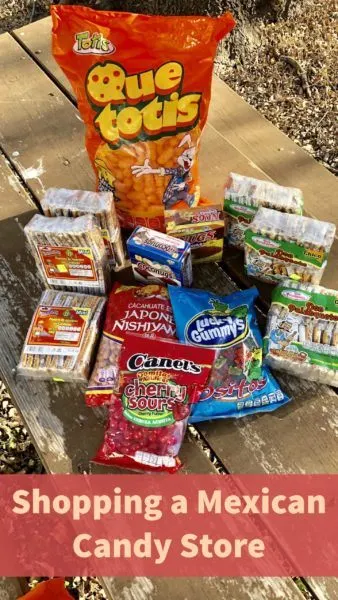 We didn't seek out the Mexican Dulceria, it was one of those kind of places we just happened upon.
We were visiting the Texas border town of Del Rio. It was our first time in a border town, and we learned that it was actually possible to walk straight across the border, no plane, train or car required. We found that kind of mind-boggling, that we could be standing in Texas one moment and literally stroll across the border on foot to an entirely different country.
So for that reason alone– that we could do it– we decided to make the easy walk over the Mexican border and visit the border town of Acuna.
What it's like to Walk Across the Mexican Border
Some people have the idea that walking to a Mexican border town is somehow dangerous. While we saw some military presence and border patrol, we felt in no way unsafe. We walked the international bridge and a turnstile marked the actual entry. That was about it, no big deal.
Shopping a Mexican Dulceria in the Border Town of Acuna
At first, we walked around Acuna, not finding much beyond the rows of doctor and dental offices (Acuna and other border towns are well known for offering cheap medical care). But we did stop every so often to sample the yummy pastries along the walks.
Then my eye caught sight of the grocery carts in the street. At first I thought it was a Mexican supermarket, but as I walked up I realized it was actually a dulceria. A dulceria is a wholesale candy emporium, with rock bottom prices and a huge selection of candy. The fact that the dulceria provides full grocery carts should give you an idea of the typical shoppers haul here (it's not to pick up a candy bar).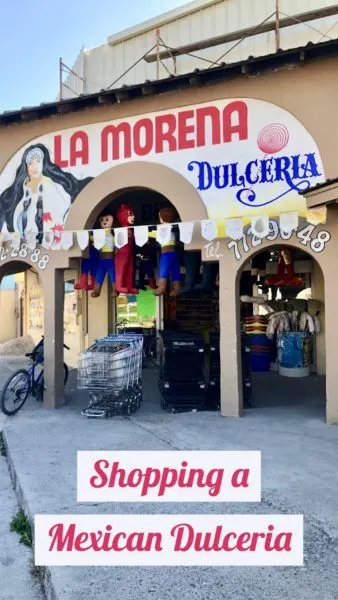 The Dulceria was great fun to shop, I couldn't believe how cheap the candy was. Another bonus– because Mexicans insist on pure sugar (Coca Cola here is only made with sugar!), the candy was mostly free of the high fructose corn syrup laden sweets we get in the United States. If you want to make sure you are getting pure sugar, just look for the word on the label– piloncillo.
After filling our cart, we took photos for my daughter's blog (when the clerk looked at me funny, I just said "Facebook" and he laughed and seemed to understand why this crazy American was taking photos of the candy shelves).
Here's what souvenirs we bought from the Mexican Dulceria:
Caramelized sesame and peanut snack bars (good for quick energy on hikes)
Coconugs (kind of an imitation Mounds bar)
Lucky Gummy Ositos
Soft Cherry Sours Cereza
Nugs bars– crunchy chocolate bars with peanuts and puffed cereal
Japanese crunchy and spicy peanuts. I wondered why Japanese nuts were in a Mexican candy store but later learned they were invented by a Japanese immigrant in Mexico. Who knew
We ended up buying almost fifteen pounds of candy, which we then had to schlep by foot back across the border, but it was worth it.
Eating in the Mexican Border town of Acuna
After loading up on Mexican souvenir candy, we stopped for lunch. We knew where to go, as earlier we had asked at our local campground office for a restaurant recommendation. The young girl at the office recommended El Tapatios in Acuna. El Tapatios is a lively kind of place mostly frequented by locals and Mexican tourists. We loved that there were exactly zero TripAdvisor reviews on El Tapatios.
We joined a table with a couple from Texas, but originally from Mexico. The couple had driven three hours here for a medical visit, so they must have thought the savings are worth the trek. They had been to El Tapatios many times before and recommended the special Taco Tapatios– a plate of brisket wrapped tightly in corn tortillas and deep fried. The tapatios are then garnished with a secret recipe of seasoned crema and finished with shredded cabbage flavored with lemon, jalapeno juices and tomato slices. It was delicious, filling and a bargain– lunch for two (mariachi band included) came to under $10 for 2.
Have you visited a dulceria or Mexican border town? Tell us about your experience!