I've always had a fondness for the South. University days in Nashville. A sweltering summer waiting tables in Atlanta. Boyfriends from each of the Carolinas. And of course, a love of Southern food. But the Southern food I love can't be found in a restaurant or in the pages of a cookbook. It's the kind that's never written down, passed down from one generation to the next.

The Finest Southern Ladies Teach this Yankee to Cook
On holiday visits to Eastern Carolina, I was blown away by the dedication of the Southern women to taking care of the home and hearth. Grandma Henrietta, at a hundred years old, still dressed in an elegant skirt ensemble every single day.
She wore shorts only one day of her life, to the beach, and sorely regretted it ever since ("I felt naked," she recalled). While her husband was still alive, she prepared him two hearty meals a day, always with a fresh batch of biscuits made from scratch.
Grandma Henrietta pampered us during our stays, preparing elaborate breakfasts laid out on a lazy susan that we spun around to reach for fresh local sausages, fluffy eggs and banana slices. One day I insisted on taking over breakfast duties.
Grandma Henrietta pretended not to be watching as I cracked the eggs into the pan. Finally she could hold her tongue no more, "Sugar, you're going to scorch those eggs." This was how I received my first lesson in Southern cooking. Without a word, Grandma Henrietta guided my hand and stirred the curds deftly, gently scraping and lifting. My eggs have been perfect ever since.
Grandma Henrietta taking a rare moment to relax over the holidays:
I have tried to pepper these fine Southern ladies with cooking questions and requests for recipes. A typical conversation would go like this:
"But how much mustard?"
"Oh just a little"
"Like a tablespoon?"
"No that's too much."
I eventually figured out that the only way to learn their secrets was to stand alongside them in the kitchen, sharing stories while keeping an eagle eye on their cooking techniques. Cooking was never about an exact measurement– it was a mindful process– guided by intuition, by taste, by touch.
Chicken Salad, East Carolina Style
Which brings me to the chicken salad. Chicken salad, at least in East Carolina homes, is a staple. There is usually a batch in the fridge, and even at dinner gatherings there might be a bowl of chicken salad on the buffet, sitting somewhere between the baked ham and cheese platter. This chicken salad was unlike any I'd ever tried before. Free of fancy adornments (no grapes, nuts or even onions) and finely chopped to meld into a kind of pâté, it was more of an all-purpose spread than a sandwich filling. We pulled it out of the fridge for a snack and spread it on Ritz crackers, with a glass of Cheerwine.
Determined to replicate this addictive dish back home, I cornered one of my favorite Southern belles, Aunt Connie, for tips. I was thrilled when Aunt Connie rattled off an exact ingredient list– poached chicken (breasts only); Dijon mustard; celery; salad cubes and of course only Duke's mayonnaise.
Duke's Mayonnaise– A Southern Souvenir to Stock up on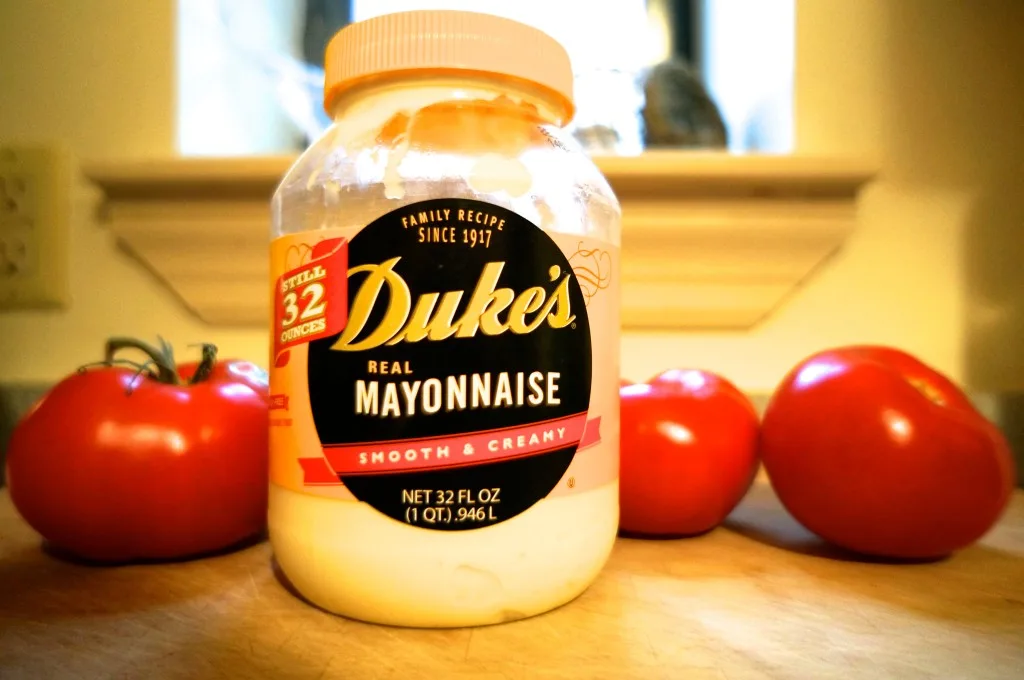 I was already a Duke's convert– Duke's mayonnaise is different from most mayonnaise in that it has no sugar. It has a fresh, clean taste and is the only mayonnaise many Southerners use. For some crazy reason, Duke's is only available in the South. The limited availability of Duke's has helped fuel its cult-like status among certain foodie non-Southerners– like me. Whenever I head down South, I make sure to stock up on a few jars. Still, I always run out of Dukes and end up needing to restock online.
The Recipe: Aunt Connie's Best Chicken Salad, East Carolina Style
Armed with actual ingredients, I was able to get a few more essential tips to the success of this chicken salad. Always peel the celery. Don't add extra ingredients– especially not onions. Finely cut the chicken into teeny tiny pieces. I asked Aunt Connie how she was able to slice the chicken into such tiny slivers.
"Oh I use scissors" she replied. I looked at the pile of breasts.
Doesn't that take a long time?
"No, just about an hour."
Ok so this may be the most labor-intensive chicken salad I've ever made, but I promise the results are worth it.
This slideshow requires JavaScript.
Aunt Connie's Best Chicken Salad Ever, East Carolina Style
1 pound chicken, breasts only (I usually double the recipe)
1-3 celery stalks, peeled and finely chopped (amount depends on how crunchy you like your salad)
1 spoonful dijon mustard (or more, to taste)
1 spoonful or more Sweet Pickle Cubes,* finely chopped (to taste)
1 spoonful or more Dill Pickle Cubes,* finely chopped (to taste)
Several tablespoons Duke's mayonnaise
*If you absolutely cannot find salad cubes, you may substitute relish
Poach chicken breasts, do not overcook.
Meanwhile peel and finely chop celery
3. Remove chicken and let cool.
4. Trim chicken into teeny tiny slivers with scissors. This is best done in while watching a movie or similar. If you get carpal tunnel like symptoms (especially if you're cutting up 2 or more pounds) take a break, then continue.
Place cut up chicken in bowl. Add celery. Add one spoonful Dijon mustard to start (at the end you can adjust and add more). Add a minimum one spoonful each of sweet and dill salad cubes (I add more sweet than dill, and several spoonfuls).
Scoop out mayonnaise, starting with a couple of tablespoons, mix well. Keep adding mayo until mixed well. Adjust mustard and salad cubes as needed.
Place in fridge for several hours to allow flavors to marry.
Serve with crackers, or on sandwich (white toast preferred, with tomato).
You can also order Duke's online here.
[typography font="Trocchi" size="24″ size_format="px"]Pinterest-Friendly Images[/typography] [pinit size="large"]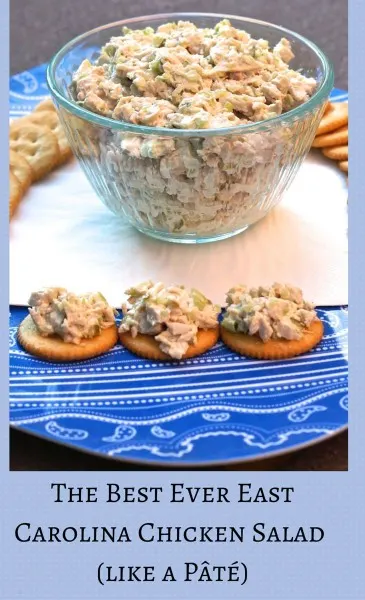 Disclosure: Please note that SouvenirFinder is a participant in the Amazon Services LLC Associates Program, an affiliate advertising program designed to provide a means for sites to earn advertising fees by advertising and linking to (amazon.com). As a full-time blogger, using my links helps keep me writing at no cost to you, thank you!