We looked at shopping for local Hungarian crafts in the last post about the Budapest Christmas Fair and Market, click here to read about it.
But what about when it's time for a shopping break? One of the best things to do in Budapest is to eat your way through all the delicious Hungarian specialties.
The Budapest Christmas Fair and Market makes it easy to do by putting the best of Hungarian food all in one place. There are almost too many delicious Hungarian food and drink options to choose from– you may need to make a couple of visits to sample them all.
The smell of Hungarian sausages on the grill wafted all the way down the street.
Did I mention the Christmas market had lots of sausages?
Sausages ready to eat, with all the fixings, Hungarian style.
We tried these yummy cabbages stuffed with pork and rice. They were also available with a duck filling.
Giant trays of Hungarian specialties like these ham hocks simmered over open flames.
The vendors carefully attended to the simmering dishes, stirring and seasoning as they cooked. Everything was freshly made throughout the day.
The menu of all the Hungarian food and treats available at the Budapest Christmas market.
At night, the crowds grew along with the festive atmosphere.
We each tried a slice of delicious Hungarian pizza. Again, it was hard to make a selection with so many options available.
Each pizza was freshly made.
The most fun Hungarian treat were the chimney cakes (in Hungarian, the kürtőskalács).
The cakes originated in Transylvania, which at one point was part of Hungary, but now of course is part of Romania.
Thin pastry is wound around a wooden cylinder, rolled in sugar, then placed over hot coals.
The treats are alternately left to sit, then picked up and rolled over the coals.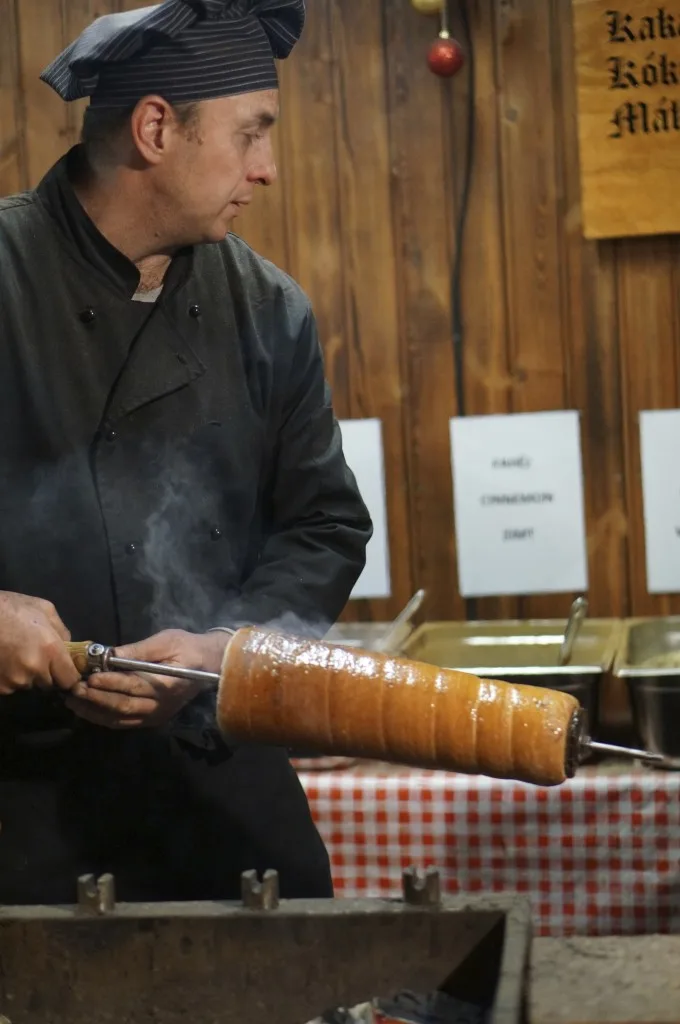 The finished product (about $7) is then rolled in different flavor options like cinnamon, walnuts and almonds. Voila, you have a chimney shaped hallow treat that is absolutely delicious and addictive.
What are your favorite Hungarian foods? Share in the comments below!
To read our other post about shopping the Budapest Christmas Market for crafts, click here.

Want to read about more Christmas markets?
Is New York City's Union Square Holiday Market worth checking out?
Munich, Germany's Medieval Christmas Market: Corny or Cool?
Details:
Budapest Christmas Fair and Market Souvenir Shopping Details:
The market runs late November through the end of December.
Located at Vörösmarty Square, at the end of Váci utca
All photos Copyright 2013 by Souvenir Finder, all rights reserved. No photos may be used in any way without express permission of Souvenir Finder.