It took me several visits to Paris before I finally visited the famous Angelina Tea house on Rue Rivoli. I'd heard of Angelina of course, it's one of the most famous patisseries and cafes in Paris, well known for having the best hot chocolate in Paris. But even when I stayed quite literally next door to Angelina at the Westin Vendome, I somehow never made it through the doors. It might have been because so many people told me I "must" go to Angelina that I wondered if it was overhyped. Or it could have been the never ending line that always snaked out front.
On my last visit to Paris, it was a particularly frigid and blustery day. The skies were gray-blue and threatened to open at any moment. We were headed to Tuileries gardens but realized the possibility of getting caught in a cold wet downpour was high. Rue Rivoli, the street facing the Tuileries, is flooded with dirt cheap souvenir stores. It seemed the perfect spot to pick up a souvenir umbrella, even if it only lasted for a single use (price: $5). After sorting out the umbrella, we walked straight past Angelina. With the wind whipping me to near tears the thought a toasty warm hot chocolate overcame me.
A thought struck me– does Angelina have takeout?
I popped into Angelina's grand salon to see for myself. I was taken by the by the stunning belle epoque interior. Founded in 1903, Angelina has been frequented by the likes of Coco Chanel, Proust and some of the biggest names in fashion. To the right of the salon was a separate takeout area (called a "delicatessen" though nothing like a delicatessen as we know it). And yes, they did offer their famous hot chocolate for take out.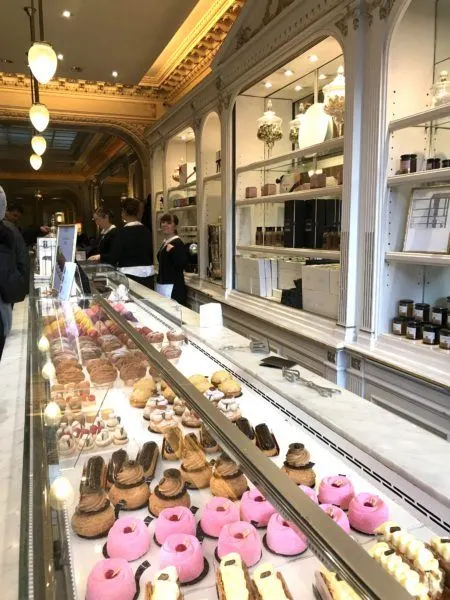 The Hot Chocolate at Angelina Paris (le chocolat chaud)
Angelina is famous for their hot chocolate (le chocolat chaud en francais), and is often cited as the best hot chocolate in Paris. French hot chocolate is nothing like what Americans think of as hot chocolate. While American hot chocolate is thin and sweet, punctuated by marshmallows, French hot chocolate is thick and rich and marshmallow free.
I'd tried French hot chocolate before back in New York at a Manhattan outpost of La Maison du Chocolat. It was ok, but almost too rich and bitter for me– not something I would go out of my way for. So I sort of assumed I'd have a similar reaction to Angelina's hot chocolate.
I was wrong. Whether it was the blustery day that made the warm oozing chocolate taste extra delicious or simply that Angelina actually lives up to the hype, I absolutely loved Angelina's hot chocolate.
The Angelina Mont Blanc Dessert
While the hot chocolate is the go to pick at Angelina, I could not ignore the decadent display of colorful pastries. I hadn't planned to get any, but figured I'd ask if they had a specialty pastry they were known for.
Mais oui! The enthusiastic shop attendant brought out this tray of their signature pastry, the Mont Blanc. The Mont Blanc has been served at Angelina since its opening– it's a mashup of meringue, chestnut paste and whipped cream all put together in a cupcake-like package. While not a great souvenir (the cream makes it highly perishable), the Mont Blanc did survive the trip back to my hotel.
Angelina Paris Take Home Souvenirs: Hot Chocolate and More
The delicatessen at Angelina was stocked with souvenirs ready to go. The signature Angelina hot chocolate was available in ready to drink bottles or a powdered cocoa mix.
Beyond hot chocolate, the other tempting souvenirs from Angelina Paris that caught my eye were the tea sachets and chestnut creme.
If you don't make it to Rue Rivoli, the airport (at least CDG) had plenty of Angelina products in duty free (not a free standing shop, but in the large duty free stores).
Have you visited Angelina Paris? Tell us about your visit in the comments below!