I'm a New Yorker, but London feels like home to me. Because I can't live in London, I do the next best thing and hop across the pond as often as possible.
What I love about London isn't just the city itself, but its proximity to the rest of Europe. A trip to London can easily turn into impromptu visits to Paris, Brussels and Lille– without ever stepping foot in an airport.
But I don't take one of those so-called discount airlines when I head to the Continent. For me, the only sane option is the high-speed train through the Chunnel, the one and only Eurostar. In fact, I am so enamored of Eurostar that when I visit London I often select additional cities based on whether they are Eurostar accessible. It might sound crazy, but as a shopper and a time-crunched American on a short vacation, the Eurostar gives me the opportunity to get a taste of another culture without the hassle and stress of airports.
1. Eurostar's Generous Baggage Allowance Means Easy Packing
When I leave Europe for my transatlantic flight home, I am forced to consolidate my belongings into one suitcase and pack efficiently. This takes time and patience– I usually spend at least an hour or two carefully packing, deciding what to check and what to carry on. My "travel outfit" consists of my heaviest boots and maybe depending on the space in my suitcase, a sweater or two. While I've accepted this agonizing process for my long trip home, the last thing I want to do is repeat this packing process for every European city I visit— which is what I have to do when I fly between cities. To make matters worse, when flying between cities using a so-called discount carrier, I have to waste time trying to figure out their byzantine rules on luggage weight and sizes.
Nope, I'd much rather enjoy every last minute in my city, and at the very last minute "pack" by tossing my belongings wherever they might fit, be that my suitcase or one of the many shopping bags I've collected. Instead of putting on my clunky travel outfit, I am free to wear whatever I like, and am ready to hit the next city's cobblestones on arrival.
On Eurostar, there are no weight restrictions for baggage. Feel like packing a bowling bowl or a set of barbels? No problem. You can also bring up to two full-size suitcases and a carry on without extra fees. When I recently dragged on several shopping bags (including a beautifully-packaged gift for my London hostess from Mariage Frères), no one batted an eye.
2.  Fastest Time Door to Door
Cheap airlines usually mean out-of-the-way airports. I still have nightmares about waking up in the middle of the night in Stockholm to take a bus to a faraway airport to get to Budapest. Unfortunately, in that scenario, there were no other options.
But when traveling between London and the continent, I have the option to leave right from the city center and be whisked away under the Channel at 300km an hour. Factor in the quick security and no waiting time for luggage (you don't have to check your luggage, you leave it on the racks at the ends of the train cars) and your total time door to door will always beat a flight.
3. The On Board Experience
Ok this point is really not a fair fight. We all know what a horrendous experience those discount airlines are. So instead of focusing on the negative, let me share how enjoyable the Eurostar journey is.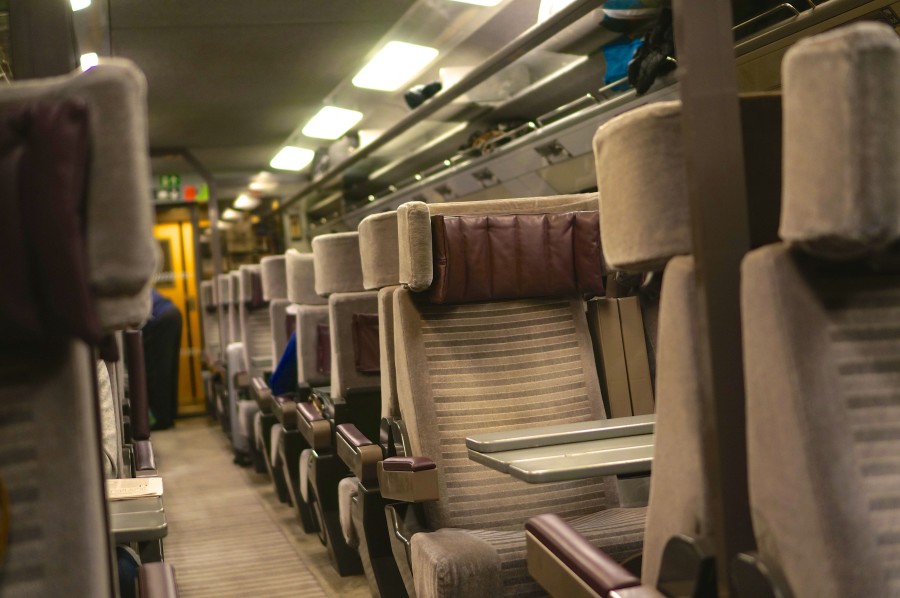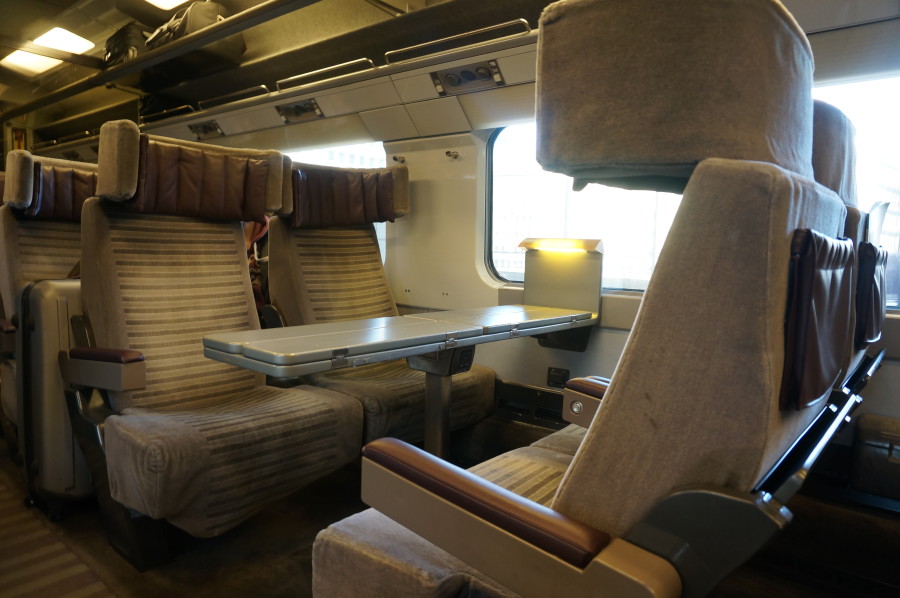 I took these photos of the seats in my Eurostar car– as you can see they are huge and plush, with plenty of leg room (seats are in Standard Premier class, which I always travel in). I usually like to sit in the forward facing seats when traveling solo, but when traveling with a friend or beau I prefer the seats that face each other. The tray tables fold out, making a perfect spot to lay out a picnic lunch of charcuterie and cheese.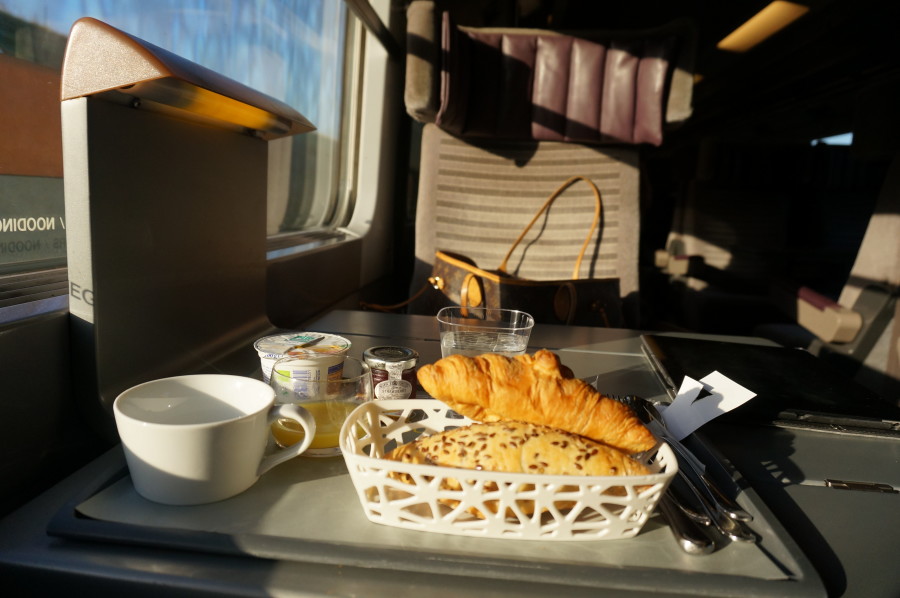 Though you can bring your own snacks on board, you won't go hungry on Eurostar– the incredibly attentive staff plied me with pastries and yogurt and never let my tea go cold.
This slideshow requires JavaScript.
Think you won't see anything at 300 kilometers per hour?  I took all these photos at full speed, right from my window.
4. The Romance of Riding the Rails
Finally, the main reason I love Eurostar is a certain je ne sais quoi— the romance of riding the rails that dates back to the golden age of train travel. In those days, train travel wasn't a means to an end but part of the journey– and a civilized one at that.
While the trains have gotten faster since those early days, the romance remains. I always feel like a true traveler when I arrive in one of Europe's grand rail terminals– and a little rush of anticipation– no matter if it's my first visit or fiftieth.
Quick Eurostar Facts
Trains are fast– Brussels to London is only 2 hours 1 minute, London to Paris, 2 hours 15 minutes.
Perks– Eurostar partners with certain museums and exhibits in London, Paris and Brussels to offer 2 for 1 admission when showing your ticket.
Eurostar is greener than flying
Return tickets start at £69 when bought in advance.
Pinterest-Friendly Images [pinit size="large"]
How do you travel around Europe? Share in the comments below!
While I've been riding Eurostar on my own dime for years, Eurostar graciously provided me with a complimentary ticket from Brussels to London for this visit.