Our guest post today comes to us via an American expat living in Marrakech, Amanda Mouttaki.
Marrakech Souvenir Shopping Guide: a Local's Tips and Finds
Does the idea of entering Aladdin's cave sound intriguing to you? Or digging through piles of hand-stitched purses or having a pair of custom-made slippers made? What about walking across hundreds of rugs in every color, style, and design imaginable?
If so, then you'll love the markets of Marrakech– every shopper's dream destination. There are so many fabulous Marrakech souvenirs here that you'll want to make sure you leave plenty of room in your suitcase. But shopping can be an intimidating experience for the first time visitor to Marrakech, with its maze-like souks and culture of bargaining. But it doesn't have to be confusing, just follow our tips in our Marrakech shopping guide.
Know your Marrakech Shopping Terminology– Souks versus Boutiques
Marrakech is most famous for its souks, a labyrinth of narrow alleys lined with stalls, kiosks and shops, selling traditional artisan goods and souvenirs. But Marrakech is more than just vendor stalls– there are also some excellent, higher-end retail boutiques (some within the souks, others outside its walls). These boutiques often sell higher quality versions of the same traditional Marrakech objects and souvenirs on offer within the souk stalls. It's worth checking out both– the souk stalls can offer amazing bargains, and the boutiques, while pricier, can offer some unique goods and souvenirs you won't find anywhere else.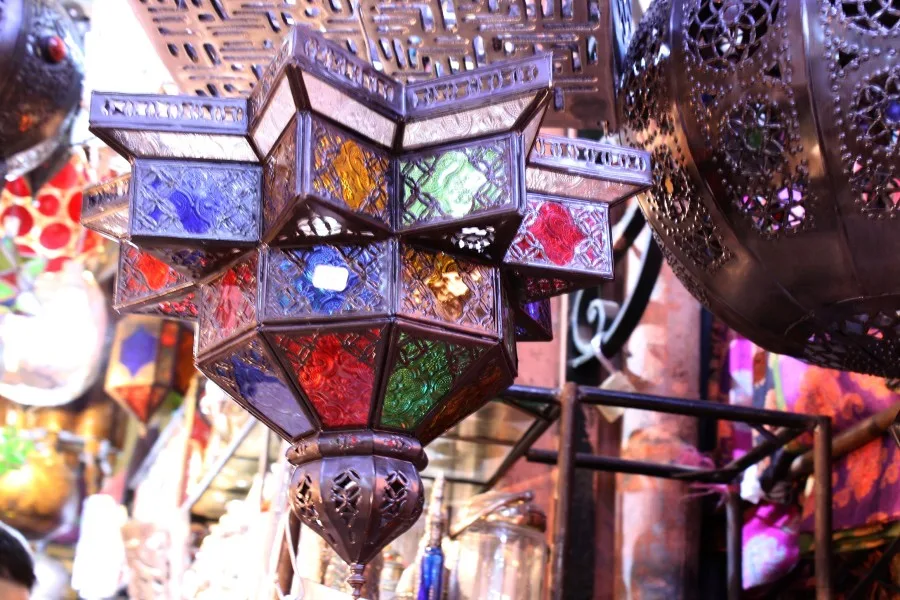 Our Marrakech Shopping Guide– Let's Venture into the Souks
1. Enter the Souks at Djem el Fna
For a Marrakech shopping excursion, I recommend entering the souks via the main entrance at Djem el Fna, the big square. When you arrive at the Djem el Fna entrance, you'll see three separate entrances into the souks.
As you first enter the souks, you might be tempted by a mixture of Marrakech souvenirs and goods you'll see along the edges– things like lamps, shoes, and items made from wood, for example. But as tempting as it might be to fill up your shopping bags right away, my advice is to keep walking. The souk goods that are closest to the entrance are going to be higher priced and the shopping selections are more limited than you'll find elsewhere. You'll want to go further into the souks for more shopping options.
2. Shop the Souks by Trade
Each area of the Marrakech souk specializes in one type of trade, ranging from leather shops, to metal workings to pottery. It can be easy to get overwhelmed when looking at all the different souvenirs available from a particular trade– all that leather can start to look the same. But I recommend you take the time to inspect the shopping options from different stalls and vendors– as each souvenir is made by the artisan who mans the stall, there will be differences in quality and design, and it's worth looking around at several vendors before buying anything.
Vendors might seem aggressive, but don't be afraid to say no. If there's something specific you're looking for you can let the shopkeeper know. He may have it, or he may know someone who does and will go get it for you.
3. Don't fret getting lost in the Souks
One of visitors' biggest fears is getting lost in the souks and not being able to find their way out. Yes, it's inevitable that you'll get lost in the souk, but it's really not a big deal. If you get lost, ask for Djem al fna and you'll find your way back to the square to start over.
4. Bargain in Marrakech Souks for the Best Prices on Souvenirs

Bargaining is a way of life in the souks. There are some set-price shops but most are not. You can ask how much something is and expect that number to be grossly inflated.
My tips for bargaining in the souks:
As a starting point, I recommend offering about 2/3 less than the shopkeeper's price. For example if you're told 1000 dirham, offer 300.
Don't be ashamed to go low. They know you won't agree to their price and you know they won't agree to your first price.
At some point, you're going to reach a point that's mutually agreeable. Ideally you'll pay between 50 and 70% of the original price they've given you.
For people who aren't used to bargaining it can be difficult, even embarrassing, but it helps to remember that bargaining in Marrakech is simply part of the accepted Moroccan culture. Not bargaining at all is actually insulting to Moroccans.
5. What to Souvenirs to Buy in the Marrakech Souks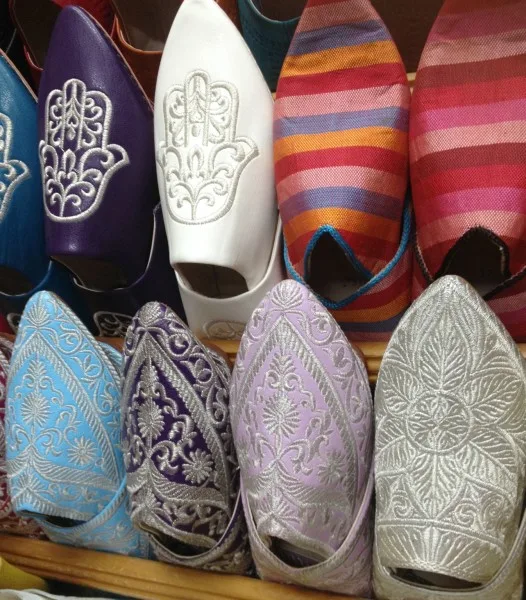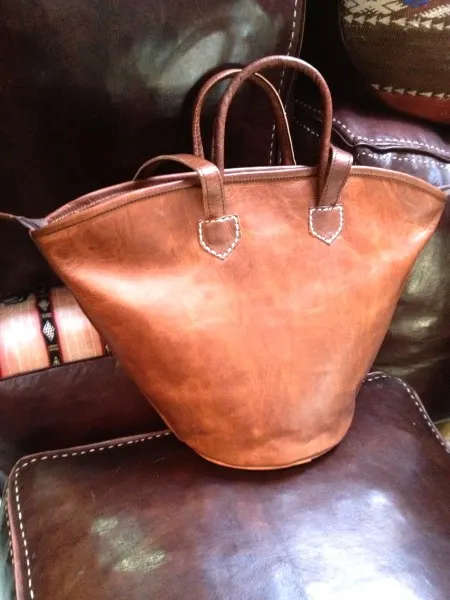 While there are too many Moroccan souvenirs to list here, these are my favorite things to shop for:
Leather goods like purses, bags, and shoes
Lamps and Metal Furnishings
Traditional style clothing
Poufs (take care as there are real leather poufs and plastic poufs that only look like leather)
Morrocan Spices and Herbal Medicines
Shopping at Marrakech Boutiques Outside of the Souks
Once you've had fun bargaining at the Marrakech souks, don't miss some of the boutiques outside the souk walls. I've listed a few of my favorite Marrakech shops here:
33 rue Majorelle (rue Yves Saint-Laurent) is a shop that highlights local and interesting artists. Their shop is easy to find, centrally located near the Majorelle Gardens. Inside there's a variety of accessories, clothing, and decorative pieces. Most importantly, everything is a set price here– a great stop if you're just interested in purchasing a unique item without the hassle of bargaining.
Kasbek is nestled near the souks but offers a very unique shopping experience. If you love the style and look of Moroccan kaftans (traditional dresses) you'll want to visit. They have a mixture of dresses that are perfect for an evening out and beach wear. Not to mention some truly amazing vintage pieces that are a feast for the eyes.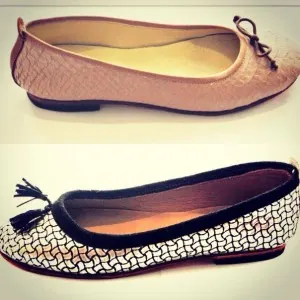 Bennina Shoes is one of my favorite shoe shops. If you would like to go home with a handmade pair of leather shoes than you must stop here. If you have some time in the city you can even have a pair custom-made. They also ship internationally. Beautiful styles that are all unique and unlike anything you'll find in shops at home.

My best advice, whether you choose to browse the souks or the specialty shops of Marrakech (or both) is bring an extra bag to take home your purchases!
[box type="info" size="medium" style="rounded" border="full"]Souvenir Finder Shopping Details
What to Buy: Custom-made shoes, leather poufs, spices and more Moroccan souvenirs
Where to Get it: In the souk (enter at ) or in the boutiques outside the souk walls. Souks are open Souks are generally open daily 9 am-7 pm and closed Friday mornings.
What to Know: Bargaining is a way of life here, so have fun with it.[/box]
[typography font="Trocchi" size="24″ size_format="px"]About our Guest Author[/typography]
[box]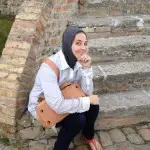 Amanda Mouttaki is an American expat living in Marrakech, Morocco with her family. She has been visiting Morocco for the last decade and living in Marrakech permanently since 2013. She writes the blog MarocMama, and runs the business Marrakech Food Tours with her husband.[/box]
[typography font="Trocchi" size="24″ size_format="px"]Pinterest-Friendly Images[/typography] [pinit size="large"]