Ever wonder what to do with all your travel souvenirs when you come back home? For our first installment of Travel Souvenir Style, we are featuring Toccara and her husband Sam of Forget Someday.
Do you have piles of travel ephemera?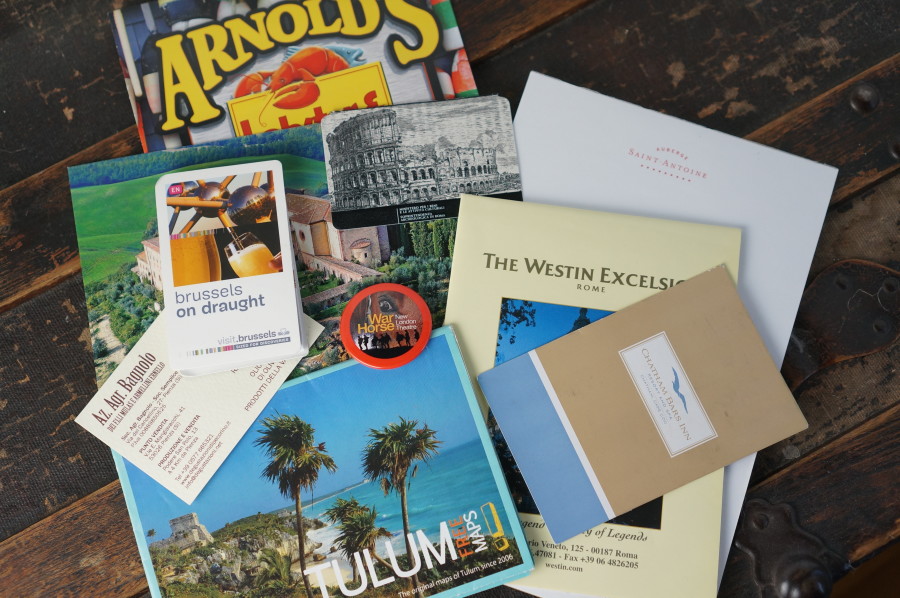 I do. Above is a teeny tiny portion of the random stuff I've saved from my trips– everything from maps to business cards to hotel stationary to key card holders. Looking through my ephemera, I'm reminded of that four pound lobster I enjoyed on Cape Cod, or the farm with the most delicious cheese I have ever had on a visit to Tuscany. I have no idea what to do with these assorted bits of ephemera, so for now they are safely tucked away into a box on the top shelf of a closet.
So I was thrilled when fellow travel writers Toccara and Sam agreed to share their travel ephemera project– a shadow box they made themselves for a just a few dollars with supplies from craft store.
DIY Travel Ephemera Shadow Box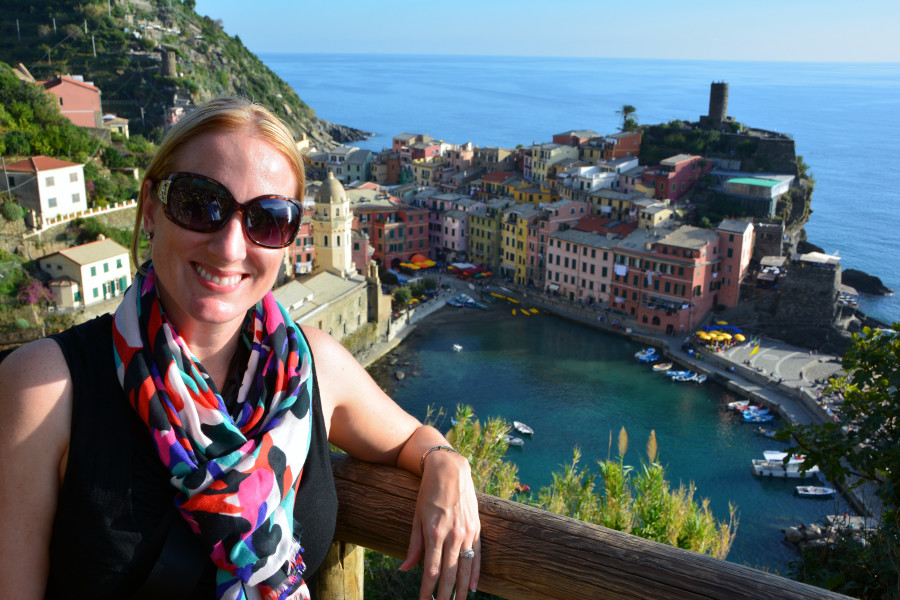 Toccara and Sam came back from a whirlwind three-month long trip to Europe. Some of their favorite stops included riding water taxis in Venice and visiting the Vatican in Rome, the Opera House in Paris, Topkapi Palace in Istanbul and the Acropolis in Athens. Along the way the couple picked up souvenirs and also saved colorful mementos from each country– things like ticket stubs, programs and brochures and even gold coins from Notre Dame.
As Toccara unpacked from her trip, she ended up with a pile of mementos and wondered what to do with them all.
Back in college, Toccara was an avid scrapbooker, but gave up on it when it became too time consuming and expensive. Looking at her ephemera souvenirs, Toccara nixed scrapbooking, which would keep her memories tucked away in a book. Toccara wanted to be reminded of her love for travel every day, so she thought of a creative craft to display her travel mementos– a shadow box, filled with her memories, that could be hung on a wall and enjoyed every day.
Not sure what kind of travel mementos to put in shadow box?
coins
attraction and hotel brochures
postcards
receipts (especially from memorable restaurant meals)
tourist maps
pins from museums and plays
menus
ticket stubs
subway/metro cards
hotel stationary
business cards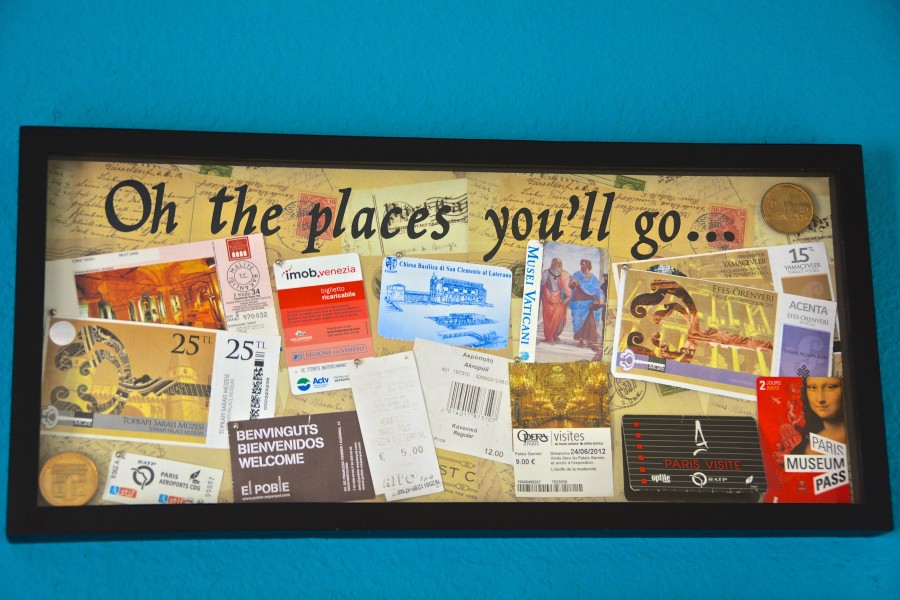 We asked Toccara how she made her shadow box.
1.  First, you'll to buy a few supplies from your local craft store (or online). You'll need:
scrapbook paper (Toccara chose vintage-look travel themed paper)
2.  Cover the back piece of the shadow box with the scrap book paper, to serve as the base for your ephemera travel items.
3. Set out your design.
Use the letters to spell out a favorite travel phrase, or your destination, if you're featuring just one. Arrange items on scrapbook papered background.
4. Tape your letters and ephemera in place with double-sided scotch tape.
5. To create the bulletin board look that Toccara has perfected, use pretty push pins in the corners.
Note: Toccara had to shorten the length of the pins with wire cutters as the thin cardboard background of the shadow box wasn't substantial enough to hold the entire length of the pin).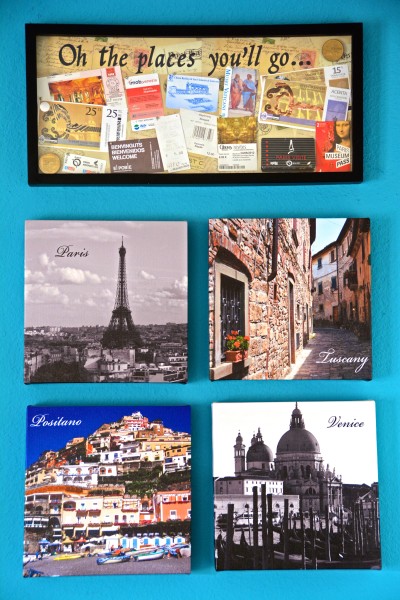 Toccara hangs her travel shadow box in the couple's bedroom, displayed together with several canvas prints created from their favorite photos of their trip. Toccara loves looking at her custom art collection–  an everyday visual reminder of the wonderful trip they took.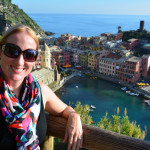 Toccara runs the travel blog
Forget Someday
, along with her husband
Sam, a fiction novelist.
  Together, they've been blogging for just over a year and have visited 18 countries to date. They prefer small towns over big cities and crave being outdoors as much as possible. They're currently in the early planning stages of a year on-the-road, starting in July. You can follow Toccara on
Twitter
, YouTube, Instagram,
Pinterest
,
Facebook
, & Google+!
Order everything online you need for your own shadow box! (links are affiliate, at no cost to you, to help defray costs of running this site)