On my first visit to Vienna, I visited a beautifully curated shop, one filled with unique goods that were fun both to browse and buy– I left with a cute hat and slippers that I wore to death. When planning my return to Vienna, I tried to remember the name of this dreamy shop. I spent ages googling possible words (Vienna + housewares + hunting supplies). I scoured shop lists on other sites. Despite my best research efforts, I came up dry. I figured the store I loved so much must have closed, so I eventually gave up on trying to find it.
Fast forward to my next visit to Vienna. One day I decided to wander aimlessly through the city center– but deliberately so. I took turns down unknown streets, just to see where I would end up. I ended up with some of my favorite photographs of the trip– little pockets of Vienna and slices of every day life.
But then my heart skipped a beat as I turned one corner and saw this sign that looked strangely familiar—
I had, by accident, happened upon the store I had so fruitlessly searched for. This time I snapped a photo of the sign so I wouldn't forget the name, Kettner. Sometimes when we return to old favorites, they don't live up to our memories. Luckily, that wasn't the case with Kettner– it was even better the second time around.
Kettner: A Blend of Austrian Tradition and Kitsch
What I loved about Kettner (and Austria in general) is that Austrians aren't just about preserving imperial traditions– there is a lighter side to the city as well. If your visions of Austria include edelweiss-covered hills, drindls and lederhosen, then you won't be disappointed here.
Along with traditional hunting gear, Kettner stocks tongue-in-cheek examples of classic "Austrian" motifs, like stag-covered ties and flasks, tee shirts and slippers emblazoned with clever German phrases and wood carvings featuring contemplative Austrian huntsmen. It's a fun shop to explore no matter what your budget– you'll find items ranging from an inexpensive, kitschy belt-buckle to a pricey, expertly made hunting jacket.
I went a little crazy photographing Kettner because there were so many interesting things here. Here are a few of my favorite finds:
1. Austrian Housewares
2. Austrian Slippers, Hats and Bags
3. Austrian Women's Clothing
The beautifully made Austrian traditional dresses and crisp white cotton blouses tempted me, but I had no idea where I could wear them back home.
4. Austrian Men's Clothing
5. And Some Rifles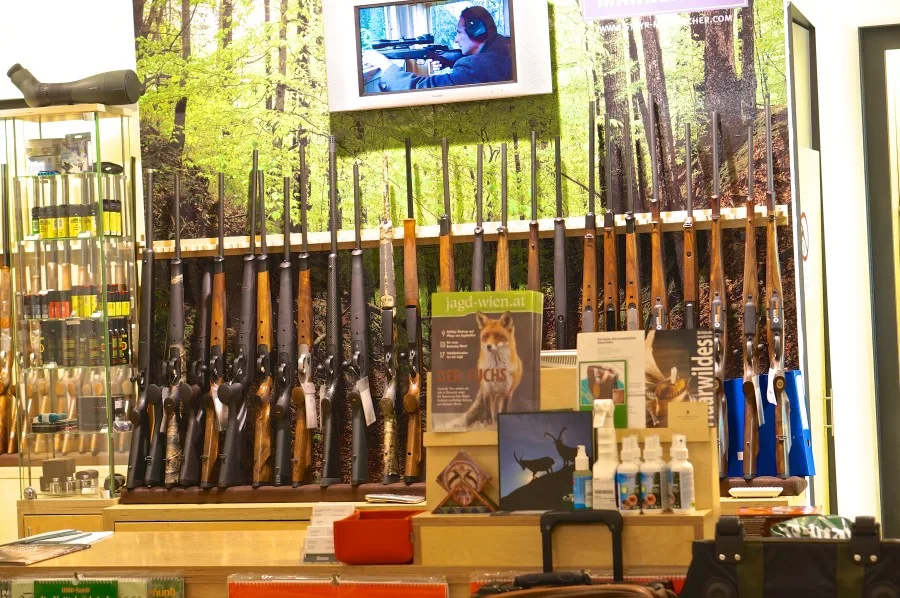 Pop upstairs and you'll find all sorts of traditional men's hunting clothes– and a rack of rifles to go along with them.
[box style="rounded" border="full"]Souvenir Finder Shopping Details
What to Buy: Fun, kitschy items that are extremely well-made; men's and women's traditional and hunting clothing
Where to Get it: Kettner. I visited the Vienna branch at Plankengasse 7 1010, but they have several other stores across Austria as well as one in Zagreb, Croatia
What to Know: The goods here aren't inexpensive, but the prices are very fair for the quality, and there are plenty of smaller items to choose from.
[/box]
[typography font="Trocchi" size="24″ size_format="px"]Pinterest-Friendly Images[/typography] [pinit size="large"]
Do you love Austrian kitsch? What are your favorite Austrian souvenirs? Share in the comments below!