In all these years of plotting weekend escapes from New York City, I had somehow missed visiting Saratoga Springs, New York. Of course I had heard of Saratoga's famous racetrack, but as someone who is a bigger fan of the parties and pomp and circumstance than of the races themselves, I'd never made the trip up during racing season.
Nor did it occur to me to visit Saratoga Springs outside of racing season, to make that three hour drive for what I assumed was just another quaint small town, indistinguishable other towns that were closer to the city. I couldn't imagine it held any interesting souvenirs to write about either, save the usual small-town antiques shops and bric-a-brac of every historical town.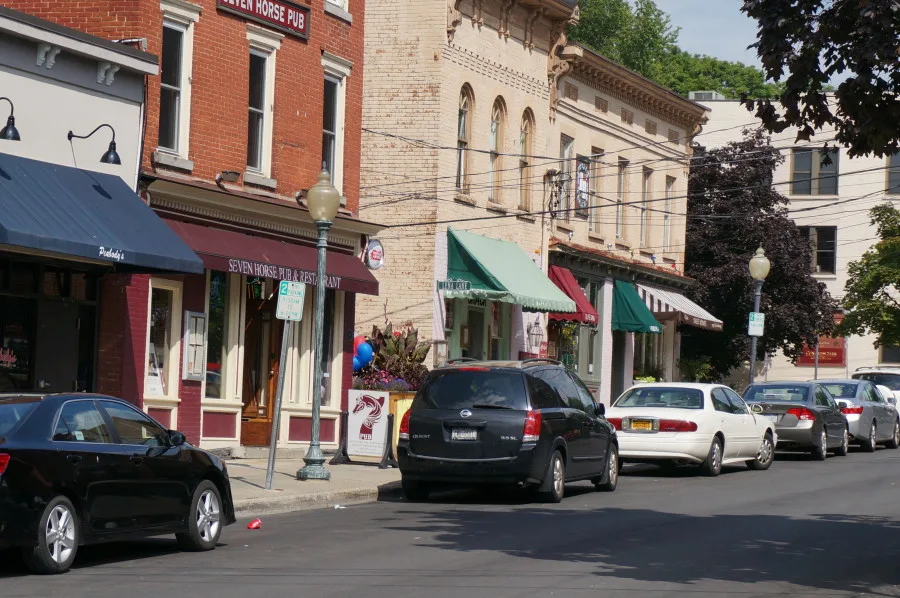 But after a weekend spent visiting friends in Saratoga Springs, I couldn't believe I'd waited so long to visit. Historic mineral springs, a lush farmers' market, a main street filled with cute shops and restaurants tumbling onto the sidewalks— Saratoga Springs was a lot more than just just your average charming town, with plenty to do for a weekend or even a little longer. At least that's what former Manhattanites Cat and Steve decided when they packed up their family and city apartment and made their move to Saratoga Springs permanent.
Now official Saratoga locals, Cat and Steve gave us a tour of their hometown favorites– what to see and do, where to eat and of course where to shop (and the best Saratoga souvenir to bring home that won't cost you anything).
1. Visit the Mineral Water Springs in Saratoga (Souvenir: Spring Water)
With a name like Saratoga Springs, I expected the town to have some connection to mineral spring water. But I wondered whether you could actually visit and drink from these springs, or if the springs were now cordoned off for the exclusive use by private companies (the big blue bottle company comes to mind).
So it was a great surprise to discover that the spring water in Saratoga is not only completely accessible, open to the public and free of charge, but also housed in magnificent historic structures and served up from ancient gurgling fountains. You can taste-test your way through all 18 of the downtown-area springs and bring home as many souvenir bottles of water as you can fill, all for free.
The mineral content and fizz levels vary per spring and some springs are definitely an acquired taste– I admit I skipped tasting the most sulfurous spring (the odor alone was off-putting enough) and just splashed my hands in the stream instead, hoping to still benefit from the healing qualities.
2. Experience Saratoga Spring's Equestrian Culture (Souvenir: Hats and Equestrian Gear)
You can visit the Saratoga race track and museum any time of year, even outside of race season. But the race track isn't the only equestrian-related activity in town– there are plenty of activities here for horse lovers.
Ride the Wooden Horses
While fountain hopping in Congress Park, visit the well-preserved carousel, dating back to 1910. This rare wooden carousel is work of art, featuring twenty-eight hand-carved wooden horses with real horsehair tails.
Check out a Polo match
There aren't that many places to see bona-fide polo matches– I've been to several in Palm Beach, the Hamptons, Pinesville and Poolseville, but am usually too distracted socializing to pay much attention to the match. But Polo in Saratoga is a more low-key affair, a perfect way to enjoy a summer afternoon. We laid out some blankets by the fields and set up a picnic with friends. In between catching up and snacking we actually did catch some spectacular polo. And it's always fun to stretch your legs and stomp divets in between matches.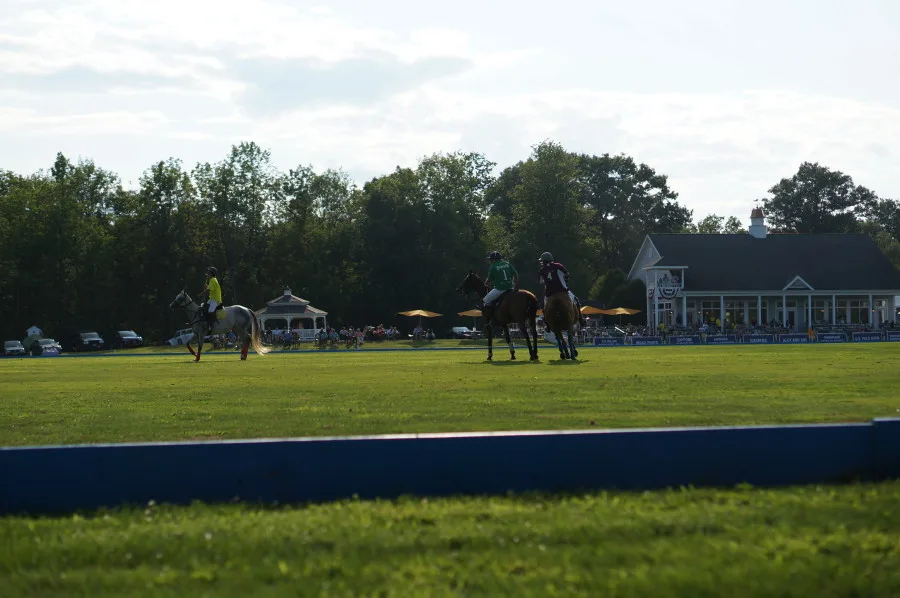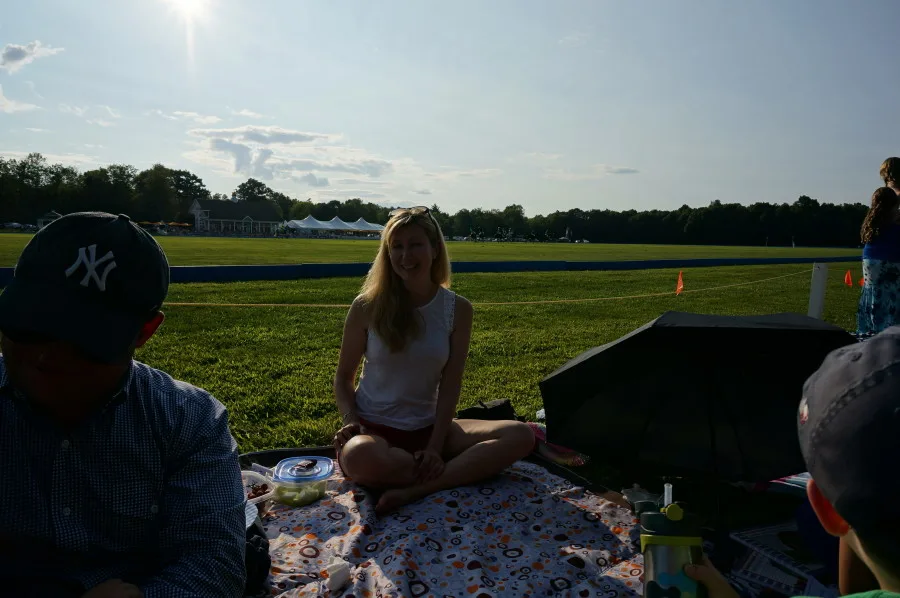 Shop for Hats in Saratoga Springs
While watching polo, it's impossible not to take notice of the fashions of the other spectators, especially the gorgeous wide-brimmed hats. I started to develop some serious hat envy and started researching where to buy hats in Saratoga.
When shopping in town later, we found many hat buying options along and just off the main drag. However, I found the service in one well-known downtown hat shop a little curt so next time I'm going to check out an independent boutique just outside of the main street area, Little Red Millinery (recommended by always-in-the-know Design Sponge).
Shop for Equestrian-Inspired Fashion
There are several shops in Saratoga carrying equestrian style fashions– hats, boots and assorted clothing. Even if you don't plan to saddle up on a horse anytime soon, a well-cut riding jacket can work in any wardrobe.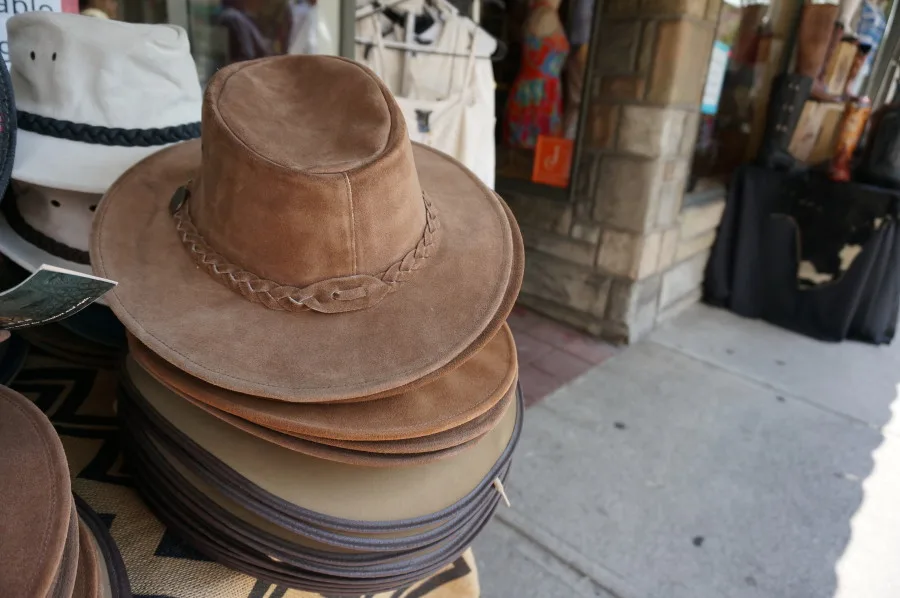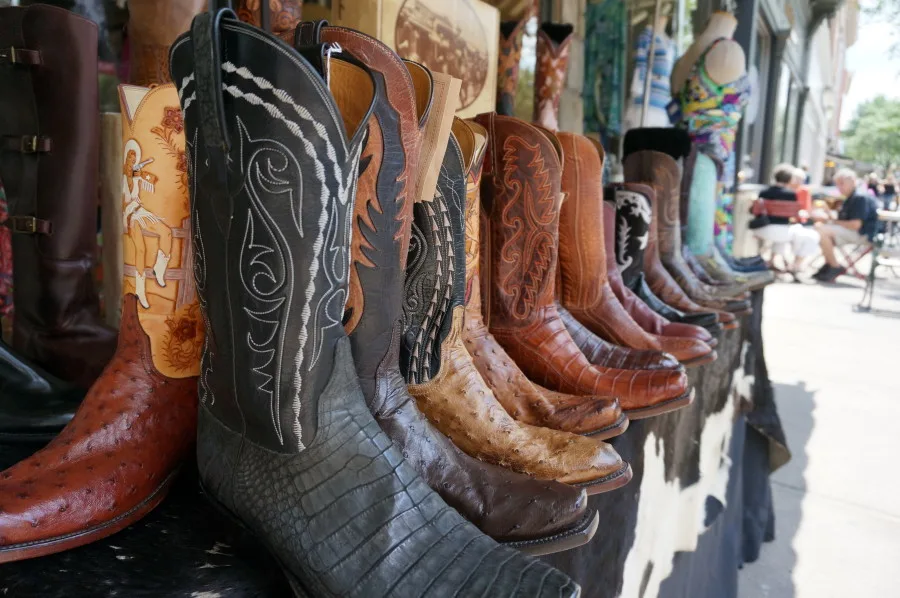 3. Shopping and Eating at the Saratoga Farmers Market (Souvenir: Fresh Veggies and New Indie Food Products)
I'd heard that Saratoga Springs' farmers market was pretty spectacular and was thrilled when it lived up to the hype. What I like about it was the manageable size (it's a mid-size market so it's not overwhelming) and the diversity of options. The Saratoga Farmers market is an explosion of color, filled with a cornucopia of beautiful and interesting produce. I brought home plenty of fresh souvenirs from Saratoga here– giant fava beans, gorgeous squash (to supply my spiralizer addiction) and just-ripe tomatoes (perfect for a classic tomato sandwich).
But there's more than just produce here– indie vendors sell their unique products here (I loved the homemade ketchup from one vendor). It's a chance to check out new products before they hit the mainstream (and the shelves of your nearest Whole Foods). The market also offers plenty of ready-made snack and lunch options for a quick bite.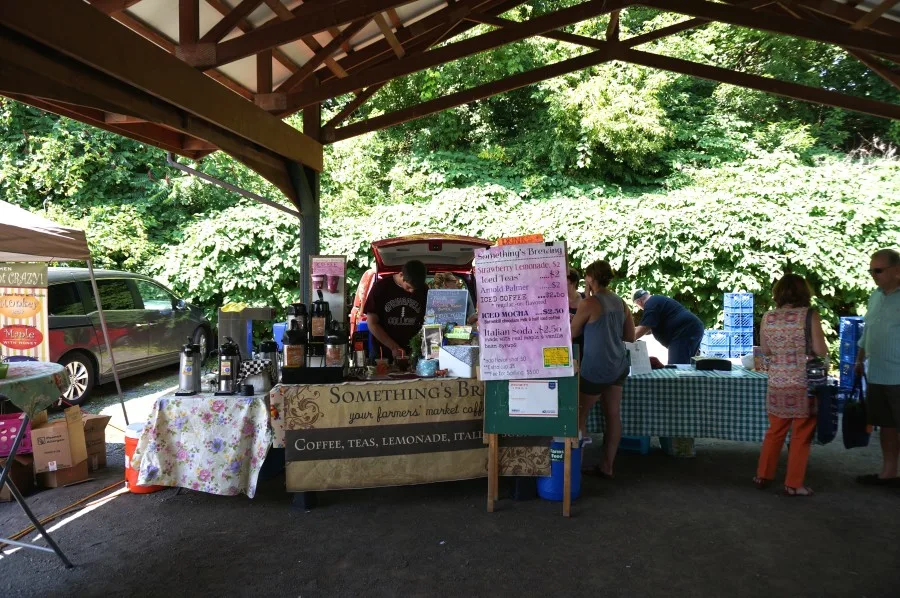 4. Last Bite: Saratoga Eats
Over our Saratoga Springs weekend, we enjoyed some lingering dinners in town, but my favorite meals were those quick snacks we stopped for in between shopping and sightseeing. Steve brought us to some of his favorite stops.
Saratoga Awesome Dogs
When I first spotted Saratoga Awesome Dog' bright red hot dog cart from the road, I knew I was going to like this place. We tried both the chili dog and a plain hot dog with a generous dollop of sauerkraut. Fresh off a hot grill, the dogs were crisp and delicious, with a nice snap.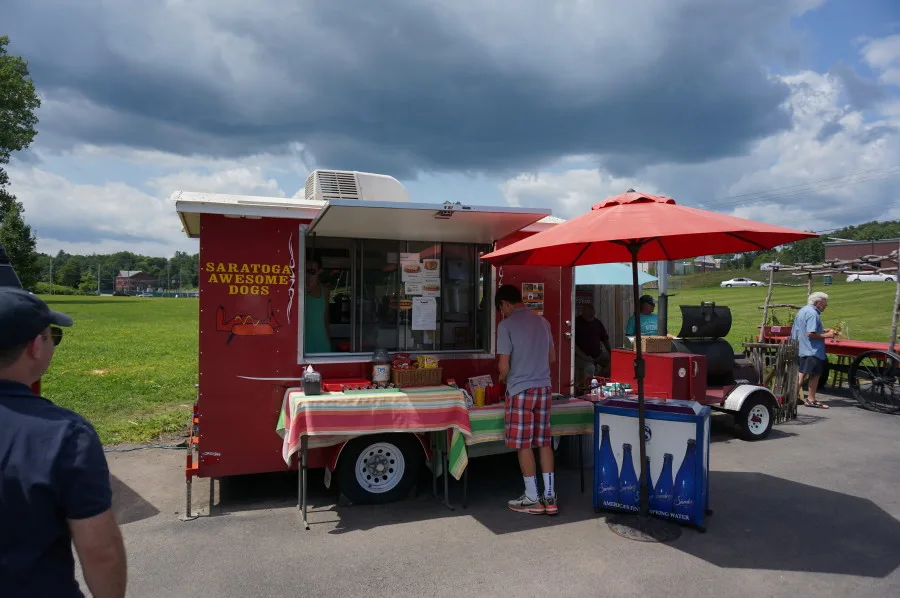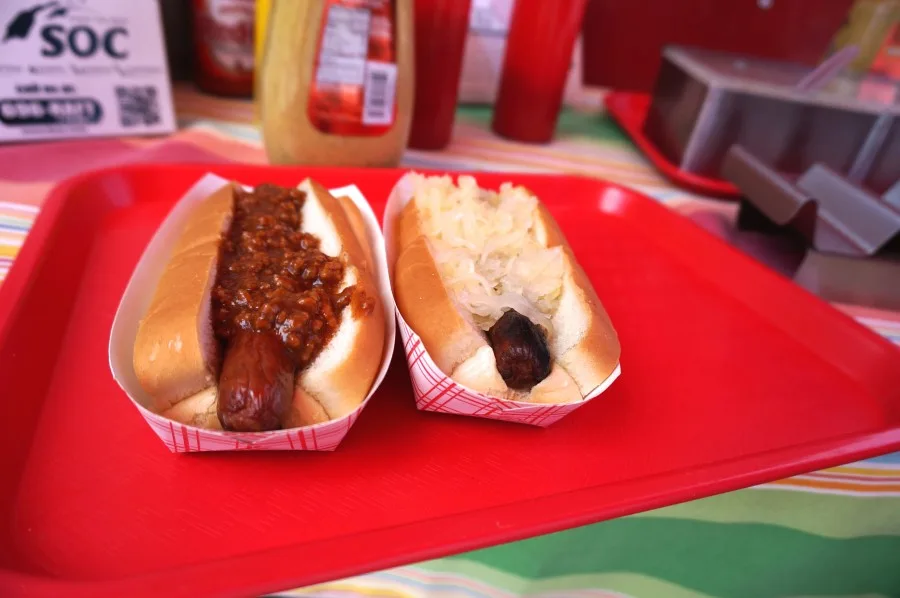 Saratoga Gelato
Why bother with ice cream when there's gelato, conveniently located right on the main drag downtown. This homemade gelato is a local favorite, and I can confirm the chocolate gelato is divine.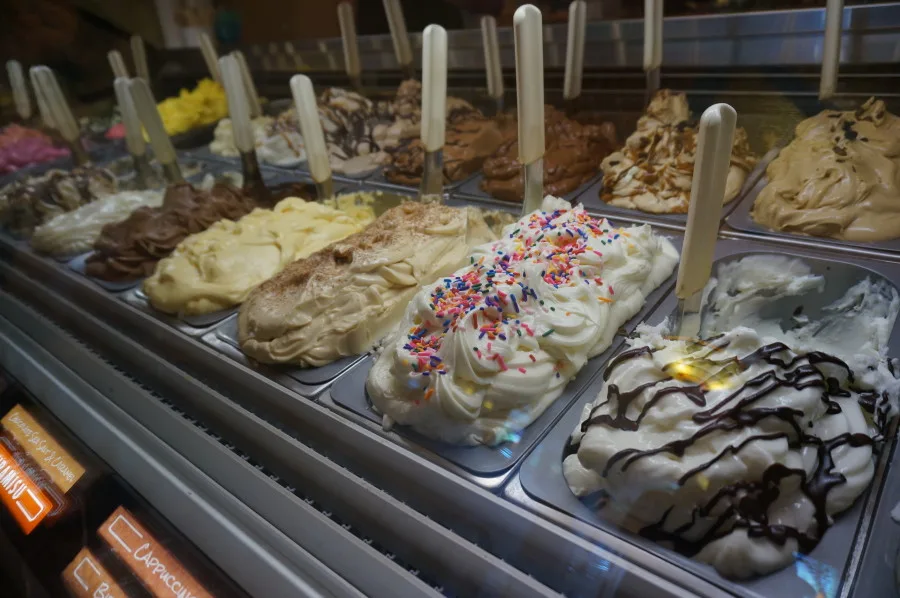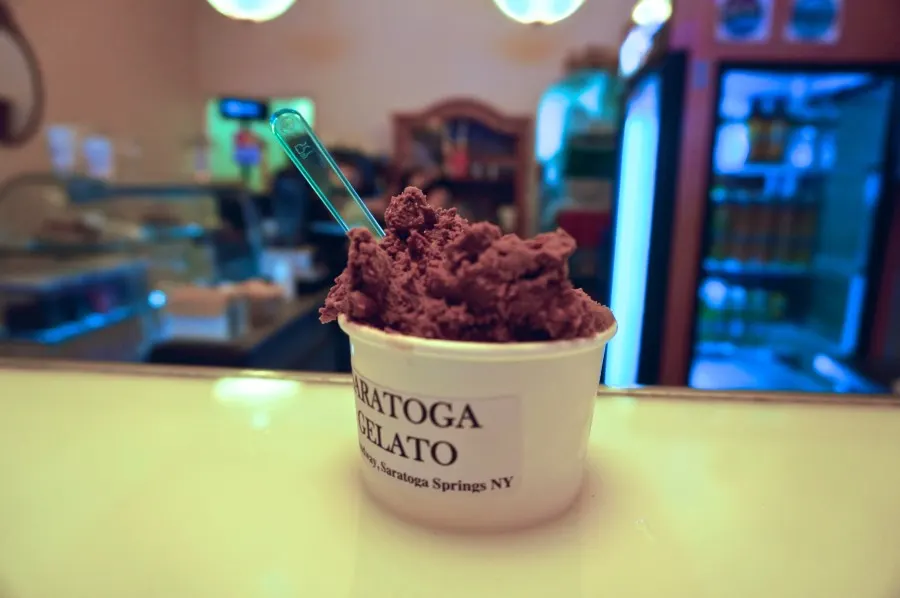 Uncommon Grounds Coffee
I slept like a baby in Saratoga Springs– unfortunately that meant that by the time I woke up the coffee was long cold. I find coffee reheated in the microwave generally undrinkable. But somehow the coffee from Uncommon Grounds was still flavorful and fresh-tasting even after a sitting around all morning and zapped in the microwave. I made sure we stopped by the coffee shop in town and loaded up on a few bags to bring home.
Hattie's Fried Chicken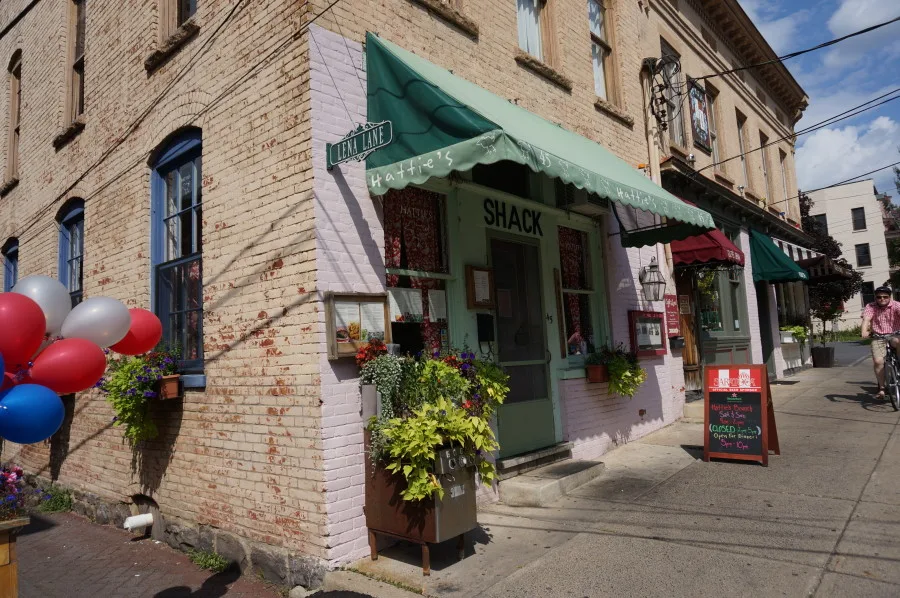 Hattie's is local favorite– a no frills joint that's been around since 1938, serving up fried chicken and other Southern specialties. Sadly, a weekend packed with picnics and dinners out did not leave any free meals to sample Hattie's famous fried chicken– but I'm already planning a return visit.
Did we miss your favorite places in Saratoga Springs? Share in the comments!
Thanks to our friends Steve and Cat for a great weekend! When not offering touring advice, Steve Greenblatt can be found lawyering at his Saratoga Springs law offices.