Love them or hate them, "selfies" have been around since people started scratching their images out on cave walls. Some of the greatest paintings ever created are self-portraits (think Rembrandt, Picasso, Hockney). But while the medium and the terminology may have changed, those changes aren't the reason why many feel such ire towards the selfie obsession today.
Somewhere between cave drawings and the Kardashians, the art of self-portraiture has been lost. At their best, selfies are a form of self-expression, a way to tell your story. At their worst, selfies are an anxiety driven search for validation (please like me on Instagram!). Most selfies today are the latter– giant face selfies lacking in imagination, mostly taken in a car or bathroom, and run through filters that obliterate your features and make your eyes pop out like some kind of freakish alien.
I took some "what not to do selfies" in case you are unfamiliar with popular selfie trends:
Give these please-validate-me selfie clichés a skip– the V sign, any snapchat filter (but especially that dog!) and of course the kissy face/trout mouth– the selfie trend that just won't die. I don't own a car and couldn't find a single blogger willing to replicate the trying-to-look-sexy while sitting in the front seat of my car, but that's right up there with all time worst selfies. As a rule, any selfie that's trying to look sexy rarely looks sexy.
What is a selfie anyway?
First, let's start by defining what a selfie even is. I define "selfie" by its literal meaning– a photo you take of yourself. It doesn't matter if it's your face, your pinky, or your entire body. It matters not whether you took the photo with your arm outstretched, reflected in a mirror or using a remote. They are all selfies. The difference (other than the mechanical one) of taking a photo yourself versus having a photographer take the photo is that you alone create the composition– the selfie is entirely your vision, your perspective, your form of self-expression.
Why I Did an About Face and Embraced Selfies
I am an unlikely person to be writing about selfies. Until the last couple of years ago, I'd never taken a selfie at all and disliked having my photo taken under any circumstance.
But scrolling through my Instagram feed, I started to notice something. The travel photos I liked and connected with the most often had the blogger as part of the shot. As travel bloggers, we all want to tell the story of a destination from our unique perspective. My favorite travel bloggers used creative ways to integrate themselves into their shots, and as a result, their narrative became more personal– and more compelling. I knew it would be worth getting over my photo phobia to learn how to do the same.
I searched for but couldn't find a "selfie how-to guide" so I set about to figure it out on my own. I quizzed some of my favorite instagrammers for tips and the rest is a still ongoing process of trial and error. I'm still no selfie expert, but I've gone from absolutely-terrified-of-selfies to sort-of-comfortable in a short amount of time.
You don't need to be a professional blogger to take better selfies. Whether you are shooting for your personal instagram account, for Snapchat or just expressing your creativity, there is no reason why you shouldn't try to improve your selfie and photography skills. When a nosy New Yorker saw me using my tripod and disdainfully remarked "you take your selfies seriously, don't you." I turned to the busybody and said "why yes I do. If you're going to bother to do something, after all, you might as well do it right."
I've broken down the selfie basics for you in this comprehensive guide.
Part I covers all the equipment you might need to take your selfies along with some sample selfie shots.
Part II offers selfie best practices, tips and sample shots from top travel instagrammers. Learn their secrets and see their amazing shots.
Part III covers other fundamentals to make your selfies– how to pose, what to wear, props and lighting.
Part I: the Best Tripods, Remotes and Selfie Sticks and Cameras to Take Better Selfies
Taking good selfies is not just about flattering angles, but also about context and the story behind the selfie. If you create more distance between you and the camera or camera phone, you can put more of yourself and more background into the shot. As a blogger, I have many, many selfie-assistance devices (tripods mini and large, stands, sticks and remotes) and use them all.
While using a tripod to take a selfie might seem extreme, some are so small and light you can easily fit them in your purse. Why limit yourself to your arm when you can easily take far more selfie interesting shots with a little help. Of course all of these tripods can be used for far more than just selfies– tripods are great for getting a clear shot of anything, especially at night, sunrise and sunset when holding a camera in your hands can result in blurry images.
I came up with a list of my favorites below, along with a few samples shots taken with each one, from myself as well as from some of the top bloggers featured in Section II.
The Best Camera and iPhone Remotes for Selfies
My selfie tools nearly all involve the use of a remote control. While you can use the self-timer on your camera or phone, I find this to be a huge hassle and time waster. Instead of getting just one photo at a time, I can hold my remote and get unlimited photos without going back to reset the timer.
After trying many remotes, I've finally settled on the best remotes for my iPhone and for my camera (scroll down for details about the camera I use).
I buy these inexpensive Camkix Bluetooth Camera Shutter remote controls in multiples. The colorful Camkix remote is perfect for selfies. The camera button works for both still photos and video– and even works with snapchat and instagram stories, so you don't have to actually hold the phone video button down. The other great feature of the Camkix is the ability to shoot in the iPhone's burst mode if you hold the button down (burst gives you more photo options to choose from and works especially well if you are in motion while posing).
I keep one Camkix remote in each handbag so I always have one handy when a selfie opportunity arises. I love the Camkix bright colors as they're easy to find, and it just works with no hassle.
For my Sony A6300 camera, the easiest-to-use remote is this Sony wireless remote. I like that it has the option to take an immediate shot or a two second delay.
The best thing about a little iPhone stand is that it's so small that you can always keep it in your purse and pull it out for a selfie in a moment's notice. IPhone stands can be used on table tops, benches or even on the ground. I settled on this Anker stand for sturdiness, price and the ease of adjustability.
Selfie Photos I Shot using this stand
An unexpected benefit of using a stands and small tripods are the unique shooting perspectives they can offer. You can put this iPhone stand on the ground or floor and shoot up (good luck trying to convince a friend to shoot from this angle!)
Review: the Best Small and Mini Tripods for Selfies (for phone or camera)
My most used selfie tools are these versatile mini tripods in different sizes. Small, light, flexible and adjustable, tripod can both fit in your bag and be used in a million ways to capture that selfie shot (the shots with the stand also could be easily captured with the mini tripod.
Mini Tripod: the Original Joby Gorillapod
This extra small size can be easily kept in your handbag and is super discreet– you can pull it out anywhere. It's perfect to use with the iPhone and although I'm not sure it's recommended for a mirrorless camera like mine, I use it all the time anyway and have never had a problem.
This mini tripod is also fantastic for attaching to skinny surfaces like the iron arms on park benches. The ball head lets you easily flip the camera on its side for a portrait shot and lock it in place.
Mini tripod used with iPhone spring tripod mount.
The mini tripod can be used with a camera or iPhone with a spring mount attachment (scroll down for details). I use my mini tripod instead of the stand above if I need to angle my shot differently or need to get some camera clearance (like over these blades of grass).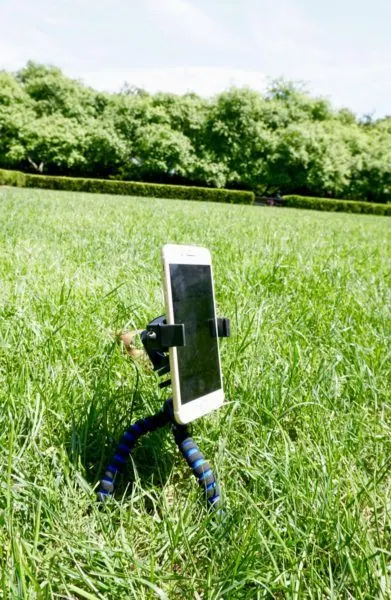 I also recently purchased a slightly larger gorilla tripod perfect for wrapping around tree branches or larger surfaces. This tripod also has more height than the mini, giving me more shooting options for selfies.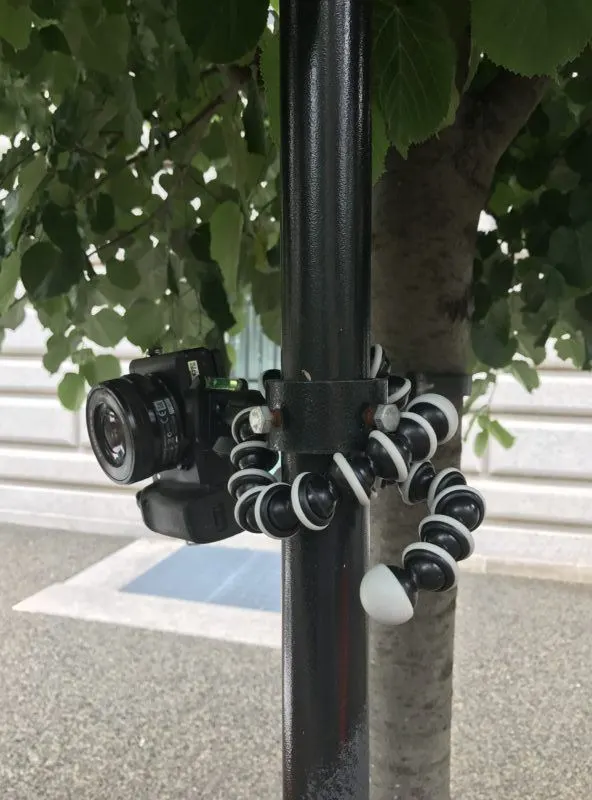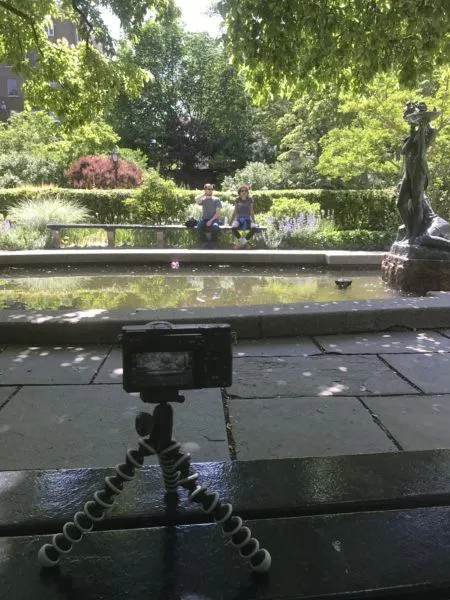 Selfie Photos I Shot Using the Joby Gorilla Pad Tripod.
The other thing about using the tripod and keeping your finger on the remote are the unexpected shots you get before your intended shot. Below, only the second shot was planned– the others were shots I took while trying to figure out the "main" shot– and often I end up liking these shots better.
Review: the Best iPhone spring mount to use with any tripod
You can't directly attach an iPhone to most universal tripods designed to work with cameras. But instead of buying a separate iPhone tripod, I just use this little durable and flexible spring mount that screws into any tripod– the Square Jellyfish spring mount works with my iPhone 7S, both with and without a thick case.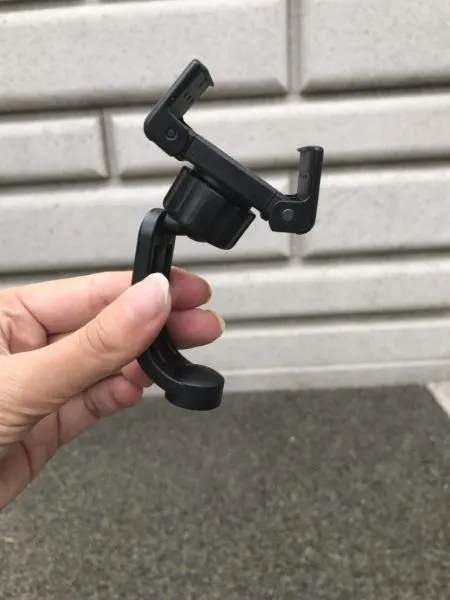 Review: the Best Magnetic iPhone mount for Selfies, the Clutchit
A magnetic iPhone mount is pretty new thing for me. I hadn't even considered trying a magnetic mount previously because I didn't see the need for it and I also didn't think it could possibly be secure enough to actually work. Then I tried the Clutchit magnetic mount and became obsessed. The clutchit sticks to any metal surface and suddenly I'm finding metal surfaces everywhere– street signs, mailboxes, lamp posts. I am frequently pulling out my Clutchit and testing surfaces to see if it will stick.
Selfie Photos I Shot using the Clutchit
This Oben aluminum 3 section tripod is a great value. It comes with everything you need– collapsible and adjustable tripod legs and the ball and head– so all you need to do is put your camera on it (or iPhone with mount attachment). If you want to spring for a similar but better/lighter model go for the Oben carbon fiber (the only downside is the price).
While you'd think it might be embarrassing to use a full size tripod, I found the opposite was true– I was way more embarrassed using a selfie stick (when nosy people would ask if I needed "help" with my selfie). I find that when you're using "real" looking photography equipment, people assume you mean business and that you must have an important purpose. Who cares if you're "just" shooting to post for friends on Instagram– wanting to take a great shot and improve your photography skills is an important purpose in and of itself.
The Oben tripod gives you the ability to shoot pretty much anyway you like– it's really just as good as having a person take the shot, maybe better. Instead of having an impatient friend take three bad photos then declaring themselves "done," you can take your time and get the shot you want.
Selfie Photos Shot Using a Tripod
Travel photographer Robert Schrader (see all his tips and more photos in Part II) almost exclusively uses a full tripod on his travels around the world.
Central Park is a great place to practice my tripod selfie skills.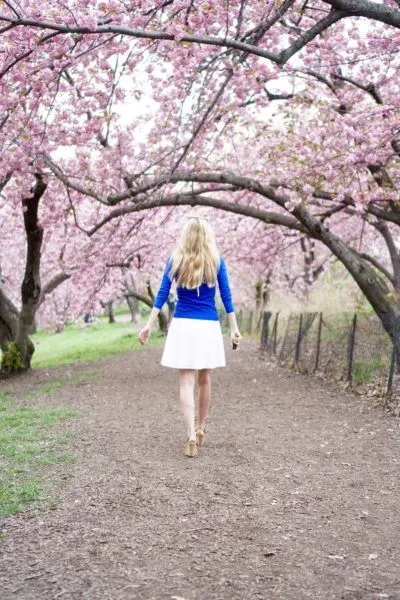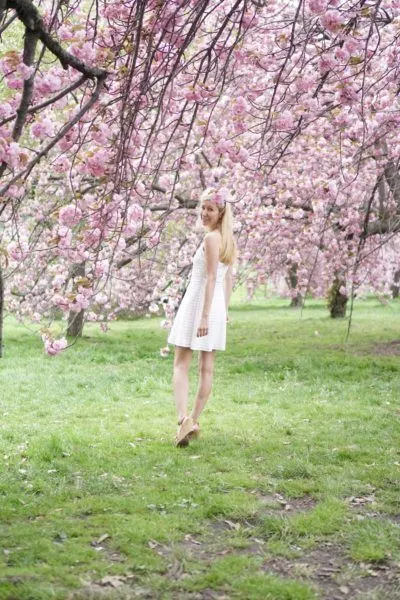 When you are shooting indoors, most likely at home, your biggest concern isn't the kind of tripod to use (you may as well use a full one) but the lighting conditions. Typical indoor light is pretty horrible for shooting selfies– overhead lights cast unflattering shadows and lamps never quite let off enough light. You can try standing next to the window at certain times a day to catch natural light, but then you have to plan your selfies around the weather and time of day.
Fortunately there is an easy and super effective solution for lighting up indoor selfie shooting– a ring light.
The Diva flexible ring light with stand is an absolute game changer for any indoor photos. The secret is the even light thrown off from the ring light– it brilliantly lights your face and knocks off shadows, even in a completely dark room. It's adjustable in every way– height, the position of the light (can be bent to any configuration) and the light intensity (a handy dimmer switch lets you easily turn it brighter or dimmer).
I use the Diva light for photos and videos and even for food photography (it's the perfect light to bend over the counter or stove when cooking). While the stand and ring light fold up so you can put them away in your closet, I use it so much I don't even bother to put it away. It is an investment, but one I researched heavily before buying– and is one of my most used photography items.
Photo taken using the diva:
Review: the best and easiest to use selfie sticks for flattering self-portraits:
Let me start off by saying that the selfie stick is my least favorite selfie assistance device– I find it unwieldy to hold. But there are times when you really have no other options– like when you want a selfie shot in the middle of iconic Times Square or in front of the Eiffel tower. And it might just be me and my lack of coordination. I see others whip out selfie sticks, expertly angle them and get their selfie photos without issue.
What to look for in selfie stick
Sturdy
Moveable ball head
Lockable mount
Lightweight
Here are my selfie stick recommendations, I'm recommending one for length and one for overall durability.
Selfie Photos Taken with a Selfie Stick
Review: the Best Cameras for Selfies
If you want to improve your selfies and your photos overall, consider investing in a "real" camera. While iPhone cameras have come a long way, they are limited in use. especially in low light and can be highly distorting on facial features.
I use the Sony Alpha 6300 mirrorless camera for most of my photos, selfie or not. I've personally convinced three blogger friends to get this camera, and they've never looked back. This is my second camera of the same model– the changes made over the four years since I bought the first were so amazing that I just bought the same camera all over again.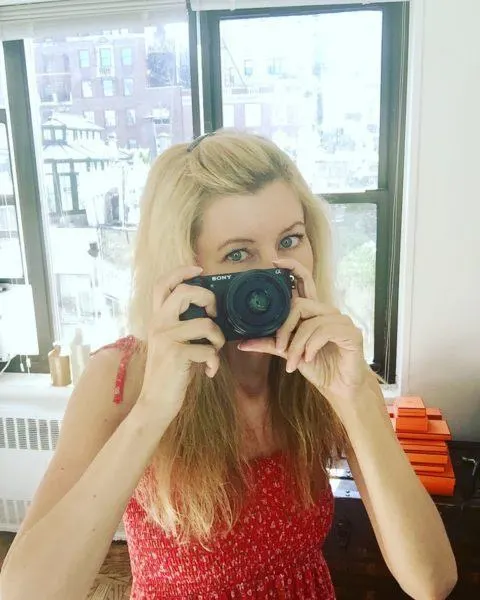 The nice thing about the Sony Alpha 6300 is that it's a great camera for a beginner or expert photographer. The camera is so smart that as a beginner you can simply leave it in auto mode, and it automatically figures out the right settings. I do this all the time when I'm feeling lazy or when my selected settings aren't working. You can also use a preset like sunset, night or action. This camera is known for its ability to capture action and is totally worth it for that alone.
I worked my way up from automatic shooting to aperture priority, which gives me so many more shooting options especially when dealing with different kinds of light. I use a 35mm or 50mm prime lens for my selfie shots, which makes all the difference– the results are more true to life facial features (while the prime lenses are much sharper, you can also use the kit lens and zoom in for a similar effect).
Most people don't realize that a camera phone like the iphone uses a wide angle lens– which distorts facial features, making closer features bigger and farther features smaller. Some people with certain types of faces actually look better in iPhone selfies than in real life because their flatter facial features benefit from the distortion. But if you want to actually look closest to the way you do in real life, a lens with a longer focal length will work far better.
The other reason I love the Sony A6300 for selfies is the wifi feature– it's so easy to transfer photos (sometimes 300 at a time) to my iPhone with the push of one button. From there I can edit and upload or send wherever I want.
While my Sony A6300 is compact, if you need an even smaller camera, a point and shoot with a fixed lens, the Sony RX 100 V is the way to go. I've shot with this camera and the photos are amazing. The screen flips up so you can see what you're shooting too.
Best Budget Point and Shoot for Selfies: Panasonic LUMIX DMC-FZ70 16.1 MP Digital Camera with 60x Optical Image Stabilized Zoom and 3-Inch LCD (Black)
Before I delved into mirrorless cameras, I used a Lumix point and shoot. The colors are spectacular and you definitely get the most bang for your buck. The latest model the has all you need for a beginner.
Best GoPro camera for Selfies– the GoPro HERO5
For action shots and videos and ease of selfie taking, you really can't beat the Gopro, as this is what it's designed to do. With 4k video, editing right on the camera and waterproof to boot, this camera is perfect for selfies in the ocean, rock climbing, bike riding– pretty much anything you can think of. Even if your most extreme sport is ambling through a park, the GoPro Hero5 is still an ideal selfie camera as it's super lightweight and easy to maneuver.
Part II: Selfie Tips from Top Travel Instagrammers
While I'm still feeling my way around this whole selfie business, some travel photographers and Instagrammers have their selfies down. I've selected a few of my favorites to offer you their best selfie tips.
Robert Schrader of Leave Your Daily Hell
Robert Schrader runs one of the highest traffic and most highly regarded travel blogs out there, Leave Your Daily Hell Robert is known for both his unflinching honesty and take-your-breath-away photography (check out his Instagram @leaveyouredailyhell) Robert was a huge motivator me to start taking selfies– these are some of his best selfie tips.

My biggest pet peeve about selfies is that people still take them like it's 2013. Technology now exists that allows for the line between selfies and ordinary images to be erased, yet people take selfies so un-seriously—it's almost if they want them to be poorly-composed, low quality and devoid of context. You should approach your selfies with the same seriousness and aim to create images as high in quality as any other image you take.

When I think of selfie best practices, I'm reminded of a scene from Full House (the original one), where Aunt Becky finds DJ looking like she narrow escaped an explosion in a Cover Girl factory. "The point of wearing makeup," Lori Loughlin tells Candace Cameron, "is to make people think you aren't wearing any."
If it's clear you're using a selfie stick—or a supernaturally long arm—you're missing the point of the modern selfie. One way to address this is to use a tripod and remote, which allows you to compose a photo without yourself, then insert yourself into it. Selfies don't have to mean your face takes up 75% of the frame!
The best selfies are ones that are thought out far in advance:
Consider alternate between selfies where you're the focus and those where you're barely perceptible.

If you don't have a remote, use your camera's self-timer and set it to the maximum number (on my Nikon D750, it's nine shots), so you can alter your facial expression, movement and other aspects of pose between shots.

Grooming should match your setting. A more unkempt look and primitive clothing are fine for wilder landscapes, but your hair should be combed and your outfit on point in urban shots.

Color matters! Try to wear something that matches your background.

Use your camera in manual mode and play around with aperture and shutter speed—use a slow shutter speed, for example, to blur yourself as you move through the photos, or a large aperture to blur out the background and give the photo a more traditional "portrait" aesthetic.

It's important not to care what passers-by think or say as you do the sometimes ridiculous-looking work of taking the perfect selfie. Your selfie will live on forever, but you will likely never see them again."

[ed.note– this is the tip that helped me the most when I first started taking selfies, Robert single-handedly convinced me to give no f*cks ]
Anna of AnnaEverywhere
Anna is a top travel Instagrammer with over 150,000 followers (IG @annaeverywhere) and the blogger behind the popular chic adventure travel website Anna Everywhere.
Anna is fantastic not only at taking selfies, but with posing in general– see more of her incredible photos below in section III (how to pose for your selfies).
Anna is also a huge animal lover and well known for taking fun selfies with animals she encounters on her travels. Anna is like the animal whisperer– she intuitively knows how to responsibly approach animals without disturbing their environment. Often the animals gravitate towards her and she captures the moment. My favorite new Instagram account is actually Anna's cat @poofythefluffycat an adorable kitty with a predilection for sitting in the refrigerator.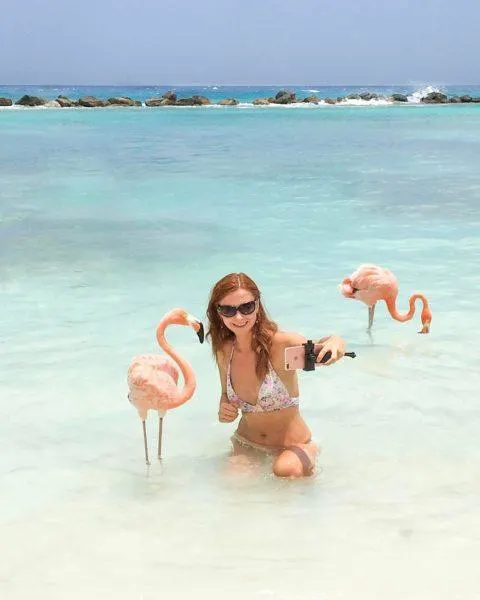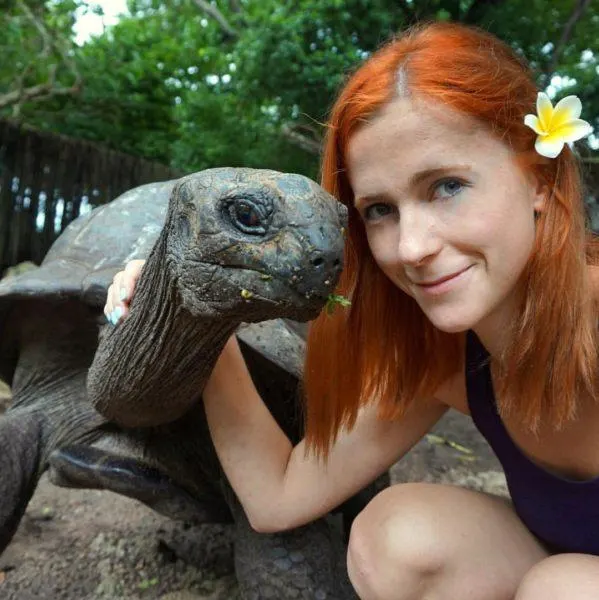 Alyssa Ramos of My Life's a Movie
Alyssa's selfie Instagram photos are so spectacular that you'll be shocked she takes them nearly all herself. With over 120,000 instagram followers (IG @mylifesatravelmovie) her fans agree– follow Alyssa for great ideas on how to take creative selfies on your next vacation, and catch her tips and great sense of humor on her blog My Life's a Movie.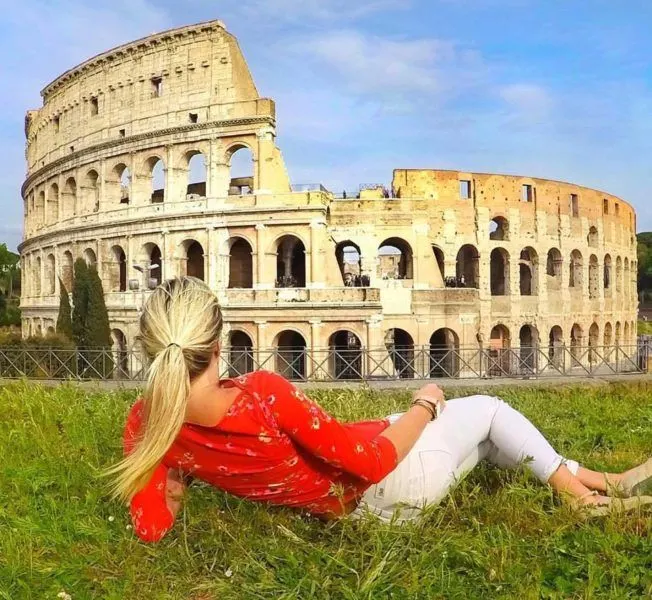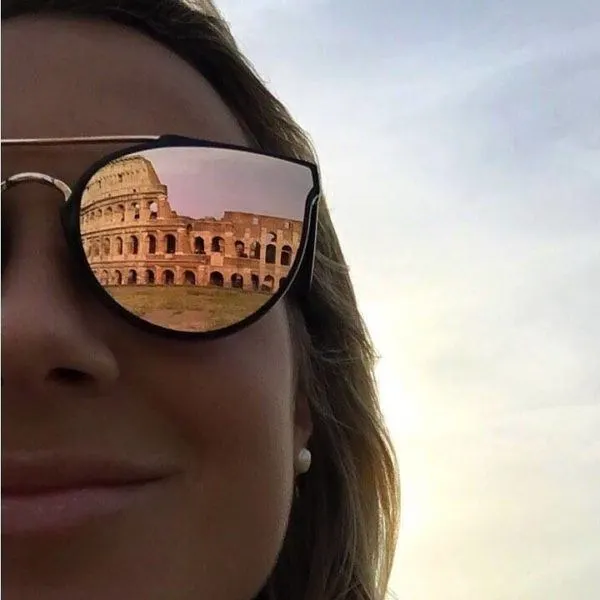 When you travel solo, the only sure way to get a great photo is to take it yourself! Although selfies get a bad name, there's really no shame in taking a photo of yourself on your hard-earned adventure! Try to take an artistic twist on the traditional selfie, and use a monopod, tripod, or selfie-drone (yes, they exist now) to get a cool angle or yourself fully in the photo. Or put a spin on a face shot to make it more interesting…although I'm sure everyone wants to see a close up of your face!
Anne Lowrey of Part Time Traveler
Anne is the writer and photographer behind Part Time Traveler (my favorite posts are Anne's food articles!) and Instagrams her travels around the world and at home in San Francisco at @anne_elizabeth).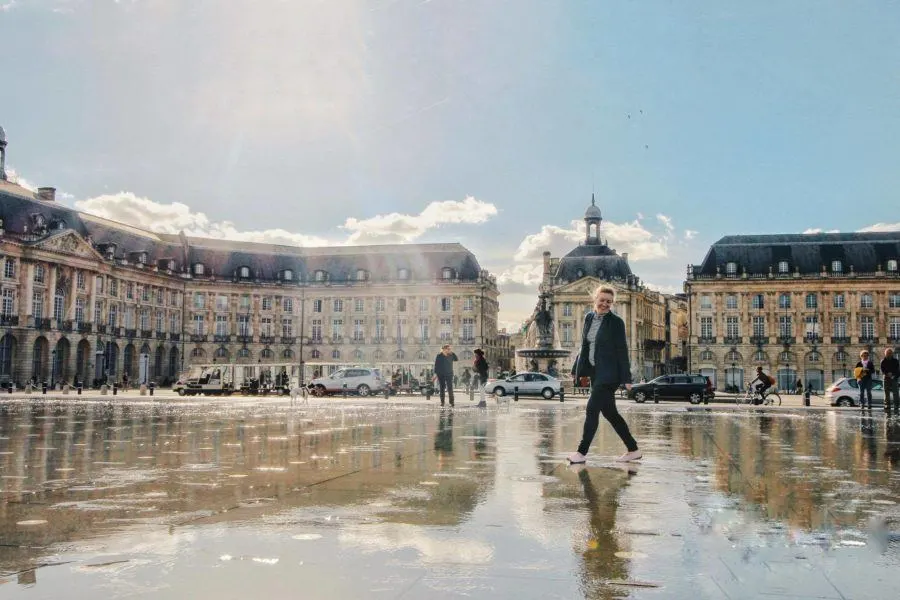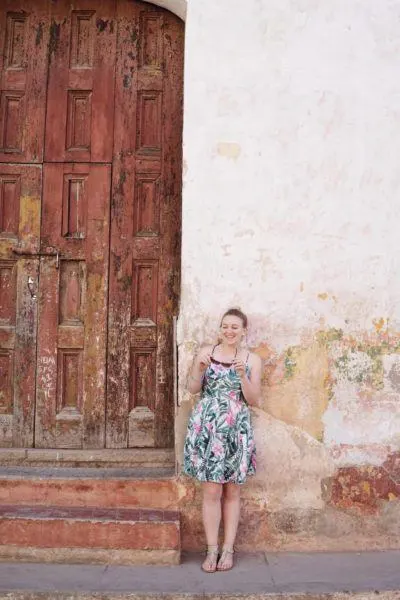 Ever have that experience where you hand your camera to a stranger while traveling? All you want is a photo to remember yourself in this amazing place, and you scan the crowd for someone who looks like they might be able to operate a camera. By the time you ask and they politely (yet begrudgingly) agree, they take a few horrible shots and then always say, "check them to make sure they're good!" To which you reply, "oh yes, these are great, thanks!" even though you can't fathom how someone could possibly have taken a worse photo. [ed. note– omg yes!!!]

This is how I gave into selfies. whether with a tripod or the dreaded selfie stick, it's still better than the awkward dance of asking a stranger. And you get the shot you actually want.
Part III: Make Your Selfies Better: Posing, Outfits, Props and Lighting
My early travel photos were much like everyone else's– I would stand straight on to the camera in front of some major attraction, wearing jeans and a hoodie, grinning awkwardly. Not only were the shots not terribly flattering, they were also pretty interchangeable, distinguishable only by whatever major landmark I was standing in front of. While these shots said "I was there" they didn't really remind me of the experiences I had or what I was feeling at the time.
When I started to put a little more thought into the composition of my photos and thinking of how to best fit myself into the shot– through my pose, outfit, and sometimes props– my photos started to look more interesting and I actually began to enjoy the process.
This section is still a work in progress for me, and I rely on many of my favorite Instagrammers for inspiration. And while you never want to copy the work of others (it's kind of boring when everyone takes the same shot in the same place), seeing what others have done can be a great way to motivate you to come up with your own new ideas.
The tips (and photos) in this section aren't limited to just selfie photos– they can be applied regardless of who is behind the camera.
How to pose for a selfie
Posing for photos can be tricky– and highly individual. I've quizzed pro photographers for tips, but posing their subjects comes so naturally to them they often don't think about tangible"what to do" type tips. I found it more illuminating to review how others pose, and just to test out your own poses. What works for you and your body type and face shape might not work for someone else.
Relax!
Relaxing is key and helps you look more natural, but posing for photos is anything but relaxing for me. Fortunately, when you're taking selfies instead of having an impatient friend snap your photo, you do feel less pressure. You'll also feel less self-conscious trying different poses if no one is watching. I also recommend a glass of wine or two.
Keeping Checking Your Shots and Adjust Your Pose
With a remote in hand, it can be easy to take a hundred selfie shots in quick succession. Before you assume your shots are coming out as intended, I would highly recommend taking a few shots then going back to your camera and reviewing how they look. There is nothing worse than finding an on point shot then realizing your shirt has been untucked the entire time or your hair is doing something weird. Better to catch it right away and adjust accordingly.
I've taken dozens of shots and later realized that a limb was cut off– or I wasn't even in the frame at all. A quick repositioning of the camera (or yourself) can easily fix it.
Selfie Body Posing Tips
Every body is different so what works for me might not work for you. I am quite angular with long limbs so I find that having a slight (but not too extreme) bend in my knees and elbows helps make me look more natural.
There are some universal poses, however, used by celebrities on the red carpet, that you try for starters:
Over the shoulder– place one foot slightly forward, turn backwards, then look over your shoulder.
Hand on hip: by creating space between your arm and body you make your arms look thinner
standing with ankles crossed:
the knee pop: stand on your back leg, pop your front knee forward
Stick your forehead out to avoid a double chin
If you're turned to the side, drop the shoulder closest to the camera
Remember that whatever is closest to the camera will look the biggest
How to Pose: Walk, Walk, Walk
It can be tough to look natural standing still no matter what the pose. One way around this is to not pose at all. Walking is a great way to capture more natural poses and is my go to "pose"– whether I'm walking down a street, over a bridge, or down a staircase.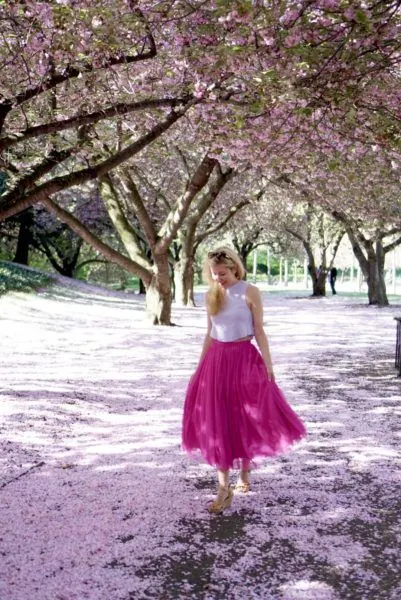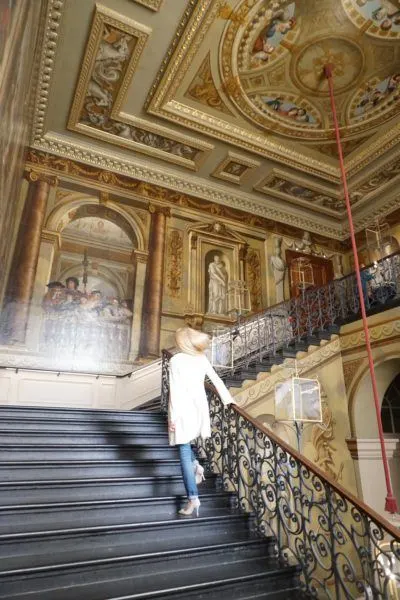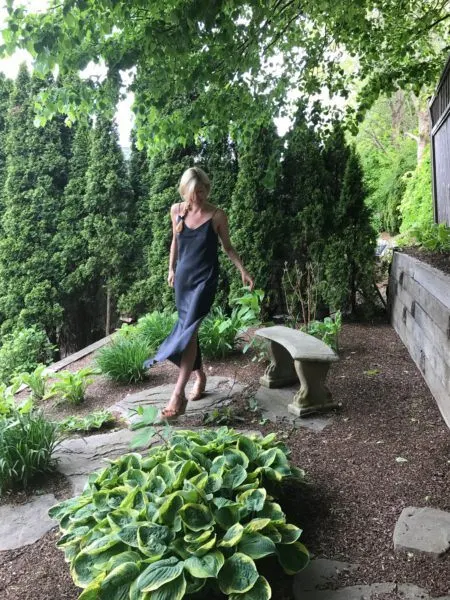 How to Pose: Do Something Unexpected
The nice thing about a tripod is that it gives you the freedom to have spontaneous moments. Feel like trying something different? Go for it, just keep your finger on the remote.
Turn Away from the Camera
Although some bloggers do it well, I have a hard time looking dead on the camera. Fortunately, looking away from the camera often works well as it helps keep the focus on the overall scene.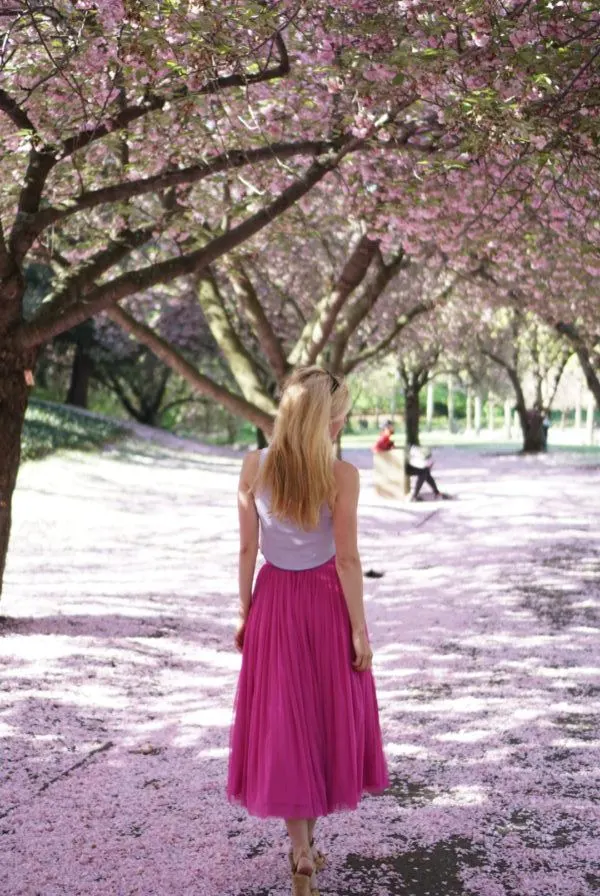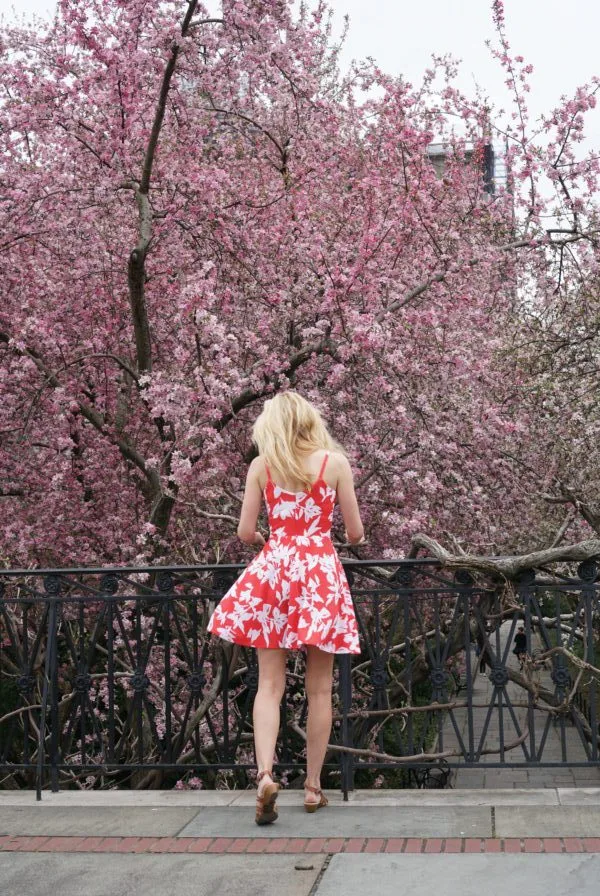 How to Pose: Take a Seat

Another way to defuse the awkwardness of standing still and posing is to sit down– you will immediately feel more relaxed.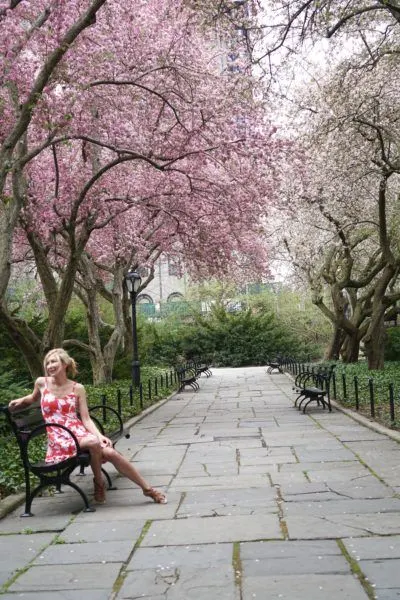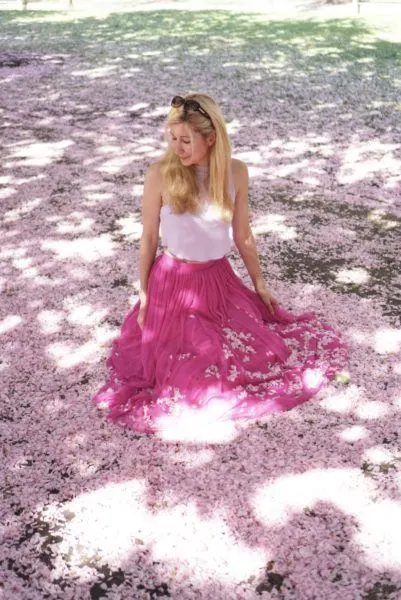 Your Selfie Look: Coordinate Your Hair and Outfit with the Environment
If you are adding yourself to the scene, it makes sense to think about what you look like– your outfit, accessories and how you wear your hair can all either add to or detract from a great selfie photo.
Color– do you want to blend in with your environment or stand out? Choose accordingly.
Shape– sleek and tailored might work beautifully in a city but look out of place in a jungle.
Bring hair pins and elastic bands to change your look on the fly (e.g., pull your hair up into a high bun)
Bring heels for leg lengthening photos. While I wouldn't wear stilettos on the beach, I did swap my sneakers for Manolo Blahnik shoes in London for my photos in Kensington Palace.
For More Fun and Interesting Selfies: Use Props
While we typically think of the backdrop as telling the story, a prop can also go a long way.
Best Lighting for a Selfie
While you can't always have great lighting when you're taking a selfie, especially if you're traveling and only have a limited time frame to shoot, it can sometimes make or break a great selfie.
Lighting is a tricky thing to learn how to harness in photography and is probably best learned through practice and experience.
I always wondered why on earth people took selfies in their bathroom and cars– I couldn't think of a less inspiring place to selfie. Then I realized that it was all about the lighting– bathroom light is generally flattering and sitting in your car actually gives you perfect, indirect light. But you don't have to resort to these selfie clichés to benefit from good lighting, especially if you shooting at close range and looking at the camera.
In outdoor settings, take the concept of indirect lighting and find other sources– under a bridge, an awning, even a leafy tree.
Take your selfies during the "golden hour" for the most flattering light– the first hour after sunrise or the last hour before sunset.
Overcast skies beat the shadows of harsh sunlight. If you must shoot in direct sunlight, wear sunglasses to prevent squinting.
Indoor lighting can be tricky to work with. If you're home and take a lot of selfies consider a ring light (see my review above).
Do you have any go-to selfie tips? Share in the comments below!
Disclosure: Souvenir Finder is a participant in the Amazon Services LLC Associates Program, an affiliate advertising program designed to provide a means for sites to earn advertising fees by advertising and linking to Souvenir Finder.