Gucci, Pucci, Ferragamo, Versace, Chanel, Celine– do these names ring a bell?
These are just a few of the glittering designer boutiques lining the streets of Florence. Enter one of these shops at your own risk, as it's easy to get caught up in the moment and blow your vacation budget on a single pair of shoes. Not that I know anything about that.
No doubt Florence is a label lover's dream. But can these glamorous Florence stores co-exist with the kind of local artisan shops that we know are plentiful in the surrounding Tuscan villages? I wasn't so sure. It did take some ground work, but after following some guide book leads, then ignoring said leads, I can happily report that navigating the zig zag roads to a dusty hill town isn't the only route to great Italian souvenir finds. There are great artisan workshops right within Florence's city walls.
Like most of Italy, Florence is known for its ceramics, which make great souvenirs
While collectors of ceramics may scope out specific artists and designs, you don't have to be an expert or spend hundreds of dollars to find great pieces. I popped into at least a dozen shops in Florence in search of classic designs and reasonable prices to bring home as my souvenir from Italy. What did I learn? As you might expect, if you get little away from the center, you'll find the smaller, family owned shops (and the better deals) where you can find your own favorite Italian souvenirs.
Florence can get a little crowded at times. If you've been to Florence before, you'll know that is a just a tiny bit of an understatement. Especially when the cruise ships dock in nearby Livorno. So after you've joined the crowds and done the must-sees, take a little detour and head in the direction of Santa Croce church– a 13th century church you'll want to visit anyway for its Giotto frescoes and the tombs of Michelangelo, Machiavelli, and Galileo. While in the area, take some time to poke around the nearby shops to find authentic souvenirs from Italy and sample fabulous gelato from places like Il Gelato Vivoli.
Look for this storefront (courtesy Google street view).

Then wander a few streets over to via Verdi, where you will find the Le Mie Ceramiche workshop, a great place to scope out souvenirs.
Ceramics artist Ambra and her father make all of the shop's pieces by hand, either on site or in their nearby workshop. The exuberant
Photos courtesy of Le Mie Ceramiche
Ceramics Shopping 101
Walk into the store and take a deep breath. Yes, the shop is filled with nothing you need but everything you must have, but before you go crazy and buy out the place, you might want to figure out what pieces will work best back home, and make a memorable souvenir from Italy.

A quick reality check for all ceramics shopping in Italy:
[box]
Consider the size of the piece and whether it will fit into your space. If you have a small kitchen with minimal counter space, you may want to pass over the pitchers and biscotti jars.
Think about your current decor and what will complement it best. Will those bright sunflowers that look so beguiling in the shop add a much-needed pop of color or will it be too much Tuscan sun?
Do you have enough room in your carry on for the piece (remember to factor in the bubble wrap)? If not, select something sturdy or consider shipping.
[/box]
These vibrant plates were the perfect fit for me and are one of my favorite Italian souvenirs. A classic geometric pattern, with a heavy, rustic feel, the plates will always find a spot on my kitchen wall, regardless of how many times I change my decor. Almost completely flat, they are easy to pack. Make sure to buy them in pairs as a single plate looks a little lost on the wall by itself. The simple design is "safe" enough that they also make great gifts.
Photos of current stock above, courtesy of Le Mie Ceramiche.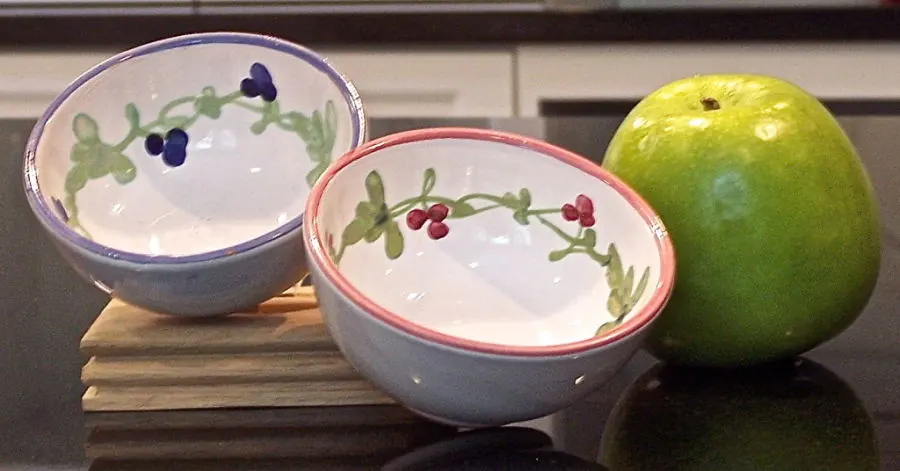 Or pick up something even smaller, like these adorable miniature bowls, not much bigger than an apple. Perfect for olive oil dipping or setting up your mise en place.
Have you bought ceramics in Italy as a souvenir? Share your favorite shops and tips in the comments below!
Details
Le Mie Ceramiche
Via Verdi, 8r (just off piazza Santa Croce)
Store hours: Mon- Sat 9:30 – 1:30 and 2:30 – 7
Phone: 055 24 66 007
Prices (approximate): small bowls €25, mugs €20, 30 cm plates €35 and platters €65.
Credits: All photos by Souvenir Finder copyright 2013 except for Le Ceramiche photos Creative Commons licenses as indicated. Attributions available by clicking on photo and below:
#1 Shopping in Florence / CC BY-NC-SA 2.0
#2 Santa Croce, Florence / CC BY 2.0 By David Wright