Could the ubiquitous red Solo cup be an American cultural icon?
Solo cups have been around for as long as I can remember. As a child, I drank cokes from glossy red cups at every family barbeque.In high school, we used the opaque red solo cups to disguise illicit beverages. At any sign of the police (or a busybody parent), all it took was a quick flick of the wrist and the evidence was gone.
In college, we scooped up sleeves of red Solo cups for keg parties and tailgates. At sixteen ounces and only pennies a cup, they were large enough that refills were kept to a minimum and cheap enough that clean up was a snap– we tossed ours into giant garbage bags.
Red Solo Cups: Representing American "Party" Culture?
To Americans who have grown up with red Solo cups, they are just party accessories, mundane objects that are no more interesting than a paper plate or a napkin. So I was surprised to learn that some non-Americans (especially younger Europeans) seek out red Solo cups as an iconic American souvenir.
You may be curious, as I was, how foreigners even know about these cups?
Non-Americans watch lots of Hollywood films, and red Solo cups practically play a supporting role in any movie with a bitchin' high school/college party scene. Just watch any of the American Pie flicks (or anything starring Jason Biggs) and check out the frat, keg, or toga party scenes– red cups are everywhere. Predictably, once those red cups make an appearance in a film, further shenanigans are sure to follow.
If you're curious as to what foreigners do with their souvenir "American party cups" back home, you only need read the reviews of the cups on Amazon UK to get an idea (like most anything, the cups are available online for export at a huge markup):
Every time I drink any drink from it I feel like I'm in american pie! brilliant!

…having these cups [at the party] brought it to a whole new level. Gave it the 'American Pie' feel

I always get complimented at my parties for having the "American style cups"

Everyone loved the American cups! They really added a special something to the night!

I can't believe that these are the REAL solo red cups from America. These will absolutely MAKE my party and I can't wait.
American-themed parties are popular throughout Europe— along with the essential red party cups, a proper American party will have a few flags thrown up as decor and serve American treats like Reese's pieces and Hershey's kisses. Once the party is over though, no one would dream of tossing their red cups away– they are carefully washed and saved for reuse.
For my non-American readers who are interested in bringing home red Solo cups for a souvenir, my tips are simple: walk into any party store, big box store, drugstore or supermarket. Look for the long shelf (or even multiple shelves) of cups available– you'll find many size, brand and even color options (while red is classic, blue is the second most popular color).
Once you bring your Solo cups home, impress your friends by setting up a classic American drinking game popular on college campuses everywhere– beer pong.
Craft beer expert Nick Huggins of Nick's Travel Bug explains the rules of beer pong:

To start, each team sets up plastic solo cups (6 or 10 depending on the style) in the shape of a triangle. The cups are then filled roughly 1/3 of the way with the beer of your choice.
The object of the game is to throw a ping pong ball into the other team's cups and requires the utmost hand-eye coordination.

Each team gets 2 shots per turn and if both are made then the team gets the balls back to shoot again.
Also, 2 re-racks are permitted per game to allow each team to create an optimal formation to shoot at.
Note: there is a direct correlation between the number of games played and diminishing hand-eye coordination, especially if a team "runs" the table for several games.

There are various "house rules" depending on who you play with. For example, if a ball is bounced on the table and made into a cup, then 2 cups will be removed from the formation. However, in the event of a bounce the opposing team may swat the ball away to avoid the loss of 2 cups.

Beer pong can be a very competitive game, but a great way to make new friends at a party.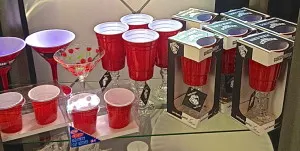 Love your red solo cup so much that you prefer to drink from them on more formal occasions? American retailers have you covered– you can pick up your red cups mounted on faux crystal stems or molded into the shape of a martini or shot glass at select American gift shops. Photo by Beverly Sill.
[box type="info"]Souvenir Finder Tip Sheet
What to buy: the original red solo cup is the perfect souvenir to hold your own American themed parties back home
Where to buy: Any American drug store, supermarket or party store.
What to know: the solo cylinder cups were replaced with a new design several years ago — the newer cups have indentations (grips) to prevent slips[/box]
Non-Americans, have you ever considering buying red Solo cups as a souvenir? Or hosted an American-themed party? Share your party tips in the comments below!