While Florence can be heaving with tourists, it's not necessarily a bad thing. More tourists means more foot traffic– and shops that can actually afford to stay in business. On my first visit to Florence, I was overwhelmed by the tourist tat and underestimated the shopping potential. Fortunately, on this last visit to Florence, I dug a little deeper and found plenty of mom and pop shops, unique artisans studios and delicious food souvenirs sprinkled among the tourist shops.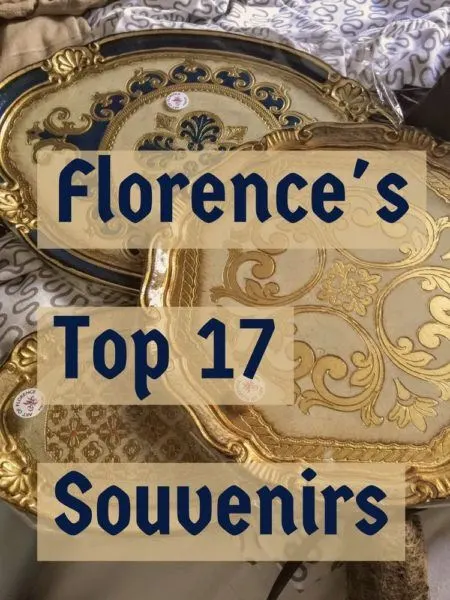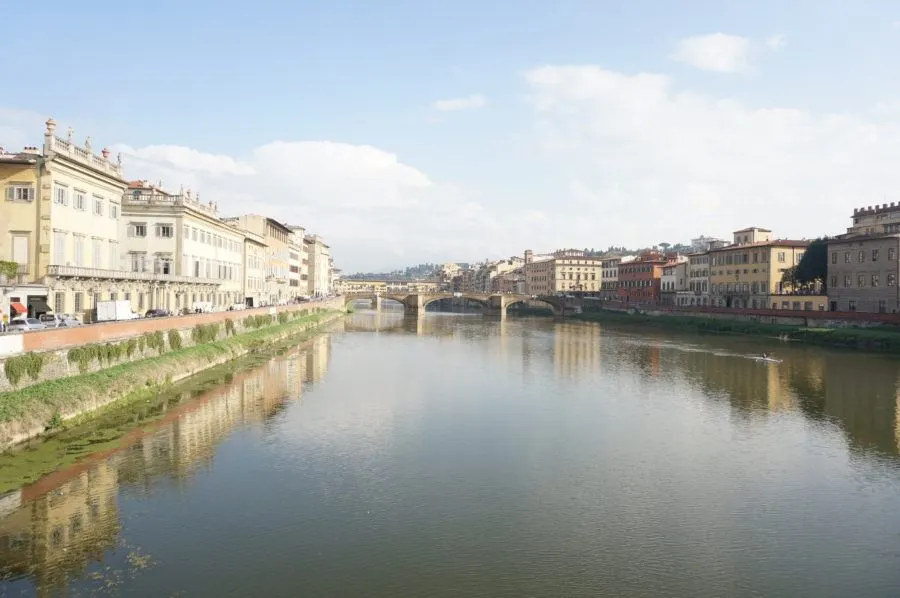 Over the course of two visits to Florence, I've come across some great shops and souvenirs. My list is far from comprehensive, and more research will be absolutely necessary. But for now, here are my top souvenirs and places to shop in Florence:
Ancient Lotions from Santa Maria Novella Store
The Santa Maria Novella shop in Florence is technically a chain store– we even have an outpost in Manhattan. But this Italian pharmacy is a little different from your average Duane Reade. For one it was founded in 1221 by Dominican friars and the original Santa Maria Novella store still stands in Florence. The shop is absolutely gorgeous– part museum, part shop, with vaulted ceilings and 14th century frescoes. It's worth visiting for the walk through alone.
But then there are the souvenirs– the Santa Maria Novella beauty products. Many of the products are still based on their original formulas and don't have all the preservatives and additives of more modern products. I've brought home many products and without reservation love them all (my favorite are the delicious smelling body lotions). Why buy these products in Florence when I have an outpost of Santa Maria Novella in downtown Manhattan? The prices here are a huge bargain– about half what they are in New York. The stores in Italy also over certain products not available in the US (like liqueurs).
Small Leather Souvenirs from Scuola del Cuoio (Florence Leather School)
Visit a real operating leather school in Florence, where you can watch apprentices at work then buy their wares at the large shop. All products at Scuola del Cuoio are handcrafted on site. While the leather handbag collection is the most extensive here, I found the best buys to be many of the smaller leather items– perfect for gifts. My favorite souvenirs were the snakeskin bracelets, a steal at 16 euros, and small leather change purses embossed with classic Florentine designs (a bargain at 8 euros).
Handpainted Ceramic Plates from La Mie Ceramiche
Italian ceramics are easy to find in Tuscany and Florence– if you're an expert buyer you probably know what you're looking for. If you simply want a reliable shop and great prices, I recommend my find, La Mie Ceramiche (I wrote about them here). Hand painted plates pack flat and make a great souvenir (I had to check mine last minute and they both survived intact). All the beautiful plates and other items are made on site, and the prices were better than the neighboring shops I checked out.
Small Sculpture from Galleria Raffaello Romanelli
I was so taken by the talented sculptors at Galleria Raffaello Romanelli that I dedicated an entire post them here. While a fragile and heavy chunk of plaster might not seem a practical choice for your suitcase, there are many smaller items here (and they are experts at securely wrapping).The gorgeous sun-filled studio felt like a museum visit and shopping trip all in one. The sculptors are onsite and available to assist with ready to go items or custom orders.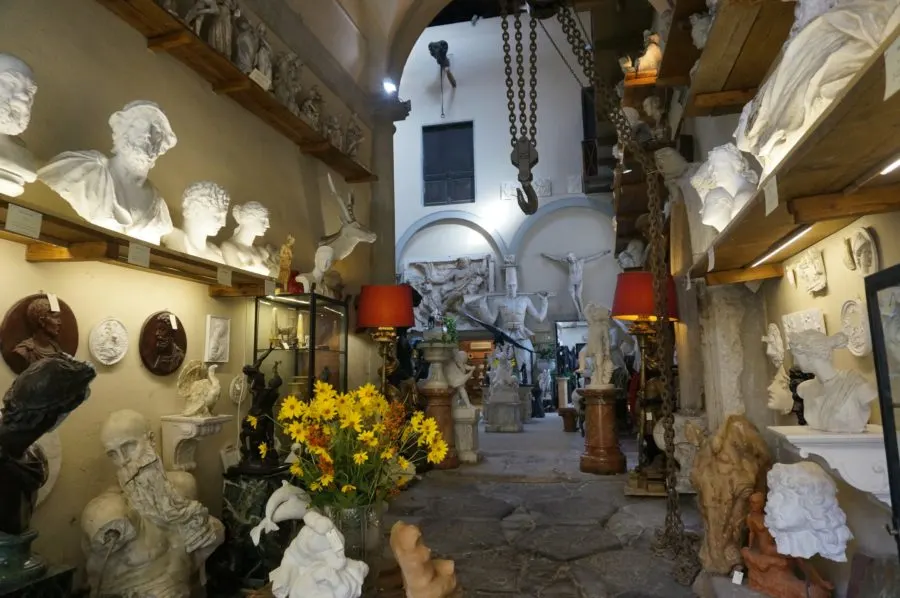 Truffle Pasta from Italian Supermarket
I love shopping foreign supermarkets and try to write grocery store posts on each country I visit. While France is tops in supermarket finds, Italy comes in at close second. I bring home bags of truffle-flecked pasta, Italian cheeses, dried porcini mushrooms and Italian cookies.
Tuscan Cheeses
Tuscany has some of the most divine cheeses (my favorite is the pecorino near the Tuscan hilltown of Pienza). Florence has many cheese shops carrying cheeses from all around Tuscany. Sample all the different pecorino (best enjoyed with local chestnut honey).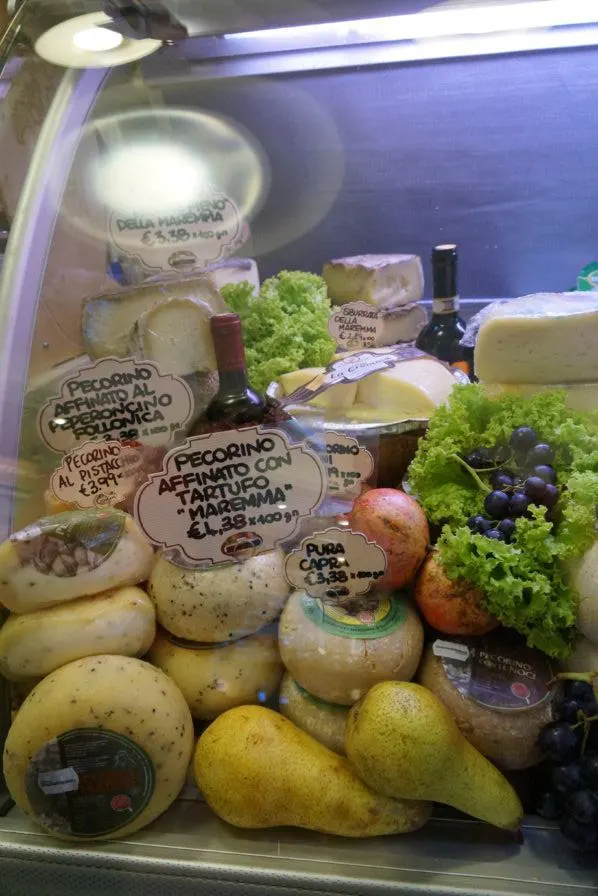 Marvis Toothpaste from Italian Pharmacy
You've probably seen Marvis toothpaste at gift shops and high-end pharmacies, with their pretty colorful boxes and interesting flavors (anise anyone?) But I'm not interested in spending $8 for a small tube of toothpaste no matter how cute the packaging. In Italy, Marvis is priced like regular toothpaste so I make sure to stock up. I also love the gift set with travel size tubes in different flavors– a great gift souvenir.
Italian pharmacies are only second to French pharmacies in tempting beauty products, so make sure to browse the aisles for new finds. I find that they are very generous with samples so you can always try before committing to that new skin cream. And I always buy my sunscreen in Europe.
Wood Trays with Classic Florentine Designs
I'm not sure of the history behind it, but you'll find entire shops of hand painted wooden trays in Florence. These trays actually make a great souvenir– lightweight, flat, sturdy and virtually unbreakable they are easy to pack. The pretty Florentine designs definitely give a sense of place, and I find trays to be useful back home (I have perfumes clustered on one on my dresser, remotes on one on a sofa table). You'll find tons of variety in color and patterns. Prices vary depending on the shop.
Recipe for Red Wine pasta
One of my favorite Florentine souvenirs is the recipe for drunken spaghetti made with red wine I received from our waiter at Osteria de Benci. Try the original at the Osteria, then follow my recipe in this post to replicate that addictive flavor back home.
Florentine Paper, Stationary and Paper Products
In Florence you'll find all sorts of paper products and souvenirs. You can find gorgeous hand marbled Florentine paper created by local artisans.
I didn't have much use for just paper myself, but I did love many of the paper products that used classic Florentine designs.
Inexpensive Leather Handbags
You'll find lots of leather shops around Florence, mostly selling made-in-Italy leather goods. You can buy a high-quality leather handbag from a local designer, but it will cost you. I find most tourists in Florence are seeking something simpler– a cute, inexpensive handbag, locally made, and "good enough" quality.
For a knockaround bag that will last a few seasons before showing wear and tear, you can hit any of the near identical touristy-looking leather shops. If you're looking at these lower cost handbags my advice would be to buy a design you love and don't spend a lot– so you won't be disappointed if the bag falls apart in a few years (fading colors and unraveling hardware are the main issues).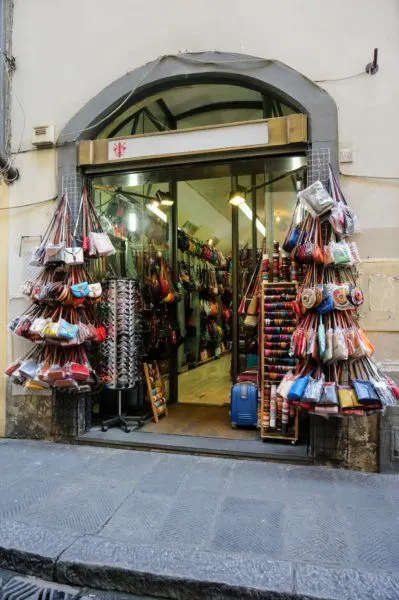 Leather Shoes
Drop into any of the shoe stores lining the streets of Florence for a huge variety of shoe shopping, for both men and women. You'll find every kind of shoe imaginable– gorgeous shoes along with horrific tacky shoes. Quality will vary so use price as a guide and inspect your shoes carefully for workmanship. Be warned if you are shopping for a guy with large feet– mens' shoes don't usually go higher than the equivalent of a size US 12.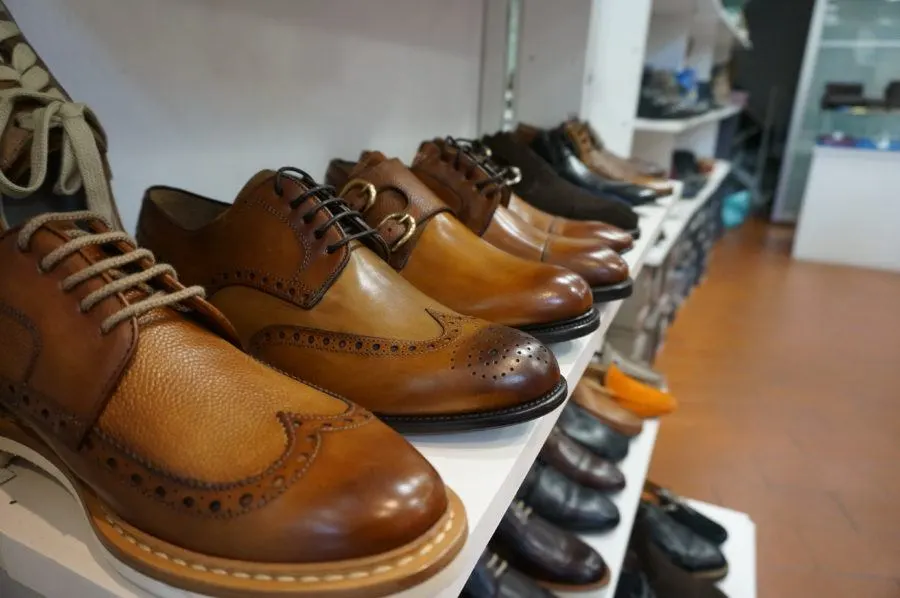 Cameos
Cameos are delicately carved shells, crafted into jewelry. Cameos have a long tradition in Italy, so you'll find many versions to choose from– check the area on and around Ponte Vecchio.
Classic Gold Jewelry
Goldsmiths have a long history in Florence. While gold-shopping in Florence might not be a huge bargain, there will be a lot of variety and unique finds. If you are overwhelmed with the offerings, ask the shop owner which designs are "classic Florentine."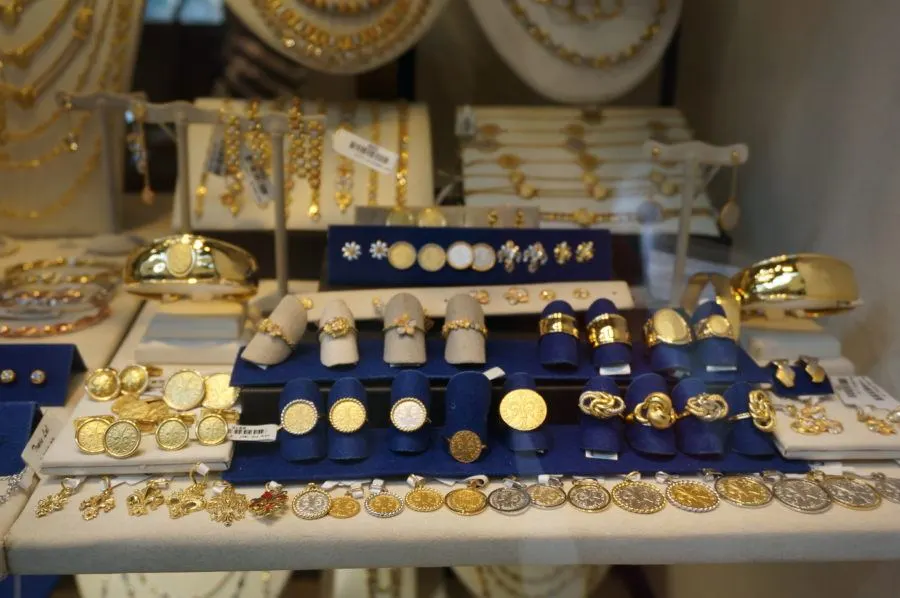 Italian Linens
I adore beautifully Italian linens and my favorite Tuscan linen shop is actually in the hilltown of Montepulciano. But I've also bought linens in Florence, including a favorite tablecloth. Runners, placemats and napkins are the easiest linens to bring home.
Made in Florence Soap
I found lots of delicious smelling and gift worthy soaps made locally– including this unusual tomato soap.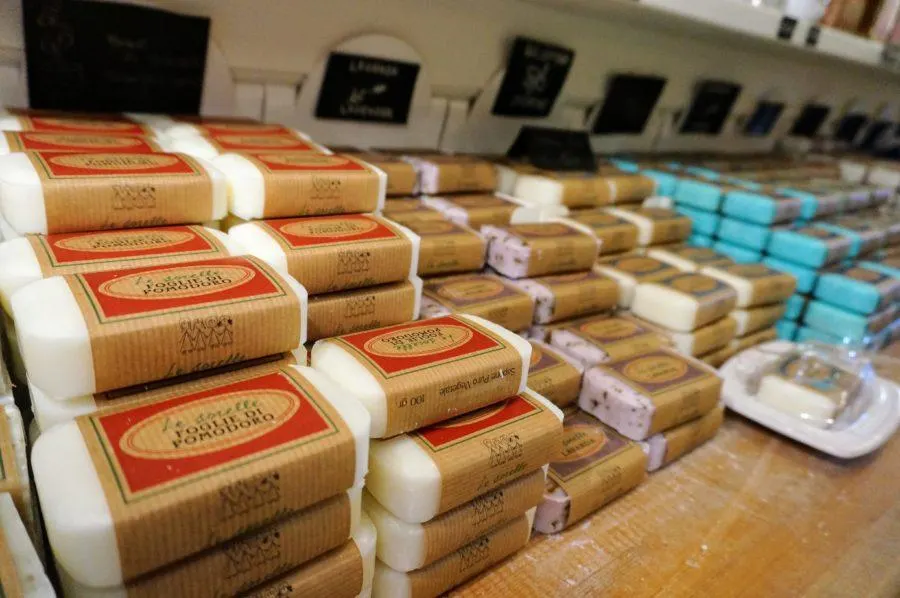 Italian Art Supplies
As an art-filled city, it's no surprise that Florence is filled with art students– and art stores to supply them. The beautifully presented paints and inks I saw made me wish I had a little more artistic talent to justify buying them.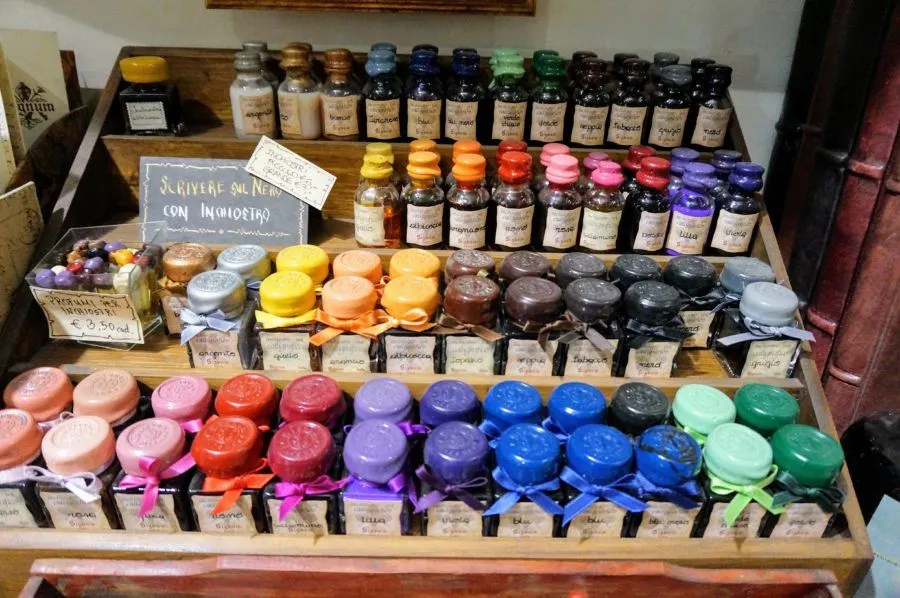 Pin it for later!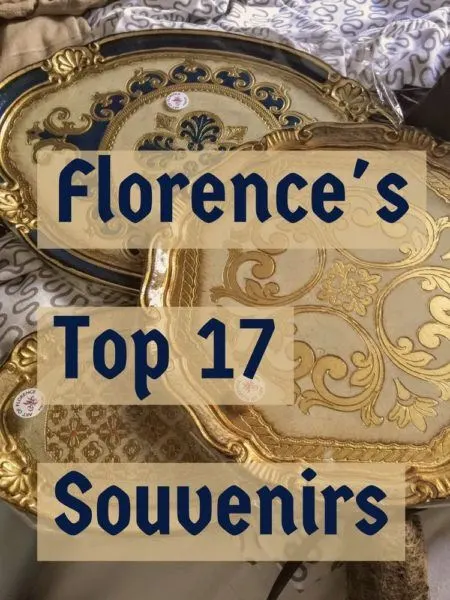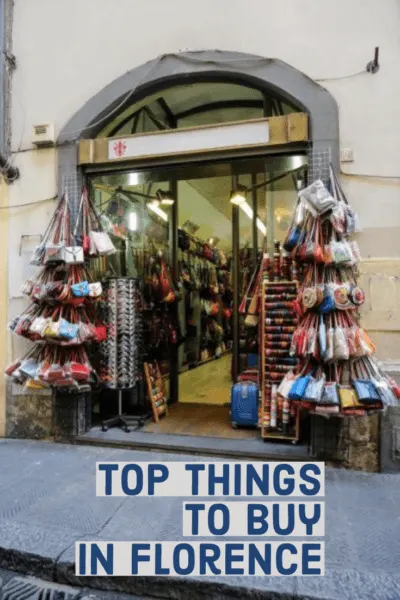 What are your favorite souvenirs from Florence? Tell us in the comments below!