People who complain about Florence being too touristy and crowded have likely never been to the "other" side of Florence– right across the Arno river, the Oltrarno.
I used to be one of the people. On my first visit to Florence, my sightseeing was limited to a tiny circumference in the center, where I was trampled along with other tourists at the Duomo and Michelangelo's David. Sure Florence was spectacular, but the heaving crowds made it feel like a theme park, complete with American accents. I was not anxious to return.
So when a second opportunity to visit Florence came up, at first I hesitated. But I knew I hadn't given Florence a fair chance the first time around, so I was determined to do better.
On this visit, I decided to check out an area I had only heard about in passing– the Oltrarno, easily accessed by crossing one of the Arno's many bridges. While not as polished as the city's sparkling center, this was the part of Florence where locals actually live and work, tourists are few and "hidden gems" seemed to be everywhere.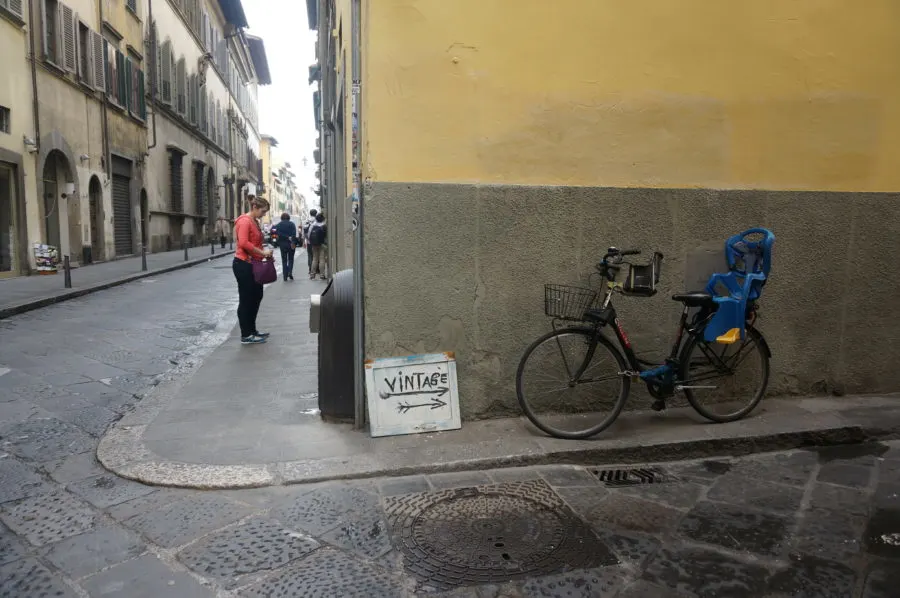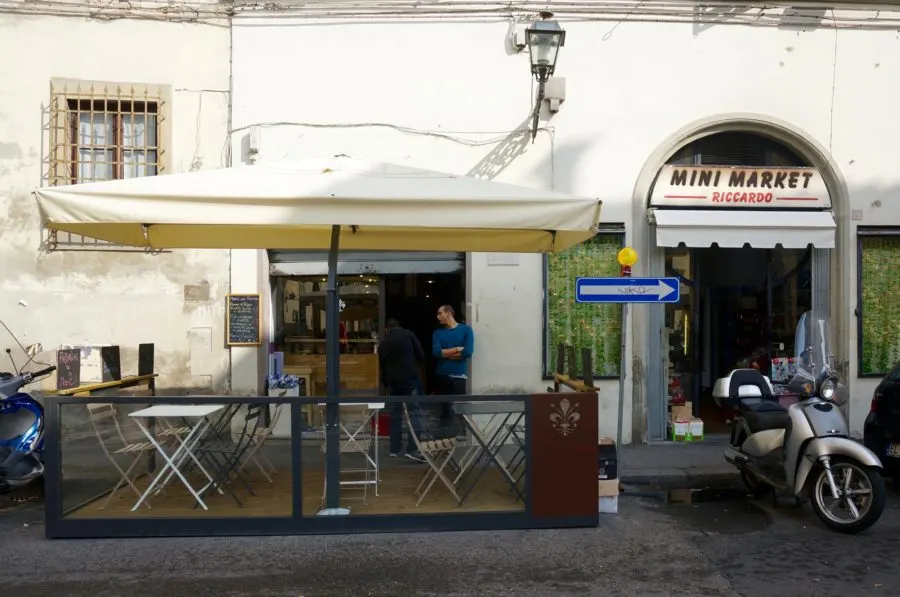 I loved flinging open the shutters every morning at my Airbnb bargain apartment on the Oltrarno side of Florence (first time users get $35 off by clicking here).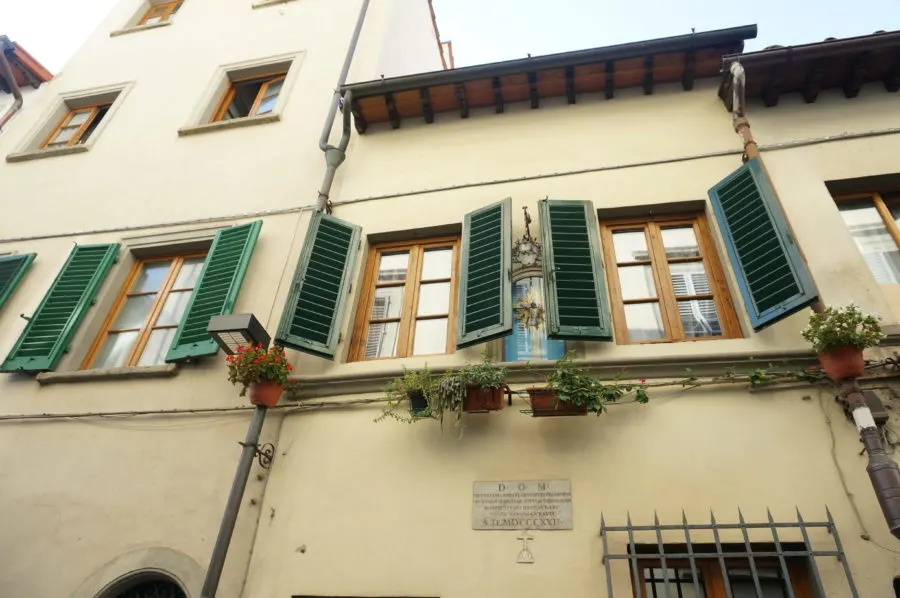 The Oltrarno is known for its many traditional artisan workshops, some dating back centuries. From sculptors to leather ateliers, printers, framers and iron workers, these skilled craftsmen have honed their art for generations. I found it fascinating that these workshops have been able to survive in today's disposable world. But trying to research them left me with more questions than answers.
I wondered if the workshops were open to the public, or only to the trade. I imagined myself blithely walking into one of these places, only to be ushered out by a hard-working craftsman, muttering in Italian about entitled Americans under his breath.
I am happy to report that my fears were totally unfounded. At the craftsman workshops I visited, I was welcomed in with open arms, shown how to use heavy machinery and even serenaded. I recommend doing what I did– forget the research and get out on foot and just walk the streets. Some tips:
Ask what is ready-made and available to buy. While some workshops specialize in large custom orders, they usually have samples or a few made items ready for immediate purchase (in one workshop, when I asked about additional color options, they offered to make them for me on the spot)
If prices on finished items seem steep, ask about the availability for first drafts, sketches or seconds.
Start at Piazza Santo Spirito and check out the surrounding streets
While I'll be writing about a few of these Oltrarno workshops in more detail, here is a quick overview of what you can expect to find (along with some favorite places to eat in the area).
Shopping the Craftsmen Workshops in Florence's Oltrarno District
Sculpture
I was so taken by the friendly and incredibly talented sculptors at Galleria Raffaello Romanelli that I dedicated an entire post them here. While a fragile and heavy chunk of plaster might not seem a practical choice for your suitcase, there are many smaller items here (and they are experts at securely wrapping).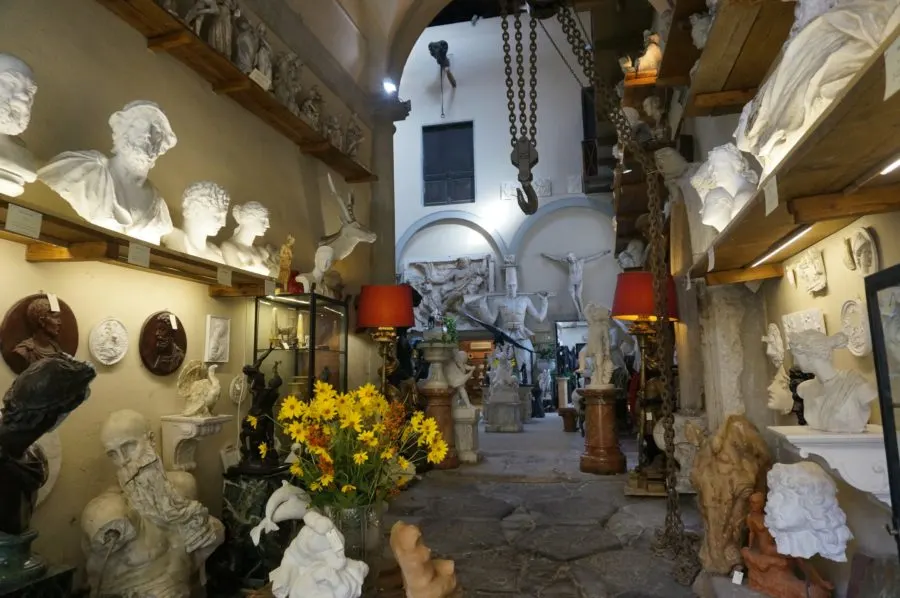 Leather
While this leather shop mostly supplies large clients like the Four Seasons, they had several smaller items (wallets, bags, bracelets) for immediate purchase. More on this workshop coming in a separate post.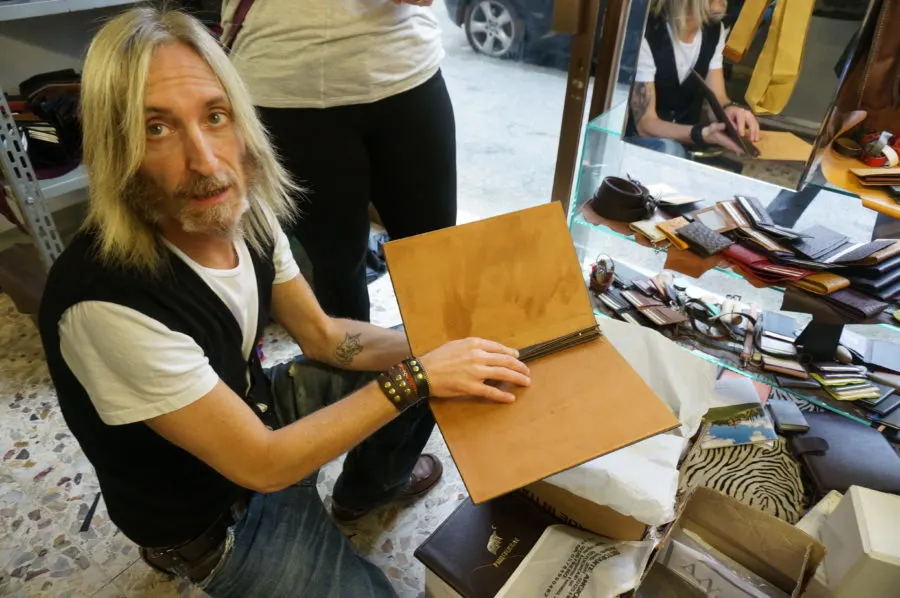 Ironwork
Florence has a long tradition of magnificent ironwork. While many of the items here are a little bulky to bring home (think bed frames and floor lamps), candlesticks and drawer pulls are easy to transport.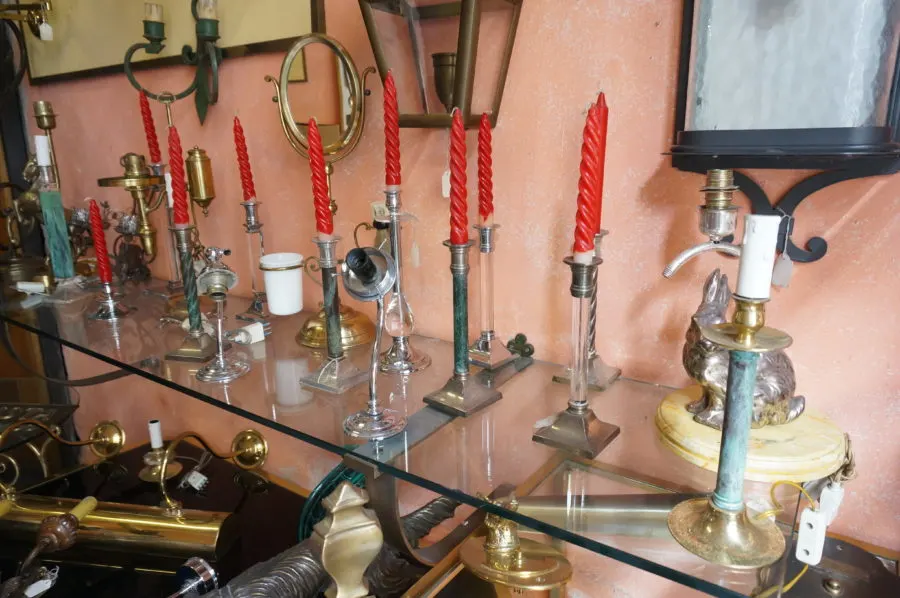 Frames
Gilded or plain, you'll find it all here, expertly made right on site.

Prints
You might catch the artist here making prints from copper plate engravings.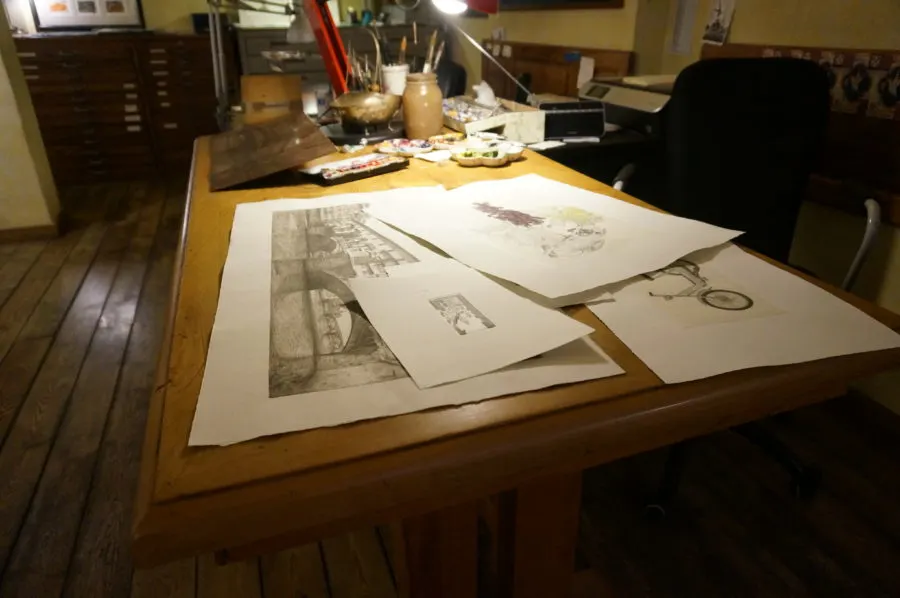 Florentine Paper
Hand-marbelized florentine paper is a tradition worth preserving.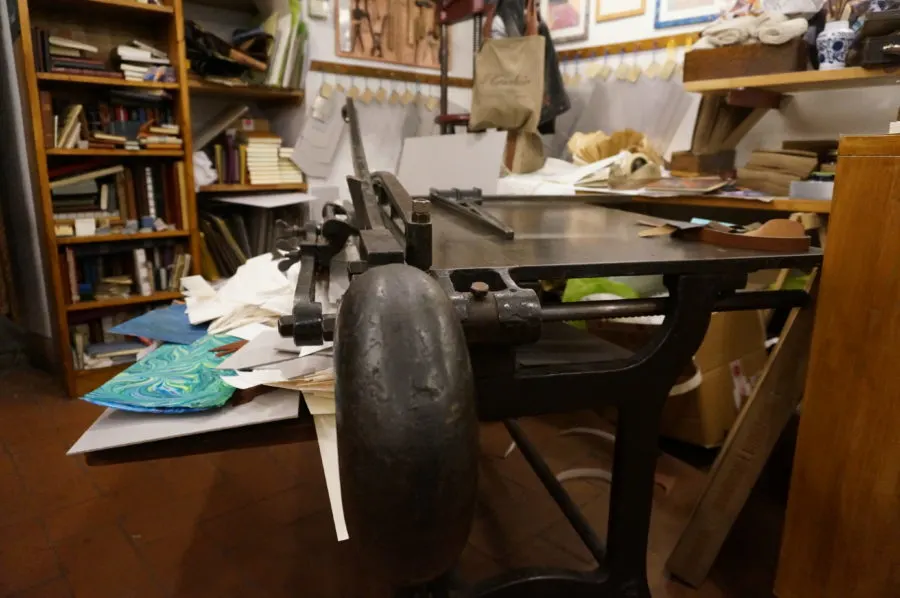 Snacking in the Oltrarno
I did no research when looking for post-shopping places to eat in the Oltrarno. I simply asked local shop owners where they eat (a strategy that has rarely steered me wrong). The restaurants on this side were far more reasonably priced and definitely filled with locals, not tourists.
One of the artisans recommended a local trattoria, Alla Vecchia Bettola for beefsteak Florentine– it was as good as it looks.