Visiting the FAO Schwarz New York City Store
If you are visiting New York City with a child, chances are excellent that at some point during your visit, you will make the pilgrimage to the toy store to end all toy stores, FAO Schwarz. FAO Schwarz isn't like your typical big chain toy store. Started over 150 years ago by a young German immigrant, Franz Schwarz, FAO Schwarz was originally known for showcasing unique, one-of-a-kind toys. While the Franz connections are long gone (the store is now owned by Toys-r-us), FAO Schwarz's commitment to unique toys remains.
Even if you intend to buy nothing, it's worth visiting the New York City FAO Schwarz store for the fantastic decor– the store is a virtual wonderland, decked out with life-size props, spot lighting and music, all creating a theatrical shopping experience.
Planning the FAO Schwarz visit: it's all about timing
That said, you need to plan your visit to FAO Schwarz wisely, especially in the coming holiday and Christmas season. FAO Schwarz can be insanely crowded during prime shopping hours (mid-day on the weekends). I'd recommend going super early or just before closing to avoid crowds. On my visit, late on a Sunday, the store was almost eerily empty, which allowed me ample time to browse the aisles.
My Mission: to Find Unique Toys
In this world where all the "hot" toys are available in every mall or via amazon, I wondered if Fao Schwarz's original mission to provide "unique one of a kind toys" still held true. I set out, camera in hand, to photograph only the most unique, inspiring and intriguing toys.
Spoiler: I found so many interesting toys, that I had to break this post into two. In this post we cover the FAO Schwarz classics– the oversize stuffed animals, that big piano from Big, and a few other fun toys. Check out part II where we explore more finds on the FAO Schwarz shelves (including my favorite, the make-your-own-muppet workshop).
If you need some Christmas and holiday gift ideas, take a look at my picks for unique and interesting toys from FAO Schwarz–
1. FAO Schwarz Stuffed Animals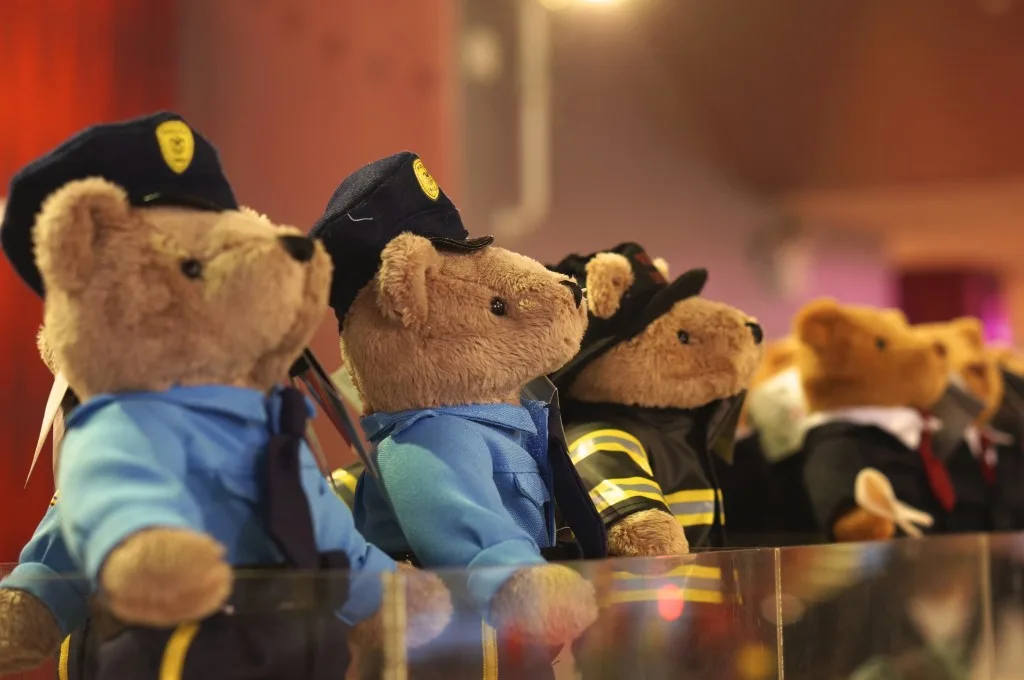 FAO Schwarz is famous for their life-size stuffed animal collection– gigantic gorillas, giraffes and elephants that will delight even the grumpiest shopper. Even if you don't have the space (or budget) for these life-like toys, it's still fun to stroll through this stuffed animal safari. If you can't see yourself stuffing a life-size giraffe into a New York City taxi, there are plenty of unusual small stuffed animals to choose from (stuffed toy peacock anyone?).
2. The FAO Schwarz "Big" Piano Toy
Everyone remembers that famous scene from Big, where Tom Hanks' character visits FAO Schwarz's New York City store and hops out a tune on the enormous piano key board. Yes, it might 25 years later and you're probably grown up now, but that piano keyboard still beckons– just try and resist kicking off your shoes and jumping on. Note: There is usually a line to play on the big piano keyboard– to avoid disappointment, especially if you visit FAO Schwarz during the Christmas and holiday season, come at off-hours.
Love your "Big" piano experience so much you want to recreate it at home? You can bring home a smaller version, the FAO Schwarz big piano dance mat.
3. The FAO Schwarz Action Toy Department
FAO Schwarz's action toy section is fun to browse through for their displays– like the life-size action figure built entirely of legos. I'm not sure there was much unique here, but the variety was certainly dizzying.
4. Angry Bird Collection
FAO Schwarz has an entire wall and multiple bins spilling over with Angry Bird stuffed toys. I found these plump little birds irresistible– and I don't even play the game.
5. FAO Schwarz Toys you can build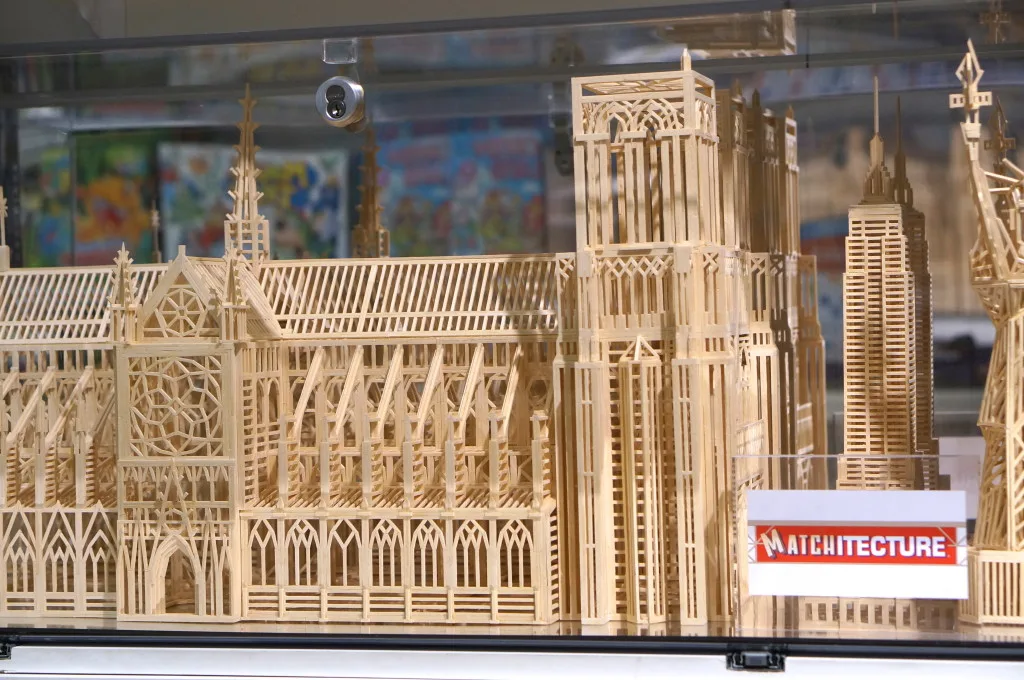 There were plenty of toys that looked like they would require ample adult assistance come Christmas morning. Ever wanted to spend the day building your favorite cathedral out of matchsticks? You will surely find a suitable model here.
5. FAO Schwarz's Make-your-own Car Department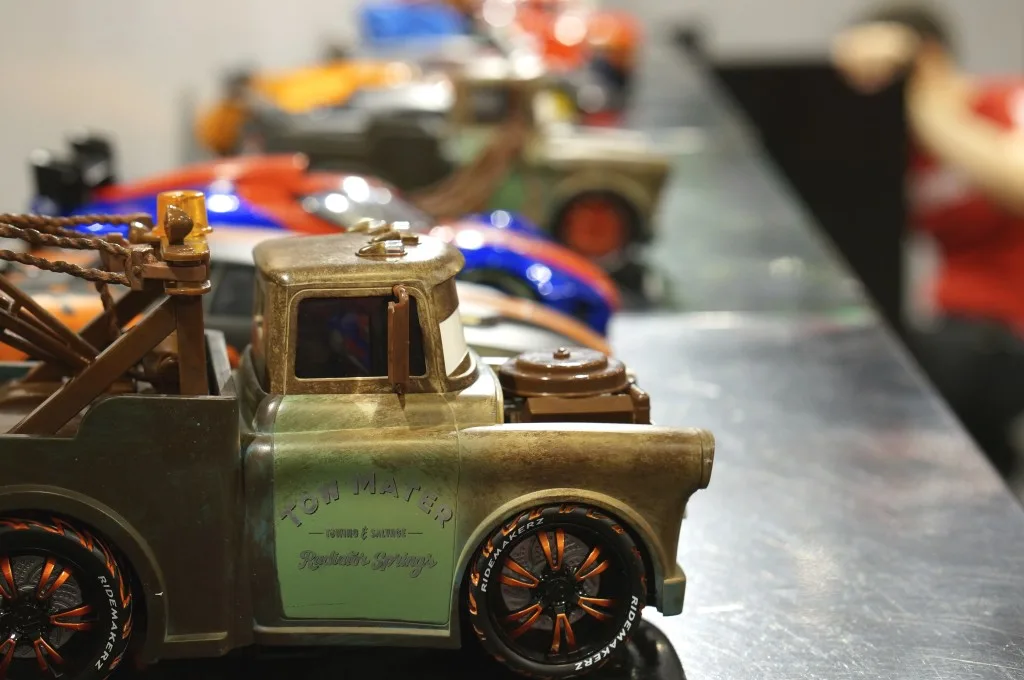 FAO Schwarz' New York City store has an entire department devoted to building custom toy cars and trucks. Kids can select their favorite car accessories like tires, rims and lights from the giant barrels, and trick out their own custom car. Radio control is optional and available for an extra fee– but be prepared to pony up for it because really, what kid wouldn't want to exercise that option?
6. Science toys like this huge telescope
There is more to FAO Schwarz than just amusing toys, it's chock full of science stuff too. These learning tools are cleverly disguised as playthings– like this gigantic telescope.
Up next, part two of our FAO Schwarz photo tour experience with muppets, old school toys, dolls and more!
In New York City for the holidays? Don't miss our review of the Union Square Holiday Market!
[box type="info" style="rounded" border="full"]Souvenir Finder Shopping Tip Sheet
What to buy: Life-size stuffed animals, a piano dance mat, a custom-made car.
Where to get it: FAO Schwarz NYC store, at 767 5th Avenue @ 58th St.
What to know: FAO Schwarz can get crowded during the Christmas and holiday season. Try to shop at off hours (FAo Schwarz's opening hours are often extended around the Christmas and holiday shopping season).[/box]
Have you been to FAO Schwarz? What are your favorite toys?