Road Food in Connecticut: Where there are Travelers, Food will Follow
It might surprise you to learn that the small New England state of Connecticut a culinary mecca for lovers of road food. Just ask the experts on the matter, food writers Jane and Michael Stern, who wrote the book on the topic.
As one of the first states to create parkways, it makes sense when you think about it. Road food stands cropped up along the Connecticut's highways and roads to feed the growing numbers of hungry travelers. As highways grew, many of these traditional road food spots have been replaced by generic fast food places, where you can get your processed burger to go in less than thirty seconds. Fortunately, if you know where to look (usually off the main highways and on some of the first parkways), you can still find some of the original road food stands serving up traditional road side eats.
Why Road Food is Worth the Drive
So what is it about road food stands that makes them so compelling– and makes me yell "wait, stop!"– every time I spot a promising one? For one, the food is usually delicious– freshly made, with local products, run with care as a family business, generation after generation. Then there is the nostalgia of pulling up in your car on a warm summer day, snagging a picnic table and dining al fresco, with a pile of simple American classics in front of you– anything from burgers and hotdogs, to lobster rolls and belly clams, depending if you're inland or on the shore.
The short season (many stands are only open in the summer) also adds a sense of urgency (and longing during the winter months). Every Memorial Day I look forward to the drive from New York City to the Connecticut countryside– and a stop at my favorite road food stand, Clamp's Hamburger Stand.
My Favorite Connecticut Road Food: Clamp's Hamburger Stand
Another great road food fact– hamburgers were invented in Connecticut, in 1900, in New Haven's still running Louis Lunch (at least as a Connecticut native, that's my postition– but of course there are some differing opinions on this). Maybe it's the long history or because I grew up on them, but Connecticut roadside hamburgers are my favorite kind of burger. Unlike most restaurant burgers today that pride themselves on their thickness and extraneous fillings like foie gras, road side burgers are simplicity at their best. Thin and relatively small, they are all about the beef and the char, and the smaller size allows for the correct proportion of toppings to burger.
The best place to sample a traditional roadside burger is at Clamp's Hamburger Stand in Connecticut's bucolic Litchfield County. Clamp's is one of those places you need to find out about through word of mouth because they make no effort whatsoever to be found. There is no real address and no phone (I've driven past Clamps many times until I finally programmed the actual GPS coordinates).
Clamps is only open for specific hours, listed on the chalkboard sign out front (11-2 and 5-8 pm). I have learned to plan my drives to Connecticut around Clamp's opening times (it takes about two hours from New York City) because if you arrive even a minute outside of these hours, you are not getting a burger, no matter how much you plead. Bring cash too, as credit cards are not accepted and the country road leading to Clamps is short on ATMs.
If you visit Clamps on the weekends, you'll find a mix of New Yorkers en route to their weekend homes (the parking lot is usually packed with Range Rovers) as well as locals who have been coming here for years (including a grandmother who has eaten here since they first opened in 1927). Clamps is also a favorite of my chihuahua, who somehow sense when we are within a few miles and starts to get restless (the picnic grounds are dog friendly for all size mutts).
What to Order at Clamps Hamburger Stand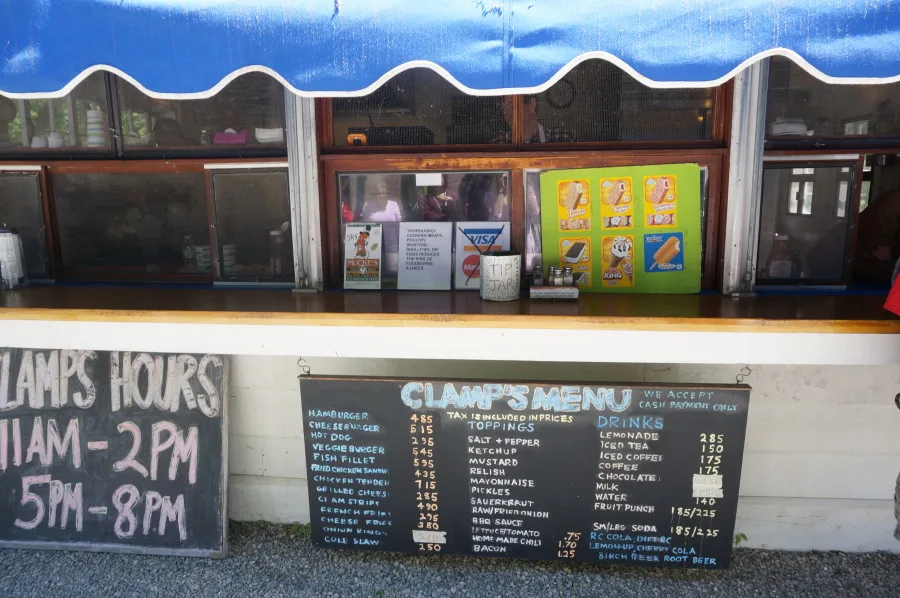 The Burger. If you aren't a vegetarian, the burger is why dedicated fans travel here from all over. The meat comes in daily from a local butcher and everything is cooked to order to your preferred level of doneness. The best topping here is fried onion– perfectly carmelized onion petals, with just the right amount of sweetness.
A Connecticut Hummel Hot Dog (with or without chili). If you are a hot dog aficionado who loves to try regional varieties, Connecticut is famous for its hot dogs. Connecticut dogs are made in an old-world European style way– with a mix of beef and pork and a little spice. While my first choice for Connecticut hot dogs are Grote and Weigel's, the more popular Hummels's served at Clamps are a close second. I haven't tried it myself but many recommend topping the chili topping.
Onion rings. See photo below.
Birch Beer. The paler cousin to root beer and a Northeastern "thing," birch beer is the only soda I drink. I rarely see it anywhere, but it's always on the menu at Clamps.
Fries, Cole Slaw, Fried Clams, Veggie Burgers. While these items are all pretty good, they aren't as stellar as the other options (sadly the fries aren't hand cut but frozen).
Line up with the others and order at the counter when called. They'll ask for your name and call you when it's ready. Stake out a picnic table in the meantime (shaded and sunny options).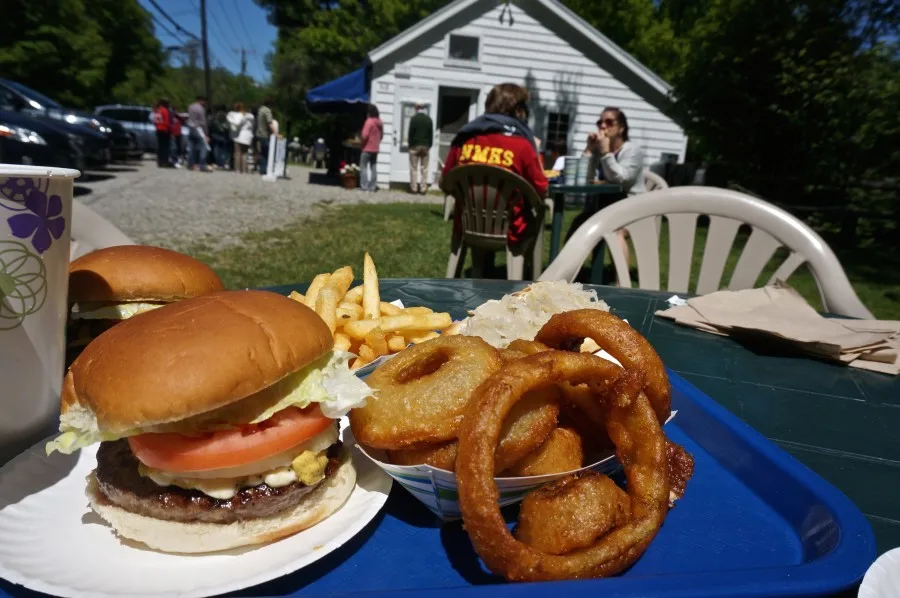 Souvenir Recipe: Recreating Clamp's Roadside Hamburger Experience Back Home
If you haven't figured it out yet, I am addicted to Clamp's burgers. While part of this is because of the whole roadside experience thing, I also just love the burgers. During the winter months when Clamp's is shuttered and I want to make a burger at home, after some experimentation I have devised a simple method that comes close enough (there really isn't much to it, I even hesitate to call it a recipe).
But I found the key to a great hamburger stand-like burger is really down to three things–using local beef that's ground by hand (instead of mass-produced), gently using a rolling-pin to get the right level of thinness and a generous portion of carmelized onion (petals, never slices).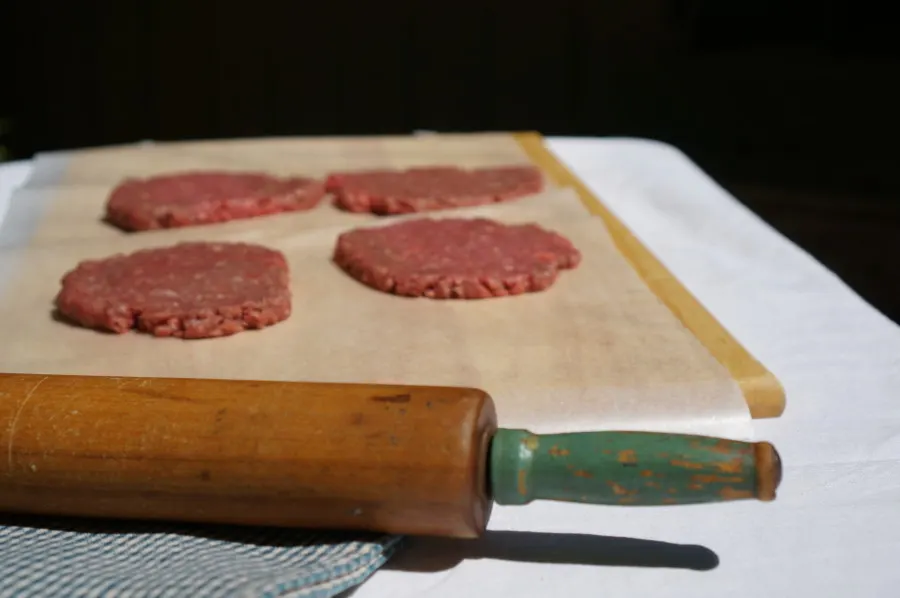 Road Side Hamburger Stand "Recipe"
Inspired by Clamps and similar Connecticut Roadside Hamburger Stands
Ingredients:
1 pound ground beef from local butcher, or grind your own (about an 80/20 mix)
1 yellow onion
Canola or Vegetable oil
Lettuce, tomato slices, sliced pickles for garnish
Pepperidge Farm Hamburger buns or white bread, toasted
Salt and Pepper
To make the caramelized onion topping:
Slice the onions into petals. Place a little canola oil into the pan, heat on medium low. Slowly caramelize onions until light brown (this will take about thirty minutes). Set aside.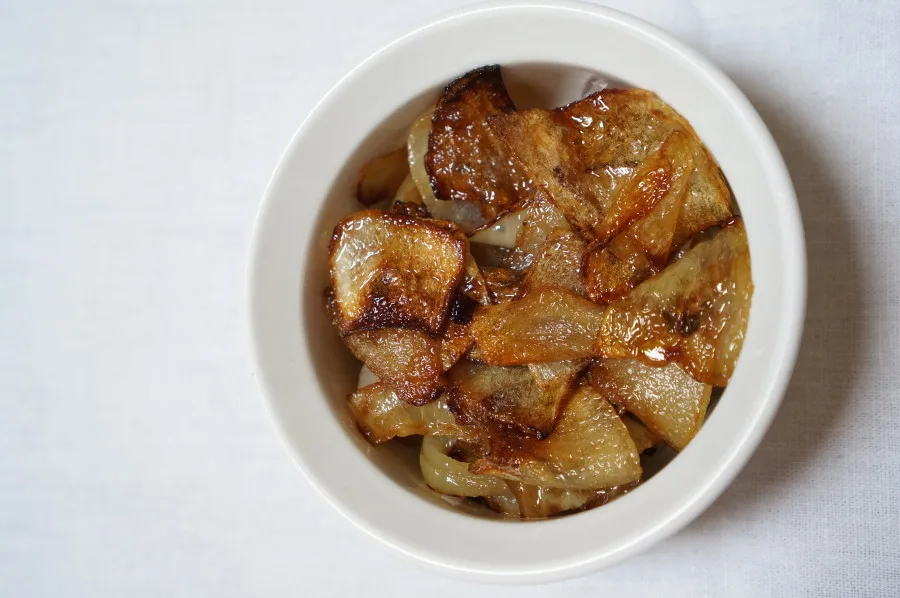 To make roadstand-style burgers:
Divide one pound ground beef into several small mounds. Place on wax paper.
Cover with a second sheet of wax paper. Gently press down mounds to flatten.
Use rolling pin to flatten patties (just give it a couple of quick rolls on each side, do not over-roll). Patties should be roundish, but not perfectly round. Salt and pepper each side.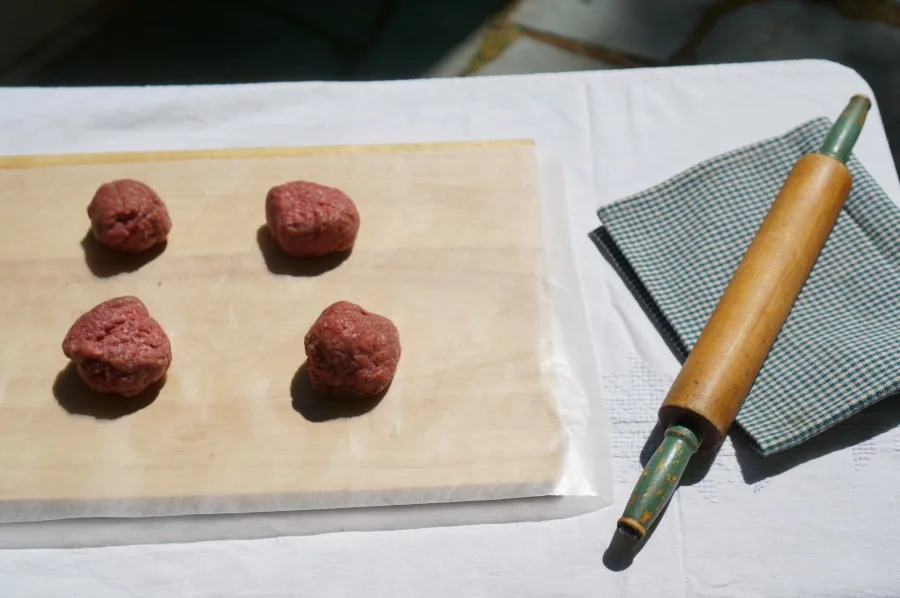 Ideally, place burger patties on a grill over a hot flame. But burgers can also be made indoors with no grill (which is how I usually make them in my New York apartment. While a simple cast iron pan will work, I find them a pain to clean so I use a heavy non-stick but non-toxic pan that's made in Germany, I use a heavy, hot pan and high heat (Woll Nowo Titanium).
The thin burgers will cook quickly, a few minutes on each side.
Clamps uses Pepperidge Farm hamburger buns for their burgers (I asked). I prefer to sub these out for another Connecticut burger tradition used at other roadside stands– toasted white bread (toast lightly or it will be too crunchy). Garnish with caramelized onions, lettuce, tomato and pickle slices. Add condiments as desired.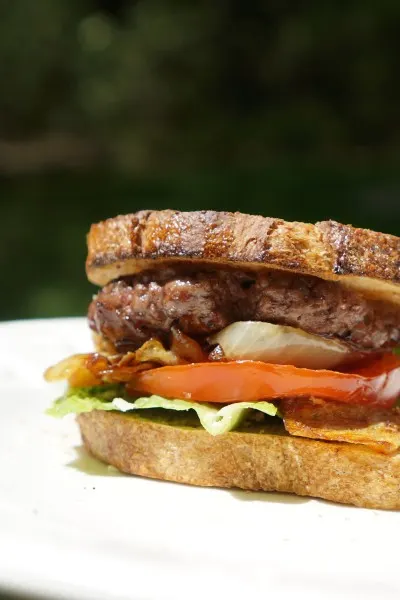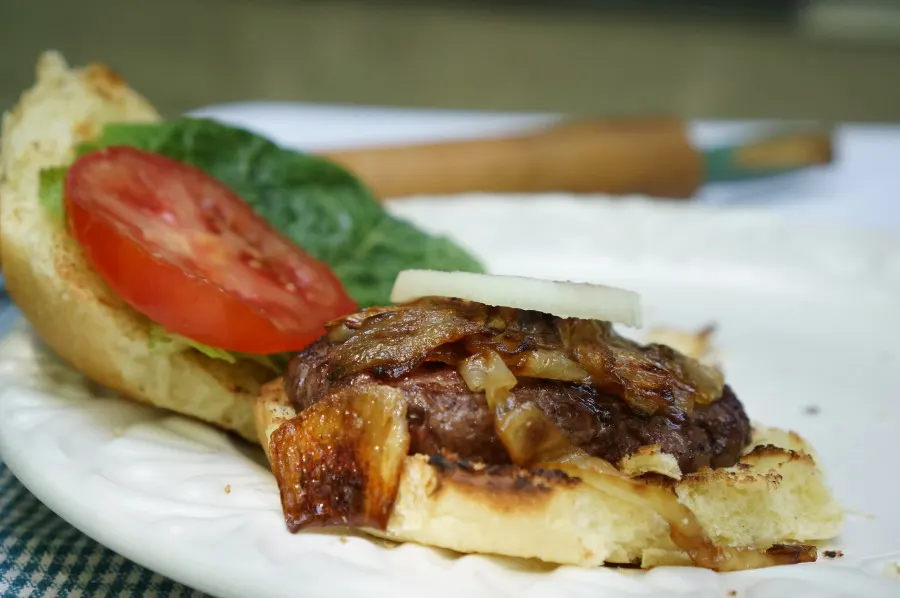 [typography font="Lobster" size="26″ size_format="px" color="#cf1965″]Pin it! [/typography]
What's your favorite roadside food stand?