Playa Del Carmen: a Beach Lover's Paradise
Playa del Carmen, along Mexico's Riviera Maya coastline, has some of the most gorgeous beaches in the world. With blinding white sands that are silky soft to the touch and sparkling turquoise water made for ocean swims, Playa's sandy shores are the very definition of a perfect beach.
But when we've gotten a little too much sun and are ready for a break from the beach, our favorite thing to do is walk into Playa del Carmen's downtown for a little shopping. Just follow our top picks to find the best shopping in Playa Del Carmen.
1. Shop Playa Del Carmen's Fifth Avenue for Mexican Textile Souvenirs

Fifth Avenue is Playa Del Carmen's main drag, lined with shops of all kinds. Mexico is well-known for its high quality textiles– you can find everything from housewares to accessories to beautifully woven shirts. We stumbled across this open-air textile shop right in the town center. Everything here is handmade, sourced from local artisans and craftsmen across Mexico.
The best Mexican textile souvenirs here are those that are easy to fold up and pop into your suitcase– like the colorful, intricately embroidered pillow cases and table runners. I was amazed at all the unexpected color combinations available– it definitely changed my perspective on what I thought I knew about traditional Mexican folk designs.
2. Shop for Mexican Chocolate Souvenirs at Playa del Carmen's Best Cafe, Ah Cacao
Chocolate has been enjoyed in Mexico since pre-Columbian times. Fortunately, it's easy to participate in the time-honored tradition (and certified cultural activity!) of drinking chocolate like the early Mayan and Aztec cultures did. Hit the much-loved chocolate cafe Ah Cacao, right in the heart of Playa del Carmen. We found this chocolate cafe to be a refreshing pit stop on a steamy hot day (their air conditioning is ice cold) for delicious iced chocolate drinks. You can buy the chocolate drink mix to bring home, along with other chocolate and cacao souvenirs (like bars, cookies and other edibles).
I especially loved the selection of non-edible chocolate souvenirs– chocolate body oil, moisturizer, and a bar of luscious soap that never made it to the intended gift recipient (I decided to gift it to myself instead– lesson learned: buy two!). I was also intrigued by the pretty wooden chocolate whisks, a perfect gift for the cook who has everything.
3. Shop Playa Del Carmen's 5th Avenue for Fun Mexican Kitsch Souvenirs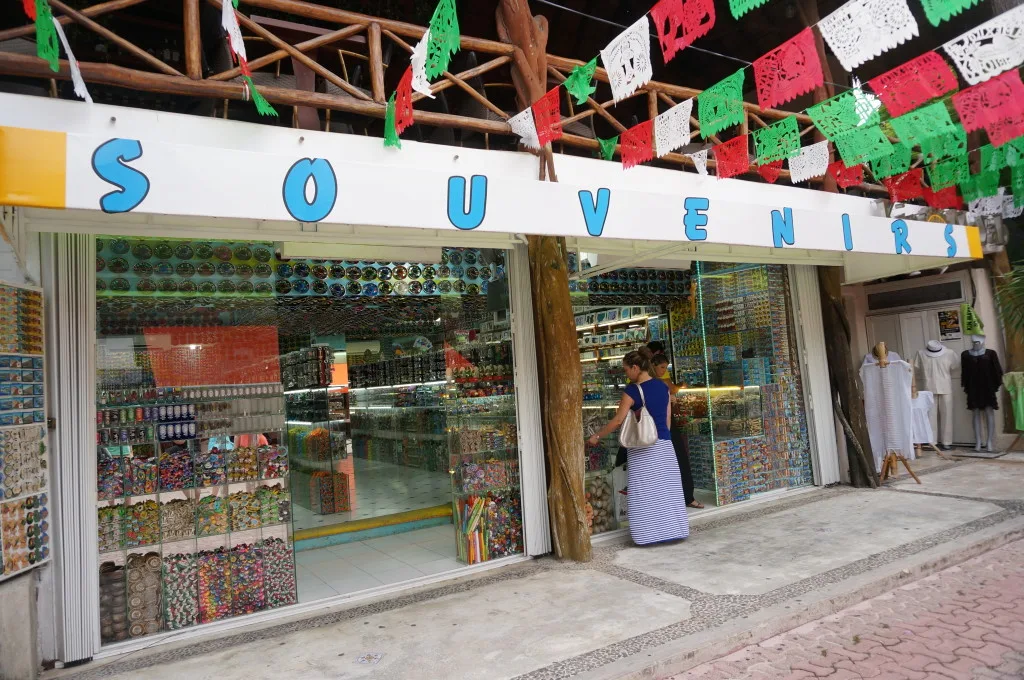 Not everything in Playa del Carmen is handcrafted in Mexico. You will find plenty of souvenir shops like this one on Playa Del Carmen's Fifth Avenue, carrying Mexico-themed magnets, shot glasses and ash trays. Skip these souvenirs if you'd like, there are plenty of hidden gems and authentic shops in Playa you can check out instead. Or, you can just have fun with it like we did– some of these Fifth Avenue souvenir shops were so over-the-top that they veered beyond tacky into what we will call "kitsch." Throw in some super friendly vendors, and you have some prime photo opportunities.
Of course Senor Frogs is the ultimate Mexican cliché. But did that stop us from staging this shot? And what could make a round of margaritas with friends more fun than a round of margaritas while wearing giant sombreros? I rest my case.
Other ideas for Mexican kitsch souvenirs:
Gifts for Kids and Coworkers (and unappreciative Chihuahuas)
I saw stacks of little Mexican baubles that would make awesome (and cheap) gifts for kids or even coworkers back home (imagine passing out these cute little maracas around the office). I brought home a mini sombrero that I thought would be perfect for my chihuahua– unfortunately she was not as keen as I was to celebrate her Mexican heritage.
NSFW Souvenirs
We saw a lot of NSFW Mexican kitsch souvenirs that I can't publish here. These are some of the tame ones. Disclosure: some of us (who remain nameless) were highly entertained browsing these NSFW souvenirs.
4. Shop Playa Del Carmen's Back Streets for Local Fabrics for DIY Mexican Souvenirs
Want to get off the main drag and shop where the locals do? Our friend (and Playa local) Sal took us away from the tourist areas and onto the back streets of Playa del Carmen. You won't find shops geared for tourists here so you'll have to think more creatively about souvenirs. I popped into a fabric store, unsure of what I might find and was delighted to see reams of Mexican flag fabric along with classic Mexican textile patterns, sold by the yard. If you're craftsy (or know a good seamstress) buying fabric can be a cheap way to make your own Mexican souvenirs– think pillowcases, tablecloths and other home goods.
Also Nearby: Delicious local tacos

We walked through a local park filled with food vendors– they all looked delicious. Sal also took us by his favorite local taco spot– Rico's Tacos y Tortas.
5. Shop Playa Del Carmen's Luxury Hotel Gift Shops
One of my secret sources for finding interesting, high-quality souvenirs might surprise you– I love checking out hotel gift shops. But not just any hotel gift shop, the quality of the gift shop will vary with the quality of the hotel. Be wary of shops in questionable hotels (in Cancun, as we breezed through a slightly seedy hotel lobby, we saw a live donkey standing next to tables filled with junky tchockes).
A good rule of thumb is the more high-end and boutique-y the hotel, the better the quality of local souvenirs for sale in their gift shop. The buyers for these hotel gift shops know that their guests seek out the authentic and beautiful– so they will do the ground work for you, scouring the region for the best locally made goods. In the Riviera Maya, I recommend checking out the expertly-curated gift shop of one of the area's most exclusive hotels– the Viceroy Riviera Maya. We stopped in the Viceroy's gift shop after getting an incredible Mayan massage at their spa (highly recommended). Beautiful and completely wearable straw hats, bags, jewelry and sarongs were among our favorite items.
6. Shop Handmade Mexican Hammocks in Playa Del Carmen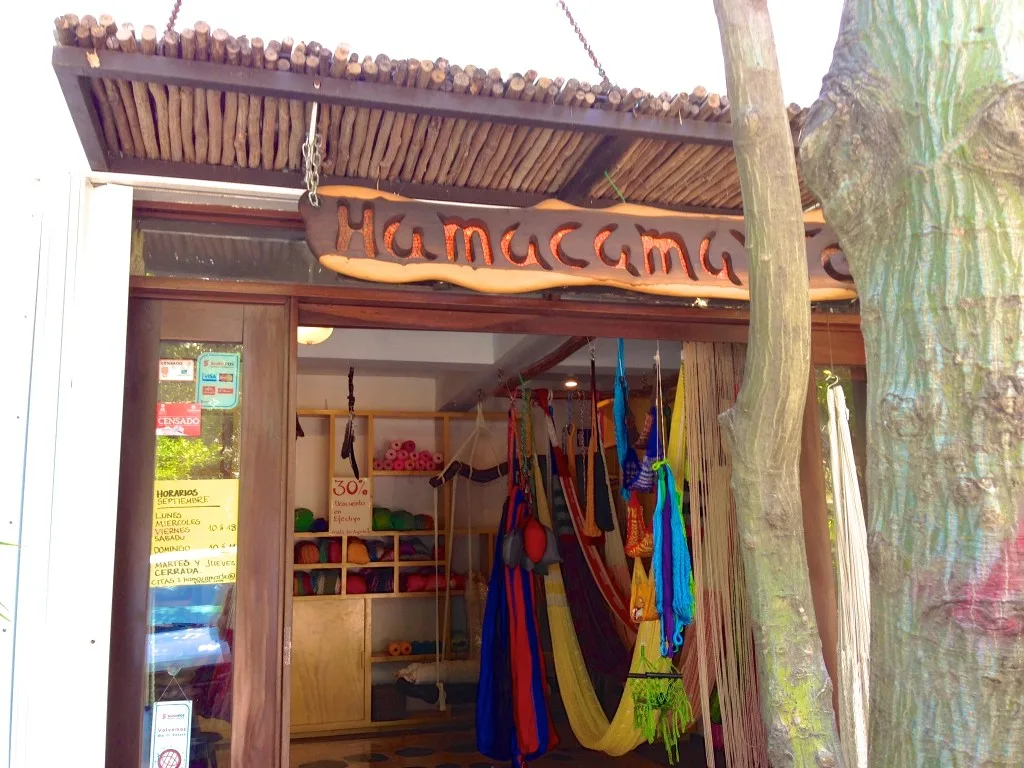 You'll find hammocks for sale everywhere in Mexico. I recommend this colorful Playa del Carmen shop for their large and colorful hammock selection and more importantly, for their location next door to my favorite Playa restaurant for authentic Mexican dishes, La Cueva del Chango (read about our decadent lunch here).

7. Shop for Mexican Specialty Liquor Souvenirs– Xtabentun and Artisan Tequila and Mezcal
To find some specialty Mexican liquor souvenirs, you'll need to hit a larger liquor store with a big selection. Fortunately, Playa del Carmen has several excellent liquor stores. What to look for:
Small batch tequila
Xtabentun, a liquor that's wholly unique to the Riveria Maya region. Xtabentun is made from fermented honey and anise and rum, best enjoyed straight over ice.
[typography font="Trocchi" size="24″ size_format="px"]Pinterest-Friendly Images[/typography] [pinit size="large"]
Do you love shopping in Playa del Carmen? What are your favorite picks?
[box type="info" style="rounded" border="full"]Souvenir Finder Shopping Tip Sheet
What to Buy: Traditional Mexican textiles and folk art, Mexican kitcsh, fabrics by the yard, chocolate, hammocks, specialty liquors like Xtabentun.
Where to Get it: Playa del Carmen has lots of shopping options– check out Fifth Avenue for an assortment of shops, but make sure to also hit the side streets for local favorites. On the outskirts of Playa, seek out the great boutique on the grounds of the Viceroy Hotel.
What to Know: Enjoy some post-shopping snacks at one of the local taco joints or at our favorite Playa restaurant, La Cueva del Chango. [/box]
Thanks to Riviera Maya Tourism Board, Kool Beach Club and the Viceroy Hotel.

Have you been to Playa del Carmen? What are your favorite places?