A Tale of Many Cities– all Linked Via High-Speed Rail
When selecting a city for my European vacation, the first thing I do is consult a map. Not just any map– but a rail map of all the potential fast trains routes serving the city. After all, why limit yourself to just one city, when you can visit two or three cities– or even countries?
As an American, European trains fascinate me. I live in a huge country with slow trains– the idea of taking a quick train ride (often under two hours) to an entirely new country and culture is mind-boggling. Even after many visits to Europe over the years, the novelty of fast trains hasn't worn off. Instead it's much the opposite– with the increase in number of new train routes and the ever faster speeds, there are just more destinations to choose from.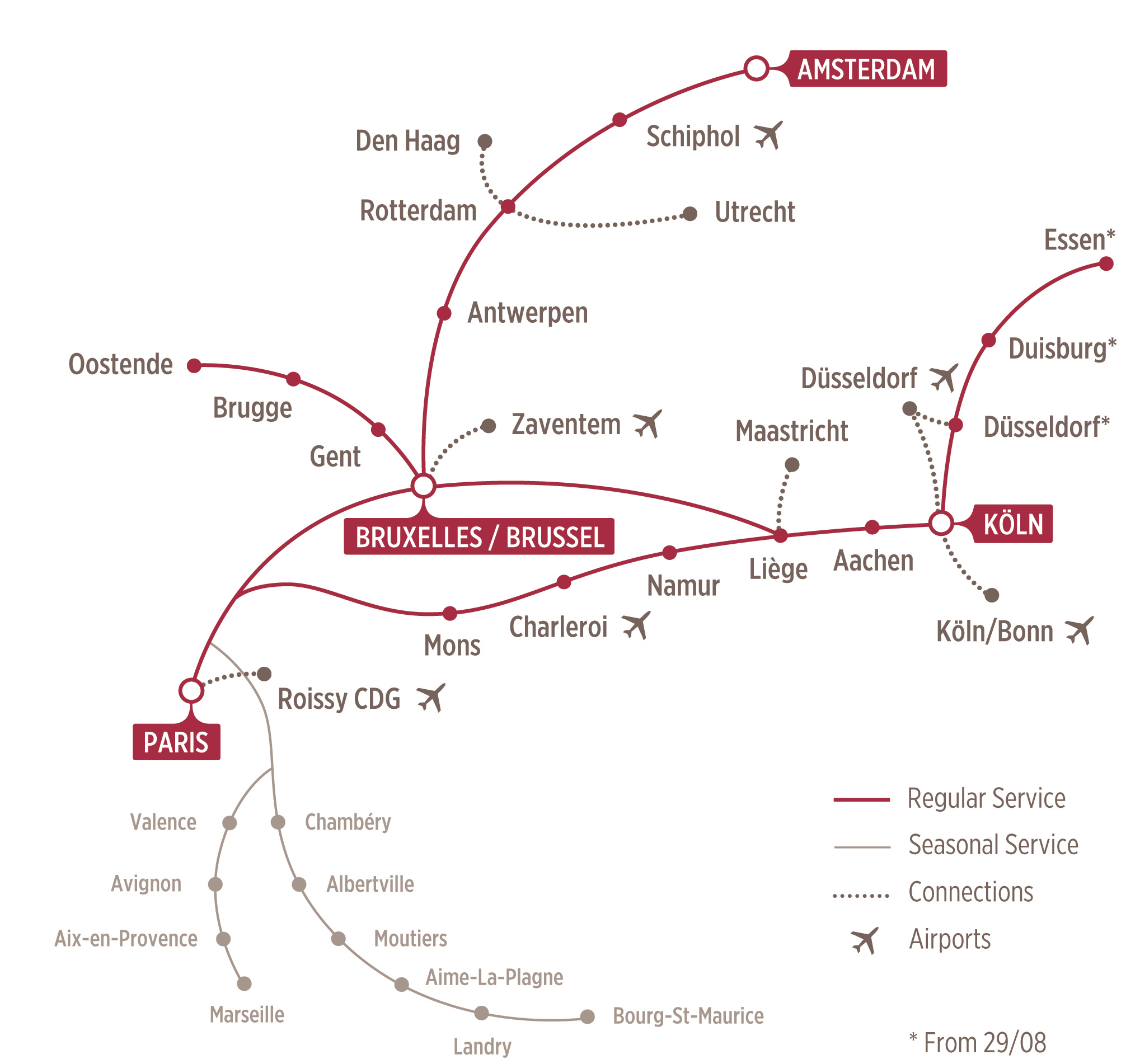 It only took a one quick look at the Brussels rail map for me to decide on Belgium as my next vacation destination. Linked via Thalys' high-speed rail service to three countries, Brussels lies in the very heart of Europe. I imagined myself zipping to France and Germany by day, then coming home to a relaxing dinner of mussels and beer back in Brussels, all without ever unpacking a suitcase.
I ended up taking two day trips via Thalys– to Paris (look for my favorite Parisian souvenirs coming soon) and to Aachen, Germany, a small city that borders Belgium and Holland and is best known as the home of Charlemagne, the holy Roman emperor.
I chose the charming village of Aachen over larger German cities like Cologne and Düsseldorf because i) it was the closest German city to Brussels, clocking in at one hour 8 minutes on Thalys ii) I have a thing for adorable medieval villages and iii) Aachen is known for a very distinctive souvenir that you can't get anywhere else (more about that below).
The Thalys High-Speed Rail Ride– Getting There is Half the Fun
I decided to do a half-day trip to Aachen, so I planned an early start. The mechanics of the trip itself were a breeze and required no advance planning whatsoever.
Boarding Thalys at Brussels Midi Station
Conveniently, Thalys high-speed trains leave from Brussels Midi Station– easy to get to from anywhere in Brussels. I hopped on the metro and arrived in less than ten minutes. I recommend printing your Thalys ticket in advance so you can walk right onto the train.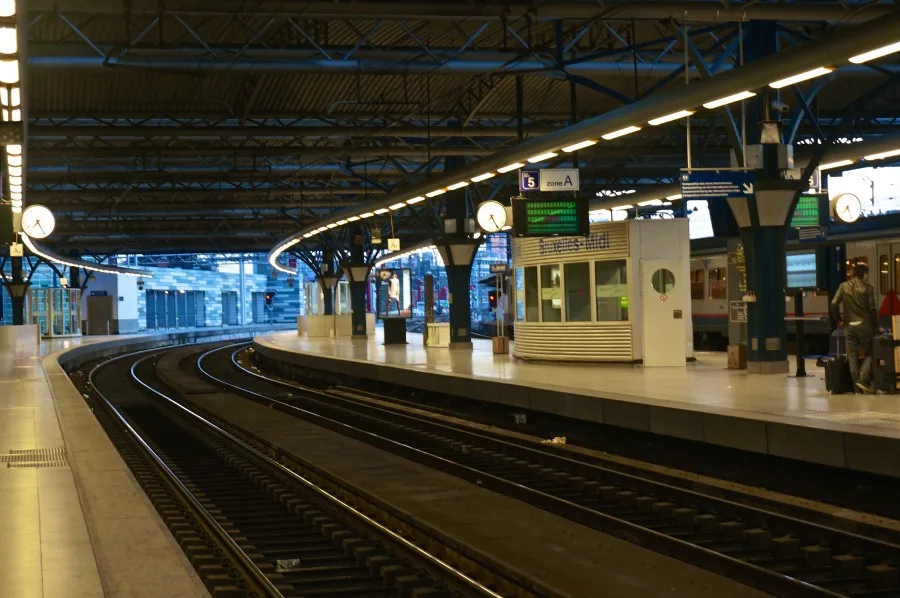 The Thalys Train Ride– Brussels to Germany in One Hour, Eight Minutes Flat
While I loved my time in Aachen, riding the Thalys train may have been the best part of my day. I sat in Comfort Class I, which I highly recommend. After spending so many hours on my feet sightseeing, sinking into the plush seat and relaxing was sheer luxury.
The service on board was top-notch. My tea cup never even had the chance to get lukewarm as it was continually topped off by the attentive staff. I was served delicious full meals right at my seat, even on short journeys (all included as part of the Comfort Class I ticket, which is equivalent to first class). I tried to catch up on social media with the free wifi on board but was too distracted by the gorgeous views of the Belgian countryside right from my window.
Arrival in Aachen
It was an easy walk from the train station to the Aachen town center, with plenty of signs pointing the way.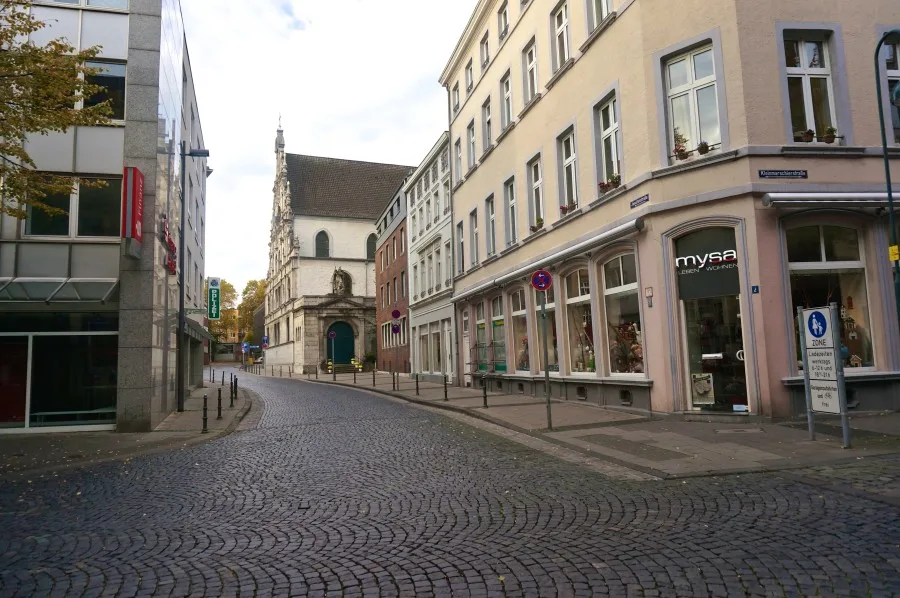 Day Trip to Aachen– What to Do, See and Eat
I made my first stop the Aachen tourist office– they were incredible helpful and gave me free maps and ideas on what to do and see.
Spa Waters of Aachen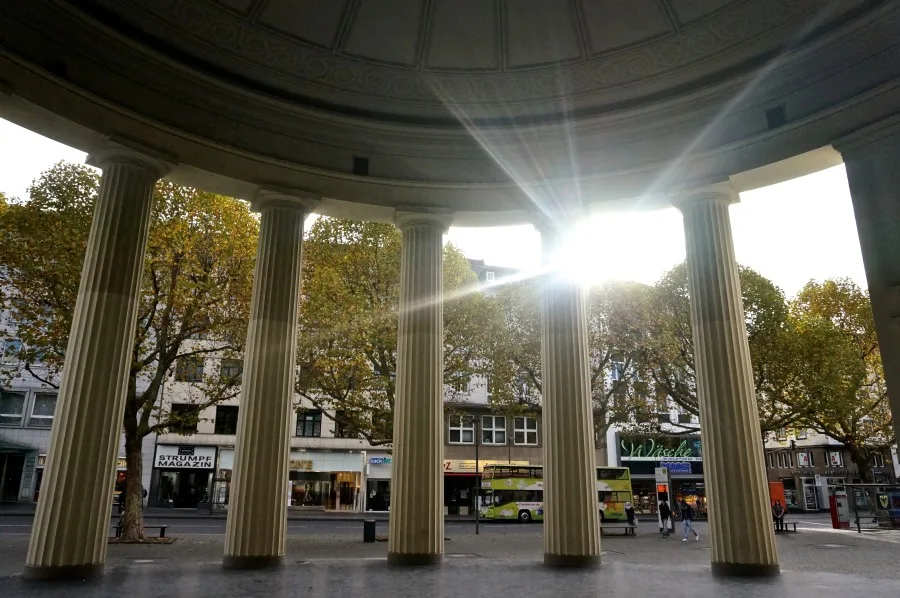 You'll smell the sulphur even before you see the neo-classical thermal pump room right at the edge of the historic city center known as Elisa Fountain (Elisenbrunnenin). Drink from the fountain here and you'll be drinking from the same healing waters as Charlemagne and Frederick the Great once did. I wasn't brave enough to take a slug of the water, but I did run my hands through the stream.
Aachen's Cathedral
You'll want to spend several hours exploring Aachen's historic buildings, especially the main cathedral that dates back to the 8th century.
Stroll through Aachen's Medieval Village
The Souvenir: Printen Gingerbread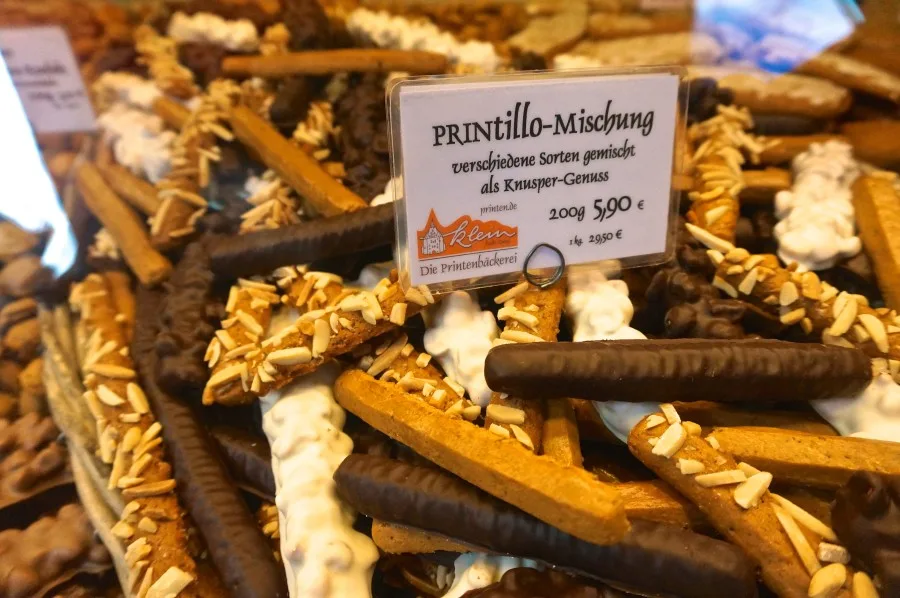 I love it when I find a souvenir that you really can't get anywhere else in the world. Aachen's famous printen gingerbread is just that– it has protected status and cannot be made outside of the immediate area.
Printen is a variation of the German favorite Lebkuchen (gingerbread), molded into various shapes. Like gingerbread, it's made from different spices, but has its own unique flavor. The actual recipe is a closely guarded secret, passed down from generation to generation.
You'll find many Printen bakeries in Aachen– skip the large chain bakery in the town center and instead head down the street to Klein Bakery (Franz Road 91). Klein bakery has been around since 1912 and is still family run. I was charmed by the lovely ladies running the small shop– they explained to me the differences among the different Printen types (with almonds, nut-free, chocolate-covered, and hard and soft, among others). Klein also sells Printen-flavored liquor. The printen stays fresh for several weeks, so it's worth loading up on it to bring back home.
I left with a variety pack of different types of printen. Back home, I had two gingerbread experts (who had both spent time in Germany as children) sample the printen. The verdict? Absolutely delicious. My only regret is that I didn't bring home more.
[typography font="Trocchi" size="24″ size_format="px"]Pinterest-Friendly Images[/typography] [pinit size="large"]
[box style="rounded" border="full"]Souvenir Finder Shopping Details
What to Buy: Aachner Printen
Where to Get it: Only in Aachen, Germany. We recommend Klein Bakery at Franz Road 91. If you can't decide, get the variety pack.
What to Know: The easiest and most pleasant way to get to Aachen is via a Thalys high-speed train from Brussels. Trains depart five times a day. Buy in advance for the best prices, starting at 19 € in Comfort 2 or 35 € in Comfort 1[/box]
Disclosure: I traveled to Aachen from Brussels courtesy of Thalys.