Amsterdam is not only one of the most visited cities in Europe, but is also a great souvenir shopping city. (Note this post was written before the pandemic, but hopefully will helpful to travelers someday soon).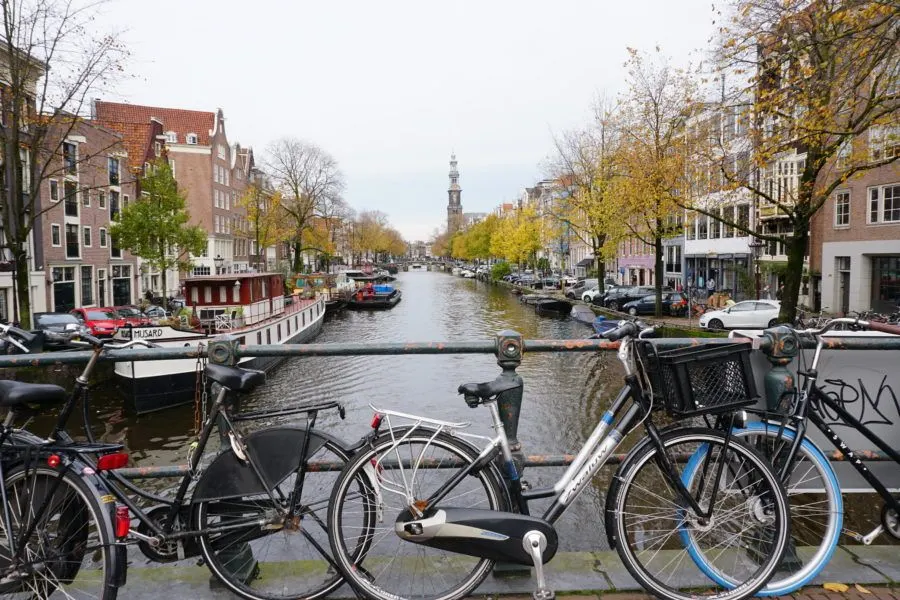 On this latest visit, I was fortunate enough to be staying with some local Dutch friends who helped walk me through some favorite Dutch traditions– and recommended some souvenirs to bring home.
I was a little hesitant when planning this visit. My trip would not be in the lovely springtime season, but in the heart of the gloomy, rainy winter. But the timing was convenient so decided to go nonetheless. Was it worth it?
Yes. While I missed the Netherland's famous tulips and shopping Amsterdam's vibrant flower market in full bloom, I also had the canals all to myself.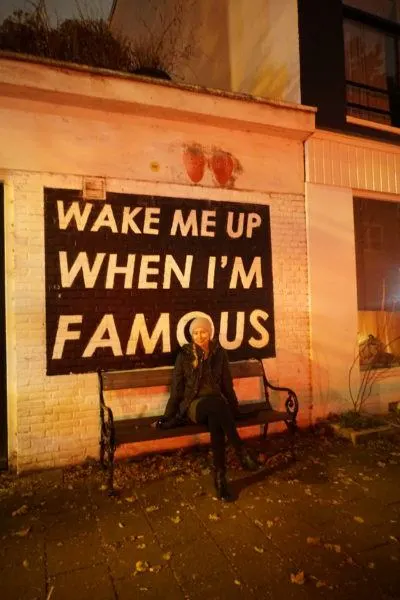 In the winter, Amsterdam transforms to a cozy place, where you can duck into a cafe for a slice of apple pie (and avoid the crazy lines). Or shop for your favorite flavor of Tony's chocolate without getting elbowed.
I shopped at local Dutch markets, bought Gouda cheese from street vendors, and wandered lesser known neighborhoods for souvenirs.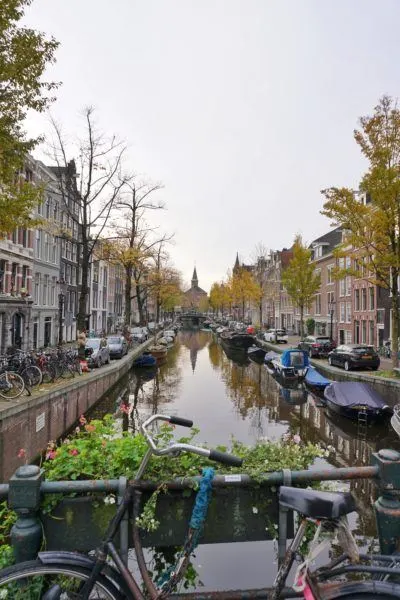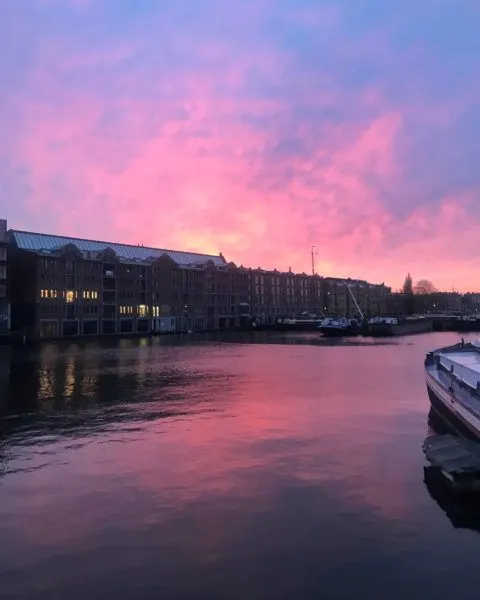 On our ambling strolls on this visit, we were able to visits Amsterdam's best shops for souvenirs, and stumble upon a few surprises. Here is our list:
1. Stroopwafels– the Most Popular Amsterdam Souvenir
When I asked my Souvenir Finder Facebook group what souvenirs and gifts to pick up in Amsterdam (join our group here), the most popular response was stroopwafels. What exactly is this Dutch delicacy?
Stroopwafels are two thin, waffle-like cookies joined by a gooey caramel filling. They are unquestionably Amsterdam's best known treat, enjoyed best by those with a serious sweet tooth.
You can find packaged stroopwafels to bring home in any supermarket, but I recommend sampling a freshly-made, hot stroopwafel straight off the press.
While traditional stroopwafels are plain, the trend of overdecorated desserts has hit the Netherlands. For over the top, Instagram-worthy stroopwafels, check out Van Wonderen.
They will press your stroopwafel right in front of you and dip it in your favorite flavorings.
2. Hagelslag (Dutch Chocolate Sprinkles) Souvenir
When I first heard that some Dutch people eat chocolate covered sprinkles on bread for breakfast I didn't believe it. But my friend's Dutch boyfriend confirmed that yes it was true!
Called Hagelslag, these chocolate sprinkles are spread on buttered bread (toasting is optional).
While Helsing may not be a daily breakfast item, it is quite popular and readily available in any Dutch supermarket (I also saw more high end versions at specialty stores).
3. Cannabis (But Definitely Not for the USA)
Let me start by saying check your own country's customs laws concerning cannabis. I can tell my US readers that you are absolutely not allowed to bring cannabis in any shape or form back with you.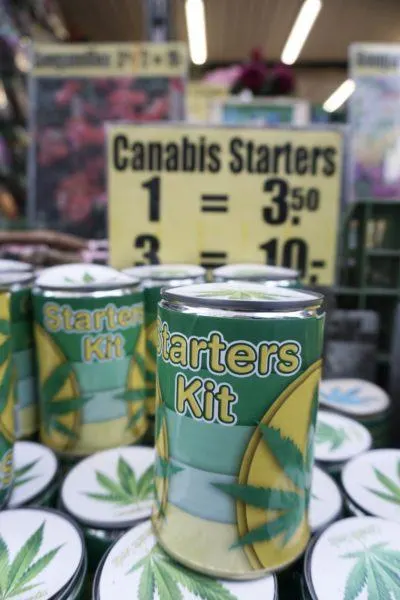 Do not try to get cannabis by US customs. In addition to being illegal, this is a foolhardy mission. Flights landing from AMS are far more likely to be subjected to bag searches (nearly half my flight, including me, had all our bags searched on my last trip).
But if you somehow live in a country/city that has no such regulations (please share in the comments!), you will have many options for your cannabis souvenir. You can buy it ready to smoke (or eat in various forms, including the popular brownies).
You can also pick up a "starter kit" to grow your own cannabis– the flower market (see below) has many options.
4. Gouda Cheese
The Netherlands may not have the variety of cheeses you'd see in a country like France, but that doesn't mean the supply of cheese is lacking.
The Netherlands and Amsterdam are synonymous with one cheese– Gouda– one of the oldest cheeses in the world still made today.
The Dutch do love their Gouda and you will find it everywhere. While gouda is of course readily available in the US as well as most of the world, you probably won't find the different types of gouda available directly at the source.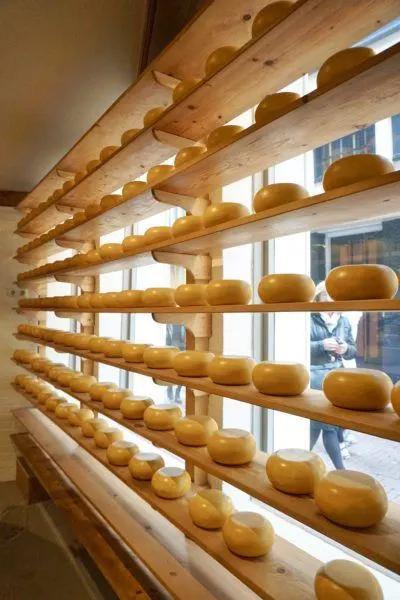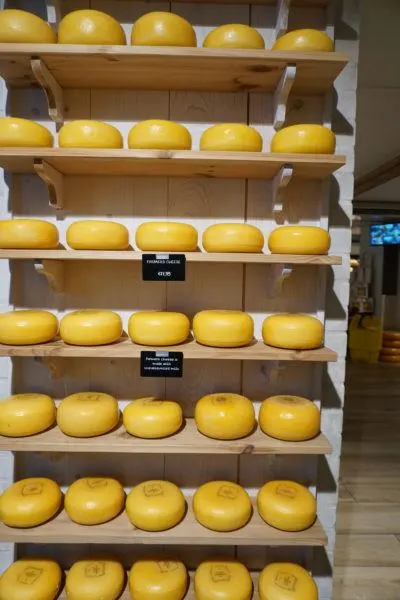 Visit any local cheese shop for unlimited samples of different variations on gouda to take home the perfect wheel.
Henri Willig shops, located in central Amsterdam, are particularly tourist friendly, with experts on hand to explain the cheese making process.
Gouda is typically sold by age. But some local cheese shops (like Henri Willig) also offer some unique flavor combinations like coconut, cumin, chili pepper and sparkling wine.
5. Dutch Gin Mayonnaise
For some reason, Europeans know how to do mayonnaise right. I usually pick up a tube (the typical packaging) no matter which country I visit.
In Amsterdam, I noticed an an interesting mayo on the shelves of local supermarkets and specialty shops– gin mayo– as in the liquor, which is a specialty of Amsterdam.
I picked up a tube (a bargain at $2) and can confirm the gin flavoring is only a hint, barely perceptible, that simply makes the mayo taste better.
Not sure how to use your Dutch mayo? A dollop makes a tasty accompaniment to french fries.
6. Slice of Dutch Apple Pie Souvenir
Dutch apple pie is different from the American pastry variety. Its cake-like texture is sweet, crumbly and crunchy– an addictive combination.
Granted, apple pie might be trickier to bring home, but worth it for the dedicated. Winkel Cafe is the place to go for their celebrated Dutch apple pie.
7. Bicycle-Related Souvenir
You might have this storybook visual of charming Amsterdam bustling with cyclists leisurely pedaling in perfect harmony with the pedestrians. This visual would be completely wrong.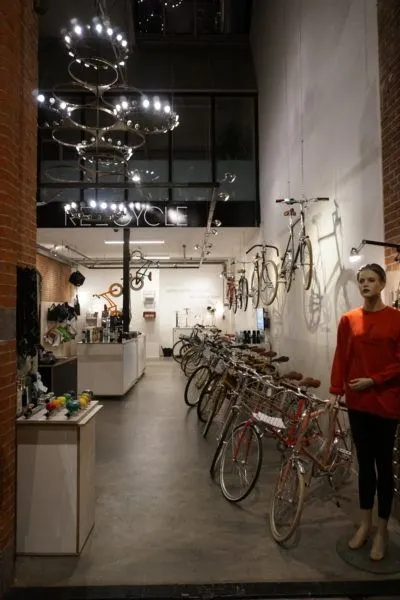 In Amsterdam, there is no such thing as leisure biking, at least not on the street's ubiquitous bike paths.
The Dutch take their cycling seriously– it is a means of transport in any weather, any time of day or night, sometimes with a child in the backseat (or as I witnessed, even in the front clutching the handlebars).
And no one (including children and babies) ever wears a helmet.
The Dutch are fast and nimble cyclists. But make no mistake, pedestrians do not have right of way here. You would think that as long as you steer clear of the bike paths (not optional, do not walk aimlessly into them) you would be safe from collisions.
But cyclists sometimes end up on the sidewalk. Or the sidewalk might be blocked and the only route around is on the bike path.
I also found that cyclists routinely disregard street lights and signs so pay careful attention when crossing the street. They can creep up on you out of nowhere.
As you might expect, a city (and country) so dedicated to cycling is going to have some pretty interesting bicycles and cycling paraphenalia. While a bike might be a tricky Amsterdam souvenir to bring home, there are plenty of more portable options.
I loved these colorful painted bike bells, easy to bring home and the perfect fit for any bike.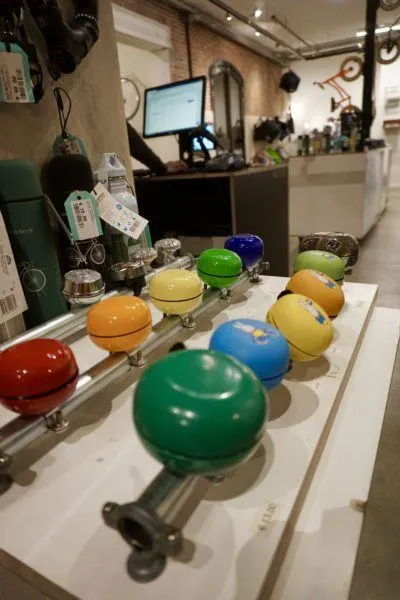 8. Dutch Licorice Souvenir
If you like your licorice black and salty, you will love Amsterdam. The Dutch have the highest consumption of licorice in the world, enough said.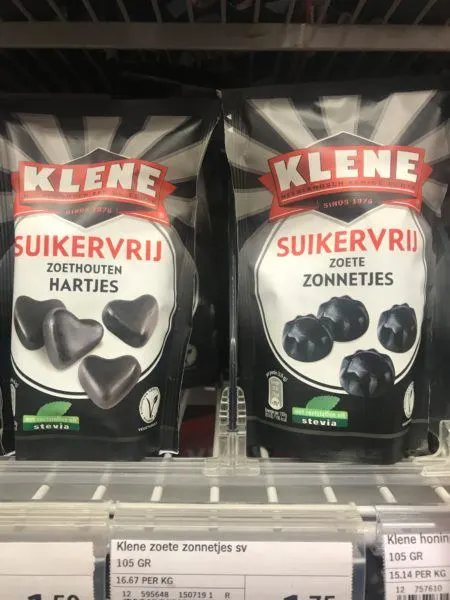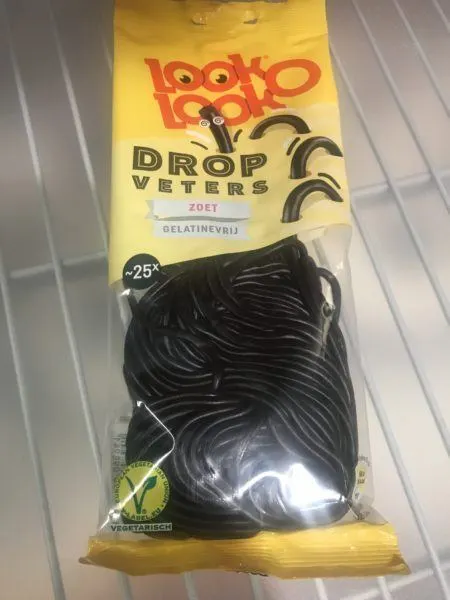 9. Souvenir Gift for Children: Cute Books
Bringing home souvenirs and gifts for children can be tough if you are looking for something unique. We happened to come across the perfect Dutch gift for children while strolling around the lovely Jordaan Neighborhood.
A colorful shop called Sam en Julia caught our eye. I was wowed by the miniature displays handmade by the owner (not for sale).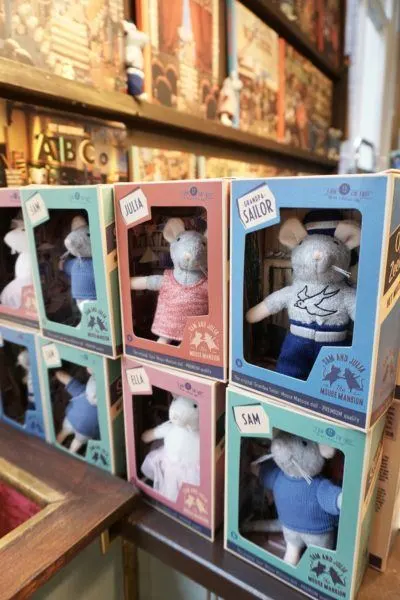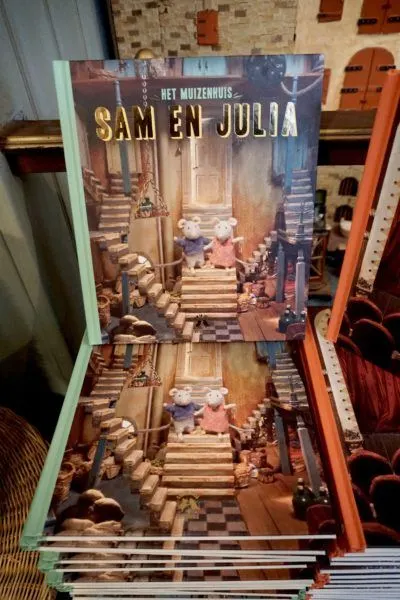 Sam and Julia are two adorable mice who have adventures in the books, penned and illustrated by the owners. The shop also sells the characters in plushy form, a perfect accompaniament to the books (also available in English).
10. Tony's Chocolonely Bar Souvenir
I should really write a separate blog post on Tony's Chocolonely because it is not only delicious, but also a fun shop to visit. I am still hoarding my leftover Tony's chocolate souvenirs, it is really that good.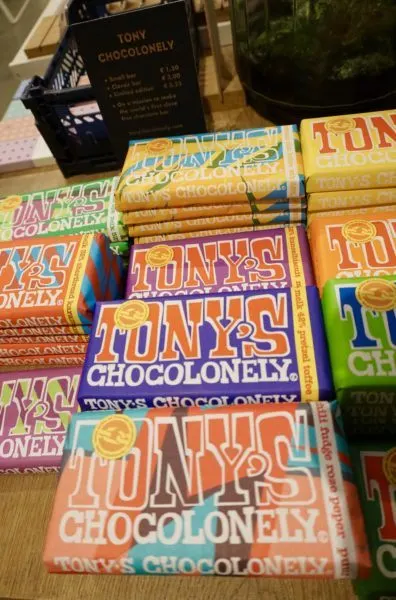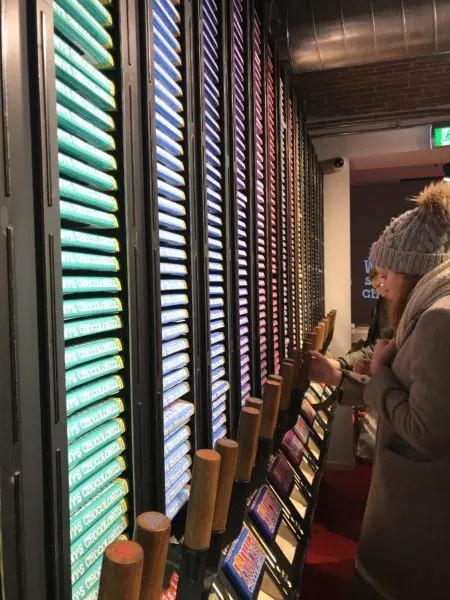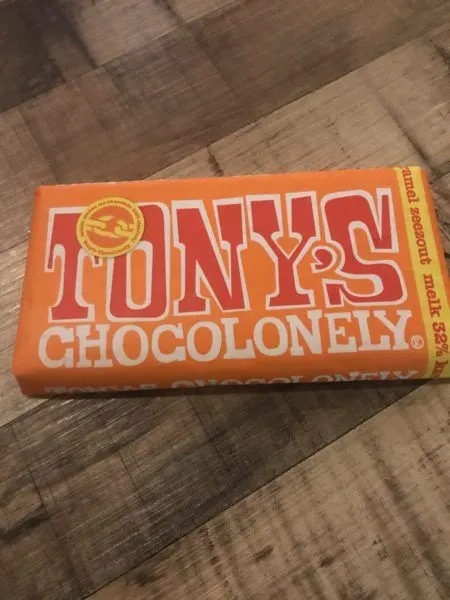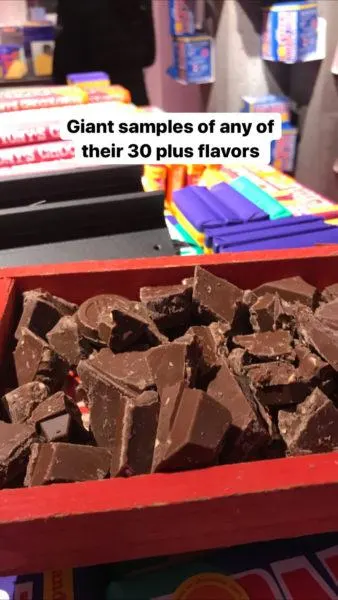 The flagship Tony's Chocolonely store in central Amsterdam is a must. We had so much fun playing with the chocolate dispensing machines (which dispenses both samples and full bars).
To say the chocolate samples at Tony's are generous would be an understatement. The samples are gigantic and plentiful– with various flavors situated all over the store.
I asked one of the shop employees why the samples are so large and they responded that it's because the chocolate is so difficult to break up into smaller pieces! You could go here and fill up on samples and no one would blink an eye.
Tony's Chocolate even has a design-your-own-chocolate-bar station, where you can pick everything from the flavor to the packaging.
I left Tony's ready made chocolate options– bars of all sizes for gifts and for me (I ended up keeping most of the chocolate because I couldn't bear to give it away).
11. Dutch Olliebollen Mix Souvenir
Olliebollen are a fried Dutch treat typically eaten during the winter holiday season. You'll find vendor stalls selling them piping hot, powdered sugar optional (take the option).
Although I made a complete mess of myself with the powdered sugar, it was definitely worth it and one of the tastiest things I tried in Amsterdam.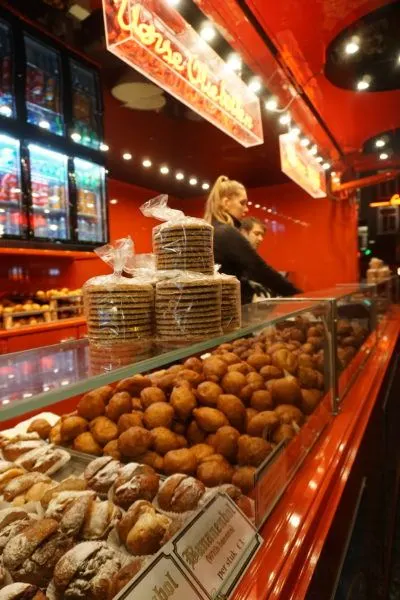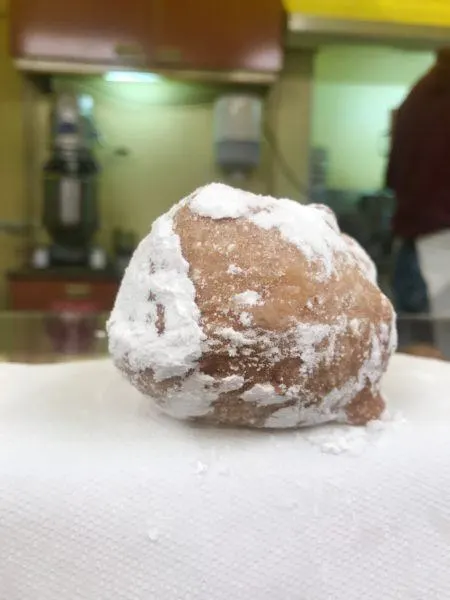 While fresh ollibollen are best eaten right away, you can buy a packaged mix at the local supermarket to recreate this tasty treat back home.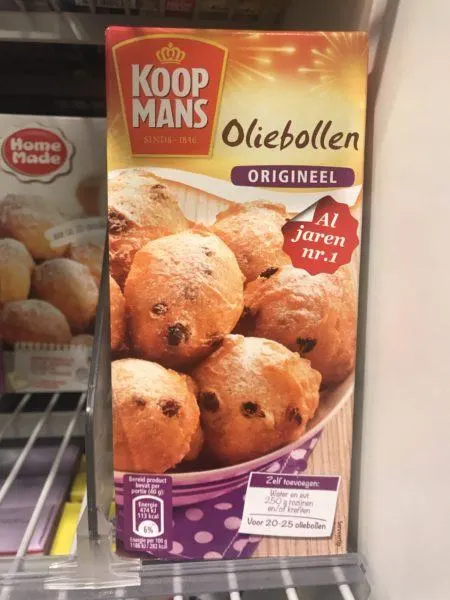 12. Wooden Shoe Souvenir: Maybe
I hesitate to include wooden shoes as a souvenir because really, is anyone going to wear these back home? But they are sort of a fascinating piece of Dutch history, and still manufactured to this day.
When in Amsterdam, it is absolutely worth a short train trip to nearby Zaanse Schans to get your fill of windmills, countryside, and yes, an authentic wooden shoe maker.
While wooden shoes are now mostly obsolete and sold to tourists, they are still used for gardening by some old-timers.
At any rate, I throughly enjoyed my visit to the shoe factory/museum and while I didn't come home with wooden shoes. the large gift shop had plenty of interesting alternatives.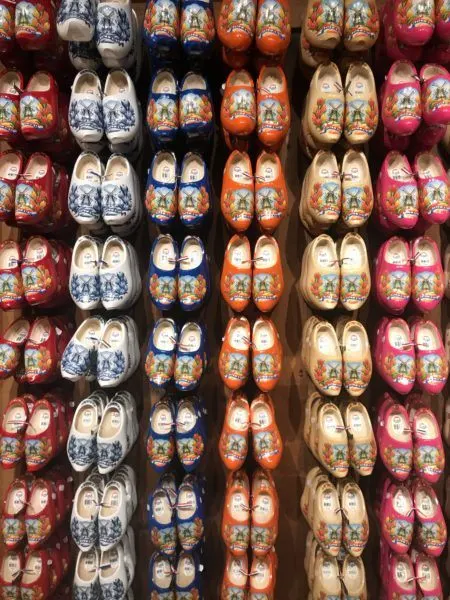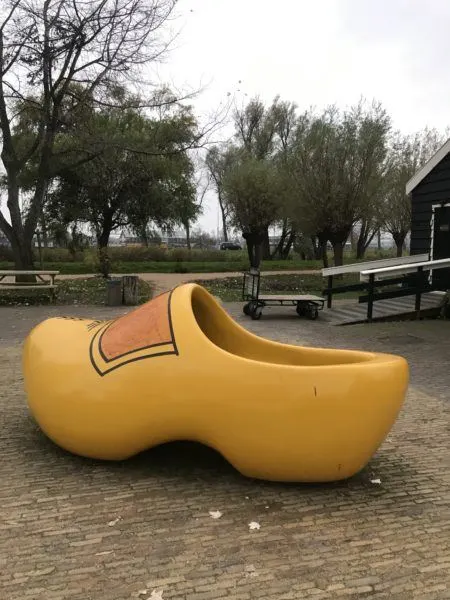 For example, cushy slippers shaped like wooden shoes might be a fun souvenir. I also saw cute sneakers painted with various Dutch designs.
13. Tulip Bulbs Souvenir
If you are lucky enough to visit Amsterdam in the spring, you can't miss Keukenhof gardens, a colorful explosion of tulips in full bloom.
But no matter which season you visit, you can always find plenty of tulip bulbs to bring home.
While they sell them everywhere (including the airport), for the widest selection hit the flower market in Central Amsterdam along the picturesque banks of the Singel canal.
It's worth a visit to see the only floating flower market in the world (in operation since 1862!). The Amsterdam Flower Market is open Monday to Saturday from 9:00 am to 5:30 pm and Sunday from 11:30 am to 5:30.
While generally you can't bring bulbs/seeds etc. into the United States, at the Flower market I saw signs indicating that certain bulbs could be packaged to clear US customs. I did not test this out myself.
14. Racy Souvenir that Gives a Nod to Dutch Openness
Amsterdam is known as a permissive place, with relaxed laws governing areas other countries consider taboo. That said, there are also a lot of smarmy sex shops, though these are mostly confined to very touristy areas or the red light district.
But if you are looking for something more tasteful that suggests a bit of Amsterdam's risque, anything goes reputation, consider a custom made bustier.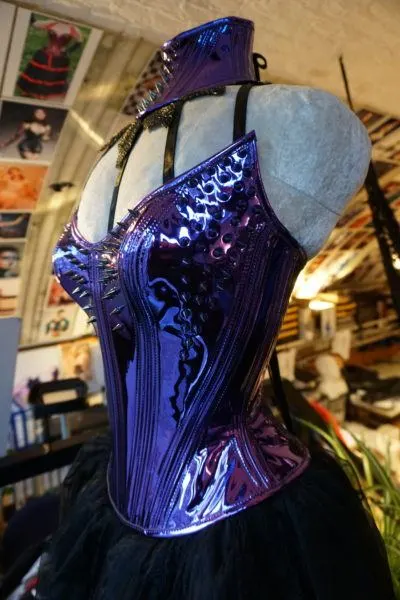 15. Local Dutch Beer
Although Dutch beer is not nearly as revered as beer from neighboring Belgium, you can still find some interesting local brews unlikely to make the shelves of your liquor store back home.
16. Genever Souvenir (Dutch Gin)
Gin is a thing in Amsterdam. Old tasting rooms abound.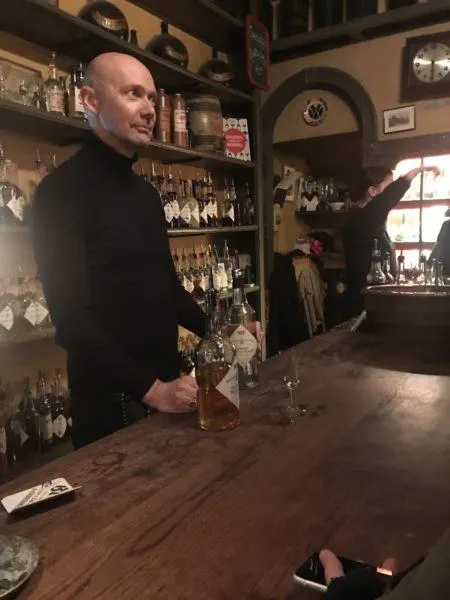 Gin is thought to have been invented in the 16th century by a chemist for medinical purposes. Nowadays, gin is the most popular drink in the country, with many varieties you'll only find here.
17. Speculous
Speculoos is the flavor of a type of spiced shortcrust biscuit, often found in spreadable form. I found the spread a little too sweet, but many love it.
18. Windmill Cookies
Windmill cookies hold a special fondness for me, as I grew up eating them as a child. Our local European specialty store stocked them, and somehow made its way into our home.
These delicious addictive cookies are made with an array of spices, almonds and speculaas and are usually shaped in the form of a windmill (I'm not sure they're actually called windmill cookies, but that's what we called them).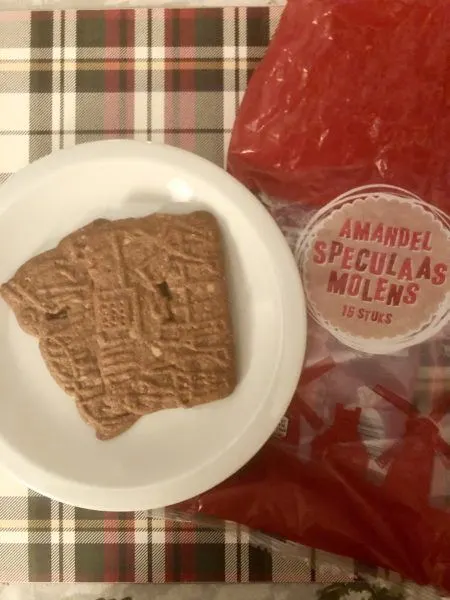 19. Herring Souvenir
I did not pick up pickled herring but can confirm I did see it available everywhere. There was even an all herring stall in town. If herring is your jam, you will find it in abundance here.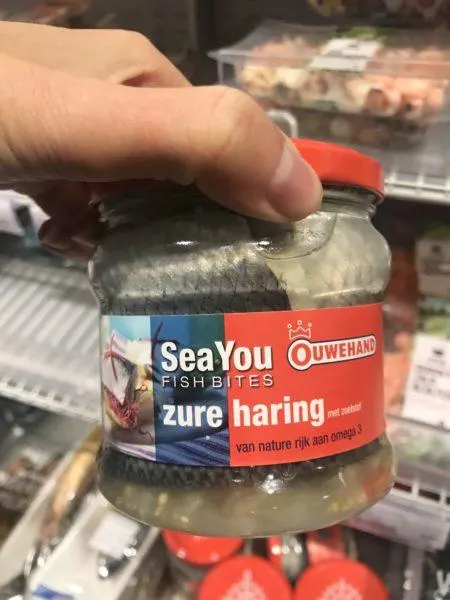 20. Banksy Souvenir from the Moca Museum
Amsterdam has some fabulous museums, most of which I'd been to on prior trips (Rijksmuseum and Van Gogh Museum). But on this visit, I came across an unexpected gem– the Moca Museum.
The Moca Museum showcases the rock stars of modern art— with the current focus on graffiti artist Banksy. Several of Bansky's best known pieces are here, along with some surprises.
I adored this museum– unlike Amsterdam's other larger museums, it wasn't overwhelming to walk through. While the museum is modern, the pieces here are more accessible than other modern art museums I've been to, and could be enjoyed by any visitor.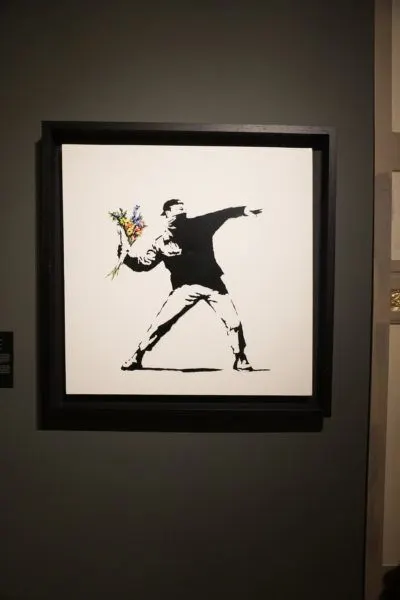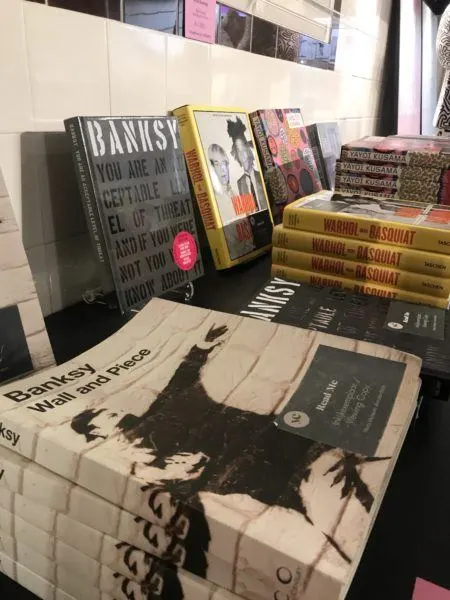 21. Dutch Mustard Souvenir
Dutch mustard is another great souvenir to bring back from Amsterdam– the flavor is strong and tasty. Dutch mustard can be used in the typical ways you might use it back home (with sausages, in dressings, on sandwiches).
But the Dutch also serve their mustard alongside cheese. So if you are bringing home a wheel of gouda (highly recommended) you might want to get some mustard to accompany it for a true Dutch experience.
My local friends recommended the mustard made in nearby Zaanse Schans, widely available in all supermarkets.
22. Delft (or Delft-Inspired) Ceramics
Delftware is made in nearby Delft (a cute town I visited on an earlier trip), and is easily identified by the blue and white patterns. You don't need to go to Delft to find a deltware souvenir– they are available at gift shops around Amsterdam.
If you like the look of delftware but not the hefty price tag for the real thing, there are plenty of cheaper fascimiles that have the look (but not the necessarily the quality) of the original.
23. Maybe: Souvenir with a Windmill on it
If you visit the popular day trip destination of Zaanse Schans, you will see those iconic windmills that are synonymous with the Netherlands. A windmill themed souvenir seems like a logical way to remember your visit.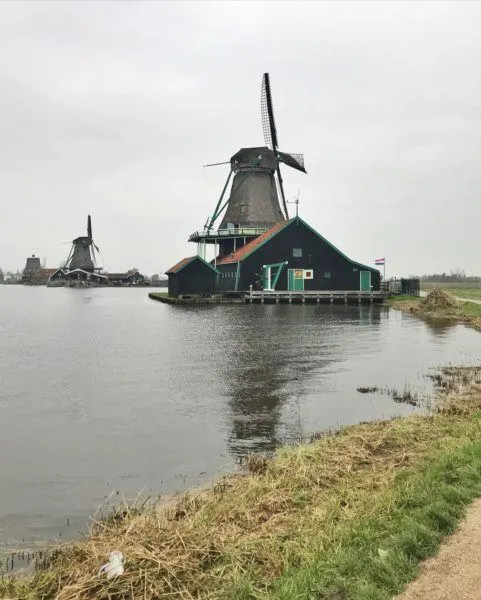 I did rifle through the many gift shops in Zaanse Schans and while there were plenty of cute tchockes, I couldn't really find a unique take on a windmill souvenir. So if you have your heart set on a windmill, you'll have to settle for a minature replica, magnet or the like.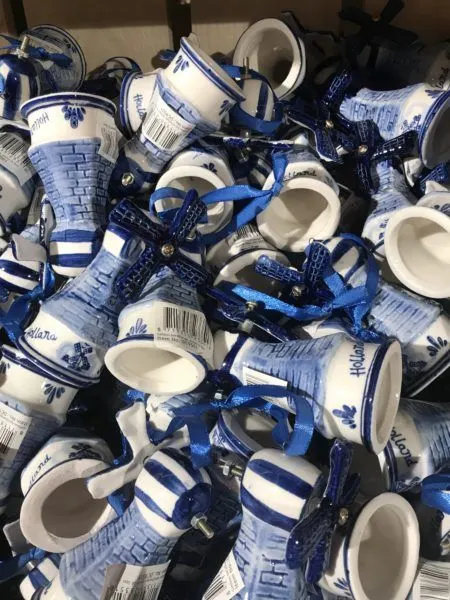 Have you brought home a souvenir from Amsterdam? Tell us about your favorites!