On my visits to Paris, my favorite things to bring home are food souvenirs. The local markets and even the grocery stores are filled with amazing goodies to bring home. But not everything in those lush markets is meant to be brought home– nothing in the local charcuterie will make it past US customs. And those towers of ripe fruits and raw milk cheeses? Walk on by.
But there is a way to enjoy those otherwise forbidden market goodies– by renting an apartment and stocking the fridge (a real fridge mind you– not trying to balance your cheeses in a hotel mini bar). On this visit to Paris, instead of longingly looking at the market goodies, I filled up my bags and brought everything to my temporary home– and even tried my hand at some French cooking. Not only did we feel like locals, but we also saved a ton on eating out.
The Cobblestone Apartment Experience
I stayed in a Cobblestone apartment in the lively Bastille area of Paris– convenient to all but still very much a local neighborhood.
What sets a company like Cobblestone apartments apart from those other apartment rental places is the service and high standards. The company is locally owned and each apartment is personally vetted with the highest standards for quality and cleanliness maintained. An English speaking local will personally greet you, answer all your questions and be available throughout your stay (our greeter was excellent and gave me incredible insider shopping suggestions).
Living Like a Local in Our Cobblestone Apartment
Each morning I lined up at the corner patisserie for my croissant. We sampled a local wine bar and bistro, both excellent.
Close to Major Sightseeing, Getting Around was a Breeze
Even though I felt far from the tourist hustle and bustle, it was still easy to reach any Parisian attraction. We were located near two major metro stops, but as it was chilly during our stay, ended up using Uber often (Uber is incredibly reasonable in Paris). We easily visited Notre Dame and Sacre Coeur during our stay at Cobblestone.
Besides local market shopping, we also followed up on our greeter's advice and shopped in the charming antiques area of Village St. Paul (located only one metro stop away).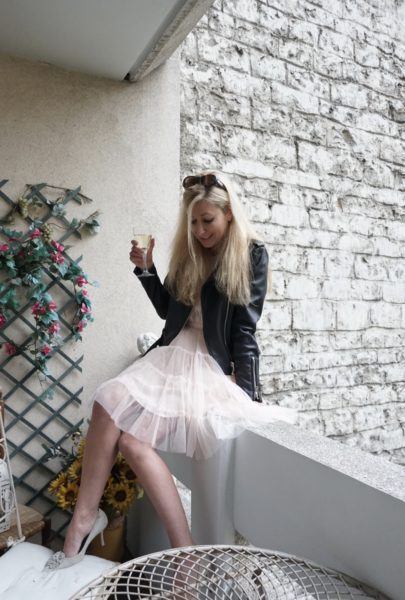 We stayed in and recommend the apartment La Fleur in the Bastille area. For more information on La Fleur and the other spectacular apartments, check out the Cobblestone website!
Have you stayed in a Cobblestone apartment in Paris? Share your experience in the comments below!
I was a guest of Cobblestone Apartments, but all opinions are my own.