I used to spend a lot of time in the Hamptons. Post graduation, but not yet ready for the real world, I spent a summer relaxing on Southampton's beaches. Later summers were spent weekending at sharehouses in practically every Hampton– Bridge, East then back to South again.
My weekends in the Hamptons were pretty typical– if my quest for a ride failed, I'd hop the Hampton Jitney and pray to beat the traffic. We'd stock up for groceries at Citeralla, then the rest of of the weekend was usually a blur of house parties, clam bakes, bonfires on the beach, and boozy brunches.
On rainy days, or as a break from the beach, we'd hit the main street of the nearest village. While all the Hampton towns have shopping streets, the best shopping main street is in the village of Southampton. What made the shopping the best in Southampton?
First there was the number of shops– there are simply lots and lots of stores in Southampton. While many of the Southampton shops are small chains that I won't be covering here, I certainly frequented them when in need of a new party dress or pair of shoes for the evening. Second, the variety of shops in Southampton also qualify it as the best shopping. Whether you need a new racquet, beach wear or to outfit your entire beach house, you can find it all within a few quaint tree lined blocks. And finally, the history behind some of Southampton's shops (one is even 175 years old!) make it some of the best shopping in the Hamptons.
Where to Stay in Southampton
While nowadays I skip the Hamptons sharehouses and fun but chaotic weekends, I still love returning to my old stomping grounds for a more laid back weekend. I never stay in a hotel– the hotels in the Hamptons are way overpriced and can be impersonal. The best option is of course as a house guest, but if I can't finagle an invite, then I AirBnB it (most places have pools and yards so you can grill out like a true Hamptonite). Use my referral link for AirBnB and get $40 off your first booking!
Photo Tour of Southampton's Most Unique and Best Shops
It seems like every Hampton has a main street actually called Main Street. And Southampton's Main Street and surrounding streets are the absolute best for shopping.
Hildreth's Home Goods– America's Oldest Department Store
Every shopping guides to the Hamptons I've read focuses on new and trendy boutiques and the latest pop up shops. Inexplicably, they completely neglect a Southampton institution– Hildreth's Home Goods. Hildreth's has been at its original Main Street location since 1842, that's 175 years. Always family owned, thirteen generations have run the Hildreth's over the years. The department store carries interior and exterior furnishings (think lawn and beach chair, beach umbrellas, bedding and cushions). It's the perfect place to outfit your new Hamptons digs, or just to pick up a chair or umbrella for the beach.
Don't expect small town price tags though, everything in the Hamptons comes with a premium. But Hildreth's is known for high quality– I picked up a gorgeous folding beach chair here that I used every summer.
Other Home Goods Shops
L'Objet a la Plage
9 Main Street, Southampton
For more fashion-y and luxe artisanal home decor, check out this cute boutique.
Homenature
19 Pond Ln., Southampton Perfect place to pick up anything from a coffee table to an elegant hostess gift.
Best Shopping for Beach Clothes and Swimsuits
Southampton is a beach town, and like every beach town, has plenty of shops packed with adorable bikinis, beach towels and cover ups.
Breezin' Up
Breezin' Up has a prime main street location with racks of resortwear tempting you on the sidewalk. Breezin' Up designs their own line as well as carrying other lines, it's the perfect spot to hit for fresh t-shirts and beach wear.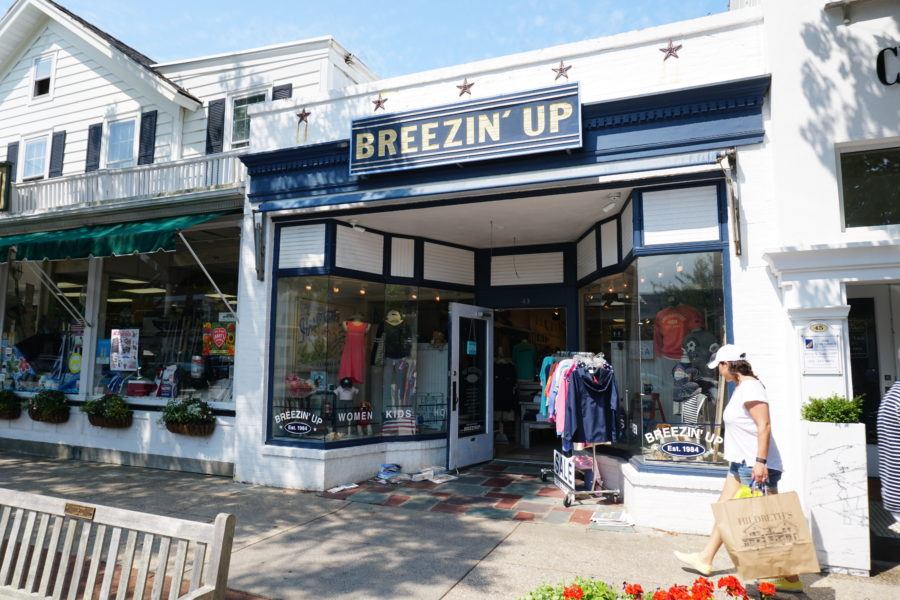 Other Beachy Shops to Consider
Flying Point Surf & Sport
69 Main St, Southampton, NY 11968
Gretchen Scott
46 Jobs Ln, Southampton, NY 11968
This shop is known for cute tunics, the perfect preppy Hamptons beach coverup.
Tennis Stuff at Tennis East
Tennis is serious business in the Hamptons, where an invitation to play is likely an invite to a personal court in someone's backyard. While personal tennis courts can be convenient (no waiting around for court time and the cook will bring out lunch) I've seen this taken to ridiculous pretentious extremes– where the home owner required that everyone wear tennis whites in their own backyard. True story. Should you have left your white dress back home, there is a fully equipped tennis shop along Southampton's Main Street (and is also a great place to find a good racket or stock up on tennis balls).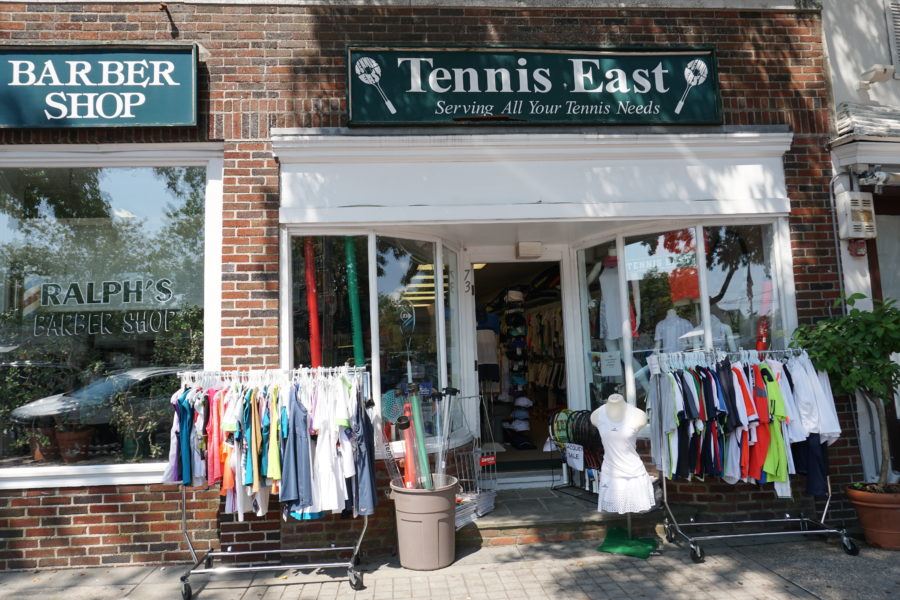 Best Shopping for Boutique Clothing in Southampton
If you choose to forgo the chain stores, there are many, many independent boutiques in Southampton, carrying both men's and women's fashion. I'm including a small sampling of the best shopping below.
Edward Archer
85 Main St Southampton, NY
This shop stands out because it's all men's clothes– expert tailoring also available.
Girltauk
10a Jobs Lane Southampton
Boho flowy dresses and cover-ups.
Country Club Prep
64 Jobs Lane, Southampton
The name says it all. While much of the Hamptons has been overtaken by glitz and glamour, there is still a strong preppy faction. If you run in those circles, pick up your uniform here.
Bandier
44B Main St., Southampton

Cute workout clothes for when you're pretending to run along the beach but really gawking at the mansions.
The Golden Pear on Main is a Hamptons institution– we always stop by for ice coffee and muffins. Breakfasts are pretty good too but be prepared for tight quarters and crowds. It's also a great spot to spot low key celebs grabbing their morning coffee.
Schmidt's Seafood Market
1282 N. Sea Road, Southampton
I hesitated whether to include Schmidt's or any of the similar delis around the Hamptons. While these old fashioned looking delis will look charming, the prices will absolutely floor you. When I'm by the beach I absolutely crave lobster. As you might have heard, wholesale lobster prices have come down in recent years to such low levels that trappers can barely survive. But in the Hamptons, the retail price for lobster in any form– most famously, lobster salad– is flat out ridiculous. The "lowest" price we saw was $69.99/lb and no it was not the best lobster salad I ever had.
Do you love shopping in Southampton? Have you ever found a classic Southampton souvenir? If so share your favorites in the comments below!