Our Souvenir Style series highlights travelers who have brought their souvenirs home and made them a part of their everyday life, style and home decor.
Meet Noel Morata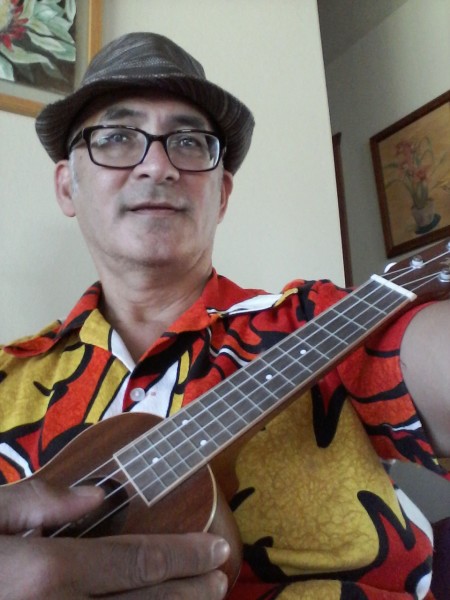 Name: Noel Morata
Location: East Hawaii
Occupation: Photographer, writer, ceramics artist, world traveler.
Souvenir strategy: Hunting through flea markets and small shops in out-of-the-way places. Beachcombing for interesting shells and rocks.
The Look: Classic Hawaiian Design with a Vintage Feel

Decorating with Hawaiian souvenirs can be tricky. There is a fine line between Hawaiian-inspired decor that offers a sense of place and over-the-top kitsch.
Our featured homeowner Noel has managed to strike the right balance in his Hawaiian bungalow. Noel's tropical decor, punctuated with vintage touches, feels like an escape to old Hawaii. While Noel's decor works perfectly in his island home, it's understated enough that it can easily work on the mainland too.
While I immediately loved Noel's Hawaiian decor (looking at this photo makes me want to strum that ukulele with a mai tai in hand), I couldn't explain exactly why it works. So I consulted with noted interior designer and blogger Amal Kapen to give us her take on why Noel's Hawaiian souvenir style works so well here.
Why it Works: Our Design Expert's Take on Noel's Hawaiian Souvenir Style
Noel's small home echoes all that he loves about the place where he lives. From the kapa moe wall hanging to the totem pole and shells, Noel has given personality and direction to a room as well as created some great conversation pieces. Noel didn't need to spend a lot to get this great Hawaiian souvenir-inspired look. His artistic sensibilities and knack for grouping collections and themes together bring this design to life.
The most interesting rooms and spaces are always peppered with mementos of a life well lived. Souvenirs can make an ordinary room extraordinary.

–Interior Designer Amal Kapen
Amal explains the different design principles that create this island vibe:
Use Graphic Textiles to Create a Focal Point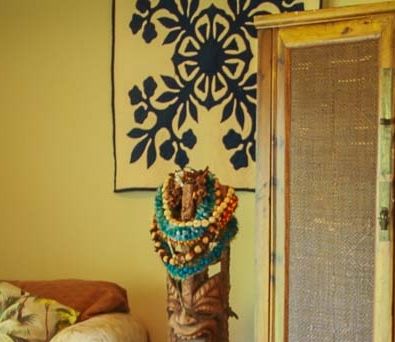 Hanging a textile on the wall is a great way to add a graphic focal point to a room. Here, Noel repurposes a Kapa Moe textile– traditionally used as a bed or table covering– as wall art, setting the tone for the Hawaiian, beach inspired decor.
Group Souvenirs Together for Added Impact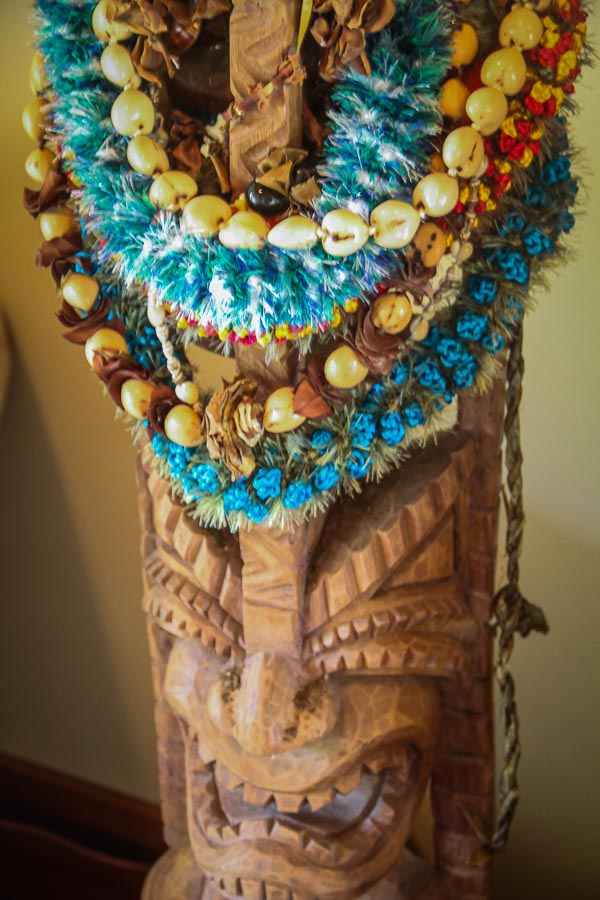 Group similar items together for a greater impact. Here, Noel crowns his totem statue with strings of shell necklaces for a whimsical touch.
Keep Your Numbers Odd for Pleasing Visuals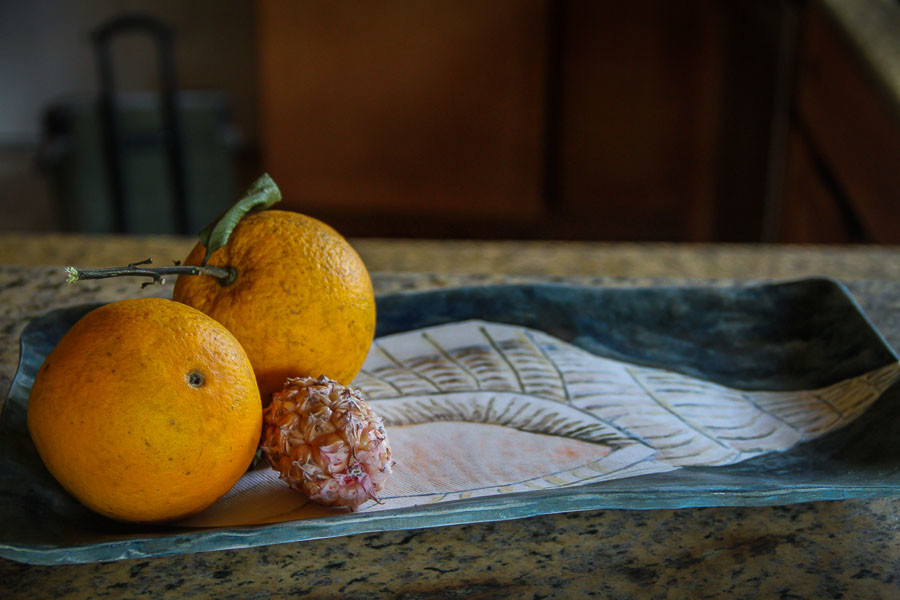 Placing an odd number of items together (e.g., 3, 5 or 7) provides the most pleasing visual outcome. Here, Noel balances the pair of oranges with a third object to create a striking display.
Repeat a Motif for Design Cohesion

One decorator trick to making a room feel pulled together is to repeat a motif. Repeating a motif (three times is the magic number) adds cohesion to a design. You can repeat a motif in different ways– by material, shape, object type or color. Noel repeats several different motifs to tie his design together.
Shells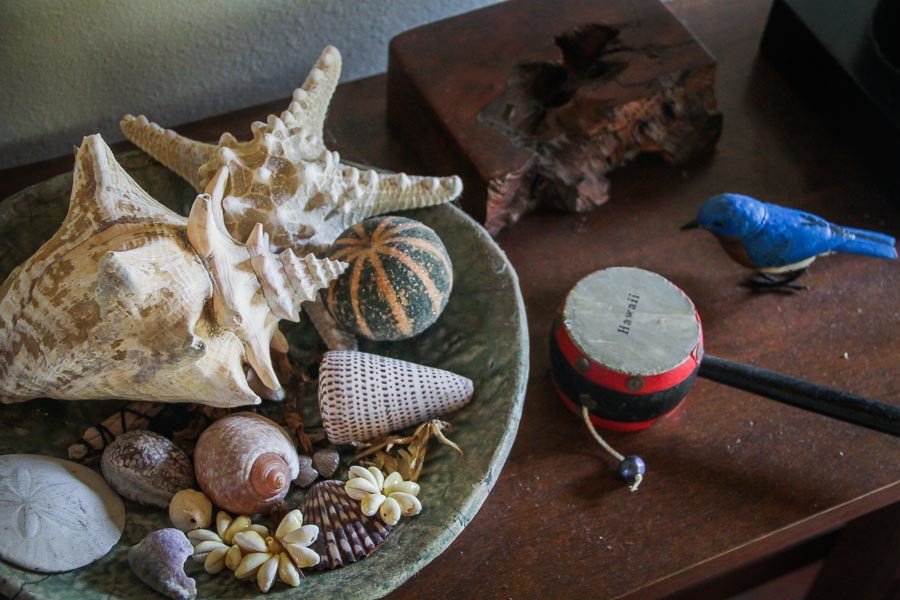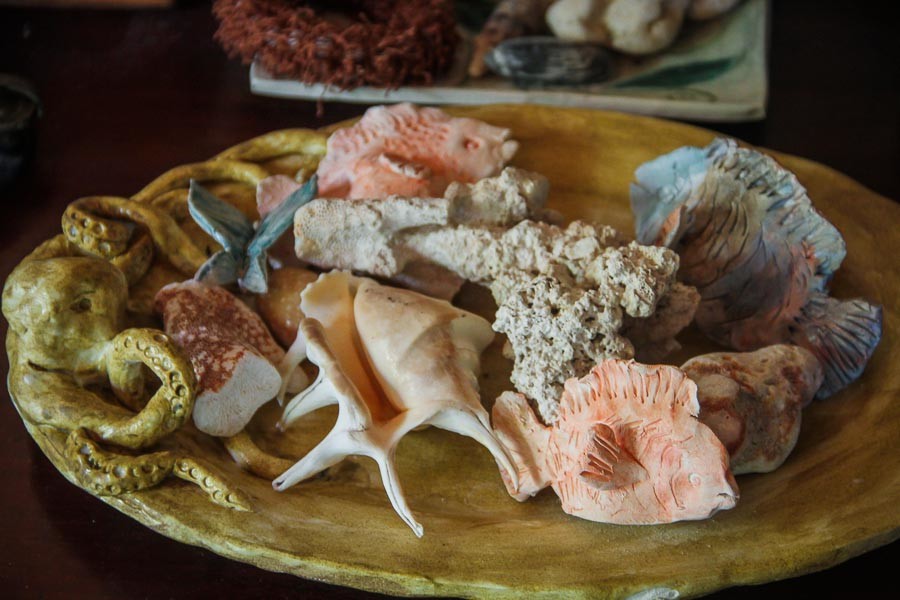 Here Noel uses shells in different forms (necklaces, single shells) as a repeating motif three times– displayed in a bowl, on a ceramic dish and around the totem.
Wood and Rattan


Noel also repeats the motif of wood-toned materials to create a pleasing and cohesive design. The rattan armoire, bamboo lounge chair, wood ukulele and totem statute all conjure up images of beach-side porches and tropical drinks. But the key to the success of this motif is restraint– nothing ruins a motif quicker than overuse. Rattan and wicker in particular should be used sparingly (think of that 8-piece matching rattan set on your grandmother's sun porch).
Add a Pop of Color to Bring a Space to Life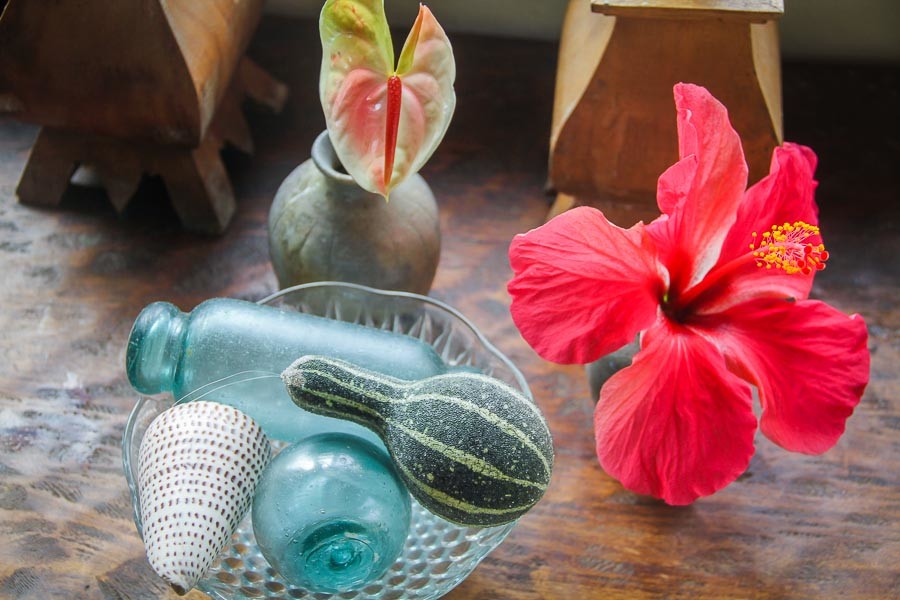 Avoid that boring monochromatic look by incorporating a pop of color. Flowers and plants are the perfect way to bring life and color to a space.
Do you love Noel's Hawaiian look as much as we do? Share in the comments below!
All photos in this post are by Noel Morata, all rights reserved.
[box]About our Guest Contributor Noel Morata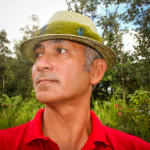 Thanks to Noel Morata for sharing photos of his home and souvenirs. As a Hawaii resident, Noel has covered the islands extensively on his blog Travel Photo Discovery, a great resource if you're planning a trip to Hawaii and are seeking inspiration. Check out Noel's stunning portfolio on his website Photo Shelter, where you can purchase prints of Noel's work or hire him (Noel's photography services include event and lifestyle, corporate, portraits, editorial, personal, and stock photography for personal or commercial use).[/box]
Thanks also to our interior design expert Amal Kapen for sharing her design tips.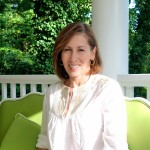 Amal Kapen is an interior decorator, tastemaker, and design blogger at
Sybriatic Spaces
, based on the North Shore of Long Island, New York. Amal's design sensibility is a modern take on traditional design: Amal loves to mix antique and modern pieces in a way that is stylishly accessible. A pragmatic (but stylish) realist, Amal is able to balance a budget and deliver long-lasting quality. When not designing, Amal can be found cooking up a storm, digging around in the garden or at one of her children's many sporting matches.