The British, with their love of sweets, are well-known for making delicious candy that is craved worldwide (there is a reason most large American supermarkets have a dedicated British sweets section). I thought I knew British sweets pretty well– after all, on each visit to the UK I make sure to raid a local British supermarket to stock up on Cadbury bars and other sweet treats.
But on a recent visit to England, I came across a retro sweets shop, filled with British sweets from days long past. Barratts shrimps? Rhubarb custards? I was introduced to a whole new world of sweets, most with intriguing names that begged sampling. Fortunately, British retro sweets are mostly sold in bulk by weight, so taste-testing is as easy as loading up your bag with one of each candy. Not every piece of retro candy was suited to my modern palate, but it was still fun to try them all.
A bit of essential vocabulary– what we Americans refer to as "hard candy" is called "boiled sweets" in the United Kingdom.
Here are some of the more interesting retro British candies I saw on a recent trip to London:
1. Retro English Toffee
English toffee is a classic sweet treat and has remained popular to this day, so the standard English toffee is not very hard to find, even in America. Somewhat less available are specialty flavored English toffees like chocolate and treacle– I picked these yummy treats up on a recent visit and they didn't last very long back home.
2. Toffee Honeycomb (also known as Cinder Toffee)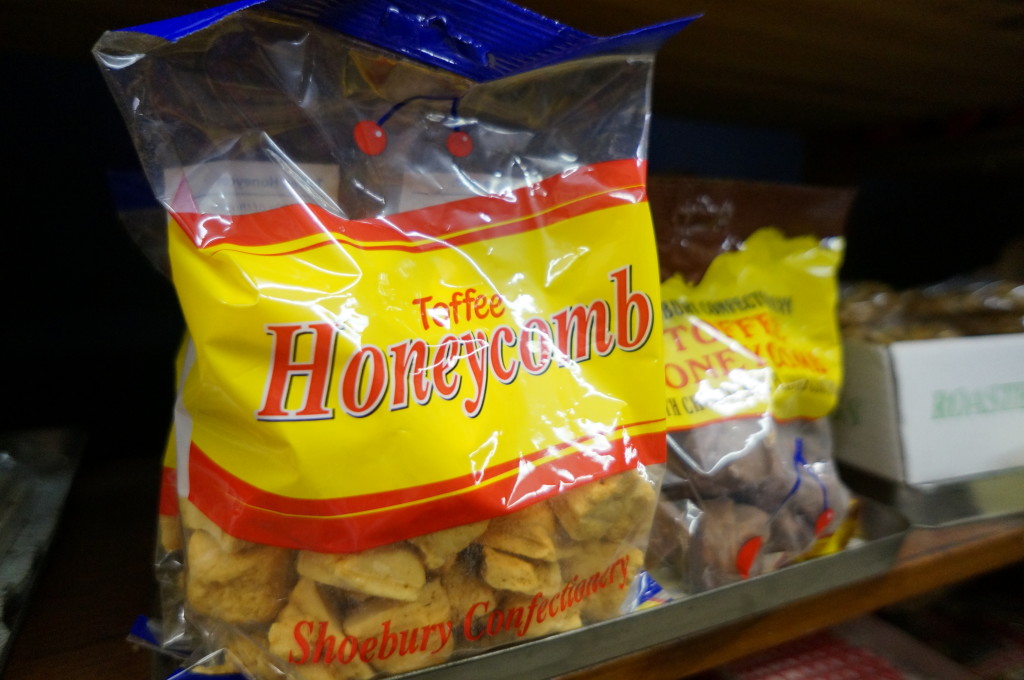 Cinder toffee is a sugary treat that is all about the addictive, sponge-like texture.
3. Traditional London Rock
Rock candy (named from the place of origin, like Blackpool rock or Brighton rock) is similar to a candy cane, except in fat, stick form. They are made by hand and often have a pattern in the center.
4. Traditional Root Licorice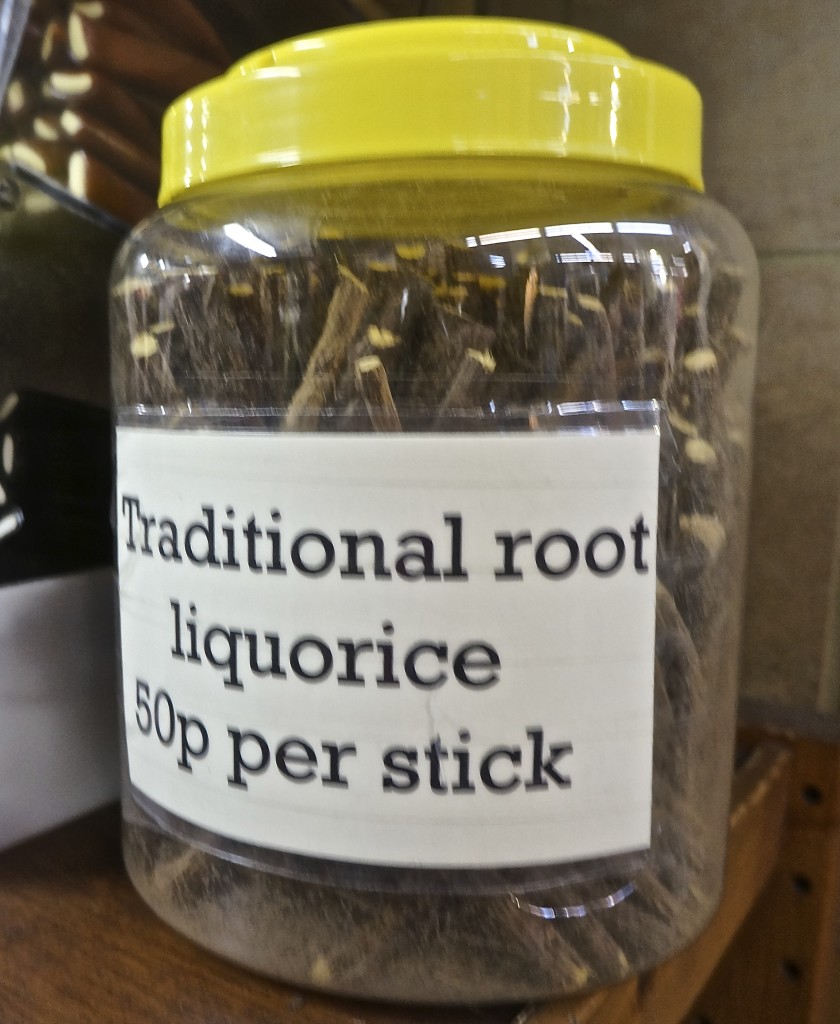 This real licorice root stick is chewed on and also serves as a digestive aid.
5. British Boiled Sweets: Retro Fizz bombs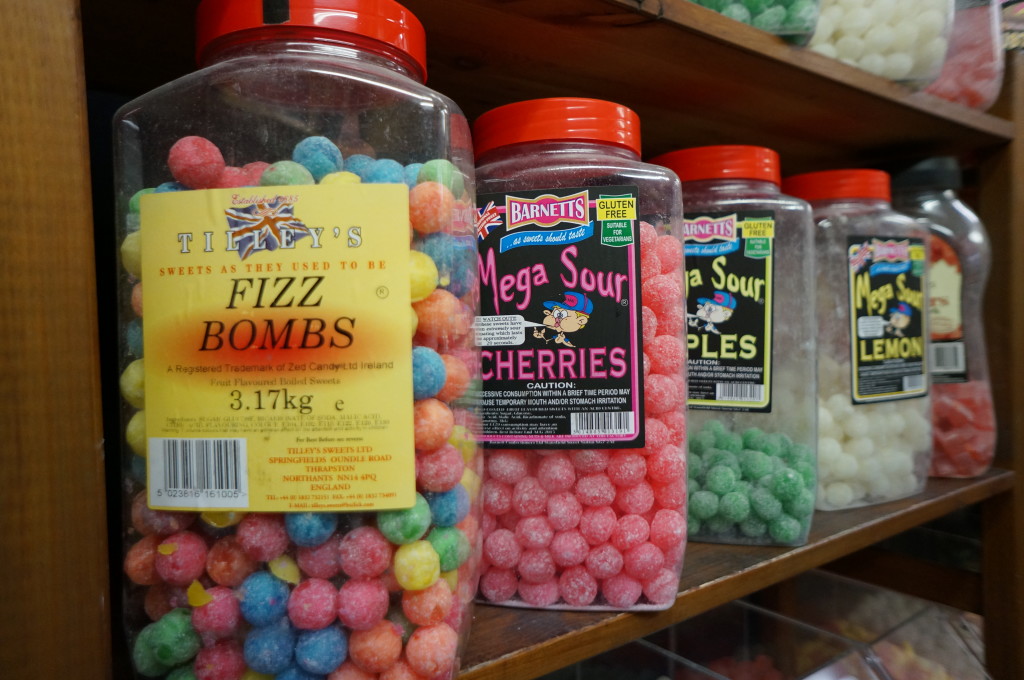 Boiled sweets are a standard favorite. Try the popular retro fizz bombs, in flavors like sour cherry, sour apple and sour lemon.
7. Boiled Sweet Favorites like Rhubarb Custards, Ginger Creams, Pear Drops
Admittedly, boiled sweets like rhubarb creams didn't sound delicious, but the candies were so pretty– they were pretty tasty, a slightly tangier strawberry flavor.
Ginger creams have an interesting, melt-away type texture– soft on the outside, with a dry, crumbly center (sometimes enjoyed as an after diner treat).
Pear drops have a pear-banana like flavor.
8. Chewing Nuts, Toffee Crumbles, Aniseed Twist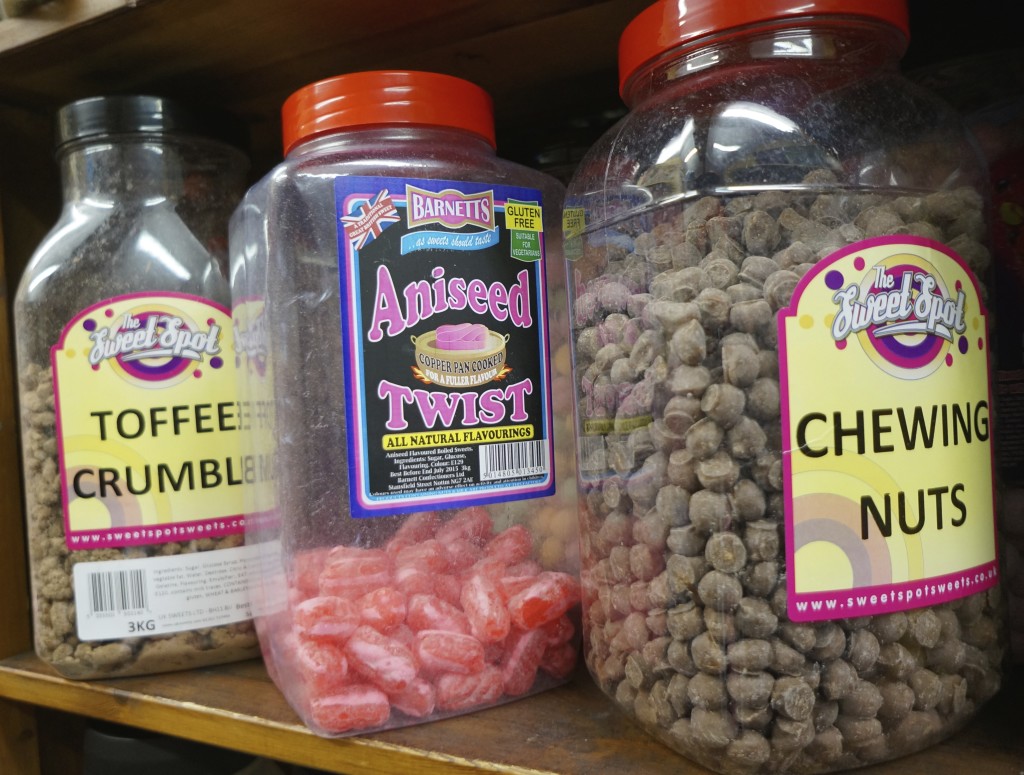 Toffee crumble is a classic British sweet and has been described as big chunks of chocolate and cookies, both crunchy and chewy.
Aniseed twist, a boiled sweet dating back to 1918, is described as having a "distinctive, refreshing" taste, traditionally cooked in copper pans to enhance their flavor.
Chewing Nuts are described as having a "

chewy toffee centre to make your jaw work."
9. British Sweets: Cherry Lips
Cherry lips are one of those divisive candies– you either love them or hate them. The "scented" description should tip you off— these are more perfume-y than cherry.
10. Cornish Peanut Brittle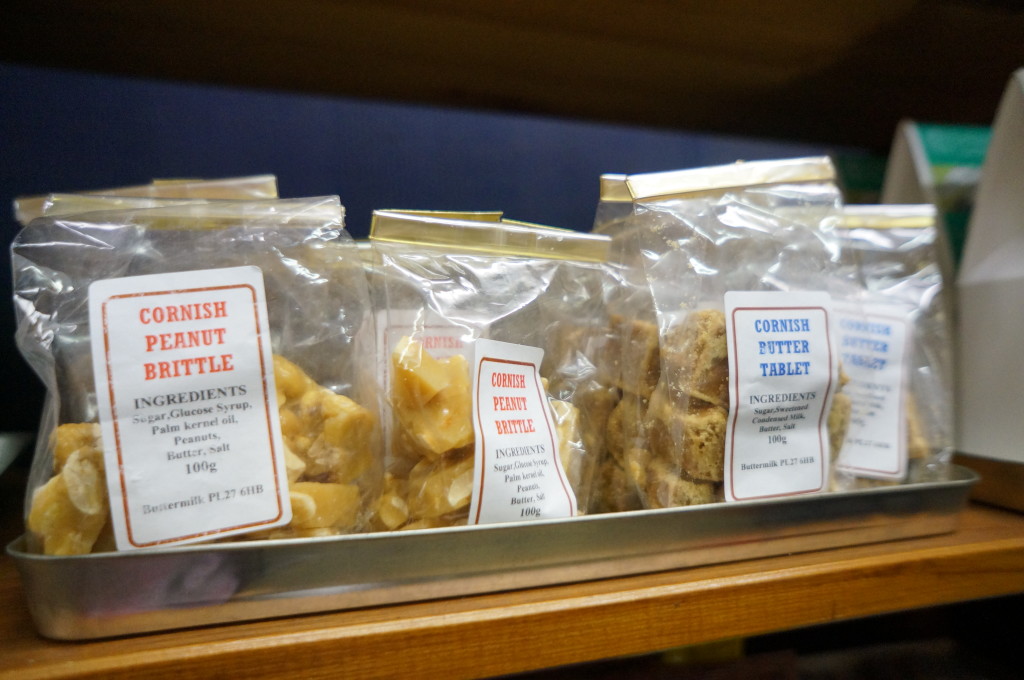 This Cornish peanut brittle seemed fatter, lighter (and more delicious) than the sheets of thin peanut brittle I am accustomed to.
11. Kendall Mint Cake

Kendal Mint Cake originated (and is still made) in England's Lake District. Mint Cake can be tricky to find in London (it used to be sold at Fortnums, which is how I discovered it, but they no longer stock it), but they are delicious and worth seeking out. Kendal mint cake is basically a bar of peppermint flavored glucose (that's sugar), and tastes like a better version of a peppermint patty, minus the chocolate (though chocolate covered versions are also available). The high sugar ration makes Kendall mint cakes an excellent energy booster– they are a hiking favorite and were even brought to Everest by Sir Edmund Hillary.
Where can you find some retro British sweets in London?
Note: I took all my photos at Toffee Nose, tucked into the marketplace in Convent Garden. Can a local let me know if Toffee Nose is still open?
Hope and Greenwood, 1 Russell Street, Covent Garden
Mr Simms, Olde Sweet Shoppe (multiple locations)
Mrs Kibble's, 57a Brewer St, W1F 9UL
Suck and Chew, 130 Columbia Rd, E2 7RG

Traditional English Sweet Stall, Pitch 60, Leather Lane Market, EC1N 7TE

What are your favorite English sweets? Tell us about it in the comments below!