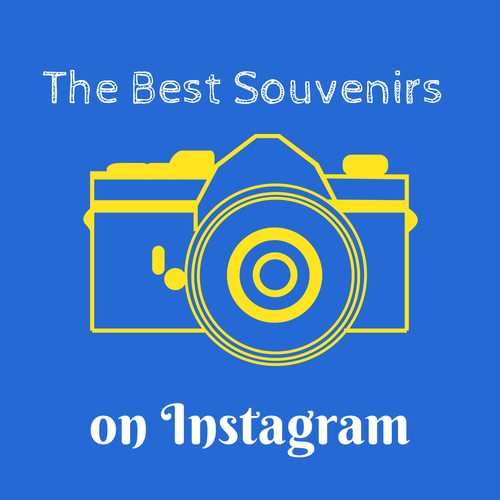 Welcome to our Newest Feature on Souvenir Finder: Your Best Souvenirs on Instagram!
[box style="rounded" border="full"]Can't get enough photos of fun souvenirs? Neither could we! We love seeing fun souvenir photos in our Instagram feed, and now we will be sharing the best ones with our readers in this new series. You'll see photos of everything from great souvenirs, to local shops, to colorful markets in this new feature.
Love a photo featured in this post? Click directly on the grey Instagram logo just above the upper right corner of the photo to link directly to the photographer's Instagram feed, where you can see more of their work (and follow them on Instagram of course!).
Want to participate with your own Instagram photos? It's easy to join in– just hashtag your souvenir, shop and market photos #souvenirfinder and your Instagram photos might be featured in a future post. Don't forget to follow us on Instagram @souvenirfinder [/box]
1. Market Vases
Francesca found this striking collection of vases at market in Istanbul, Turkey.
2. A Wall of Tea
Helen snapped this collection of teas at Granville Island Market in Vancouver.
3. If You Broke it, You Buy it
Extreme adventurer Brad raced a rickshaw over 1500 miles across India. When this panel fell off the side of the rickshaw, Brad packed it up and took it home with him as a souvenir.
4. An Unexpected American Souvenir
Aussie Sharon was surprised at the kinds of souvenirs available in Venice Beach, California. Might be tricky to get this through customs.
5. Tiki Madness
Have a fruity tropical drink, then bring home the mug at this great San Francisco bar, Smuggler's Cove.
6. I Know it's all Staged, But Still
This designer's feed was recently featured in the New York Times— now I am kind of obsessed with its boarding school-meets-Moonrise Kingdom vibe. Love this Nantucket shop photo.
7. Souvenirs are even Better when they're Gifts
Amy loves it when friends bring back souvenir gifts from their travels– like this fresh Colombian coffee from @veggienextdoor.
8. Flea Market Finds?
I love shopping flea markets, you'll never know what you might find. Almost tripped over this bin of creepy dolls at the Golden Nugget Flea in Lambertville, New Jersey.
Are you on Instagram? Show us you stuff!
Join future posts by hashtagging Instagram photos #souvenirfinder and follow us on Instagram @souvenirfinder.