From my home city of New York, direct flights to Milan are cheap and plentiful. But while I love exploring European cities, what really gets me to book that flight are the side trip options. As a city dweller, I need to get out to the countryside and smaller villages to finally feel like I'm on vacation. So I was thrilled to learn that only about an hour outside of Milan lies a 16th century, walled hilltown.
I have a mild obsession with Italian hilltowns. But my favorite hilltowns aren't the picture perfect ones that could pass for a movie set. Nope, I prefer hilltowns that are well-worn and lived in, filled with not just day tripping tourists but also with locals who call it home.
The hilltown of Bergamo is exactly the kind of "real" village that I love. There is plenty to do here– Bergamo is large enough to sustain its own top-notch art museum as well as scores of shops and restaurants. But the historic center in the walled upper town is still small enough to have that village feel (with family run bakeries, butchers and cheese shops).
I spent a day in Bergamo, shopping, snacking and shopping some more.
Shopping Bergamo for Unique Souvenirs
La Bottega di Nonna Betta
La Bottega di Nonna Betta (Via Bartolomeo Colleoni, 3) is one of those shops you dream of finding– all the gorgeous cashmere sold here is locally made by hand. Knits come in kaleidoscope of bright colors and a variety of styles. I found the prices incredibly affordable for the quality. Don't miss the chic knit sweater dresses and cashmere scarves (a great gift item).
Regional Specialty Pastry: Polenta e Osei
Polenta e Osei is a pastry that you'll only find in the Bergamo area. Despite the name and appearance, there is absolutely no polenta in this sweet treat. It's really a cake filled with apricot jam and topped with sugar-coated fondant (and crowned with a chocolate covered marzipan bird). I'm allergic to almonds so I had to skip it, but my official taste tester thought it was pretty good. Polenta e Osei should stay fresh for a few days if you want to bring them home. There are two bakeries that carry them on the main road in the historic old town– you can't miss them on display in the windows.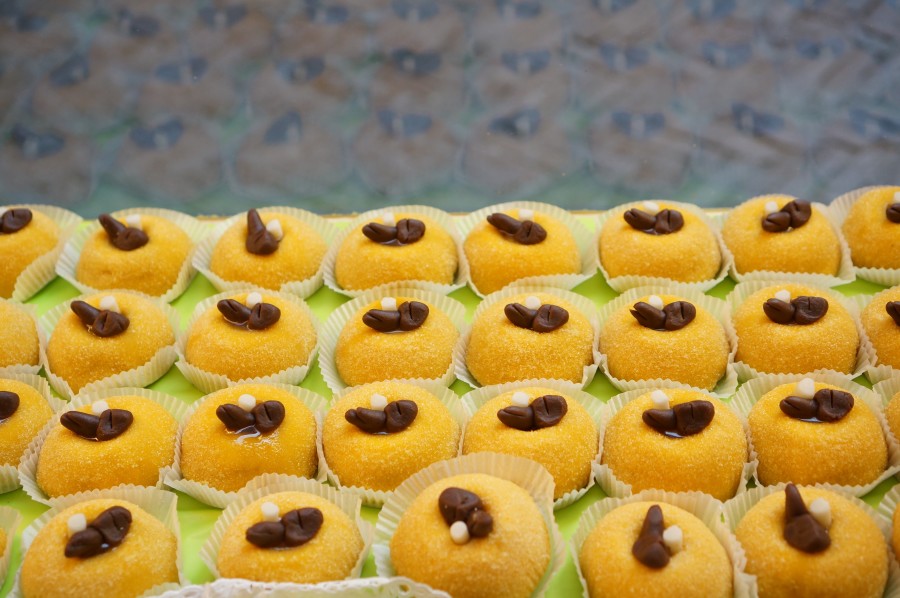 Hair accessories
You'll be drawn into this shop, as I was, by the crazy animal head masks on display. But inside is an enormous range of hair accessories and headbands in every conceivable color and style. An embellished headband would be a fun little souvenir to bring home.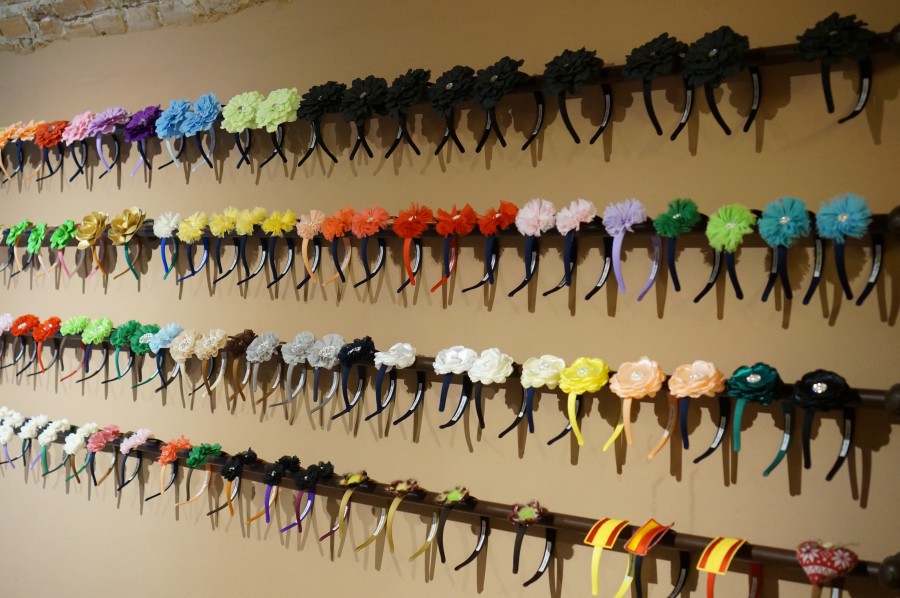 Local Food Specialties: Cheese, Casoncelli and Polenta

Bergamo has several "only in Bergamo" food specialties that make excellent souvenirs– a local cheese (branzi), a stuffed pasta (casoncelli) and every kind of polenta imaginable.
I was checking out the meats and cheeses in a deli when I noticed a shaggy dog nonchalantly stroll in off the street. The dog made his way back to the butcher, who barely acknowledged him. I prepared for mayhem as the dog looked around at the sausages surrounding him. But with a wag of the tail, the well-behaved pup simply walked back without touching a thing (though he did poke his head into the pasta shelf on the way out).
Polenta is a staple of the Lombardy region. Small specialty shops are a great place to buy the local product, which generally comes from small producers that don't export. Polenta is easy to transport, relatively cheap and easy to make back home. The only downside is the weight and somewhat bulky size.
Snacking in Bergamo
Aperitif at Caffe della Funicolare
After a full day of strolling and shopping, I stopped for an apertif at Caffe della Funicolare, a gorgeous art nouveau cafe right above the cable car stop. On a nice day, sit outside for gorgeous views– but the spectacular interior is pretty amazing too.
The Original Strachiatella Gelato at Marianne
Strachiatella is my favorite flavor of gelato, and I pretty much order it everywhere I go and use it as the barometer to measure "the best" gelato. So when we were informed that a gelato shop in Bergamo actually invented the strachiatella flavor, there was no way I was missing it, despite being stuffed with a heavy polenta lunch and the aperitif above.  My verdict? The best strachiatella I've ever had.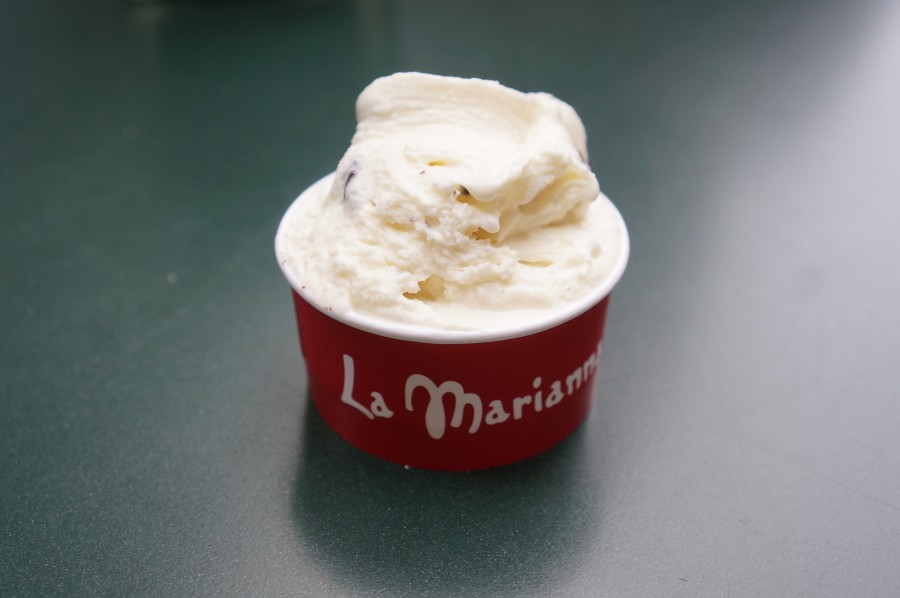 I love strachiatella because of its pure, simple flavors– it's basically plain gelato with long thin ribbons of chocolate throughout.
Have you been to Bergamo? Tell us about your favorite hilltown experience!
Disclosure: I was a guest of the Lombardy Tourism board as part of their Blogville program.