As a shopper who loves to eat, I couldn't wait to hit the Torget Fish Market in Bergen, Norway. How could I resist the combination of fresh seafood, straight from arctic waters with the chance to browse local handicrafts? Throw in friendly vendors who will cook the day's catch to order with a picture perfect setting along the wharf, and you have a perfect way to spend a couple of hours.
Since it's pretty much impossible not to eat first when visiting Bergen's Torget fish market, let's start with a tour of the lunch options then move onto the shopping.
Bergen's Torget Fish Market: What to Eat for Lunch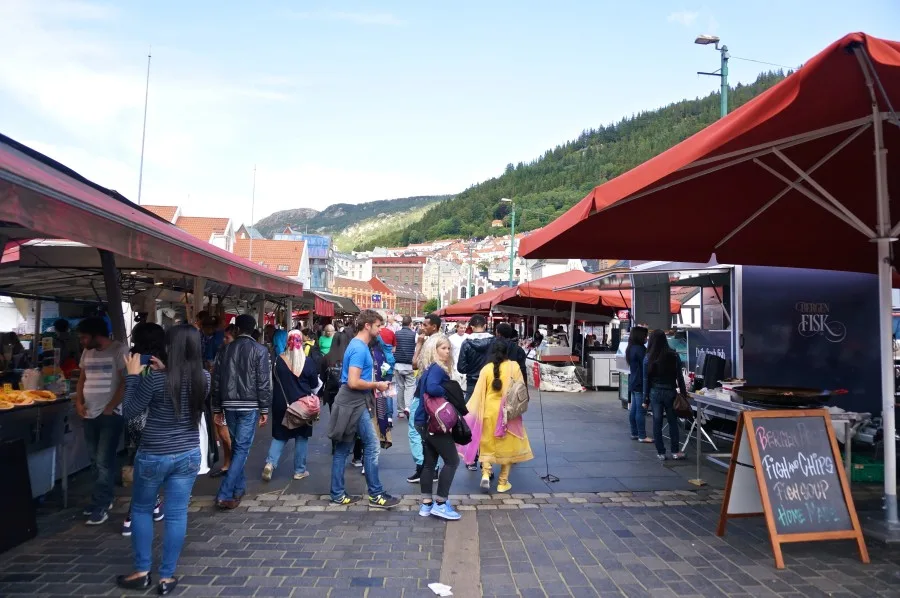 I was absolutely starving when I hit the Bergen fish market. But I forced myself to do a proper walk through of all the market's options, dutifully checking out all the shrimp skewers, salmon, crab legs and lobster before settling on a stall for lunch.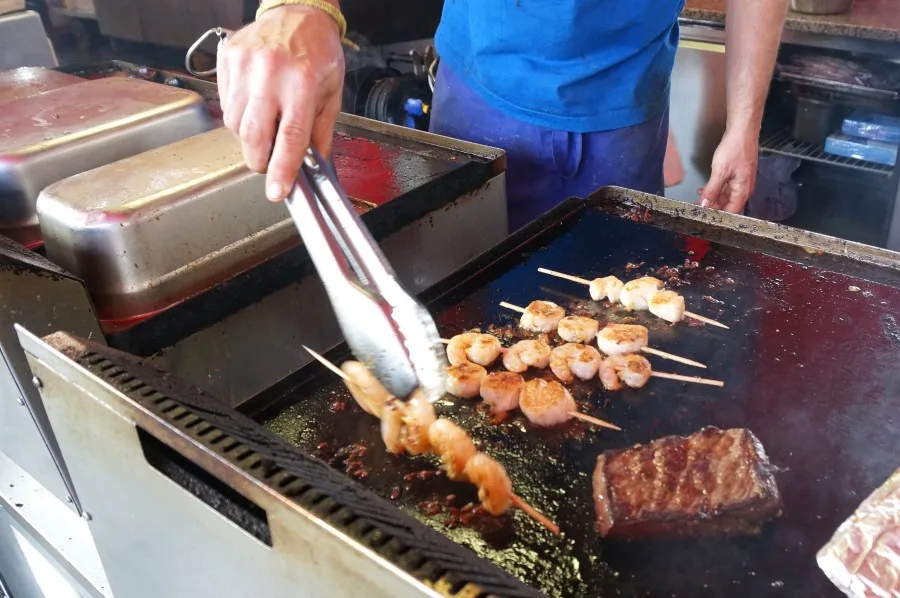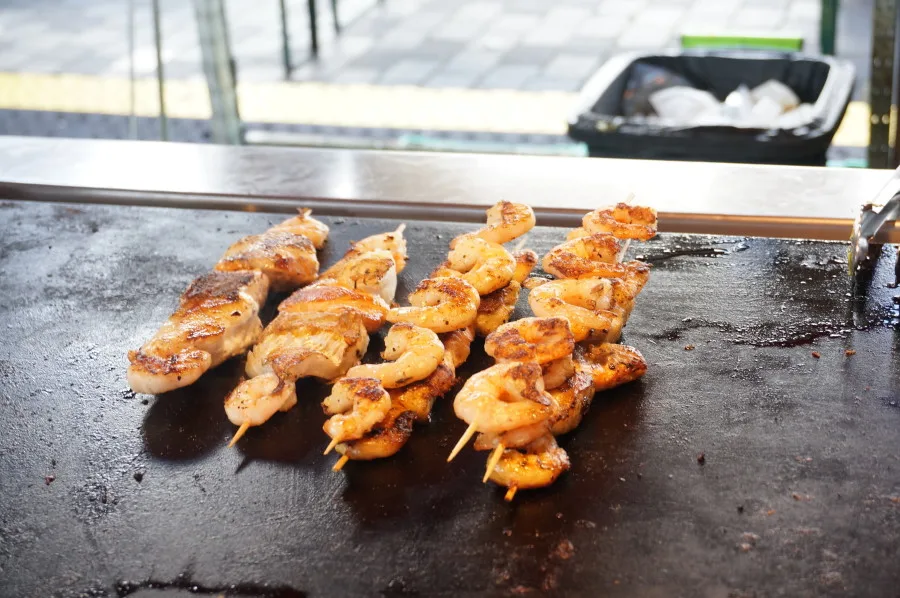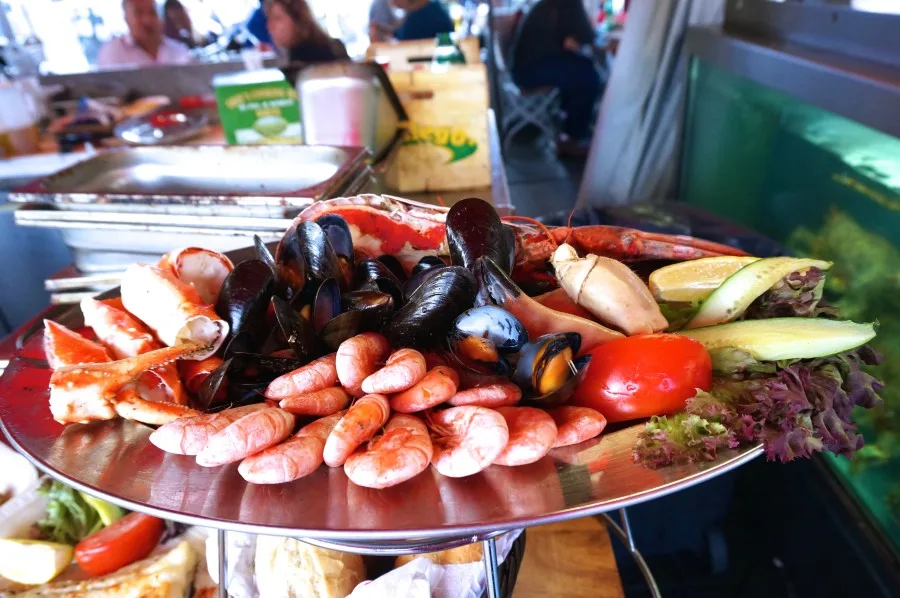 While most of the fish market's options were familiar, there were a few dishes offered that I hadn't seen before– like whale meat. Consumption of whale meat is pretty controversial, banned by all but a handful of countries worldwide. I won't get into the ethics of eating whale here, I'm just reporting on what's available.
I personally didn't have any interest in trying whale, but my travel buddy had no problem tasting it when a vendor offered her a sample. Whale meat was offered all over the market, whether grilled in a fillet or dried and smoked, so should you be so inclined you won't have a problem finding some to try.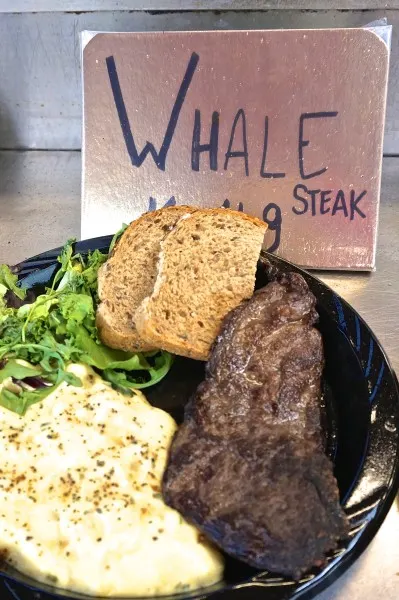 There were a few non-seafood options offered too, like reindeer and lamb hotdogs. Helpfully, photos of adorable baby reindeer and lamb are provided in case you need a reminder of how cute they are before taking a bite.
Since arriving in Norway, I'd become obsessed with the tiny pink shrimps you find stuffed into those sandwiches offered at every 7-11 and corner cafe. So I couldn't wait to taste the just-plucked-from the sea version.
For dessert, don't miss fresh Nordic berries.
Next, Souvenir Shop the Bergen Fish Market
For take home souvenirs, there are actually two parts to the market. In the main Bergen fish market, you'll find mostly edible souvenirs featuring regional culinary specialties. For local Norwegian handicrafts, you actually need to head across the street to the adjacent market. Here's an overview of what you'll find:
Salmon Caviar
The most popular option in the fish market, at least judging by the quantity and variety available, seemed to be salmon caviar.
Dried Local Meats from Norway
The Bergen fish market has multiple vendors offering dried and smoked local meats– mostly whale, reindeer and moose, no refrigeration required. While Americans can't take any meat from Norway because of US Customs regulations, if you arent' American you may want to check your local regulations (especially concerning whale meat).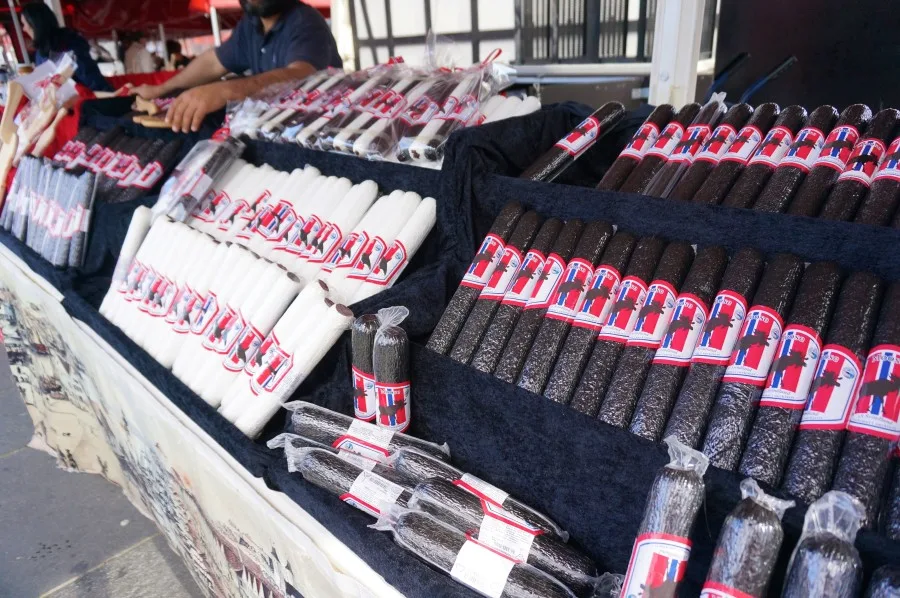 Products Made with Cloudberry
Products made from local cloudberries ("molte" in Norwegian) are a unique Norwegian and nordic souvenir. Cloudberries are a slightly sour fruit, foraged in Northern Norway (we spotted some growing along the roadside), usually made into jams and liqueurs. The variety of cloudberry product selection was extensive here and the prices were some of the best we'd seen in Norway.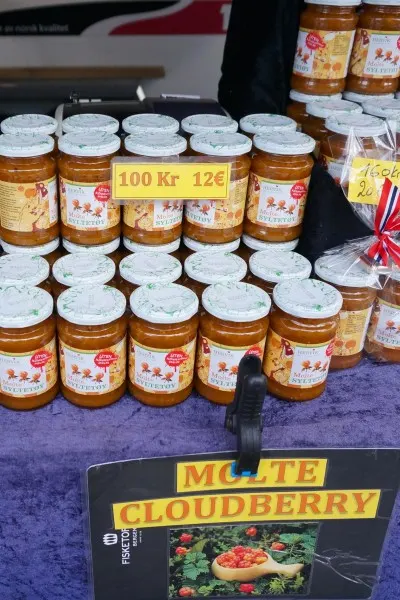 Violin cutting boards
These violin-shaped cutting and serving boards throughout the fish market, possibly a nod to composer Grieg who hails from Bergen.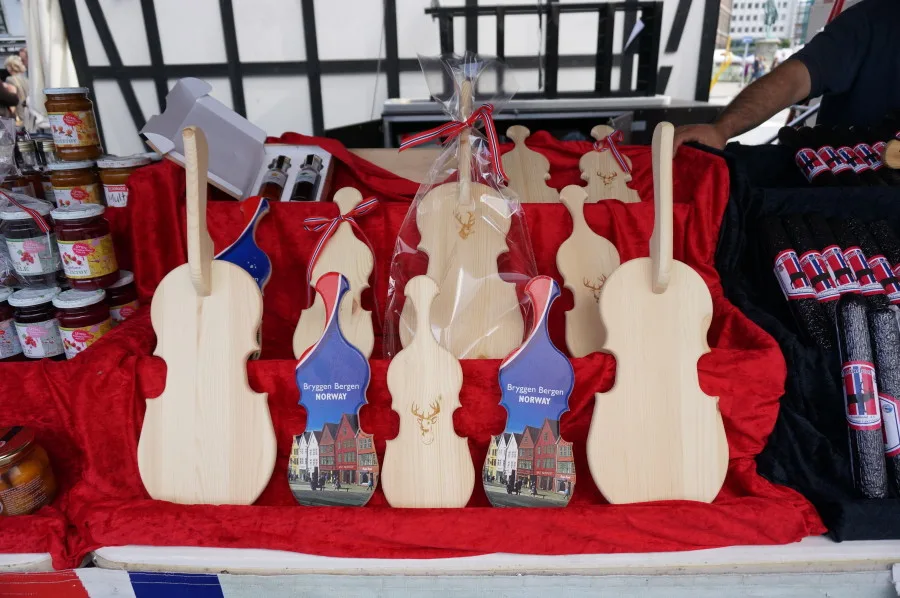 Packaged Local Norwegian Seafood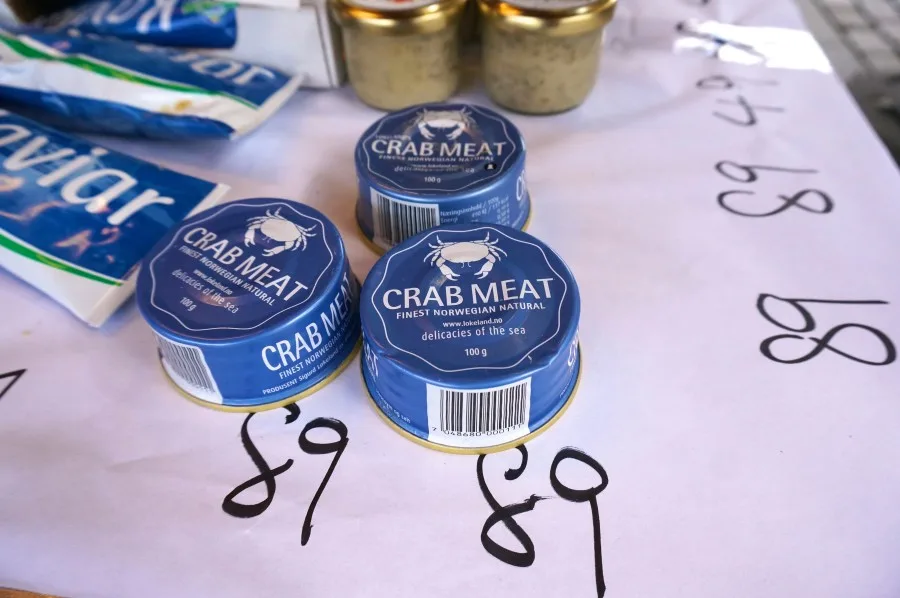 Though many of these items require refrigeration, with a few ice packs you could easily bring home smoked salmon and canned crabmeat. Or opt for traditional salted cod, which requires no refrigeration at all.
The Craft Market in Bergen
The craft market adjacent to the fish market is pretty small, with just a dozen or so stalls grouped together. Not everything here is handmade, so be sure to ask if you have any doubts.
Figurines like these trolls and vikings fall into the category of "semi-homemade"– factory cast, but later painted by hand by the vendor.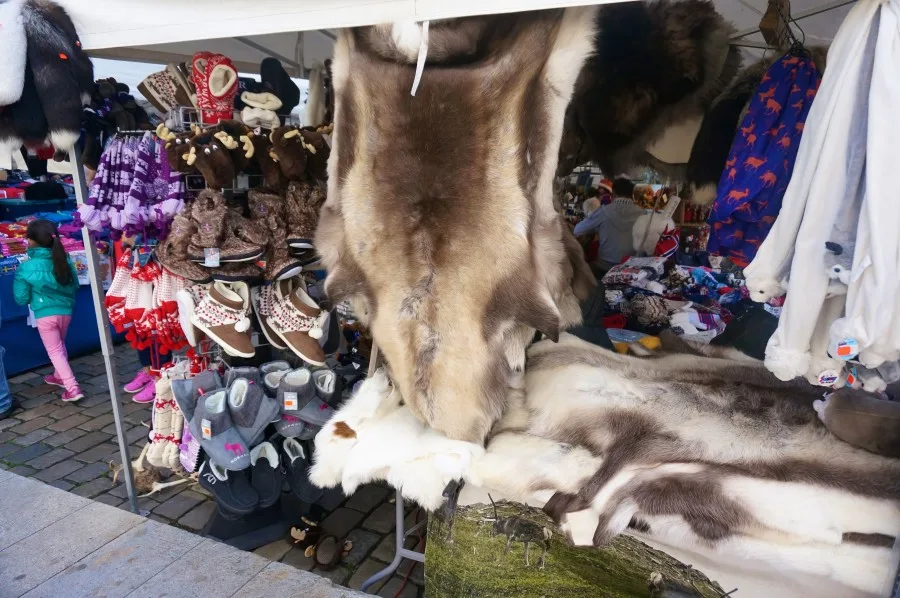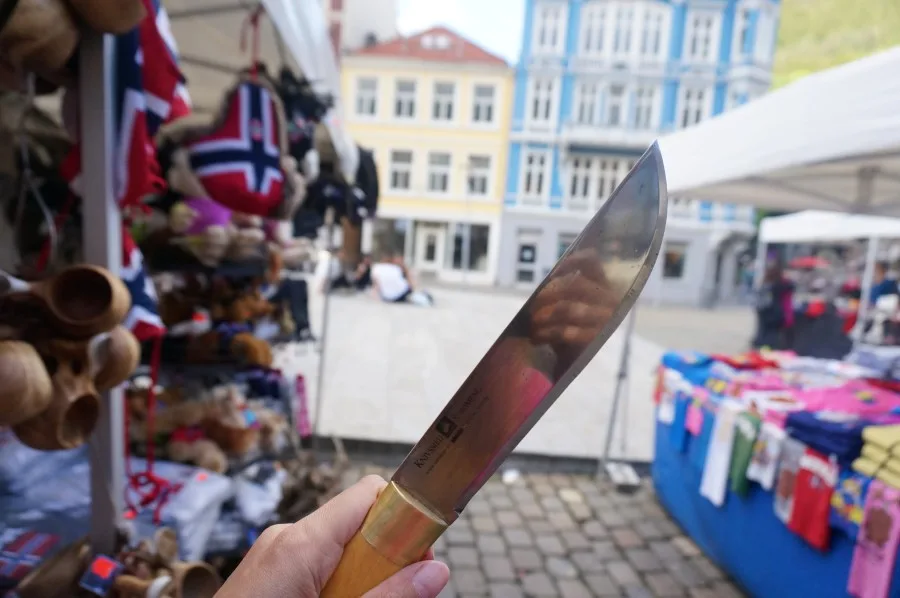 My favorite item in the craft portion of the market though wasn't from Bergen at all. This gorgeous blade is from way up north, in the Lapland area of Norway, crafted by hand by the indigenous Samis. I passed on buying it here as I'd love to make a return visit and buy one directly from the native Samis (and maybe catch those Northern Lights too).
[box]What to Buy: Salmon caviar, reindeer jerky, cloudberry jam
Where to Get it: Bergen Fish Market
What to Know: The Bergen fish market is open Monday-Saturday, 7 am to 5 pm. For a place to stay nearby, we loved the centrally located and very comfortable Thon Hotel Bristol Bergen.[/box]
Disclosure: I was a guest of Visit Norway USA and its partners, however all article ideas and shopping suggestions, as always, are my own.