In Norway, trolls are everywhere.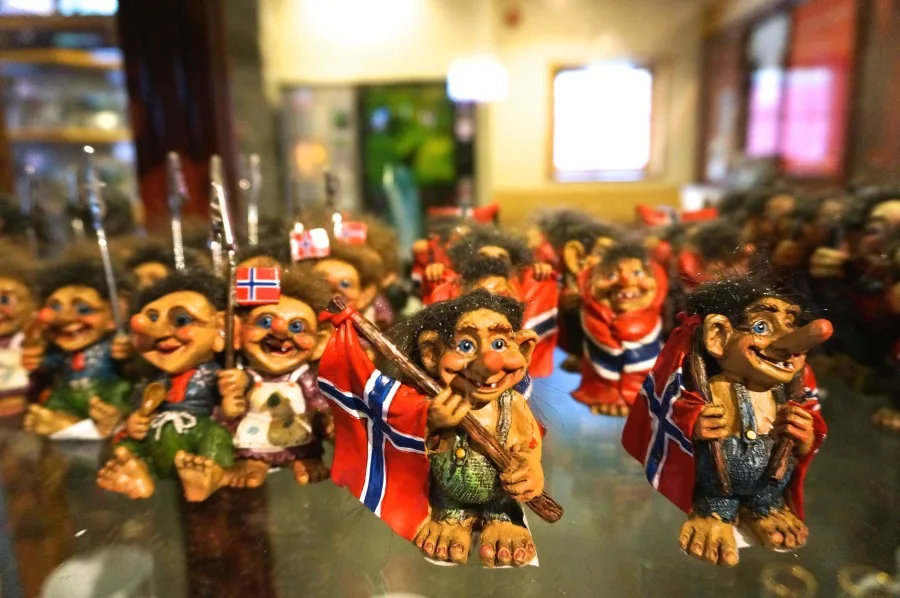 Let me clarify– in Norway's many souvenir shops, plastic figurines of trolls are everywhere. In fact, these little trolls are so ubiquitous that you might think the entire nation is obsessed with troll figurines, that every Norwegian must have a dedicated shelf to display these little creatures.
But after spending some time in Norway, I doubt the average Norwegian actually spends much time thinking about trolls. While it's true the legend of trolls originates in Norway and trolls are the subject of many a fairytale (and also a great cult horror flick), these colorful characters are tailor-made for the tourist industry. But does that mean you should pass over trolls and look for more meaningful souvenirs?
Nope, not every souvenir has to be serious– and trolls are just plain fun. I couldn't wait to buy my souvenir troll and started searching for the perfect troll on my first day in Norway. That said, I did have a couple of troll requirements. First, my troll needed to be handmade, so that excluded 99% of the trolls for sale. Second, he had to be happy– there are lots of creepy looking trolls out there and I am highly susceptible to nightmares. I found the perfect troll in Oslo at Den Norske Husfliden, a shop that specializes in Norwegian handicrafts.
I bought my troll as a gift for someone back home, but it seemed kind of ho-hum just to hand over the little guy with no context. So I thought it would be fun to take the recipient along on the troll's journey through Norway. (Note: you don't need to have your own blog to steal this idea– you can do the same thing by taking your own photos and popping them into an album, online or hardcover).
[box]Note on Snapchat: Along with my standard camera photos, I'm also including some of the real-time snaps I shared via Snapchat (if you're not familiar with Snapchat, it's a super fun, spur of the moment photo and video sharing app. The lack of Snapchat editing options might mean shaky videos and messy captions, but on the upside you get a window into those irreverent "behind the scenes" moments). Follow me on Snapchat @souvenirfinder to see my latest snaps).[/box]
A Troll's Journey through Norway– A Photo Essay
1. The train from Oslo to Myrdal
Our troll started his Norwegian journey by train in Oslo. It was going to be a long day of travel, with three trains, a ferry and bus ride to get to our final destination of Bergen. To pass the time, we started off by asking our Snapchat viewers to name the troll. When "Humphrey" turned out to be the best of the viewer suggestions, we changed tact and went with "Troll" instead.
2. All Aboard: Troll Rides the Famous Flam Railway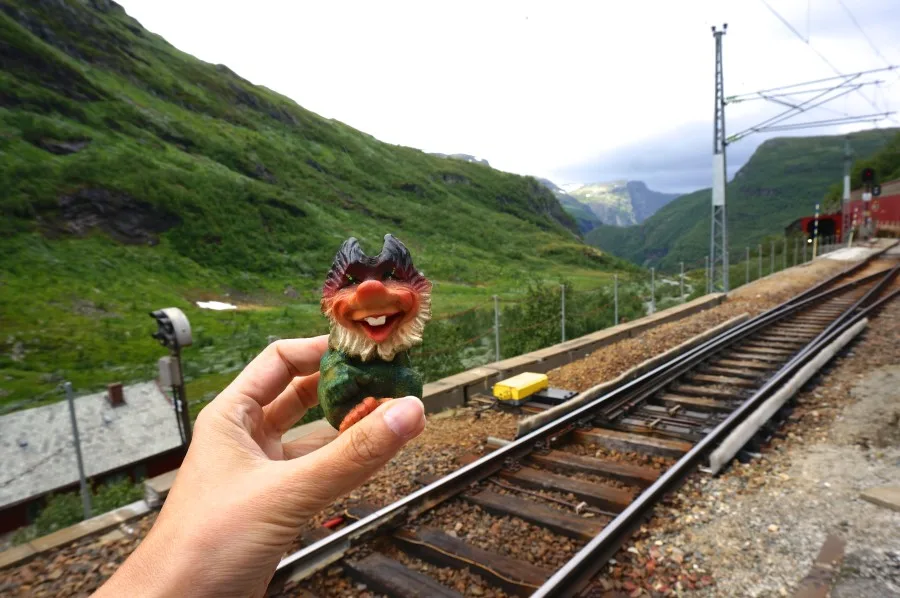 Boarding the Flam railway at Myrdal was a little chaotic as passengers jockeyed for the best window seats. But our nimble Troll easily scored a window and enjoyed some fantastic views.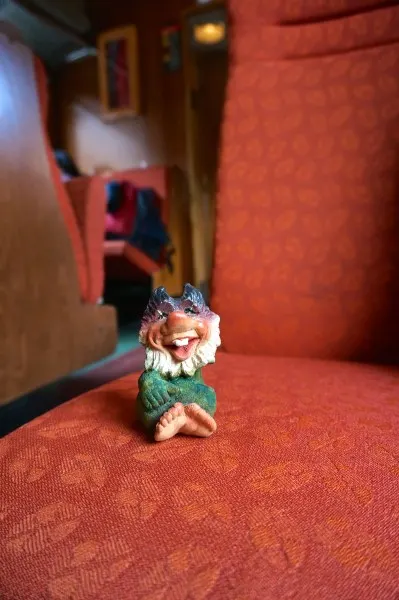 3. Troll Takes a Ferry Ride through the Fjords
Troll loved feeling the wind in his ears as we rode the ferry through the famous Sognefjord– he insisted we all take a selfie together to remember the moment.
4. Finally after ten hours of travel Troll Arrives in Bergen
While ten hours of travel sounds long, it was filled with breathtaking scenery. Troll could barely tear his eyes from the views. After another bus and train ride, Troll finally arrived in Bergen. I could tell he was sleepy, so even though he wanted to go out and explore I tucked him in for the night.
5. Troll Shops for Norwegian Sweaters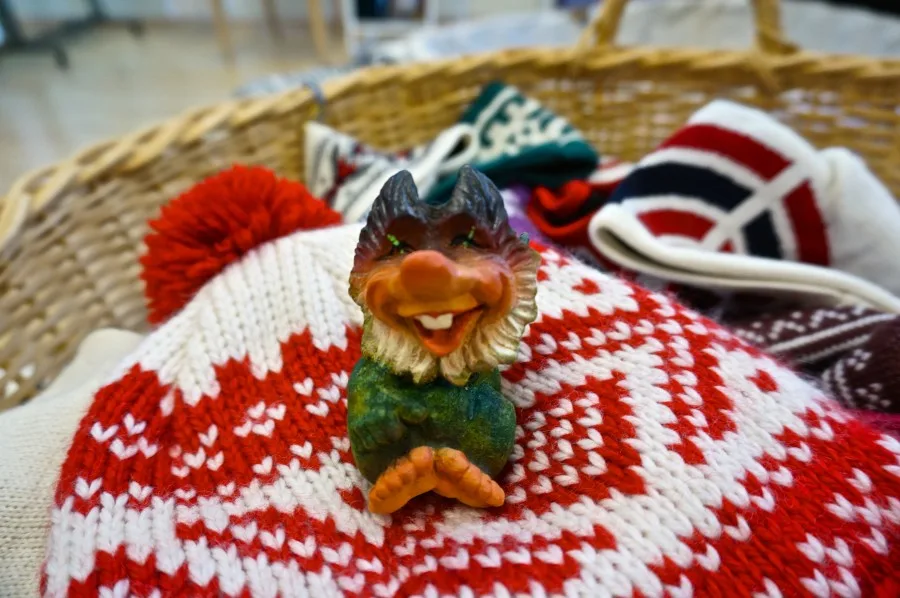 Who knew, apparently Troll loves shopping. Upset there were no tiny Troll size sweaters at Dale of Norway's factory store, Troll had to make do with a hat, perfect for cuddling up in.
6. Troll Snacks on Norwegian Pancakes
We learned that Troll has quite a sweet tooth. He managed to put away a pancake at least ten times his size.
7. Troll Heads to Geirangerfjord
Video via Snapchat @souvenirfinder
Troll turned out to be an excellent co-pilot, finding good radio stations and making sure we stayed on route.
8. No Trolls Allowed
Sadly, Troll wasn't wanted everywhere we went.
9. Troll Returns Home to Trollstigen
It was a bittersweet day for Troll as he returned to his homeland, Trollstigen.
Video via Snapchat @souvenirfinder
Do you love trolls? Have you ever photographed a souvenir on your journeys? Share in the comments!
Disclosure: my visit to Norway was hosted by Visit Norway USA and their partners.