Are you one of those people who travel light, with just a backpack or small carry on? Your clothes tightly rolled, every available crevice and pocket taken? You skip right past all markets and shops, convinced there is no way you have room for any souvenirs.
Light packers, you no longer have any excuses! I recently discovered this reader's fascinating collection of teeny tiny souvenirs from 14 different countries, souvenirs so small they can practically all fit in your pocket.
A Backpacker's Teeny Tiny Souvenir Collection
Our reader (and tiny souvenir collector) Steph is a born and bred Londoner, who despite her tender age, is already an avid world traveler. Steph caught the travel bug early, inspired by her parents who drove the family to a new country each summer for camping adventures. Growing up, Steph started venturing off on her own, taking advantage of school trips and University summer breaks to travel.
Steph later joined the working world like the rest of us, but after carefully saving £10,000, took off on a six-month backpacking break to South East Asia, the US West coast, southern India, and South America. Steph reports that despite her empty bank account, the adventure was worth it– and her keepsake souvenirs will always provide great memories of her journeys.
Steph has generously offered to share her tiny souvenirs here (penny used for scale). Which one is your favorite?
Souvenirs from Peru
Bank of Lima Book Box. It's a small lockable box disguised as a book, about the height and width of a passport, maybe an inch or so deep. I bought it in a small tourist/night market in Parque Kennedy, in the Miraflores district of Lima. Apparently, these boxes were originally used by account holders at the Bank of Lima to deposit their money without getting robbed – they would post the money into the locked box through the holes on the bottom, and then take it into the bank (who would have the key). At £15, it was expensive for a souvenir, but I wanted it as soon as I saw it! It's probably my favourite souvenir I've ever bought.

Church mini statue. The little bells move. I bought it in Peru, though I can't remember where exactly.
Souvenirs from Egypt
Scarab beetle pendant. Bought this gold scarab beetle pendant (but not the chain) in the souk in Cairo.
Souvenirs from India
Carved Stone Elephant. Bought this in Kochi, India. It's made of some kind of black stone, but I don't know what. I actually wish I'd bought a couple more of these since it was (very) cheap and I love it.

Photo. This is from McLeod-Ganj in northern India. I bought it from the photographer at a little stall near my guesthouse. I loved how it was printed on a really scrappy piece of paper, and thought the girl's face was gorgeous.
Souvenirs from Tapei
Taipei Metro Chip/Ticket. Bought a single-trip chip specially so that I could take it home as a souvenir.

Jade Stud Earrings. Bought with the last of my Taiwanese dollars at Taipei airport.
Souvenirs from Venice
Tiny Glass frog prince from Venice.
Souvenirs from France
Lalique fish figurine. I fell in love with this little red figurine when I saw it in a shop in Amiens, France.
Napoleon playing cards. I bought these somewhere in France when I was a child. They have pretty pictures on them. I never use them because I don't want to damage them.
Souvenirs from Argentina
Wooden Toucan figurine. Bought this at the Argentinian side of the Iguazu Falls (the first time I went there).
Wooden Coati figurine. From the Argentinian side of the Iguazu Falls (the second time I went- 9 years after the first time). A coati is an animal kind of like a raccoon. They're everywhere at Iguazu!
Quebrada de humahuaca pennant. This pennant is from a small town called Humahuaca in Argentina.
Pottery key fob. I wouldn't dare use it for my keys as I imagine it would break, but it is the size and shape of a key fob, and I think that's what it's supposed to be. It was a gift from the owners of a hostel where I stayed in Humahuaca, Argentina. The hostel name and location are engraved into the back.
Souvenirs from Singapore
Nanoblocks Macaw. I bought this at Changi airport in Singapore. I had never seen Nanoblocks before (it's like miniature Lego), but really liked this. The company's products have since arrived here in the UK.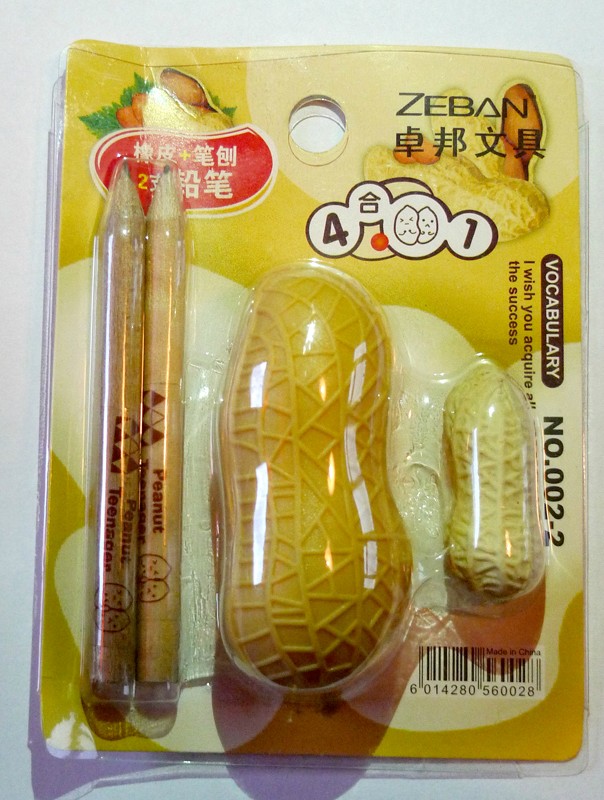 Peanut Stationary Set. I found this in a shop in Singapore. It is a peanut-shaped rubber (eraser), pencil sharpener and two pencils. I thought it was hilarious.
Souvenirs from Madrid
Spinning top. I couldn't afford much from the gift shop at the Reina Sofia museum in Madrid, but I loved the shape of this little wooden spinning top.
Souvenirs from Marrakesh, Morrocco
Tiny filigree silver box. Bought in the souk in Marrakech. I'm sure I paid over the odds for it (though still not much – maybe £5/$7?), but I really liked it.
Souvenirs from Kuala Lumpur, Malaysia
Tiny Tea Bowls. I got these in a tea shop in Kuala Lumpur, Malaysia. Unfortunately I knocked the patterned one off a shelf so it has a little chip in it now, but I think they're adorable. They're about the same size as a tealight holder/votive.
Souvenirs from America
(Chicago) Small Advil tube.Where I live, you can only buy ibuprofen in blister packs of 16 pills. When I was in Chicago, I had a headache so picked up one of these little tubes of Advil. They are the most handy size imaginable, so the next time I was in the states, I stocked up on a couple more!

Detroit Curling pin badge. I've never been to Detroit. I actually got this in Canada from a friend who met the Detroit curling team and was given it by them.
New York Collage Painting. I picked up this (and one other as a gift for my sister – hers is Broadway-themed) outside the Metropolitan Museum in NYC, if my memory serves me right. I think I paid $10 or $15 for the two of them. It is small – maybe 12cm x 12cm / 5in x 5in – but I love how colourful it is. It cost me far more to get it mounted and nicely framed (blue frame, not shown in the photo) than I paid for the picture itself!
Souvenirs from Tunisia, Africa
Watercolour painting. I came across this in an indoor market in Tunisia. I adored it the moment I saw it. Like many of my other pictures, it is quite small, perhaps 15cm / 6in across.
Souvenirs from Cuba
Cuban Flag Box. There aren't many opportunities to buy souvenirs in Cuba since many people there are struggling to have much more than their basic needs met (and there are some weird strict laws about what they can and can't buy or sell), but there were a few places in Havana that were geared towards tourists.
The indoor market where I got the box was like a huge warehouse, lined with little stalls- I'm pretty sure it was this place. Again, I don't remember exactly, but I wouldn't have paid much for it– probably £2 or so. I think it is (or is lined with) cedar (smells like it). The wood has been stained to look like a Cuban Flag, and the wooden star has been glued on. It is the perfect size for keeping bobby pins.
Thanks to our reader Steph for sharing her photos and personal stories!
Do you have a collection of souvenirs? Tell us about it in the comments below! Or better yet, snap some photos and we'll feature them here!
All photos courtesy of Steph, used with permission here.