Getting tickets for the Tonight Show Starring Jimmy Fallon– Back in New York City at last
I just saw the last test show for the new Tonight Show Starring Jimmy Fallon in New York City– basically the dress rehearsal for the premiere on February 17, and nearly identical to a regular show.
(UPDATE 1/10/15): I added some recent reader observations to this post about when to arrive to pick up Tonight Show tickets– if you've been to the show, send me your tips! For the latest tips from our readers, please check the comments)
As the longest running entertainment program in the US (since 1954), the Tonight Show has a long legacy behind it, with iconic hosts like Johnny Carson and most recently Jay Leno. While it's been taped in Los Angeles for the last forty years, the show is returning back to its original New York City location with new host Jimmy Fallon at the helm.
As a New Yorker, I thought it would be fun to catch an early show marking this transition back to my home city. Seeing a live TV taping is also something fun for a New York City tourist to do– with a little planning and luck, you might get to see a show (free!) too. The complete ticket-getting process was a little confusing on the website, so I am sharing my experience below.
1. Order your ticket for the Tonight Show Starring Jimmy Fallon
First, order your tickets on the show's website or follow the show's Twitter feed for special announcements. Once the complimentary tickets are released, they are "sold out" very quickly, so move fast if you happen to hit the site when they are available. You can order up to 4 tickets under one name and are only allowed to attend one show every six months. No one under 16 is allowed in, so leave the kids at home.
If you don't have advance tickets, you still have a couple of options– show up in person for a general stand-by line or join a separate line just for the test run of the monologue.
2. Exchange your Reservation for Actual Tickets on the day of the show
Once you have your Tonight Show with Jimmy Fallon Tickets secured, print out the entire reservation. There are several pages to the reservation, so make sure you bring them all in, not just the first page with the QR code.
Arriving at the 30 Rockefeller Center Studios for the taping of the Tonight Show Starring Jimmy Fallon
The Tonight Show is taped in the 30 Rock studios. On the day of the show, arrive with your reservation at the NBC Experience Store at 30 Rock between 2:30-3:45 pm. If you don't know where the store is, just look for this landmark– the Rockefeller Center Ice Skating Rink. The NBC Experience Store is across the street.
Once in the store, look for this staircase guarded by an NBC page. If you arrive before 2:00 pm the page will shoo you away and tell you to come back later. After 2:00 pm, you'll be allowed upstairs to stand in line where you'll exchange your reservation for a ticket.
There really isn't a need to get there super early to wait in line though– you can pick up your tickets anytime before 3:45 pm.
Update: We've had readers fill us in recently about exactly when you should arrive to pick up your Tonight Show tickets.
One concern is that Tonight Show tickets may run out because of overbooking– reader Kate (see her full comment below) asked about this on her recent visit to the show and was assured that everyone in the party will get a ticket as long as they arrive within the specified time window.
Reader Bruce notes that they arrived at "about 2:30 and there were quite a few people upstairs waiting. There was a loose line and we stayed in it but in hindsight we should have moved more into the mezzanine . Our ticket number was 18 so I thought that's pretty good. Anyway there were numbers and letters. When we lined up it turned out the letters went into the studio first followed by the numbers. When we finally got into the studio it looked quite full with all the lower levels already seated. We were placed on the side 2 seats in." The show started at 5pm and was a lot of fun. We were done by 6:30. Roots was great. Security was tight and always on the lookout for anyone trying to take a picture. Anyway if you go have fun and just take in the experience. You may not get on camera or high five Jimmy but just enjoy. His show is awesome and funny. Best part was Ben Stiller as the panda."
Anytime after 2:00 pm, you can head up this staircase. Reservation holders stand around in a loose line until ticket distribution begins. It's not necessary for all of your ticket holders to be present to secure your place in line (though all must be present to receive tickets).
On the day we visited, most of the people standing in line around us were tv taping veterans, having seen Jimmy Fallon's prior show, Late Night with Jimmy Fallon, before. The mood was relaxed and chatty, with a mix of locals, tourists, and a few foreign visitors.
Around 2:45 pm or so the Tonight Show staff starts the ticketing process. You present your reservation printout and are given an orange ticket and this Tonight Show Starring Jimmy Fallon wristband. Don't lose either or you won't be let in!
After you get your ticket you are told to come back at 4:00 pm. If you're a local, you can return back to your office until then. If you're visiting, grab a snack or do some shopping in the area (Saks Fifth Avenue is right across the street).
At 4:00 pm you enter the 30 Rock building to stand in line again for the actual show.
[box type="alert"]Editor's Note: when you enter the 30 Rock building, please keep in mind this is not a place for tourists to hang out and congregate, it is a real office building where locals work! I used to work at a law firm in this very building and can tell you firsthand that there is nothing more irritating than dodging gawkers who stand in front of the revolving doors or loiter in the hallways when you are trying to get back to the office.[/box]
That said, if you are discreet and quick, you can take a quick photo of this Tonight Show Starring Jimmy Fallon billboard in the lobby of 30 Rock (it's located in an alcove in front part of the lobby). In fact, this is the only place where you can take any sort Jimmy Fallon-related photo.
Update: the new marquee is up! I snapped a photo on 6th Avenue last week: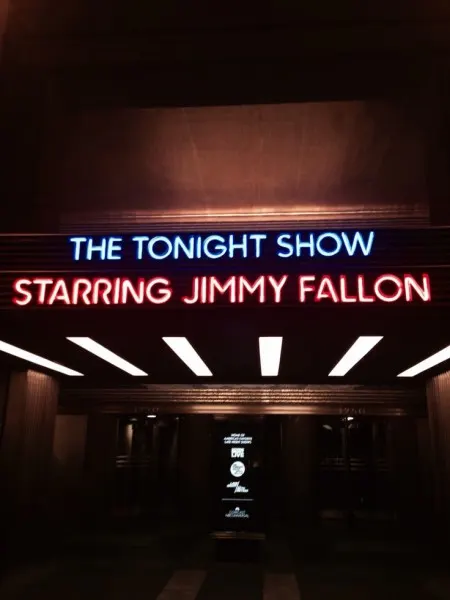 We arrived a little later than 4 pm and went right up to the final waiting area. There were no more photos beyond this point (the staff joked about hidden snipers), so you'll you have to use your imagination for the rest. After you pass through a metal detector and have your purse searched, you'll be ushered into the actual studio.
3. Seeing the Tonight Show Starring Jimmy Fallon live in New York- What to Expect

As you enter the studio, the NBC pages will direct you to a specific seat. I've been to a couple of other TV show tapings with hard seats and appreciated the cushy red leather (pleather?) audience seats at the Tonight show.
When you are sitting in the audience, you have a different perspective on the set, as you are completely surrounded by honey colored, maple wood acoustic wall panels. The wood panelling counters the tech feel of all the cameras and studio equipment, making the set feel zen-like and cozy. The photo backdrop of New York City behind Fallon's desk is softened by small wooden replicas of New York City landmarks (Fallon joked that he made them out of toothpicks himself).
The Live Tonight Show Starring Jimmy Fallon Experience
Before the show begins, the warm up comedian primes the audience, expertly weaving in show "do's and don'ts" in-between jokes. Next, the Tonight Show announcer, Steve Higgins, takes his place at his maple wood podium. The show officially begins with Higgin's announcement of Fallon.
At my show, Fallon riffed on the Olympics, the Time Warner/Comcast merger (with an accompanying running joke about the past-their-prime movies shown on Starz) and Ryan Seacrest's new clothing line.
The show continued with a celebrity interview (on my show, former Daily Show regular John Oliver) and a musical act (Roots, the spectacular house band, stood in for visiting musical act). We were also treated to a Thank You Notes segment and a spontaneous burst of song from Fallon.
Jimmy Fallon on the Eve of a Monumental Debut
My show was a little different because it was a test show– the very last test show before the big debut. I loved the experience because it was a chance to watch Fallon (and everyone who works behind the scenes) on the eve before what is considered a monumental debut in the entertainment world– the passing of the Tonight Show torch.
My friend who attended the show with me had seen a prior Late Night taping and noted the marked difference between that show and this last test show. While on that Late Night show, the overall vibe of the show was relaxed and easy going, on this show we both detected a bit of an edge.
At the close of every scene, producers swarmed the set and huddled together in small groups, presumably working out last-minute details.
Fallon himself was flawless and spot on as usual (with an especially funny bit on blind Mary from Little House on the Prairie), but a careful observer might detect just a hint of nerves. My favorite moment was when, in an aside from the actual show, Fallon looked up, and acknowledging the gravity of the upcoming debut said, "Tonight's the last test show– the next show is in front of millions of people" as he put his head in his hands and ruffled his hands through his hair. It was such an adorably human moment, and shows why so many people love Fallon.
The show closed as quickly as it began, possibly the fastest hour you'll ever sit through. The warm up comedian came back and provided entertainment as we filed out, reluctant to leave our comfy seats.
Souvenirs from the Tonight Show Starring Jimmy Fallon
The Tonight Show staff takes away your colorful orange ticket, so your only souvenir of the show is your actual paper wristband.
You can head back down to the NBC Experience Store to pick up some new Tonight Show Starring Jimmy Fallon souvenir merchandise, just in this week. The merchandise isn't exactly subtle, with the full logo and branding over every item.
The selection included tee shirts, iphone and ipad covers, hats and coffee mugs. Since the line just came in, it's possible there might be more discreet items in the future. Until then, a coffee mug would probably be your best bet.
Want to read about more New York City souvenirs? Check out the best Black and White cookies in New York! or Find out where to get an authentic Egg Cream Soda at an old-school luncheonette!
Have you attended the new Tonight Show Starring Jimmy Fallon? Share in the comments below and we'll update this post with your comments!