There is simply no place like Nantucket, with its cobbled streets, grey shingled cottages and spectacular sunsets. A speck of an island off the coast of Massachusetts, Nantucket is all about restraint. Strict building codes preserve Nantucket's historic identity. Long stretches of pristine beaches are nearly free of tacky bars and souvenir shops. Bicycles far outnumber cars. All of this separates Nantucket from other beach destinations and make it feel like a true getaway.
While not always easy to get to (a quick 45 minute flight from New York can stretch to an all day affair with weather delays), the uniqueness of the island and the serenity you'll find here make it worth the while.
Best Shopping in Nantucket: What Souvenirs to Buy
Like every beach destination, at some point, whether because of too much rain or too much sun, you'll find yourself strolling the main streets of town and dipping into some of the shops. But Nantucket's shops stand apart from other well-heeled beach destinations because of some unique souvenirs that you won't find anywhere else. One word of caution– beware the cobblestones in Nantucket's historic center. While lovely to look at, they are ankle twisting uneven so do not wear high heels under any circumstances (or stick to designated crosswalks).
Nantucket Reds from Murray's Toggery
Nantucket actually has a top souvenir that is definitely an only-in-Nantucket thing– Nantucket reds.
Nantucket reds are a red canvas fabric first sold by Murray's Toggery on Main Street in the 1960s. The red fabric, which gently fades over time, is based on the color of the sails found on the coast of Brittany. Although the Nantucket red fabric is best known for its mens' pants (when someone says Nantucket reds, they are likely referring to men's trousers) the line has been expanded to include accessories and women's wear.
While well known by locals and a certain social set, Nantucket Reds are virtually unheard of elsewhere (as I learned when I asked a visiting friend to take photos for me– she came back confused and thought I was talking about red wine). But insiders know that Nantucket reds have long been a preppy staple and have even earned a place in the official Preppy Handbook. The pants are also popular attire for wedding parties.
I went home with several Nantucket red gifts for myself and friends. I picked up several hats (it's my most worn hat in my collection) and a perfect fitting skirt that seems to match with just about everything.
Preppy, Preppy, Preppy souvenirs
With the possible exception of Palm Beach, I would argue that Nantucket is the preppiest destination out there. Whip out your pink and green Lily Pulitzer dresses and whale embroidered canvas belts and you'll fit right in. If you haven't filled your suitcase with preppy items, many of the shops along main street provide a smorgasbourg of preppy options, the louder the better.
Nantucket Souvenirs from Whaling Museum
If you want to learn about Nantucket's long history of whaling, this would be the place. The museum's centerpiece is an impressive 46 foot skeleton of a sperm whale.  Moving along to the Whaling museum's gift shop, you'll find nautical inspired items, pewter whale serving pieces, replica scrimshaw and those ubiquitous whale embroidered belts, a Nantucket classic.
Nantucket Lightship Baskets
Nantucket lightship baskets have been made on the island since the 1800s and used as everything from carrying groceries to purses. Prices for genuine lightship baskets start at $500 and go up from there. Knock offs, as you might expect, are considerably cheaper.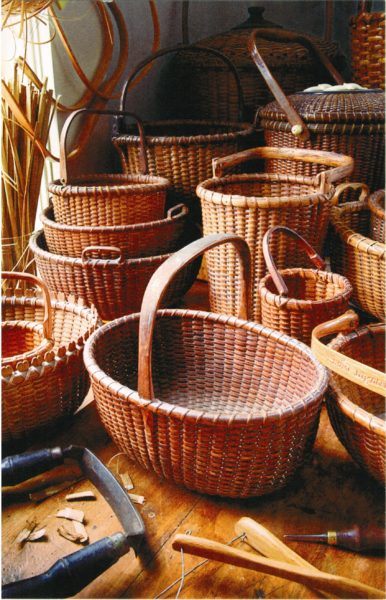 Other Shops in Nantucket
Nantucket has its fair share of "souvenir" type shops, but for the most part they are extremely well curated and tasteful, and fun to browse. I always come back with a pile of Nantucket t-shirts and hoodies that seem to fit perfectly.
Have you been to Nantucket? What are your favorite Shops and Experiences?